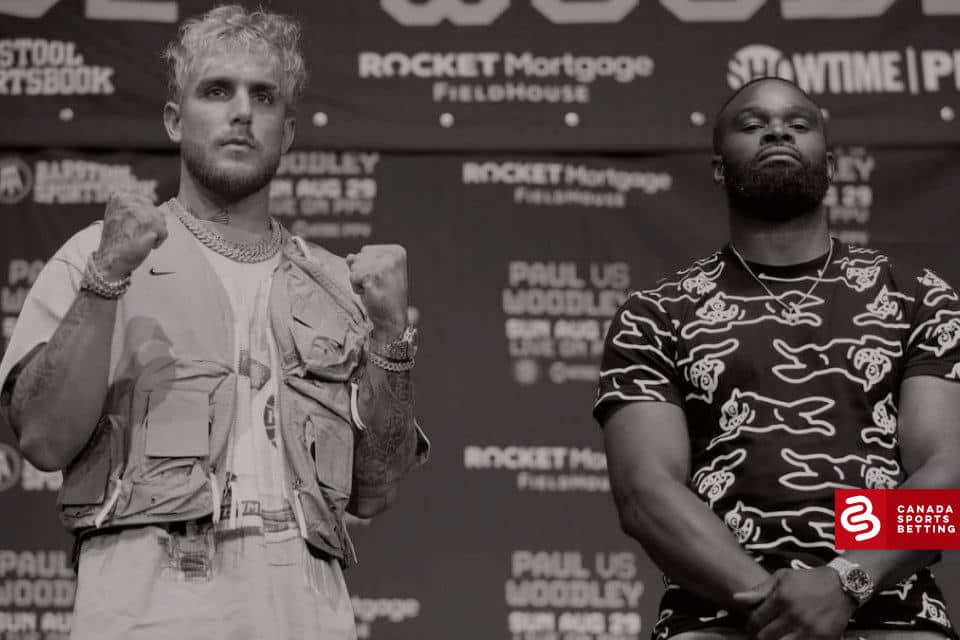 Jake Paul returns to the boxing ring on Sunday, August 29 at Rocket Mortgage FieldHouse in Cleveland, Ohio. Paul moved his record to 3-0 in professional boxing in April when he earned an early first-round TKO win over former Bellator and ONE Championship MMA champ Ben Askren. Paul faces former UFC champion Tyron Woodley in this matchup. Woodley is a training partner of Askren's.
Paul has wins over Askren, Nate Robinson and AnEsonGib since he began his pro boxing career in January 2020. Woodley ended his UFC career with four straight losses. Woodley's career MMA record is 19-7-1.
Let's have a look at the Jake Paul vs. Tyron Woodley betting picks.
[viscawebTable] https://docs.google.com/spreadsheets/d/e/2PACX-1vRrBxvF1qjuVpIpp8rcMN-0K_Ra3rufCUq2CYVQKjx8SBzA_oIcE-Q2S8AYbotx86NLK0R9kv-Vb2Zw/pub?output=csv [/viscawebTable]
Check out our boxing odds page for more boxing information.
Jake Paul (1.67) vs. Tyron Woodley (2.1)
As Woodley's career ended, he developed a reputation as a fighter who could not pull the trigger. Woodley was more aggressive in his final UFC fight and he showed some spark in that contest, however, he was submitted and his UFC contract ended.
I'm torn here. Paul has shown he is serious in his boxing and he looks okay. Woodley has shown real power, but will he throw that power?
From what I've seen of these two, I have to lean slightly toward Paul with Woodley being a live underdog.
Paul has the edge in size and age. Woodley has the edge in experience and power. Right now I have more questions about Woodley than I do about Paul and that gives Paul the slight edge in this one. Also, with Paul training strictly as a boxer, he might also have the edge in preparation.
Paul has been outspoken about proving his doubters wrong. A win over Woodley, who is a legitimate striking talent, would go a long way toward earning Paul a great deal of respect.
"My goal has just been to earn people's respect and just show people how hard I'm working because I take this more seriously honestly than a lot of pro fighters. I have a chip on my shoulder. I have a lot to prove and I fell in love with this sport and I want to go super, super far in it and the only way to do that is hard work and experience in sparring and in the gym and fighting tougher and tougher opponents each time.
"This is my life now. I don't even remember what my life was like before boxing. It's been two years straight of this and I wouldn't change it for anything."
UFC fighter Jorge Masvidal, who has worked with both fighters made his pick for the fight and he's going with the upset.
"Woodley can throw them hands. Ben Askren never could. So it's like you've got a guy that can fight if it's slinging fists. Woodley could have made his money grappling, which he did. He was good enough of an athlete, and he was good enough of an athlete to make his money with his hands to knock people out.
"So I don't think – I know Jake's never been in there with a guy like that, that's explosive, is a good athlete, and has a ton of experience over him. So if Jake wins, wild, my hat's off to him, I was wrong, I don't know about fighting. But, chances are, Woodley's going to knock him out."
I disagree with Masvidal. I see Paul winning by decision.
My concern for Paul is how he will react if Woodley uses his power and lands flush? I don't think he has ever been hit by anyone with the power of Woodley has hit him in a fight and this could be a proper test to see if Paul has what it takes to be a "real" boxer. Woodley does not have unimpeachable boxing skills, but he has power.
I think Paul's best chance is to avoid the power and swarming of Woodley if it comes and stays to the outside with long jabs. If Paul can do that, I think he wins by decision.
See below the top sportsbooks, like SportsInteractin (SIA), where you can wager online and choose the best one for you: