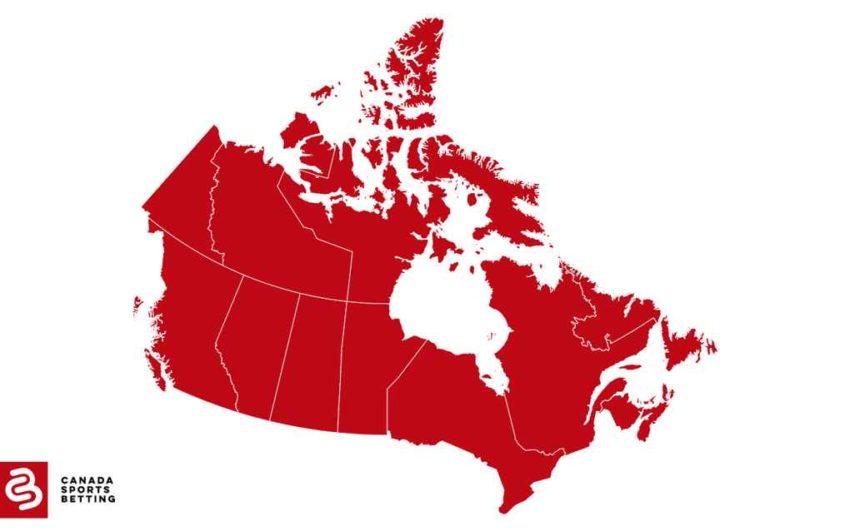 Is Sports Betting Legal In Canada?
Gambling activities in Canada went unregulated until 1892, when the federal government developed and passed the Criminal Code of Canada, which banned all gambling activities except for horse wagering and games at small midways, or carnivals, across the country.
In 1969, the Criminal Code was tweaked by the federal government to allow small-stakes gambling on behalf of charities. This development later led to the passing of Bill C-150, which gave the provincial and federal governments the opportunity to use lotteries to fund specific activities, such as the 1976 Summer Olympic Games in Montreal.
In 1985, another amendment to the Criminal Code gave provinces the exclusive authority to conduct and manage lotteries and lottery schemes, including games conducted via a computer, video device, or slot machine.
This amendment also gave provincial lotteries the opportunity to offer parlay markets for popular North American sports events, like hockey, basketball, baseball, and football. At this time, moneyline wagering was the only option available and each parlay required at least three legs.
In 1992, provincial governments debuted the parlay betting product PROLINE, and other similar sports lottery products, at retail locations to offer an alternative to illegal bookmaking in the country.
With the rise in popularity of the World Wide Web in the early 1990s, several independent gray market operators from around the world, in places like Costa Rica, Gibraltar, and Isle of Man, began taking bets from Canadian customers, who were exposed to a wide array of markets, higher bet limits, and bonuses for the first time.
Legislators drafted a number of bills to legalize single-event sports betting and attempt to begin taxing the revenue domestically, which eventually led to Bill C-290 getting passed in the House of Commons in 2012. However, the bill was voted down in the Senate in 2015, and a second attempt was also squashed in 2016.
On Feb. 25, 2020, Conservative Member of Parliament Kevin Waugh introduced Bill C-218, intended to legalize single-game wagering in Canada and give the provinces the authority to conduct and manage the regulation of the industry. Conservative Senator David Wells later sponsored the bill in the Senate, ultimately leading to the decriminalization of single-game wagering, effective Aug. 27, 2021.
Sports betting is conducted and managed by the individual provinces of Canada. Provincial governments have the ability to establish the legal framework for sports betting within their provincial borders. Ontario is currently the only province to allow private operators to compete in the marketplace with provincially run lotteries.
Legal Sports Betting Topics covered on this page
Which Provinces Have Legal Sports Betting?
Each province has different regulations and platforms regarding online and retail sports betting. Betting on sports is legal in Canada, but with major restrictions compared to other countries. With recent changes to allow singe-game sports betting in Canada, we have seen major changes. Online sports betting is permitted in the following provinces:
British Columbia
Nova Scotia
New Brunswick
Newfoundland and Labrador
Prince Edward Island
Ontario
Quebec
Saskatchewan
Manitoba
Alberta
Canada's northern provinces and territories – Yukon, Northwest Territories, and Nunavut – only have in-person retail sports betting via the Western Canada Lottery Corporation's Sport Select games available. However, sports bettors can fill out their bet slips online, but they must visit a retail location to purchase their tickets.
Single-Game Sports Betting Canada
Single-game sports betting is legal in Canada as of Aug. 27, 2021.
Some provinces, such as Ontario, Quebec, and British Columbia, which already had some of the largest sports betting industries in the countries through the grey market, quickly incorporated single-game wagering into their provincially run sports betting platforms. While other provinces took their time incorporating single-game wagering into their online offerings. Check out our provincial betting pages for the latest sports betting information in your area.
Online Sports Betting Canada
Online betting is the preferred form of gambling in Canada, with an estimated $14 billion spent illegally offshore in 2020.
One of the aims of Ontario's new regulated sports betting market, which launched on April 4, is to be a catalyst for change by converting customers to a safe, and regulated, online sports betting market.
Many online sports bettors don't understand the risks of wagering with an unregulated sportsbook. There are no guarantees that deposits are secure, personal information is protected, odds are fair, and responsible gambling initiatives are active. Even your payouts on winnings could be delayed or not given at all. Not to mention some offshore websites are operated by illegal entities.
Online sportsbook operators in Ontario are subject to a roughly 20% tax from the Ontario government on gaming revenue. This means that a sizable portion of your deposits with regulated sportsbooks in Ontario are reinvested to the local community.
Canada has a long gambling history that can be traced back to Indigenous people wagering on the stick game Slathal. That was happening well before John Cabot and his crew brought card betting to Canada in 1497. Legalized over four decades ago, Canadian sports betting fans have been playing government-regulated lottery schemes since 1976.
Presented by five regulatory bodies, Interprovincial Lottery Corporation members, sports lottery Canada betting options follow similar concepts. That includes return rates, markets offered, betting odds and prices, plus wager structures like forced parlays. Atlantic Canada, Quebec, Manitoba and BC have government-run online options.
PROLINE in some provinces, Sport Select in others, plus Mise-O-Jeu sports lotteries in Quebec; deliver sports handicapping options in Canada. Lottery Corporations in Atlantic Canada, Quebec, Ontario, Western Canada, plus British Columbia, offer sports, casino, lottery and bingo betting. Canadians receive far superior choices online.
Here at Canada Sports Betting, we live up to our name by guiding Canadians to top-level gambling action. Our wagering website reviews recommend the best sportsbook, casino, horse and poker action. We also direct Canadian bettors to the best online player reward programs, plus sites that offer fair play and secure banking methods.
Provincial Sports Lottery Betting in Canada
Sports lottery schemes, a form of gambling that includes elements of chance and requires real money wagers, are offered across Canada. Available online in some provinces, and at land-based lottery kiosks only in others, platforms like PROLINE and Sport Select offer limited betting action. With each option – there are some intricacies involved.
When it comes to sports wagering, be forewarned that provincial sports lottery options deliver limited markets, offer odds that stay stagnant once posted, plus come with the dreaded forced accumulator betting requirement. While common in soccer betting, TIE option odds are also added to many football, baseball and hockey sports lottery schemes.
Whether playing online, at lottery kiosks, or in casinos, Canadians must be legal age in their province of residence to participate in any gambling actives in Canada. Having a bank account is helpful when betting eh? Provincial sports lottery tickets can be purchased with a bank debit card, plus popular credit cards and cash, at a variety of retail stores.
Matches from the NHL, NFL, NBA and NHL, plus MMA, NCAA, soccer and golf action, are common markets covered by interprovincial sports lottery vendors. Though not up to snuff with online sportsbooks coverage, players in BC, Manitoba, Quebec and Atlantic Canada have access to a broader variety of betting markets than the rest of Canada.
What Canadian Sports Lotteries Systems Are Available
As varied as the Canadian provinces and territories, which all have their own selling points, land-based betting options are plentiful in the Great White North. That includes Casinos like the River Rock Resort in Vancouver, fantastic betting action at horse racing tracks like Woodbine in Toronto, as well as numerous sports lottery kiosks in every city.
Heavily regulated by the government, Canadian sports lotteries are available in a few different forms. Atlantic Canada and Ontario bettors wager on Pro-Line platforms while Quebecers bet on Mise-O-Jeu sports lottery schemes. Prairie Provinces and Territories deal with Sport Select options while PlayNow is offered in Manitoba and British Columbia.
Here are the members of the Interprovincial Lottery Corporation:
Loto-Quebec (LC)
Atlantic Lottery Corporation (ALC)
British Columbia Lottery Corporation (BCLC)
Western Canada Lottery Corporation (WCLC)
Ontario Lottery and Gaming Corporation (OLG)
Members of one big family, and charged with protecting True North "Golden Betting Ponds" from invaders, the government maintains super tight control over all gambling products offered in Canada. That includes various forms of sports betting that are readily available at gas stations, corner stores and shopping malls throughout the True North.
While playing platforms vary by jurisdiction, they all offer some sort of straight-up, against the spread and game total sports betting options. Pool betting, where players pick the winner of up to 15 contests for a set cost, is a group offering. Participants with the most correct picks split the money on the pool. Quasi prop wagering is also available.
Checking a WCLC game card, Proline offers were limited to 40 bets on the day while we wrote this article. Surfing over to Canadian online original Bet99, the list was too numerous to count but they hit over 50 on LIVE in-play soccer options alone. Given the vast benefits of betting sites – it's wise to avoid Canadian Sports Lotteries.
Players are reminded that single-game sports bets are still illegal across Canada. That means every wager requires a minimum of two or three selections per ticket. The number of picks required depends on the platform being played and the vendor that is offering the action. Minimum bets are $2.00 and wagering maximums vary by jurisdiction.
Though not associated with the government-run sports lotteries, all-pro teams offer various contests and promotions to their fan base. We outline some of the offers below and the details are posted on team websites and social media platforms. Canadians can also win $1 million during NHL and CFL games via the Safeway "Score & Win" promotion.
Which Canadian Provinces Offer the Best Sports Lotteries Betting?
Lottery sports betting schemes are available to anyone, in any province or territory, at all land-based kiosks. Online wagering is only open to players that live and are physically within the province that offers the action. That means if a BC resident is in Jasper, Alberta, which is just a few miles from the BC border, they cannot bet on the PlayNow system.
Cheering CFL, NBA, NHL, MLB and MLS teams, Canadians love sports and they love betting on the action. Also, don't forget about exciting Canadian Premier League matches that Bet365 covers like a glove. Pregame lines, LIVE in-match betting, plus championship futures and props, should all be beacons that guide Canucks to online betting shops.
Whether in Cape Spear, Newfoundland, playing ACL ProLine Stadium games, or in Victoria, British Columbia, betting on BCLC PlayNow action, government-controlled sports lotteries are offered from sea to shining sea in Canada. While we highly recommend CSB top-rated online betting providers – Check out the Canadian gambling scene outlined below.
Ontario PROLINE Sports Lottery (OLG)
Ontario Lottery and Gaming Corporation (OLG) regulate betting activities in the Heartland Province. Ontario sports fans have a ton of LIVE game viewing choices. The Raptors, Blue Jays, Toronto FC, plus Maple Leafs and Senators, are based in Ontario. Redblacks, Tiger-Cats and Argonauts, are CFL squads that call Canada's largest province home.
World-famous Woodbine Racetrack is Canada's premier horse racing venue
Available at lottery retailers only, PROLINE, Point Spread, Pools and Props are four main betting choices offered by the OLG. There is cash to be won as the PROLINE website shows players with "cheques" as high as $30K on Pools and $25K on Point Spread betting. Along with over 70 brick and mortar casinos – PLAYOLG.ca offers LIVE online casino action. OLG now offers both accumulators and single-game sports bets.
Quebec Mise-o-jeu Sports Lottery (LQ)
Operated by Loto-Québec, residents in La Belle Province receive some of the best betting action in Canada. Still having to follow the minimum two-bet forced parlay rule, Mise-o-jeu sports Lottery is offered online to permanent residents in Quebec who have Espacejeux account. Mise-o-jeu is also offered to anyone who is 18+ at lottery kiosks, where they can place both parlays and straight bets.
Horse handicappers bet on ponies at Hippodrome Trois-Rivières racetrack
Take away unfavourable odds, and mandatory TIE odds, and Mise-o-jeu is a decent site. During the 2018-19 NHL season, a Quebecor won $125K and was crowned the NHL Pool Champion. The Montreal Impact (MLS) Canadians (NHL), and Alouettes (CFL) plus ten slot and poker playing destinations, are Quebec-based.
Alberta Sports Select Lottery (WCLC)
Alberta Liquor Gaming and Cannabis regulate Wild Rose Country gambling in conjunction with the Western Canada Lottery Corporation. The information site shows $12K to $33K ProLine and Pools winners but we often wonder why players bet on Alberta Sports Select schemes. Even with single-game bets now allowed, poor odds and bets capped at $100, are not enticing.
Century Downs Racetrack & Casino in Balzac is a top Alberta horse racing venue
Home to the Edmonton Oilers and Eskimos, plus the Calgary Flames and Stampeders online betting is not available in any form in one of Canada's most sport-minded provinces. Yes, even in -31 degree weather, Albertans must head to a store to buy tickets. Slot, poker, and table play are plentiful as 28 Casinos are spread out over 12 different cities.
Saskatchewan Sports Select Lottery (WCLC)
In the Land of the Living Skies, Western Canadian Lottery Corporation products are sold by the Saskatchewan Lotteries Corporation. Shared with Alberta, plus the northern Territories, bettors are saddled with dinosaur age Sports Select wagering schemes. Even with single-game betting in Saskatchewan opening up in 2022, we are not kidding folks, stubby pencils and all; sports lottery kiosks need to be put in the past.
Marquis Downs in Saskatoon hosts LIVE pony betting action in Saskatchewan
Not available for purchase online is a major strike against prairie Proline and Point Spread wagering options. Stagnant odds, limited markets and a lack of convenience should also move 'Rider Nation to bet online. There are nine casinos, with over 3,000 slot machines, in the home of 4x CFL Grey Cup Champion Saskatchewan Roughriders.
Manitoba Sports Lottery (BCLC)
Residents in the Postage Stamp Province also have access to online betting offered by Manitoba Liquor & Lotteries. Fans of the Winnipeg Jets (NHL) and Blue Bombers (CFL) have played BCLC PlayNow.com sports betting, casino, and poker games since 2013. They even now allow single-game betting in Manitoba. This is a very good thing since some people rarely leave home during Manitoba winters.
Manitoba Jockey Club presents horse racing at Assiniboia Downs in Winnipeg
Open to all permanent Manitoba residents, but not fine folks who live a few miles away in Yorkton, SK, Manitoba is somehow still selling WCLC products as well. It's safe to assume those sales have dipped since the BLCL gaming platform arrived. When Patrik Laine scored five goals (11/24/18) a Jets fan won $1 million on the Safeway Score & Win promo.
Nova Scotia PROLINE Sports Lottery (ALC)
Canada's Ocean Playground residents bet on Atlantic Lottery Corporation products offered by the Nova Scotia Gaming Corporation. Lobster fishermen, out on their boats in the Bay of Fundy, can bet on the ALC STADIUM•BETS platform. After a winning morning, of reeling in full traps, they can wager with popular mobile devices while enjoying lunch. However, single-game bets are still not allowed at Nova Scotia Proline.
Inverness and Truro are home to LIVE harness horse racing action in Nova Scotia
Varying, from $10K to $60K, PROLINE does pay some big sports betting prizes. Exciting times are ahead as Halifax, NS is home to the tenth Canadian Football League franchise. The Atlantic Schooners will join the CFL East Division and begin to play during the 2021 season. Halifax and Sydney are home to the two main Nova Scotia-based casinos.
Newfoundland and Labrador PROLINE Sports Lottery (ALC)
Atlantic Lottery Corporation delivers sports betting in Newfoundland and Labrador. Not as strong as PlayNow and Mise-o-jeu Sports, the ACL offers PRO•LINE STADIUM•BETS plus Fantasy and Futures betting schemes. The North America Big Four plus MMA, soccer, golf, and tennis are the most prominent sports offered to bettors on Canada's east coast. You can now place both straight and parlays at the Newfoundland and Labrador Proline.
New Brunswick PROLINE Sports Lottery (ALC)
Punters in The Picture Province play Atlantic Lottery Corporation betting options under the guidance of the New Brunswick Lotteries and Gaming Corporation. Casino New Brunswick in Moncton, and the Grey Rock Casino in Edmundston, offer poker, table games, and slot action. Exhibition Park Raceway, in Saint John, is the premier LIVE horse betting venue.The sports lottery. isone. of the many across Canada to add single-game sports betting in August 2021.
Prince Edward Island PROLINE Sports Lottery (ALC)
Spud Island sports fans gamble on ALC options offered by the Prince Edward Island Lotteries Commission. Though PEI is Canada's smallest province, residents have access to lots of gambling opportunities, including single-game sports betting. In addition to sports lotteries, bettors can also get their game on at Charlottetown Red Shores Racetrack & Casino and the Summerland Casino.
Nunavut Sports Select Sports Lottery (WCLC)
Bettors in The Land of the Midnight Sun play WCLC products offered by NWT and Nunavut Lotteries. Sounding like a stuck record, we can't in good conscience recommend the Sport Select options found at lottery kiosks in Nunavut. From house slanting betting requirements to questionable odds and a total lack of convenience, bypass WCLC schemes. Instead of dealing with obligatory parlays at the Nunavut Sports Select Sports Lottery, check out the exciting action at CSB top-ranked online betting providers.
Northwest Territories Sports Select Lottery (WCLC)
NWT and Nunavut Lotteries oversee WCLC gambling options in Canada's Last Frontier and have decided not to allow single-game sports betting. Sports fans in the Northwest Territories, as do all Canuck 'Cappers, deserve better. That's why we strongly suggest they head to exciting sportsbook, casino, poker and racebook betting action recommended by the experts here are Canada Sports Betting. NWT bettors can earn bonus money on parlay wagers at a variety of top online sportsbooks.
Yukon Territory Sports Select Lottery (WCLC)
From towns like Old Crow in the north to Whitehorse in the south, Lotteries Yukon offers WCLC Sports Select to sports bettors in the True North. Due to the inferior offerings, such as not allowing single-game sports betting, we are not shy about recommending world-class online sportsbooks. Betting from home, office, or outside a lottery shop with a mobile device, is simple and secure at online wagering websites. Plus, there are tons of markets that are not available on WCLC cards.
British Columbia PlayNow Sports Lottery (BCLC)
British Columbia Lottery Corporation offers betting platforms to sports fans in Beautiful British Columbia. As one of Canada's most diverse urban areas, Vancouver is home to the Canucks (NHL) BC Lions (CFL) Whitecaps FC (MLS) plus Pacific FC in the Canadian Premier League. Offered to BC residents, who are 19+ and physically within the province, BCLC PlayNow.com and Sports Action options are some of the best in Canada, including the recent addition of single-game sports betting.
Hastings Racecourse & Casino in Vancouver offers LIVE and Simulcast horse wagering
PlayNow offers extensive wagering markets and odds are supplied by Ireland-based Paddy Power bookmakers. During the 2016 US Presidential election, BC bettors wagered $223K on Donald Trump and $427K on Hillary Clinton. Trump backers shared $837K when he shocked the world and won. That said, forced parlays remain a major downside. River Rock Casino Resort in Richmond is the largest gambling house in Western Canada.