An iGaming Ontario certified Sportsbook, accredited by the AGCO; Betano Ontario sportsbook and casino is slowly becoming one of the leaders in the Canadian sports betting market.
The product of Greek gaming technology company Kaizen Gaming, Betano aims to stay on the cutting edge while delivering top notch customer experiences. Should you check out Betano Canada? Keep reading our Betano review to find out what they have to offer.
Great live betting options
Extensive roster of sports and leagues
Strong mobile website
No cryptocurrency support



Betano Ontario Sports Betting

Betano is an up-and-coming sportsbook operated by Kaizen Gaming, one of the leading game tech companies in Europe and South America. Established in 2012, Kaizen Gaming enjoys huge success in Greece and Cyprus through the Stoiximan brand and in Germany, Portugal, Brazil, and Canada through the Betano brand.
Betano focuses on sports and esports betting but offers a decent casino experience for those interested. Betano also enjoys strong ties with many popular soccer teams in its supported countries, like SL Benfica and Porto in Portugal or Fluminense and Atletico Mineiro in Brazil.
Betano Canada
Registration Process

Betano acquired its official license from the Alcohol and Gaming Commission of Ontario (AGCO) on August 17th. This indicates that the brand cares about being able to operate legally and be fully regulated within Ontario.
It has also applied for its iGaming Ontario (iGO) gaming license but hasn't received it yet. Until that happens, Canadians can't use Betano's services. However, it's only a matter of time before you can legally and safely bet with Betano Canada.
Creating an account with Betano Ontario is a mildly tedious, but ultimately straightforward process. Simply visit their website and click on the "Register" button in the top right corner and follow these steps.
Step: 1: Sign-up using your email address or one of your social media accounts.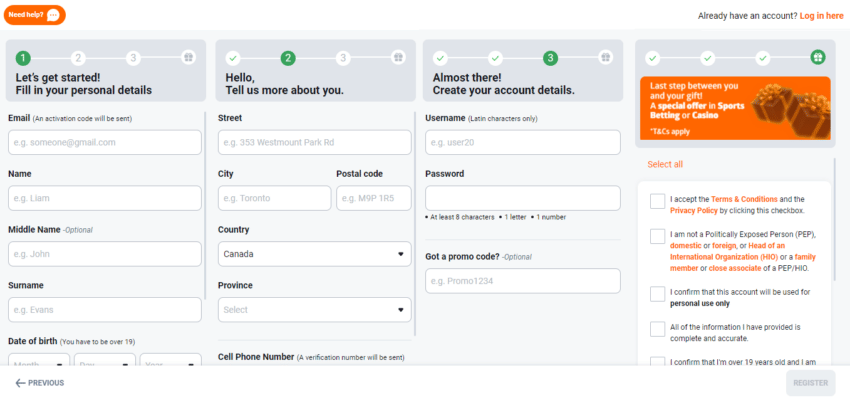 If you register via email, you'll need to complete your personal details, including your name and date of birth. Make sure to type everything as it's displayed on your identification document to not face any issues during verification.
Step 2: You'll need to input your mobile phone and address, both of which you'll also need to verify.

Step 3: Create your unique username and password, and make sure to use our exclusive registration code CANBET
Once you've created your account, you can make your first deposit and start using Betano. However, you'll need to complete the verification process to fully access your account's benefits, including withdrawals.
Betano Canada
Overall Impressions

Betano has gained significant recognition in recent years. With its wide range of betting options and exceptional customer service, Betano has become a go-to platform for sports enthusiasts in Canada and beyond. So let's delve into the history of Betano, its features, and why it has become a favourite among Canadian bettors.
Betano is the product of Greek gaming technology company; Kaizen Gaming. As an international GameTech company, Kaizen have experienced rapid growth and expansion. Their primary goals revolve around enhancing technology and prioritizing customer satisfaction. By consistently improving products and services, Kaizen strive to deliver the ultimate online gaming experience and earn the trust of players worldwide.
The Kaizen journey began in 2012 with the establishment of the Stoiximan brand in Greece. Since then, the Betano platform was established and serves markets in 12 countries including: Portugal, Brazil, Romania, Germany, Bulgaria, Czech Republic, Chile, Peru, Ecuador, and Canada (Ontario).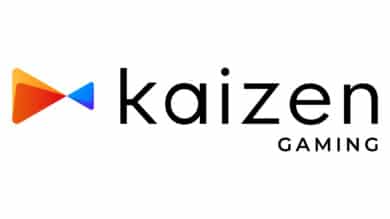 One of the key aspects that set Betano apart from its competitors is its user-friendly interface. The platform's sleek design and intuitive navigation make it easy for even beginners to navigate and place bets. Whether you are a seasoned bettor or just starting out, Betano provides a seamless experience for all.
Betano's sportsbook offers a wide array of betting options across various sports, including soccer, basketball, hockey, tennis, and more. With its extensive coverage of local and international sporting events, Betano ensures that users always have a plethora of options to choose from. Whether you're a fan of the NHL, NBA, or the Premier League, Betano has got you covered.
Ontario residents, in particular, have embraced Betano with open arms. The platform has gained popularity in the province due to its user-friendly interface and dedicated focus on local sports. Betano Ontario has become a go-to destination for sports enthusiasts who want to bet on their favorite teams and players.
When it comes to customer service, Betano excels in providing prompt and efficient support. The platform understands the importance of addressing user queries and concerns in a timely manner. Whether you need assistance with account-related issues, payment methods, or general inquiries, Betano's customer service team is readily available to assist you.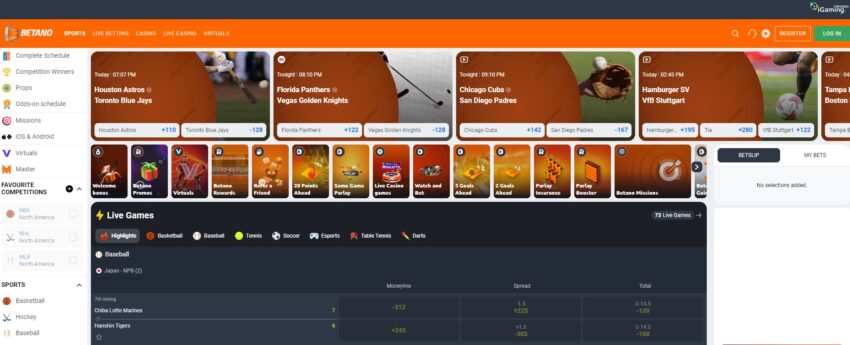 Now, let's take a closer look at Betano's overall performance. The platform offers competitive odds, ensuring that users get the most value out of their bets. Additionally, Betano provides a seamless live betting experience, allowing users to place bets on ongoing matches in real-time. This feature enhances the excitement and engagement for bettors, making Betano a preferred choice for many.
Betano's dedication to responsible gambling is also worth mentioning. The platform promotes responsible betting practices and provides resources for users who may require assistance in managing their gambling habits. Together with iGaming Ontario and the AGCO, Betano's commitment to player welfare sets a positive example within the online gambling industry.
Betano Sportsbook has established itself as a prominent player in the online betting world. Its user-friendly interface, extensive range of betting options, and exceptional customer service have contributed to its widespread popularity. Whether you're an Ontario resident or a sports enthusiast from elsewhere, Betano offers a comprehensive betting experience that caters to all. With its commitment to responsible gambling and continuous improvements, Betano is set to remain a trusted and reliable platform for years to come.
---
Betano Review Bottom Line

Betano online is an excellent sportsbook for both novice and experienced bettors. Its easy-to-use and eye-catching website allow you to easily find the game you want and place your bet on it. Not to mention that there's an iOS app and a quality mobile website.
Betano's odds are some of the most competitive in the market, and it also offers hundreds of different betting options for all bettors. Additionally, you'll find plenty of matches with zero commission for the match winner or several Enhanced and Super Enhanced odds that will give you even more profits.
Naturally, there are some sore points, such as the lack of a 24/7 live chat availability and the absence of cryptocurrencies as payment methods. Still, the Betano online betting experience is excellent, and in concluding our Betano reviews, we recommend it to anyone looking for a new sportsbook.
---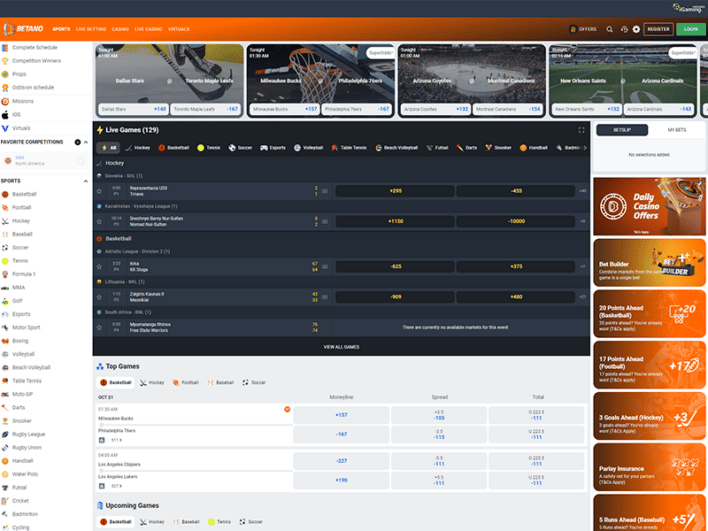 Visit Betano and see for yourself…
Visit Betano via the link below, register a private wagering account, and make a secure first deposit.
Visit Betano Today!
---
Betano Canada FAQs
Who is Betano?
Betano is a platform that operates under the Kaizen Gaming platform, one of the fastest growing in Europe. They're also responsible for the Stoiximan brand in Greece and Cyprus. On top of those two countries, they also operate with the Betano brand in Germany, Romania, Portugal, Brazil, Bulgaria, Chile, and of course now, Betano Canada joins them on the North American front.
Where is Betano from? Where is Betano based?
As you may have been able to infer from the previous question, Betano's parent company Kaizen Gaming is based out of Greece. They're the biggest gaming company in the country and have used this to establish a strong base in Europe, which they plan on carrying over throughout the world. Canada is one of many points of expansion, in this case with the Betano brand.
How do I delete my Betano account?
Betano Canada allows for users to deactivate their accounts if they decide to move on, regardless of reason. When logged in, find the Profile tab, select "Player Protection", and then either use Temporary Account Closure or Self-Exclusion to shut your account down either on a short term basis or permanently. Betano will allow you to close withdraw any eligible funds through this process, less standard withdrawal fees.
Is Betano legit?
In short, yes, Betano is a legit and regulated sportsbook. With Betano, online betting is quick and safe thanks to the credibility of its parent company, Kaizen Gaming. Kaizen is one of the most well-known game tech companies worldwide and holds an official license in Malta. Also, Betano was recently approved by AGCO for regulated use in Canada.

How to withdraw from Betano?
The Betano online sportsbook offers many options to withdraw your money. Once you've verified your account, you can withdraw your earnings using your preferred payment option, such as bank transfer or credit card. Betano doesn't have any withdrawal fees, but your bank may charge you a small fee for the transaction.

Does Betano have an Android App?
For those who prefer to do their online betting from their smartphone, there's the Betano mobile website that's accessible on all Android devices. The mobile is very elegant and easy to use, with minimal lagging and bugs. This means you can always log in for a quick bet even if you're on the go. Betano has a side-loadable Android app as well, but it isn't released in Canada at this time.

Does Betano have an iPhone App?
Betano has an excellent iPhone app for mobile bettors in the App Store for most regions. The Betano mobile betting app for iOS is sleek and stylish with the brand's signature orange accents. There are also no issues while browsing the app or placing your bets, and the app has very frequent updates with new features and bug fixes.

Is Betano rigged?
Betano online is a well-known, legit, safe sportsbook and casino that operates under a Malta gambling license. It's also regulated for fair use by the Canadian government, which adds a further layer of protection for Canadians. Still, Betano provides its customers with some of the most competitive odds in the market.

Is Betano legal in Ontario?
Yes, Betano Ontario is fully operational in Ontario. Betano sportsbook is registered with the AGCO and has its operating agreement in place with iGaming Ontario.
Sports Interaction Ontario | NorthStar Bets Ontario | bet365 Ontario | PowerPlay Ontario | BetVictor Ontario | Betway Ontario | Bet99 Ontario | BetMGM Ontario | BetRivers Ontario
---