Find the best Toronto Maple Leafs betting odds and betting resources like next game money lines, over/unders, spreads and statistics here. Remember that the home games are played at the Toronto Maple Leafs arena, Scotiabank Arena.
Leafs Odds Tonight
For those of you wondering what the odds of Toronto winning tonight are, look no further. The next Maple Leafs game is Game 1 of the Atlantic Division Final Tuesday, May 2 in Toronto. Here are the odds of the Leafs grabbing the early series lead:
The Leafs and the 2023 Playoffs
The Stanley Cup Playoffs are under way! The Toronto Maple Leafs finally broke through their first-round "curse" this season, defeating the Tampa Bay Lightning 4-2 in a series that featured three OT road wins. Unfortunately, the momentum was short-lived, and they fell in their next series to the Florida Panthers.
If you're still looking to keep up with other National Hockey League action, you're in good hands at Canada Sports Betting. Check our NHL News section if you want to keep in touch with the latest in playoff hockey action, both generally and from a betting-specific angle.
Toronto Maple Leafs Team Info
Team Name
Toronto Maple Leafs
Conference
Eastern
Division
Atlantic
Founded
1917
History
Toronto Arenas (1917-1919)
Toronto St. Patricks (1919-1927)
Toronto Maple Leafs (1927-Present)
Arena
Scotiabank Arena
Stanley Cups
13 (1917-18, 1921-22, 1931-32, 1941-42, 1944-45, 1946-47, 1947-48, 1948-49, 1950-51, 1961-62, 1962-63, 1963-64, 1966-67)
Conference Titles
0
Toronto Maple Leafs Odds to Win Series
Below are Toronto's current odds to win their second-round series against the Florida Panthers. This is subject to change, as we've seen many times throughout the series, so keep tabs!
Toronto Maple Leafs Projected Lineup
The Maple Leafs lineup going into the second round looks a little different than how they started the first. At the top we have:
Matthew Knies – Auston Matthews – William Nylander
Calle Jarnkrok – John Tavares – Mitch Marner
Michael Bunting's Game 1 suspension against Tampa, for a hit to the head if Erik Cernak, necessitated the introduction of rookie Matthew Knies. The 20-year-old winger has been nothing short of fantastic and continues to climb up the lineup.
Michael Bunting – Ryan O' Reilly – Noel Acciari
The third line is a little heavier than when the playoffs started as a result, giving Bunting an opportunity to still play with a quality centre in O'Reilly, who is now being used as a match up man rather than a supplemental forward.
Zach Aston-Reese – David Kampf – Alexander Kerfoot
Lastly, the fourth line has shaken out quite a bit different than when we started. Kerfoot has been slid back to give a bit of skill to the group, while Kampf provides defensive excellence and Aston-Reese a strong forechecker, with this line's purpose set to be aimed around speed and helping the team escape the defensive zone.
On defence, Justin Holl drew out of Round 1 after an uncharacteristically bad first five games, and will start off in the press box in Round 2. Toronto will run a set of six to start the round that looks like:
Jake McCabe – TJ Brodie
Mark Giordano – Timothy Lijlegren
Morgan Rielly – Luke Schenn
Both Timothy Liljegren and Erik Gustafsson drew in for Game 6 against Tampa as an 11-7 arrangement was employed, but only the former stays to start the series. The hope that Liljegren will give the corps a bit more dynamic play while not sacrificing too much in terms of defensive sense and physicality.
In goal, Ilya Samsonov was arguably the MVP of the Tampa series and will continue to start until he proves to be the weaker option. Matt Murray is progressing with his concussion recovery, but Joseph Woll will likely remain the backup to start the series. Murray's improved status does mean that Erik Kallgren can get some time with the AHL Marlies while he waits in the wings, though.
Trophy Watch
NHL futures are a great way to bet on the hockey league we all know and love, and a favourite for those into futures is to bet on awards winners. You'll find that almost all of yours and our favourite sportsbooks in Canada carry NHL awards action, so here's who might be in the conversation for the Maple Leafs as 2022/23 gets under way.
Hart Trophy: Last season, Auston Matthews became the first Maple Leafs player since Ted Kennedy in 1955 to win the league's MVP award. Can he catch lightning in a bottle again? Well, you'll find him at around +450 to start the year, ahead of everyone in the league other than Connor McDavid. It'll be tough for him to repeat, but with three consecutive seasons in the Top 10 and back-to-back in the Top 2, he's a name to watch until he isn't.
Mitch Marner also sits in the upper tier, at +4400, though it would likely require an even better year than his last two and more than likely, for Matthews to miss significant time. If you're feeling really courageous, some books are also taking bets on William Nylander and former finalist John Tavares, but then you're getting into the +10000 and above territory.
Vezina Trophy: If we can be honest with you, Matt Murray being in the upper half of the average book list feels like a little bit of a marketing play for Leafs opportunism, as it would require a massive bounce-back year, in both performance and health. But hey, he's a high-pedigree goalie and if he has a good year, that narrative arc could help him – he sits at about +3000, in the same territory as the departing Jack Campbell. Some books are offering action on Ilya Samsonov as well, but you're getting into +15000 territory there – that could be a great longshot bet, but isn't one I'd hold too much of my breath on.
Norris Trophy: Toronto's blue line is probably the best it's been in the modern era, with depth all the way down the pairs when fully healthy. With that said, they don't have an elite, perennial Norris threat on the back end. They do, however, have Morgan Rielly, who you'll find at around the 15th-shortest odds on most books at about +4000. While voters are getting more analytically inclined, they do still like their counting stats and plus/minus, and Rielly has been known to get votes in years where his stick is hot (5th place in 2018/198, 11th last season). It's hard to call for but Cale Makar to win the Norris in any given year at this point, but if Rielly is healthy and continues to play on the top powerplay unit, you could see him in the mix.
Jack Adams Award: Not every book will carry the Coach of the Year award, and the lines can certainly get weird on this. A black market book recently put Leafs coach Sheldon Keefe as the most likely to be the first coach fired – a call we very much disagree with. Most books that do carry the award have Keefe pretty high up on the list to win the award, putting him at +1750 or so with no one shorter than +1300. Honestly, the Jack Adams is a very tricky award, with it tending to go to the team who improved the most or surprised most positively in the standings, and really relies most on goaltending. So while Keefe often feels like one of the best coaches in the league, a bet here is most likely a bet with your gut.
Rocket Richard Trophy: This might be the safest individual Leafs bet you'll find. Auston Matthews' 60-goal season last year, which saw him win the Rocket by 5 goals despite missing 9 games, showed that he's not just one of the best finishers of his generation, but of all time. No one has scored more goals in the NHL since Matthews joined the league in 2016/17, and his lead in the even-strength version of that statistic is massive; his 196 even strength goals are 23 more than second place, and 58 more than 5th. As he's entered the his prime that lead has only gotten bigger, and at +225, he's the odds-on favourite to win it for a second consecutive season. The only barrier to him winning, like anyone else in a counting-stats award, is health.
If you want to look at another Leaf – I'm not sure why you would, but you could – you can find Tavares, Nylander, and Marner at about +10000, with some variation from book to book.
Toronto Maple Leafs Projections
The Maple Leafs are one of the most frustrating teams in the league, if you're a Maple Leafs fan. If you're not, they're one of the most exciting, and one of the best to laugh at at the end of the year. Toronto has consistently been one of the top teams in the regular season, with an embarrassment of riches in their depth chart and an offensive-leaning, puck-possession playstyle that's a joy to watch. Normally, this should add up to playoff success, but six consecutive Round 1 losses have their fans on the brink of insanity. What can we expect this year?
Stanley Cup: Line up the football, Lucy, because Charlie Brown is ready to get hurt again. Despite their total lack of playoff success, Toronto opened the season as the universal second-ranked pick to end their 56-year championship drought at about +800 to +900 odds for the Leafs to win the Cup, behind only the defending Colorado Avalanche. Yes, the Leafs' odds to win the cup are irritatingly good.
Look, rationally speaking, it makes all the sense in the world, given the team's multiple superstars up top, deep blue line, and seeming non-reliance on their goaltending to need to be good. On the other hand, well, six straight first round exits. Tough sell to the heart, but if you ignore the vibes, the objective brain whispers "good value, if you dare". The Leafs' odds look good enough to give it serious consideration.
Spring Update: Now that the team has broken through round one and the pre-season (Colorado) and pre-playoffs (Boston) favourites have been eliminated, the Leafs' odds to win the Cup are now near or at the top of most books – if you want to bet on the Leafs to win the Stanley Cup, you're looking at about +380 as of the beginning of May.
Presidents Trophy: This is much more up the alley of the average fan, at least in believability. Can Toronto finish first overall? Well, they had a 0.702 record after New Years last year despite having the league's second-worst goaltending numbers in that stretch, and finished the season in fourth. Some would argue that Florida got worse, that Tampa and Colorado will likely be a bit worn down. Because of this, Toronto still ranks in second behind Colorado, but that +800 to +900 range cuts down to about +500. If either one of Samsonov or Murray has a year where they look like a starter, or at least a 1A, Toronto has a shot here. So as it stands, the Leafs' odds are pretty good.
Spring Update: Boston's historically good regular season got in the way of teams like Toronto, dominating for so long and by so much that many of the other top teams started to tune up for the playoffs instead of focusing on the standings. Nonetheless, Toronto ended up 5th overall. It wouldn't be a shock to see the Maple Leafs' odds going into next year rank pretty high once again.
Winning The Division: With the above stated, it should be no surprise to hear that the Leafs have the shortest odds to win the Atlantic Division, sitting at about +175 at the moment on most of the major books. It's going to be a tough division with Florida, Tampa, and Boston still in the mix and the bottom half of Ottawa, Detroit, Buffalo and Montreal all seemingly making steps towards respectability (at least, until one or two start cold and pivot to tanking for Connor Bedard). But Toronto is the best team of the bunch on paper, and if there's one thing an early playoff exit helps with, it's that their bodies aren't as worn down heading into the start of the year.
Spring Update: Once again, Boston was dominant this year, and Toronto had to settle for a dominant but distant second – 24 points back, yet 13 ahead of third. The odds of Toronto winning tonight are better than anything they ever had in this race, despite a wildly successful regular season. They could win the division in a playoff sense still, but that's not what the books were looking for.
Making The Playoffs: If you're looking to bet on the Leafs to make it, most expect them to do so without issue, so at -1150, you may as well just deposit that money into a savings account. However, if you feel the goaltending leaves a bit to be desired (a reasonable opinion) and that their finishing talent could hit a wall (a bit courageous, but not impossible), you'd get back +650 or so on "no". We'd probably just leave this one, but hey, stranger things have happened.
Spring Update: Toronto made it in with quite a lot of comfort. To those of you who bet this one, we admire your patience!
Point Line: The line for Toronto is one of the highest in the NHL, unsurprisingly, sitting at 107.5. Public models are pretty mixed on this, with some of the most popular going well under, with others clearing the over. A lot of this is weighted by expectations for the goaltending duo of Murray & Samsonov. As mentioned above, goaltending was something Toronto was able to win in spite of last year, and projecting netminders is still tough-to-chart territory in hockey, so this could go a lot of different ways. The books tend to be giving shorter odds on the over right now, so there's likely some value in the under if you move quickly, but once the line gets this high, things can go a lot of different ways.
Spring Update: The Leafs covered! Toronto finished the season with 111 points.
Maple Leafs' betting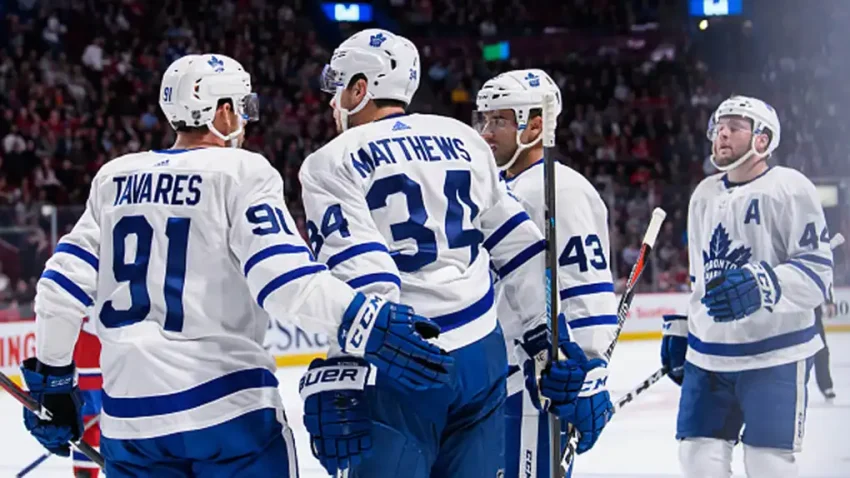 Fans looking to the Toronto Maple Leafs when canvasing NHL betting odds will find a lot of different options to work with. Pre-match odds are available well in advance of all games on the Maple Leafs schedule. On game day, you'll always find odds of the Leafs winning tonight. Live odds are in play for each and every game as well. But how do Toronto Maple Leafs odds work, you might ask?
Future book wagers on offered on players in terms of individual awards such as the scoring leader, MVP or rookie of the year. If you're truly optimistic that this is "the year", you can place a future wager on whether they will win the division, conference, or even the Stanley Cup.
Once the playoffs get underway, you can play Stanley Cup odds on the Leafs winning the trophy that has alluded them for so many decades.
You're able to place individual game wagers throughout the playoffs in a similar fashion to regular-season wagering, but you can also place a series outcome bet on each round.
This can be as simple as which team you think will win the series, or as complicated as picking the team and the exact number of games required to complete the set.
Always remember that Vegas betting lines are the same as NHL betting lines.
How To Get The Most Out Of Toronto Maple Leafs' Betting Lines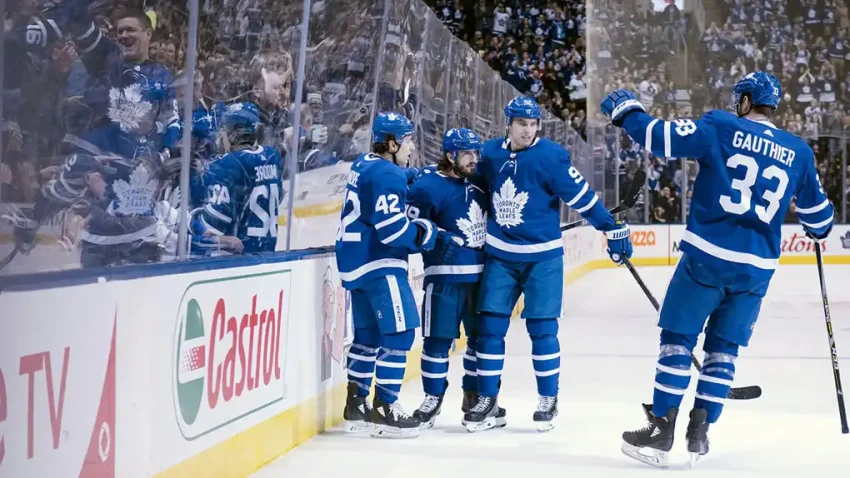 When betting on Toronto Maple Leafs games, or placing other Leafs-related wagers, it's important to ensure that you are getting the most for your money. One of the beautiful facets of sportsbooks that cater to the Canadian market is that they understand and recognize the passion that Canadians hold for hockey and the NHL and offering the according to a wealth of wagering opportunities.
With that being said, every sportsbook is different. Those differences could be dramatic, or they could be nuanced. Still, you'll want to take a look at all of your options before making a decision. You wouldn't buy the first car or first home you saw. Take the same approach when shopping for a sportsbook. Check each site's Leafs odds out thoroughly, if you want to make the most out of your Maple Leafs predictions tonight.
Compare the NHL markets of each sportsbook to decipher whether they offer the sorts of bets you seek. Maybe you like to play live wagers. Perhaps you're someone who prefers to delve into future wagers. Every sportsbook will have its strengths and weaknesses. Look for a selection of NHL Teams betting odds that's a fit for your needs as a bettor.
Are you someone who's always on the go, and wants to maximize your odds on the Leafs game tonight without being at your computer? If that's the case, you'll want to be certain that your chosen sportsbook's mobile site is compatible with your chosen mobile device.
As well, determine the sort of bonus offers you'll get upon signing up and read up on the terms and conditions attached to those bonuses.
How To Find The Best Welcome Bonus For Leafs Vegas Odds?
When seeking out the Leafs Vegas odds, you're going to find that as you peruse sportsbooks, just about all of them seek to entice you aboard with some sort of bonus offer. These bonus offerings come in several formats.
It might be a no-risk first bet. Say you bet $100 on the Leafs to win with your first bet and they lose. That sportsbook would refund the $100 to your account.
Some will offer no-deposit bonuses, where a pre-determined amount is deposited to your new account even before you put any of your own money into it. And there are sportsbooks that continue giving through reload bonuses that match a percentage of any further deposits to your account.
Another sportsbook could try to get your business by offering free cash to bet upon signing up. It might be a set amount of $100 or $200, or it could be a matching bonus offer where they deposit the same amount to your account that you do with your first deposit.
Which Sportsbook Has the Highest Leafs' Odds?
When betting on Maple Leafs odds, you will likely find that there are slight differences in the odds offered on Leafs games at different sportsbooks.
For example, let's suppose that one sportsbook offered the Leafs to win their next game at odds of 2.10. But over at a rival sportsbook, the Leafs were listed at 2.30 to win the same game. If you bet $100 at 2.10 and the Leafs win, your profit will be $110. But if you play the Leafs at the second sportsbook at odds of 2.30, now your take home on a winning wager turns out to be $130. Sure, it's only $20 but have you ever turned someone down who offered to give you an extra $20 no questions asked?
This same formula applies to Toronto Maple Leafs betting on pre-game odds, live betting odds and future book plays. Let's say you wanted to place a future wager on the Leafs' total points for the season. Sportsbook A pegs the total points for the Leafs at 96.5. However, Sportsbook B expects more from Toronto's NHL team and puts them at 100.5 points. A solid option here would be to middle two bets between the sportsbooks. Bet the over at Sportsbook A and the under at Sportsbook B. Now if the Leafs finish between 97-100 points, you'll cash on both wagers.
Which Sportsbook Has The Most Current Maple Leafs' Betting Lines?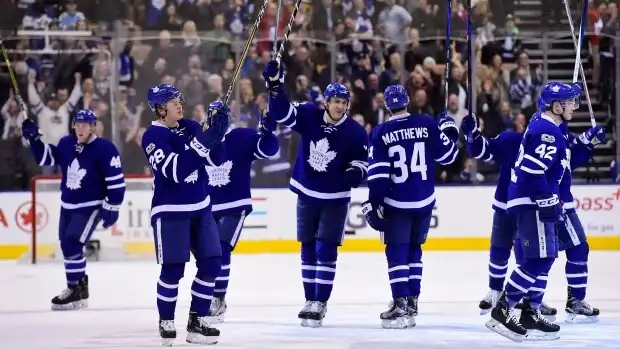 When it comes time to do some Maple Leafs betting, you'll want to make sure that you're playing the best Maple Leafs odds.
Shopping for the best price is something you would pursue whether you were buying new furniture, replacing a furnace or roofing your home. There's absolutely no reason not to do the same when seeking a sportsbook to play the Leafs Vegas odds.
Compare and contrast the vast array of sportsbooks that are available through Canada Sports Betting. You can do this by opening the pages of a number of sportsbooks simultaneously, and seeing who's got the number that works best for you.
If a sportsbook is offering the Leafs at 5.00 to win the Stanley Cup but a rival sportsbook has the Leafs at 10.00, you'd naturally bet the latter choice, since the return on investment is significantly more rewarding. Most books these days tend to update pretty frequently with similar models, so a gap that big isn't likely – but you can occasionally find some good value.
Some sportsbooks will post their odds faster than others as well. Bet365 is a book that's known for getting its odds out there among the quickest, and have also partnered up with us to bring you pre-game breakdowns that the Leafs regularly feature in, ensuring you the latest Leafs betting odds on a near-daily basis.
If you want to live bet on Leafs games, Sports Interaction (SIA) is a site with a very expansive list of in-play wagers.
On the other hand, if future wagers are your style of play, Spin Sports offers an abundance of these plays.
How To Make The Best Toronto Maple Leafs' Bets Tonight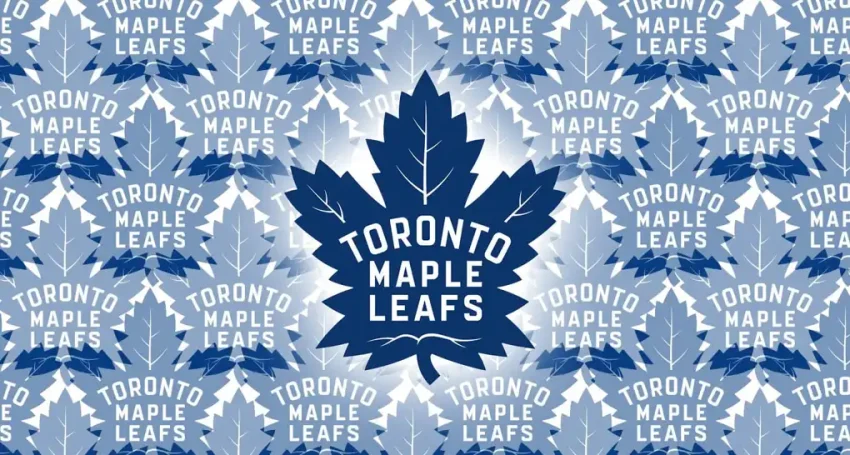 If you want to turn a profit when betting on Leafs odds, you'd better be prepared to put your time into learning all there is to know about the team. Whether it's who's hot, who's cold, how the team matches up against certain opponents, how concerned your best friends are about an incoming moment of curse. You know, the usual things when Toronto comes up. You have to keep in front of the trends, keep their nose to the grindstone and remain on the cutting edge of the information highway. If the players are going to be spending their time breaking down every game before the drop the puck, you may as well spend some yourself before you trust a side with your money for the night.
As you prepare to play the Leafs Vegas odds, you should be working just as hard to hone your craft. What's going on with the Leafs? Are they on a hot streak? Struggling to snap a losing skid? In the midst of a long road trip? Who's hot? Who's not? Who's in goal for the next game? Is anyone hurt, or perhaps about to return to the lineup from injury? At the same time, you should be researching the exact information about Toronto's next opponent. Do they struggle to win against the Leafs, or do they have Toronto's number?
Fortunately, the info packages available via Canada Sports Betting can provide many of these answers. You can utilize the free NHL picks for Toronto Maple Leafs betting advice. You can also peruse the NHL Power Rankings to determine where the Leafs are situated compared to their upcoming opponent.
When it comes time to bet on the Leafs, you can do so at any of our partner sportsbooks listed below.
Maple Leafs' FAQ
When is the last time the Toronto Maple Leafs won the Stanley Cup?
The Toronto Maple Leafs last won the Stanley Cup in 1967. The franchise is currently the team with the longest cup drought in the NHL. No, your rival friend fans will not stop telling you about it.
Who was the last coach when the Leafs last won the Stanley Cup?
The legendary Punch Imlach was the last coach to guide the Toronto Maple Leafs to the Stanley Cup, which occurred in 1967. Many have come through since, with the current coach being Sheldon Keefe.
What division does the team play in?
The Toronto Maple Leafs play in the Atlantic Division, which includes the Montreal Canadiens, Boston Bruins, Tampa Bay Lightning, Ottawa Senators, Detroit Red Wings, Buffalo Sabres, and Florida Panthers. The Atlantic division is in the Eastern Conference.
When were the Toronto Maple Leafs founded?
The Maple Leafs organization was founded in 1917 as simply "Toronto", or the Toronto Arenas. This, and the NHL in general, stems from a dispute between the other team owners and Eddie Livingstone, who owned the NHA's Toronto Blueshirts. Unable to kick him out, the rest of the group chose to found its own league, with the Toronto Arena Company controlling the new franchise.
The team changed hands a couple of times in the 10s and 20s – with the name changing with it – before Conn Smythe took over in 1927 and settled on the Maple Leafs.
Where do they play?
Currently, the Toronto Maple Leafs play their home games at the Scotiabank Arena, which was initially called the Air Canada Centre before the naming agreement ran out. The Leafs spent most of their history at historic Maple Leaf Gardens, before Maple Leaf Sports and Entertainment decided to buy the Toronto Raptors and their in-progress arena in 1998, before moving both teams in the next year. Their current arena is located close to the downtown Lakeshore area.
Who are their biggest rivals?
There's a natural rivalry between the Toronto Maple Leafs and Montreal Canadiens, a grudge that has been around for more than a century. Typically, Montreal and Toronto sports teams clash to claim dominance in any league that both cities appear in. Unfortunately for Toronto, the Montreal Canadiens own the most Stanley Cup rings in league history.
Why are the Toronto Maple Leafs blue?
According to the company line nearly a century ago, the blue on the Leafs jersey represents clear skies while the white part of the jersey represents snow. However, most fans will point to blue being part of the city's official colours, something that most of the pro sports teams in Toronto pays tribute to in some way.
What was the original name of the team?
When the NHL started their league in 1917, the Toronto pro team was initially called the Torontos, nicknamed the Arenas after the Toronto Arena Company. The nickname took hold for a little bit, but an ownership change led to the team changing their name to the St. Patricks, a name that stuck between 1919 and 1927.
Upon Conn Smythe's acquisition of the team in 1927, Toronto changed their name permanently to the Maple Leafs, becoming one of the most storied franchises in North American pro sports.
Who was Bill Barilko?
Bill Barilko scored the Stanley Cup winning goal for the Toronto Maple Leafs in 1951. He disappeared in an airplane during a fishing trip in Quebec shortly afterwards. The Maple Leafs didn't win another cup until after his wreck was found on June 6th, 1962, inspiring the Tragically Hip to write the song "50 Mission Cap" – a classic Canadian rock song that tells Barilko's remarkable story.
Who has the most points in Toronto Maple Leafs history?
Mats Sundin collected 987 points and 420 goals in 981 games during his 13-year career with the Toronto Maple Leafs.
What are the odds that the Leafs win?
Odds for a given game or for futures-related bets (divisional, Stanley Cup, etc) will constantly be updated by the various sportsbooks, with adjustments based on the opponents ahead of them, the teams surrounding them, and their own hot or cold streaks. There isn't a consistent number here; your best bet is to check in with us or your favourite books to see where things are at.
Do the Leafs have a shot at the playoffs? Do the Leafs have a playoff spot?
This depends on what you're asking. Do they have a shot at making the playoffs? Absolutely – the team has had one of the best regular season records in the entire NHL over the past few seasons and there appears to be no end in sight in that regard. Do they have a shot at winning in the playoffs? That's a bit more complicated. The team has the talent, but has shown a chronic inability to win even a single playoff series since 2004. If you're a believer in not looking back, only forward, then they're a good pick. If you buy into history, well..
How can I bet on the Maple Leafs games?
Scroll up! Our comprehensive guide here on Canada Sports Betting has you covered, with explanations on how the odds work, where the best places to go are, and what you should keep in mind when betting on the blue and white.
What are the odds the Leafs win? What are the odds of the Toronto Maple Leafs winning?
This is something that changes on a game by game basis. It's rare to see Toronto as the underdog these days, and often they find themselves as heavy favourites, peaking at a whopping -578 against Chicago on February 19th.
Who is the best Leafs player of all time? Who is the best Toronto Maple Leafs player ever?
This question can be pretty subjective – lots of great players have worn the blue and white over the years. Depending on who you ask, you might get answers like Charlie Conacher, Dave Keon, Darryl Sittler, or Mats Sundin. The great news is that Auston Matthews is giving them all a run for their money in the modern age – especially if the focus is on talent rather than legacy, which he's still to form.
Who is the fastest Leaf to 400 points? Who is the fastest Leaf to 500 points?
The answer for both of these questions is none other than Auston Matthews. Mitch Marner was right on his tail for both – a sign of the talent on the team today – but Matthews set both milestones the fastest. It took him 372 games to get to 400, and 445 to get to 500.
What are the chances Leafs make the playoffs?
So long as the team has it's superstars, they're near locks, currently in the midst of their longest consecutive playoff appearance streak – a welcome change after years of misses.

Of course, postseason success is the new challenge, as while the Leafs' odds to win the Stanley Cup remain high, they still struggle to so much as win a playoff series once it's time to decide ont hat.