Welcome to Canada Sports Betting's NHL Predictions Hub, powered by NorthStar Bets. Here, you'll find each team's expected points for the regular season, their likelihood of being at the top or bottom of the standings, clinching division titles, playoff success, and even the ultimate achievement of winning the Stanley Cup.
Our predictions are crafted through extensive simulations, taking into account team performance stats, injuries, schedule challenges, and past patterns. Check back daily for the latest updates throughout the NHL season, and remember that all predictions and probabilities are rounded to the nearest whole number. Use our sports betting calculator to convert NHL Futures into implied probability for easy comparison.
Projected 2023-24 NHL Standings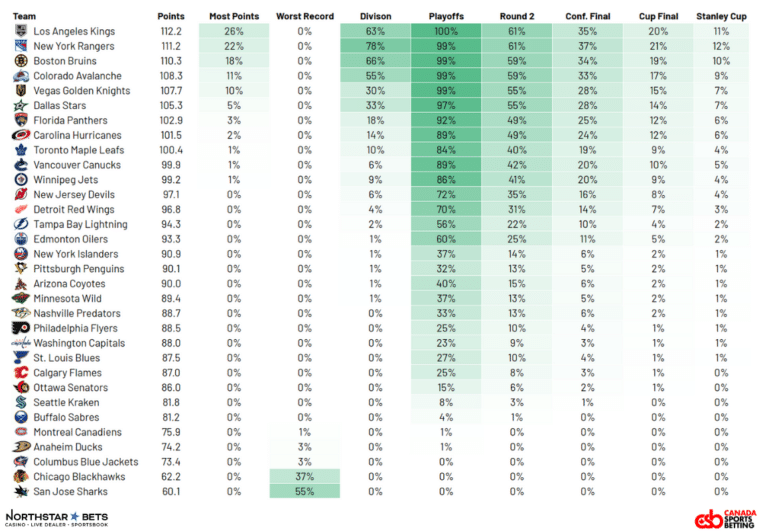 Projected NHL Division Chances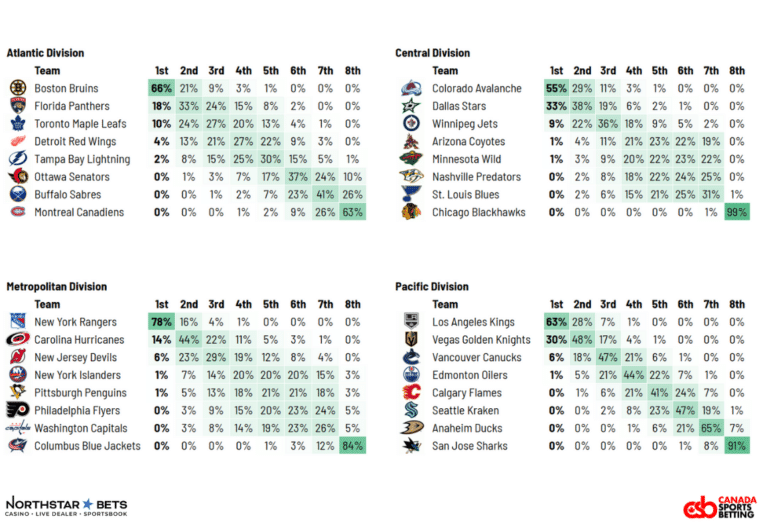 Watch and listen to The Puck Portfolio
The weekly schedule and accompanying rest info are best paired with the insights provided by Andy MacNeil on Canada Sports Betting's NHL show, The Puck Portfolio, presented by NorthStar Bets! Released every weekday afternoon, Andy provides insights on NHL action ahead of the competition, using CSB's predictive model to find the best value on the betting market.
To get easy access to the latest episodes, Subscribe to the Canada Sports Betting YouTube channel, or add the show on Spotify, Apple Podcasts, or your favourite podcast provider!
Follow Andy on Twitter for daily updates and NHL betting insights.