Derived from a chain of land-based betting shops which were established in 1974, Bet365 has morphed into one of the largest online gaming sites on the Planet. Offering a wide variety of sports and thrilling horse betting options, along with Live Poker and Casino action, this UK-based wagering website is a well-respected player and gambling industry leader. Bet365 is also known for fantastic in-play sports betting and a state-of-the-art mobile platform. Is Bet365 good? We think it's among the best. Let's take a closer look at Bet365 Canada's sportsbook.
This Month on bet365:The NHL and NBA postseasons are here! Exciting playoff action is on tap all month. Plus the boys of summer are back as the MLB is in full swing! So take advantage of everything the best sportsbooks in Canada have to offer!
Is Bet365 Legal in Canada?
Bet365 Canada is one of a handful of sportsbooks currently approved and licensed in Ontario by the AGCO and iGaming Ontario. This gives a risk-free experience to those within the country's most populous province, but note that eligible iGames conducted and managed by iGaming Ontario are only available to those physically present in the Province of Ontario.
Beyond that, Bet365 has a wealth of experience working within Canada. For specific eligibility, check in with your province or territory's regulations.
Deposit with Interac e-Transfer
bet365 Ontario operates pursuant to an agreement with iGaming Ontario
Top Level Live Betting Platform
Industry Leading Customer Service
(minor) Some pop ups menus could be scrapped.



FAQs about Bet365 in Canada
How to cash out at Bet365?
The first step when withdrawing money from Bet365 is to log in to your account.

Once logged in, click on the withdraw section to see the various options available to you. Choose the one that works best and select the amount to withdraw. Keep in mind that $10 is the minimum.

Once the withdrawal has been initiated you can expect your money in 1 to 5 business days.
Why can't I deposit to Bet365 Canada?
If you cannot deposit at Bet365, be sure to verify the following;

– Your account is valid and in good standing
– Your deposit information is correct and up to date
– Your bank or credit card allows for online sportsbook transactions
– You have not exceeded a set deposit limit

If after checking these you still cannot deposit, contact Bet365 directly for more help.
Why can't I withdraw on Bet365?
There are a few reasons why you cannot withdraw from your Bet365 account.

– You do not have the withdrawal minimum of $10 in your account
– You have not set up a method of withdrawal, or your method of withdrawal has expired.

If after checking these, you are still unable to make a withdrawal, contact Bet365 directly for more information.
Why can't I login to my Bet365 account?
If you cannot log in to your Bet365 account. Verify the following;

– You have entered the correct email and/or password
– Your account is not deactivated.
– You are not self-excluded from Bet365
– You are not banned from Bet365

If you've checked these steps and still aren't able to log in, contact Bet365 customer support.
How do I verify my identity on Bet365 Ontario?
Bet365 will ask you to verify your identity by asking for proof of your age to comply with the local and federal regulatory requirements. You will need to provide proper government-issued ID such as a driver's licence and/or a copy of a bank/card statement. The copies have to be clear images.
How to start playing on Bet365?
To start playing at Bet 365, you will need a validated account (meaning you've provided proof of identity to Bet365) and that account needs to be funded.

Once you've completed these steps you'll be ready to play!
Is it legal to play at Bet365 in Canada?
Wagering on Bet365 is legal in Canada.
Is Bet365 legal in Ontario?
Bet365 is an iGaming Ontario certified Sportsbook and is 100% legal in Ontario.
Can I play with Bitcoin on Bet365 Canada?
Currently, Bet365 does not accept Bitcoin or other cryptocurrency deposits.
Is Bet365 licensed in Ontario?
Bet365 is an iGaming Ontario certified betting platform that Ontarians can enjoy with confidence.
Can I deposit with Paypal on Bet365?
Canadians are unable to use PayPal to make deposits and withdrawals at Bet365.
Who can play at Bet365?
To play Bet365 in Canada, you need to meet the following requirements;

– Be of legal age in your province
– Have a valid email address
– Have a valid Canadian address
– Be able to provide proof of identity
– Have a form of deposit and withdrawal accepted by Bet365
– Have not been previously banned from Bet365

If you meet these requirements, you are eligible to play at Bet365.
Can I use a VPN to access Bet365?
We do not recommend using a VPN to access Bet365's Canadian or Bet365's Ontario site. Using a VPN may result in your winnings forfeited and your account blacklisted from the sportsbook.
Does Bet365 pay real money?
Bet 365 is indeed a real money Sportsbook. Understand the risks involved with sports betting before making real money deposits and wagering on Bet365 Canada.
Are winnings from Bet365 Canada Taxed?
Canadians do not pay taxes on gambling profit won in Canada. Winnings are not subject to tax unless you are considered a professional bettor, making most or all of your income through gambling.
How much money does Bet365 take from winnings?
Bet 365 Canada does not take a cut from winning bets, the winnings are all yours. Bet365 earns money from losing wagers only.
Can you do Parlays on Bet365?
Yes you can. All the betting combinations from major online sportsbooks can be found on Bet365 Canada. From single bets to parlays, round robins and teasers.
Can you Cash Out bets on Bet365?
Yes. Certain bets will be available to cash out prior to the event in question at Bet365 Canada's discretion.
Do people win big on Bet365?
As with any online sportsbook people do sometimes win big, but big losses are even more common. Luck is the ultimate decider when gambling so please gamble responsibly and within your means. Know your limits and stop when gambling isn't something you enjoy anymore.
What can I bet on at Bet365 Ontario?
Bet365 offers betting options on all major North American leagues, soccer, tennis, golf and MMA as well as plenty of betting markets on smaller leagues across the world.

They also offer horse racing, bingo, poker and a full online casino.
Why can't I make bets on Bet365?
There are a few reasons you may be unable to make a bet on Bet365.

– There is not enough money in your account.
– You are trying to bet on an event or market that is now closed.
– You are trying to place multiple bets that cannot be parlayed.
– You are self-excluded or banned from Bet365
– The server on Bet365 is down
Have I self-excluded myself from Bet365?
Self-excluding is a voluntary exclusion from an online sportsbook.

You can check your account on 365 by logging in. If you have self-excluded, then the online sportsbooks will close your account and return your funds.

Self-exclusion lasts from six months to five years. After the chosen term ends, Bettors may reopen their account.
Who owns Bet365?
Bet365 is a private company. It is headquartered in the United Kingdom and licensed and regulated by the Government of Gibraltar.

Bet365 was founded in the year 2000. Bet365 operates in multiple countries around the world and employs over 4000 people.
Where is Bet365 Located?
Bet365 Group Ltd is located at: Bet365 House Media Way Stoke-On-Trent, ST1 5SZ United Kingdom.
Why is Bet365 down?
On occasion, Bet365 may be down.
If the website is not working try refreshing the page. If that doesn't work, check in with Bet365's social channels to see if they've posted about an outage.

If the app is causing you problems, make sure you are running the latest version and restart.
Does Bet365 go by any other name?
No, Bet365 is Bet365. It is not Bet 365, Bet360, Bet 360, or 365 Bet, which are more common typos or misunderstandings.
Overview of Bet365 in Canada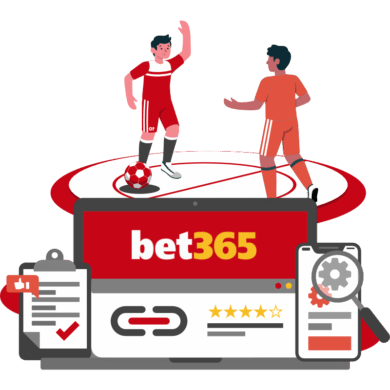 Based in Stoke-on-Trent, England, Bet365 was established in 2000 but their roots stretch back to the pre-internet era. Innovators in the online betting industry, since their launch, a primary focus on delivering the best sports wagering action keeps them at the top of the charts. Bet365 is available worldwide and they boast to having more than 22 million customers across the globe. Canada is included in that group as local bettors can count on Bet365 as a "go to" sports betting source.
The History of Bet365

Bet365 was founded in the year 2000 by the Coates family (namely Denise Coates) in Stoke-On-Trent, England. Denise Coates took her family's brick and mortar sportsbook online (established by her father; Peter Coates, billionaire businessman and chairman of Stoke City FC), creating the Bet365 brand. Denise, alongside her brother John, turned bet 365 into a massive global betting organisation and has become one of the richest and most powerful women in the UK in the process.
As an organisation with a truly global footprint, Bet365 has used its decades of experience to expand and refine the online sportsbook experience. Benefitting from time in the market, often significantly longer than their peers, Bet365 is regarded as an elder statesman of online betting and as such a truly steady and trusted brand in the space. As of writing, Bet365 employs over 5000 people worldwide and has offices in Manchester, Gibraltar, Malta, Bulgaria and Australia.
How to Create an Account
with Bet365

Sign up is quick and easy on Bet365 Canada but be prepared to provide validation documents before you can use your account.
Complete all the required fields and select a username and password combination that you won't soon forget. Bet365 Ontario does not require a special character in its passwords in addition to at least one uppercase letter and one number.
After filling out all your bet365 Canada login account details and choosing a secure password, now comes time for account validation. If for any reason you close the page before validating, fear not, you will be able to log into your account using the bet365 Ontario login credentials you chose and try validating again.
To validate your Bet365.com online account you must provide images of documents proving your identity and address are accurate. Once submitted you will receive confirmation in short order and your bet 365 Ontario sportsbook account will be ready to use.
Bet365 Look and Feel

Imitation is the sincerest form of flattery and that appears evident for the Bet365 Ontario site. If you spend time perusing the various sportsbooks on offer in Ontario you'll become aware of certain trends. Namely the dark matte grey/black background, accented by green.
This is Bet365's signature design and without naming names, let's just say it's being used to great effect elsewhere in the space as well.
Benefiting from over 20 years in online betting, Bet365's interface clearly has an air of refinement. The experience is streamlined and without clutter. All the information is clear and well defined, categories are plentiful and popular events in your area are front and center.
Live in game betting gets its own tab and the available real time data is extensive. Bet365 sports' live looks at games being played are represented graphically and with data, making the decision making process simple.
The app experience is a seamless transition from the browser. It is clearly an app that, like the main platform, has been refined and iterated for maximum efficiency. You will not miss out if opting for the app.
All in all Bet365 Ontario's platform is the model of a professional sportsbook. It's slick and well designed and caters to any level of sports bettor.
Bet365 Social Media

As a global brand with over 2 decades worth of experience, Bet365 has an expansive social media presence. Following them on Twitter, Instagram and YouTube will give users insights into the goings on at Bet365 and which sports and leagues are currently catching the betting world's attention.
With established presence in markets the world over, you can choose to look into social media from around the globe. Want insights on upcoming Premiership betting opportunities? Check out the Bet365 UK twitter. Want analysis on how the NFL is shaping up this week? Bet365 US is the place to go and even closer to home, Bet365 CA will have insights on leagues near and dear to Canadians.
Having the advantage of such a large brand works to Bet365's advantage but can also be a tremendous boon to the savvy sports fan that keeps a keen eye on the brand's social presence.
Bet365 Bottom Line Recommendation
As Canadians more and more frequently shift their money from government-run sports lotteries, which tend to be more slanted on their line, Bet365 has proven itself to be a much more viable alternative. Single bets, on Game 7 of the MLB World Series, the NHL Stanley Cup Finals, or the NBA Finals, plus the annual NFL Super Bowl, are placed quickly and easily at Bet365 – they are impossible to find at your local corner store. While the list of advantages is long, a vast betting menu, top level security, and solid LIVE wagering, all help Bet365 earn their stripes as one of the best books in the online sports betting industry. In our many Bet365 Ontario reviews over the years, we keep coming back to the same conclusion – this book sets a standard for others to match.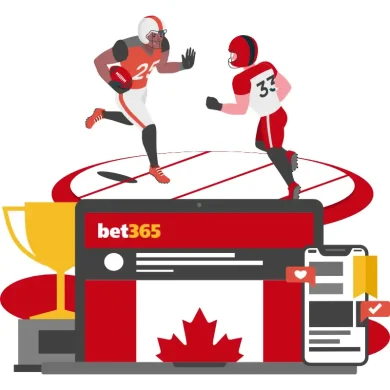 We respect the bookmakers we confidently recommend here at Canada Sports Betting AND our loyal readers equally. We are as neutral as we can be, our opinions can't be bought and we carefully review every sportsbook that appears on our website. Our Top Five Table is more than just a list – it's our solemn word that bettors are getting the best of the best when they wager with our touted linemakers. Bet365 fits comfortably on our list because they are one of the most trusted and experienced bookmakers in the world, and a fantastic option for you to have in your back pocket.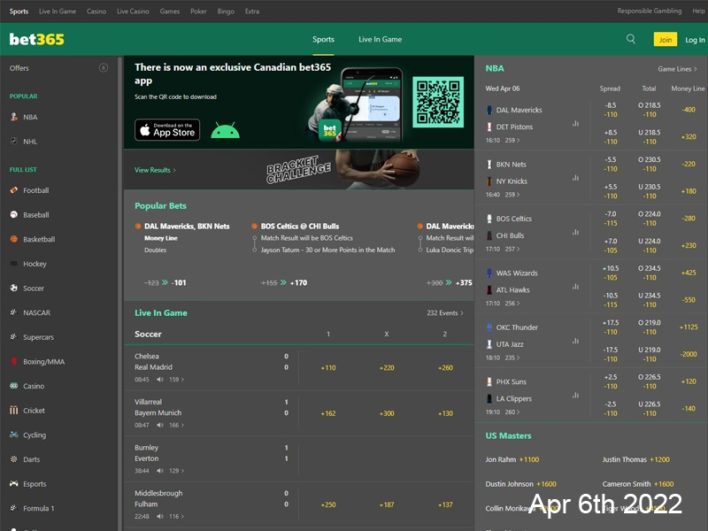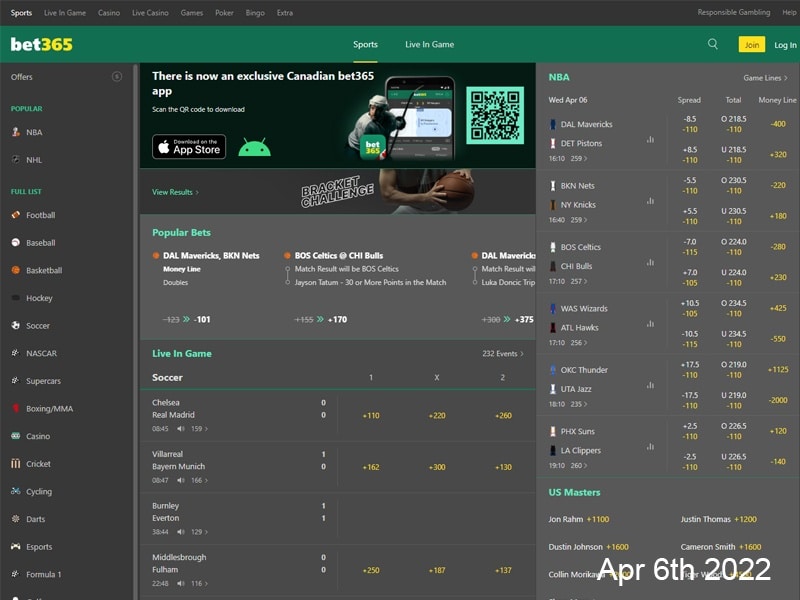 Visit bet365 and see for yourself…
Visit Bet365 via the link below, register a private wagering account, and make a secure first deposit.
Click here to visit Bet365!
---