New to the online gambling landscape, PowerPlay sportsbook and casino was launched in October 2018 to the Canadian sports betting market. In this PowerPlay review, we cover everything from sports leagues, to legality, the PowerPlay app, and PowerPlay bonus opportunities — so read on for an in-depth PowerPlay review.
New to the online gambling landscape, PowerPlay sportsbook and casino was launched in October 2018 to the Canadian sports betting market. In this PowerPlay review, we cover everything from sports leagues, to legality, to the PowerPlay app — so read on for an in-depth PowerPlay review.
Operated by Deck Entertainment B.V. in Canada and by Trillium Ventures Limited (part of Deck Entertainment B.V.) in Ontario, PowerPlay sports offers Canadian sports bettors a strong betting experience driven by exceptional customer service. The team at PowerPlay brings decades of industry experience, and their betting product has captured the interest of thousands of Canadian bettors across nearly 150 leagues – making this sportsbook one for all bettors to keep tabs on.
So, without further ado, let's dive into this PowerPlay review!
This Month on PowerPlay: The NHL and NBA postseasons have wrapped up but worry not, there are tons of sports action this summer! The MLB is in full swing, the Golf season is heating up, and closer to home, the CFL is off and running! So why not take advantage of everything the best sportsbooks in Canada have to offer!
Deposit with Interac e-Transfer
LIVE Las Vegas Style Casino Action
1000's of LIVE Betting Options Daily
Single Wallet Sports & Casino Betting
24/7 Coverage of all Major Sports
Mobile Wagering is Quick and Easy
Poor PowerPlay app experience.



Overview: PowerPlay Review at a Glance
Overall, we give PowerPlay a review of 4/5 stars. In a fairly short amount of time, PowerPlay sports betting built a strong reputation in the online gambling industry, largely due to its high commitment to customer satisfaction and responsible betting. Canadian bettors hold PowerPlay Ontario in high regard for its vast array of sports betting markets, including popular Canadian sports like hockey, football, and basketball, as well as large international events and leagues. In addition, PowerPlay Canada's commitment to providing excellent customer support has further solidified its reputation as an awesome platform dedicated to the Canadian betting experience.
Loaded with sports betting events from around the globe, a live Las Vegas-style Casino, plus standard slot and table game action, PowerPlay is the latest online wagering site to welcome Canadian bettors. As PowerPlay solidifies its presence in the Canadian iGaming scene, the sportsbook remains committed to excellence, offering an unrivaled betting experience. They combine a vast array of sports options with competitive odds, innovative features, and unparalleled customer service. Whether you're a seasoned bettor or new to the game, PowerPlay has something to offer for everyone. Below, we offer a handcrafted PowerPlay review of the online betting experience.
Is PowerPlay Sports Betting Legal in Canada?
PowerPlay sportsbook launched a new, fully licensed website to the Ontario public this past spring in May of 2023. The new website allows Ontario bettors to access PowerPlay Canada, while ensuring the sportsbook remains compliant with Ontario's recently launched iGaming market rules. What this means for Ontario locals is they can access the site and place bets however they like, with the exception of accessing bonuses. PowerPlay Ontario is regulated through the AGCO (the Alcohol and Gaming Commission of Ontario), and therefore holds one of the few esteemed Ontario beting licenses. For the rest of Canadian bettors, the site continues to operate in the grey market based out of Curaçao.
Though they only joined the regulated industry this year, PowerPlay was originally established in Canada back in 2018. With a vision to cater to the ever-growing demand for online sports betting in the country, PowerPlay set out to provide Canadian sports fans with a top-notch betting platform. Since its inception, PowerPlay has steadily grown its presence in the Canadian market, offering a wide selection of sports and betting options to meet the diverse preferences of Canadian bettors.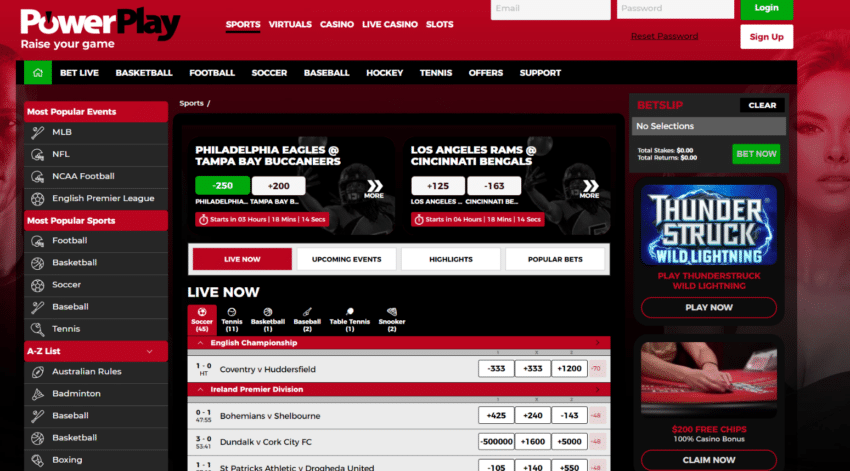 Key Features at PowerPlay Sportsbook Canada
Live Betting 🏈
Among its standout features, live betting takes center stage, allowing bettors to get involved in their favourite sports as they unfold in real-time. Through their in-play betting options, PowerPlay enables you to place wagers on live odds for nearly every league available on their site.
Online Casino 🎲
For bettors looking to dabble in casino wagering, PowerPlay offers a large selection of online casino games as well. From classic table games to virtual slot machines, the casino section of PowerPlay promises great entertainment and the chance to win big. Their casino features classic favourites including slots, table games, blackjack, roulette, poker, and Vegas-style games. They even have live dealer games to enjoy real-time gambling.
Cash Out 💰
Some betting markets are marked with a 'cash-out' icon at PowerPlay sportsbook. Leagues with this option allow bettors to take charge of their winnings early on. With the cash-out option, you can settle your bets before the event concludes, securing a profit or minimizing potential losses based on real-time game developments.
Virtual Sports 📺
For those seeking something different, PowerPlay's virtual sports feature brings the excitement of sports to life through cutting-edge technology. Virtual sports are exactly what they sound like — you can experience sports betting through stunning graphics and realistic gameplay. PowerPlay offers betting on virtual soccer matches, horse races, dog races, and even table games.
Sports Leagues Available at PowerPlay Canada
From our review, our team at Canada Sports Betting was particularly impressed with the diverse sports leagues and betting markets available at PowerPlay. If you're an avid bettor, you'll be aware that not all sports books are created equal, and bettors looking for niche markets may be frequently disappointed — even from leading Canadian sportsbooks. This is not the case at PowerPlay, as the sportsbook offers tons of options available across many leagues. All in all, PowerPlay's sports section offers around 150 leagues for bettors. The sports you can bet on at PowerPlay include:
Alpine Skiing (App Only)
Badminton
Baseball
Basketball
Boxing
Biathlon (App Only)
Cricket
Cycling
Darts
eSports
Football
Gaelic Football
Gaelic Hurling
Golf
Handball
Hockey
MMA
Motorsports
Politics
Pool
Rugby League
Rugby Union
Snooker
Soccer
Specials
Ski Jumping (App Only)
Table Tennis
Tennis
Virtual Motorsports
Virtual Soccer
Virtual Horses
Virtual Dogs
Virtual Table Tennis
Volleyball
News
Popular Leagues at PowerPlay Canada
In addition, Canadian bettors can access nearly any betting market in any league they could hope to find. As part of their mission, PowerPlay aims to cater to the interests of all Canadian sports bettors. This has hugely contributed to securing loyal regular bettors who come to their sportsbook for the variety of options available. At PowerPlay sports, you can find futures, in-play live betting, and markets unique to each and every league.
As for leagues available, bettors can be sure to find top North American leagues such as the NFL, NBA, NHL, and MLB, or international soccer leagues like the English Premier League, La Liga, Series A, and more. On the same vein, soccer enthusiasts can place bets on a multitude of tournaments and matches, including the FIFA World Cup and UEFA Champions League. Fans of combat sports, such as boxing and MMA, can also take in all the action at PowerPlay as they offer a host of opportunities to wager on the biggest fights out there. Finally, for fans keen on motorsports, Formula 1 and NASCAR events can also be found, providing high-speed thrills both on and off the tracks.
PowerPlay Bonuses and Promotions in 2023
As the Canadian iGaming landscape continues to evolve, PowerPlay sportsbook stands out as a prominent player, captivating sports enthusiasts and bettors with its commitment to the betting experience. From your favourite sports leagues to adrenaline-pumping casino games, PowerPlay boasts a comprehensive platform that caters to the diverse interests of Canadian bettors. As for bonuses and promotions, PowerPlay offers some pretty standard deals for new users. When it comes to their sportsbook bonuses, we found their platform to be a bit lacking in offers for returning players. Competitors in this space often offer ongoing bonuses for certain leagues, or loyalty bonuses, and we'd like to see PowerPlay add options like these. As for the casino, beyond its impressive array of game options, we found the selection of bonuses available here makes them an awesome choice to lay down your dollars.
Bonuses Currently Offered at PowerPlay Sportsbook
Here are the bonuses and promotions currently offered at PowerPlay Canada, available for Canadian and New Zealand bettors located outside of Ontario:
1. New player welcome bonus of $500
This bonus is available to new sports bettors located outside of Ontario making a wager for the very first time at PowerPlay sportsbook. Bettors can use these funds to wager on any league or betting market of their choice. When you deposit any amount between $10 and $500, PowerPlay will match your deposit 100%, and automatically deposit up to $500 in the bonus section of your wallet. To use this bet you must wager on odds of 1.5/-200 or higher, not wager more than $250 at a time, and you can't back both sides of the same event. To cash in on this bonus, click the button link below.

2. Refer a friend $500 casino bonus
When you refer a friend to use PowerPlay sportsbook, you could earn up to $500 in bonus credits to use at their casino. You can only refer friends who are new to PowerPlay, as they'll enter your email under the "referred by" field when they sign up. Make sure your friend enters the email associated with your PowerPlay account so you can have your bonus automatically deposited to your wallet. In order to be eligible for the bonus, the friend you refer needs to make a first time deposit of at least $500. In addition, the bonus is subject to a rollover requirement of 45 times, with stakes no higher than $25. This bonus is also subject to a maximum win of $1000.
3. Casino welcome bonus of $1000
For sports bettors looking to dabble in online casino games as well, we recommend looking to the PowerPlay Casino section of the site. New players can get a bonus match up to $1000 in total when they make three separate deposits. Each deposit must be a minimum of $10 each. The first deposit can be a maximum of $200, the second deposit a maximum of $500, and the third deposit a maximum of $300, altogether giving players the opportunity to take home $1000 in matched bonus funds. The amounts will be automatically deposited to the bonuses section of your wallet, and are subject to a rollover requirement of 35x.

Important Casino Terms and Conditions to Know
As with any bonus offer available at a casino, there are generally a number of terms and conditions players should be aware of. Bonuses and promotions are a strategy used by casinos and sportsbooks to retain customers, and they generally have fine print that allows the casino to make their money back.
At PowerPlay, they have several rollover, max withdrawal, and time requirements to be aware of. All bonuses must be played within 30 days of receiving them. In addition, all bonuses are subject to a $4000 withdrawal limit. This means that if you win more than $4000 on a bonus, only $4000 can actually be withdrawn in winnings. For the sports betting section of their site, PowerPlay sportsbook has a rollover requirement of 12x. This means when you deposit $10, they will match $10, and you have to bet at least 20 x 12 before you can withdraw any winnings. We recommend players always read the terms and conditions before using bonuses.
PowerPlay Customer Service Review
When it comes to PowerPlay sports betting's customer service, we have nothing but great things to say. There's nothing shady going on here — in fact, we found quite the opposite as PowerPlay strives to maintain transparency, trustworthiness, and an overall reputation for customer service excellence with their bettors. Sportsbooks can easily earn a reputation for being a bit seedy or unreliable when it comes to dealing with customer concerns, but PowerPlay sports has stated from their inception they'll do all they can to break this mold. We particularly like the easy to find support tab, right in the top level header. They have an extensive knowledge base where PowerPlay sports bettors can find the answer to nearly any question. We've seen some pretty poorly written FAQ sections in our time, but PowerPlay is absolutely the exception to that rule.
Our Independent PowerPlay Customer Service Review
In terms of their customer support options, they make it incredibly clear and easy to locate the support section of their site. On the right hand menu, bettors can find a live chat option that can be accessed 24/7. We contacted customer support via their live chat and can accurately confirm they have real people available on the line, not chat bots. They also got back to us in record time — less than 5 seconds.
We have no shortage of confidence you'll get the help you need should anything in your betting experience go awry. If live chat isn't your thing, they also have the following options for bettors to contact them:
PowerPlay App and User Experience
We give the user experience at PowerPlay sports a 4.5/5 (because no one's perfect — but they're pretty close). PowerPlay's desktop site is well laid out, easy to navigate, and boasts an intuitive design to create an overall excellent betting experience. PowerPlay.com feels very Canadian, with a dominantly red themed website. They list all sports from A-Z on the left hand column, with popular leagues listed at the top. Users can click into any sport, and from there view the most popular leagues featured at the top. Each tab is customized to the selected league, with options for live betting, upcoming matches or games, and futures.
Is There a PowerPlay App?
As for the PowerPlay mobile experience, it mirrors the desktop site in terms of appearance and functionality. All sports are listed at the top of the mobile site, and when clicked into they display featured leagues, upcoming games, futures, and live betting options. In addition, PowerPlay sports has a mobile app that players can download.
We found the mobile betting site to be easier to navigate and nicer looking than the mobile app. It becomes slightly more complicated to find the leagues you're looking for on the mobile app, as they're hidden within the hamburger menu. In addition, the mobile app doesn't feature all the same sports as the mobile and desktop site — it's missing more than half. For that reason, we would recommend players use the PowerPlay website over the mobile app.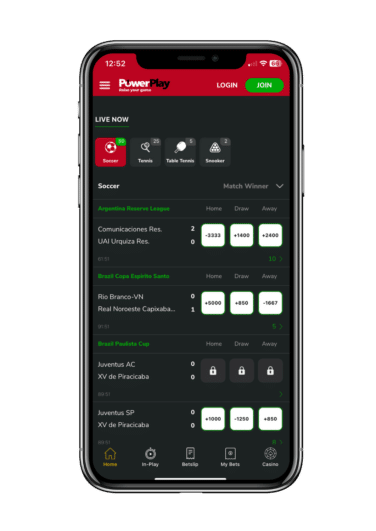 PowerPlay Sportsbook Bottom Line Recommendation
Delivering handcrafted opinions, the Canada Sports Betting review crew has meticulously researched many online wagering sites over the years. From veteran bookmakers like Sports Interaction to relative newcomers like LeoVegas, we've seen it all. PowerPlay is investing a lot into its customer service and banking options, making this sportsbook more attractive to its players every day.
If PowerPlay was fairly unknown to the majority of Canadian gamblers a few months ago, it's quickly become a reliable sportsbook that supports more Canadian-friendly payment methods than a lot of other bookies. Especially for bettors looking for stellar customer service, PowerPlay makes the top of our list. Overall, we recommend bettors check out Powerplay.com.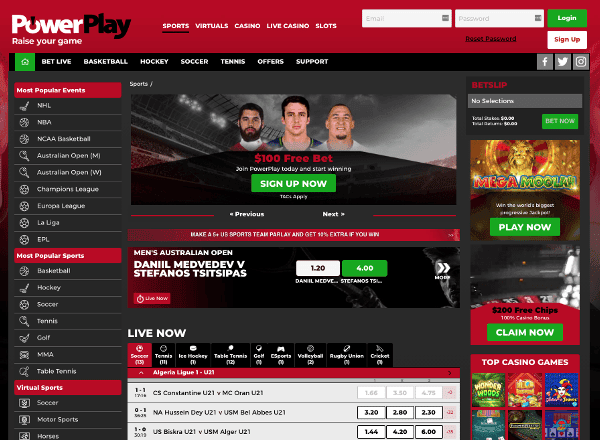 Head to the PowerPlay betting site and see for yourself…
Signup at PowerPlay and make a first deposit today!
OK! Take Me To PowerPlay!
Powerplay Sportsbook FAQ
Can I use PowerPlay Sportsbook in Canada?
Yes you can! PowerPlay Sportsbook is designed for the Canadian market, in fact.
Is PowerPlay legal in Ontario? Is PowerPlay legal in Canada?
PowerPlay is legal across Canada, and also complies with the regulated Ontario market. They have their own Ontario-specific platform which is iGaming and AGCO certified.
Who owns PowerPlay Sportsbook Canada?
PowerPlay is owned by Trillium Ventures Limited, which is owned by Deck Entertainment.
Is PowerPlay Sportsbook legit? Is PowerPlay safe?
PowerPlay is a safe and legitimate sportsbook. They have operated in Canada for over five years now and are certified by the AGCO and iGaming Ontario.
Does PowerPlay have an app? Is there a PowerPlay app?
Yes, there is a PowerPlay app for mobile. Unfortunately, the PowerPlay app is fairly subpar in comparison to their mobile betting site. At this time, we recommend sports bettors stick to www.powerplay.com.
What sports are available on PowerPlay?
PowerPlay carries every major North American sports league, most major global sports leagues, and many niche sports as well. Odds are, if it's something you've heard of there being betting lines for, PowerPlay Canada carries it!
Is PowerPlay licensed in Ontario?
Yes, PowerPlay Ontario is licensed. They successfully received approval from the Alcohol & Gaming Commission of Ontario and launched their iGaming Ontario-compliant version of their platform in 2023.
Who can play at PowerPlay sportsbook?
Players who are 19 years of age and can play on PowerPlay. The regulated PowerPlay Ontario part of the platform requires you to be physically located in Ontario at the time of placing your bets, though you can sign up with an address from elsewhere.
Is PowerPlay Legit?
Yes, PowerPlay is a legit sportsbook that is licensed to operate in Ontario. Canadian sports bettors located outside of Ontario can bet using the PowerPlay app or website as well.
Sports Interaction Review | BetVictor Review | bet365 Review | Bet99 Review | Betway Review | PariMatch Review | 888sport Review | William Hill Review | TonyBet Review
---