Last Updated:
If you're looking to get in on the best Canadian FIFA betting action, we break down the top 2023 Women's World Cup betting odds available in Canada below! The 2023 Women's World Cup kicked off on Saturday July 20th and FIFA fans have been placing bets on their favourite teams to win, so read on and get your picks ready!
Taking place in New Zealand and Australia, the 2023 Women's World Cup is set to be the biggest women's FIFA tournament in history. Group A started off at Eden Park in New Zealand on July 20th, and coming up will be a total of 32 teams competing head-to-head across 10 host cities for the coveted title of world champions. As the games continue, soccer fans and sports bettors alike are gearing up for what's sure to be the most action-packed Women's World Cup to date. Stay up to date with the latest 2023 World Cup Canadian betting odds below!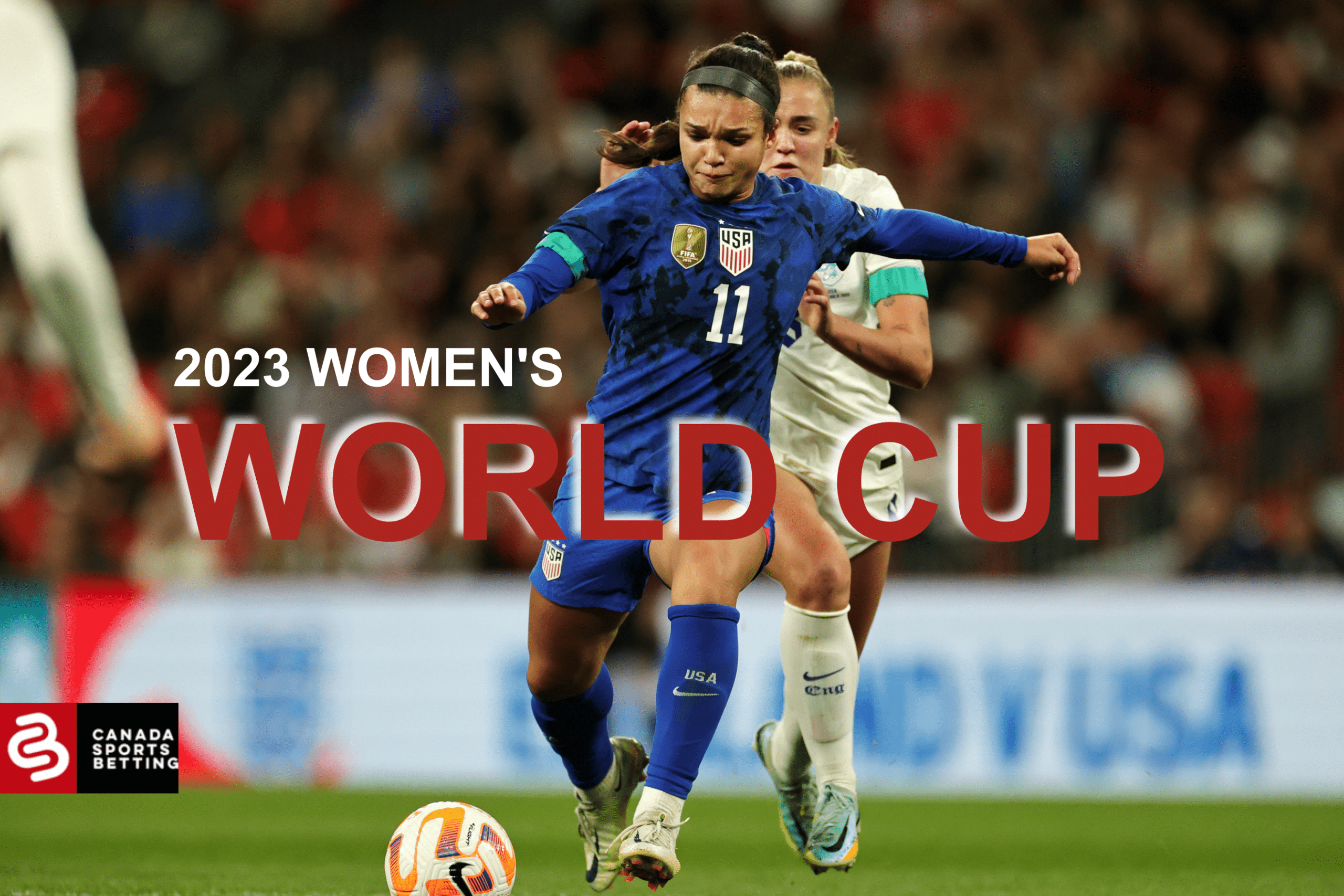 Who is the Women's World Cup Favourite to Win?
Much was made of the powerhouses and the veteran nations going into the tournament, but quickly, we learned that a lot of the second-layer contending nations had grown up very, very quickly in these past few years. Chalk it up to youthful legs, better development processes in more nations, a bit of luck, or a combination of the three, but teams like the United States, Canada, Brazil, and Germany found themselves out much quicker than expected.
Granted, the quadrant of teams surviving into the Semi Finals aren't exactly slouches, all ranking between 3rd and 10th according to the FIFA World Rankings. But that doesn't make it any less exciting to see the top of the global ladder start to crowd up a bit, with more breakout stars than ever.
Between Sweden (3), England (4), Spain (7), and Australia (10), it's hard to go wrong with any of the remaining group. England had the shortest odds to win at the start of the tournament, but going into Semi-Final match week, the books like Spain to go all the way.
Women's 2023 World Cup Betting Odds to Win Outright
When it comes to betting on the Women's World Cup, the best way to get involved is by betting on who you think will win outright, but you can also get in on over/under bets, match results, parlays, and prop bets. When you bet on a team to win outright, you're betting they'll win all of their group matches, qualify past the round of 16, and so on until one winner emerges in the finals.
Remember to shop around for the best Women's World Cup odds before betting on a team, as not all sportsbooks offer the same odds. Betting on a team could be much riskier at one sportsbook than another.
As always, we highly recommend bet365, Sports Interaction, and Bet99 for Canadians looking for reliable options — i.e. books with good odds, fast payouts, and a simple navigation. The same holds true for bettors looking to compare Women's World Cup 2023 betting odds. These odds were last updated on Sep 28, 2023.
2023 Women's World Cup Group Stage Winner Odds
The group stage of the 2023 Women's World Cup kicks off on July 20th at Eden Park, New Zealand. At the initial group level, sports bettor will have the opportunity to wager on the the outright winner of each group (based on number of points). With only four teams and a debutant team in nearly every group, bettors can try their hand at wagering which team is set to win the most matches, and subsequently the most points.
At this stage in the competition, you can also bet on and whether a team will simply qualify or not for the knockout round. Each team will play three initial matches within their group to determine which two move on to the round of 16. Placing a wager on who will qualify to the next round is a simple yes / no bet. Do you think the USA will qualify for the knockout round? Great — lay down some dollars and hope they beat out at least two other teams and you'll have yourself a win!
We've laid out the odds for all of the above here, for each group.
Group A Betting Odds
Group B Betting Odds
Group C Betting Odds
Group D Betting Odds
Group E Betting Odds
Group F Betting Odds
Group G Betting Odds
Group H Betting Odds
How to Bet on the 2023 Women's World Cup
This year for the 2023 FIFA Women's World Cup there are 8 total groups each with 4 teams, all together forming the initial 32 qualifiers. Teams will play three games within their groups, where the top two from each will move on to the round of 16. From there, 16 teams will battle it out in the knockout stage, vying for a spot in the quarter finals, semi finals, and finals. So when you bet on the Women's World Cup for an outright winner — make sure you consider everything from injuries to long-term team stamina. Anything could happen between the group stage to the finals!
As always, sports bettors looking to get in on the best sports betting action for any league should take the time to compare odds across online sportsbooks. When it comes to the FIFA Women's World Cup, most sportsbooks offer a variety of ways to bet. Besides betting for the outright winner, there are many ways to get involved in betting on the FIFA Women's World Cup.
How to bet on the world cup for outright winners (futures bets):
To Win Outright
Top Goalscorer
To Reach the Final
Group Winners
Group Qualification
How to bet on the world cup per match:
Over/Under
Both Teams to Score
Correct Score
Goalscorers
Full Time and Half Time Results
Futures Odds for the FIFA Women's World Cup
A future bet, or futures odd, refers to any bet that takes place in the future — usually referring to the winner of an event. As we've already covered, the most common type of futures bet for the world cup is to bet on the outright winner. More experienced sports bettors should also look to futures odds such as who will win each group, and who will qualify for the round of 16.
For avid sports fans who know their teams well, take a stab t betting on the top goal scorer overall. Current players to watch include Alex Morgan and Sophia Smith of the USA Women's team, who have been given odds of +500 and +650 respectively. Other options include betting on who will qualify to the finals. There's no need to predict any winners on this bet — all you need to predict is who are among the top two strongest teams. You can bet for both teams, or play it safer and stick to picking one — the choice is yours.
As the World Cup progresses, more betting options will become available. At the moment, you won't be able to find odds for the knockout 16, quarter finals, or semi finals yet because sportsbooks can't predict the future (although they try to!) Sportsbooks can't yet publish Women's World Cup odds for later matches because that will be determined by which teams win and move on. So be sure to check back here as teams advance and odds are updated!
Betting on Matches for the Women's World Cup
Looking for a shorter turn around or real-time betting action? Sports bettors can also get in on match-level bets for almost anything. No matter your betting strategy, real-time betting is always an exciting way to get involved in the action. Starting with Over/Under bets, also referred to as Total Goals, bettors can wager on the total result of a game being won or lost by more than (over) 1.5 points or less than (under) 1.5 points. At Bet365, bettors can also bet O/U by 2.5 and 3.5 points.
Sports bettors and active FIFA fans can also try their hand at guessing the exact correct score for any match. To cash out on this type of bet you have to be spot on, so make sure you really know the strengths and weaknesses of each team, and how they'll show up against each other before putting any money down. When betting on the correct score, this will include penalty shots and extra time allotted, so be sure to account for that when you bet.
Finally, sports bettors can bet on Half-Time and Full-Time results, which is a type of betting that is fairly unique to soccer. Final bets are wagers placed on, you guessed it, the final status or outcome of a soccer match. They can be placed before, during, or after the match has started, and can predict either team to win, lose, or draw. While this type of bet includes any injury time added after the first 90 mins, it must be before the referee blows the final whistle.
Additional Teams to Watch at the World Cup this July
Sports bettors should also keep a close eye on Germany, who took home the world champion title in 2003 and 2007. In more recent years, they qualified for the Women's World Cup quarter final in 2019 and finished second at the Women's EURO in 2022. Germany has also had an impressive qualifying season to date. They've won nine out of ten of their qualifying phase matches, placing them in second for total points scored after the USA.
Additional names to watch out for will be Sweden and Australia. Bettors should check back regularly for odds on Australia, who come to the 2023 FIFA Women's World Cup with a home team advantage. The team from down under has scored some impressive wins throughout the season against England, Spain, and Sweden, and have no plans to slow down going into the world championships. Sweden also comes in with some strong wins under their belt that sports bettors should consider in their wagering. Though Sweden comes in with riskier odds to win at +1600 at bet365, their performance this season has placed them in the top three for most points achieved in the qualifying rounds, making them a strong candidate to bet on.
Though odds for Spain indicate sportsbooks favour them around third place, the Spanish team has been navigating some tricky politics this season that could jeopardize their success. Amid rumors of poor training methods, lacking game preparation, and questionable coaching decisions, 15 members of the women's team have threatened to boycott the World Cup. While this team has rounded up some star players, they may be lacking focus which bettors should certainly take into account.
What Are the Odds of Canada Winning the World Cup in 2023?
Unfortunately, the odds for Canada to win the Women's World Cups aren't particularly high, sitting at +3300 at sportsbook Bet365. All the same, here at Canada Sports Betting we'll be keeping a close eye on reigning Olympic champions team Canada, who will compete in Group B facing off against co-hosts Australia. In addition they'll face first-time qualifiers Ireland, and team Nigeria. We anticipate the women's Nigeria team will be keen to prove themselves after the men's team failed to qualify for the 2022 World Cup after 16 consecutive years.
Team Canada has also taken home some impressive Olympic wins in recent years. The women's national soccer team won consecutive bronze medals in both London in 2012 and Rio in 2016. This was followed up by an impressive gold medal win in Tokyo in 2020. Despite their consistent podium finishes at the Olympics, Canada's national women's soccer team has struggled to move past the quarter finals since they joined the World Cup in 1995. That said, the women's soccer team will be coming into the World Cup riding their high from the 2020 Olympics win, and we hope to see them carry the same steam into New Zealand and Australia!
What Are The Best Sportsbooks to Bet on The 2023 World Cup?
Most sportsbooks, including our partner sportsbooks, will list odds for futures, over/under bets, match outcomes, and so much more! As with any sports bet, remember to do your due diligence and shop around for the best odds available. The odds for any league, including the FIFA Women's World Cup betting odds can (and most certainly will) change almost daily once the tournament kicks off.
Here's our ranking of the best sportsbooks to bet on the 2023 Women's World Cup:
When you place a wager, the odds you wagered at are locked in. That means if you're betting on futures (such as the outright winner of the women's world cup), the odds could change significantly after you put down money. This isn't necessarily a bad thing — a win in favour of your team could mean the odds you wagered on are much better than the latest Moneyline! As always, remember that there's no such thing as a 'sure thing' and that anything can happen out there on the field to sway bookies in one direction or the other.
Here at Canada Sports Betting, we only compare our most trusted sportsbooks that offer secure deposit methods, competitive odds, and have been shown to pay players accurately and within a quick turnaround time. So far, we've found the best FIFA Women's World Cup odds are available at bet365, followed by Sports Interaction and bet99. All of these sportsbooks have been thoroughly vetted by our sports betting experts to ensure you feel confident putting your money down. To find more options to compare Women's World Cup odds, check out our complete list of trusted sportsbooks here.
About The 2023 Women's World Cup
With stadium seats selling out fast, the 2023 Women's World Cup is set to be an exciting event for fans around the globe. While there are a number of strong teams who have firmly established themselves among the top ten, the eighth FIFA Women's World Cup is sure to challenge all teams involved. Bettors should keep a keen eye on the odds and select their favourite teams wisely, especially with so many incredibly strong teams battling for the title of world champion. Here at Canada Sports Betting, we'll be covering all the daily action happening out on the field so you can stay up to date on everything World Cup related.
How Many Teams are Competing in the 2023 FIFA Women's World Cup?
This World Cup kicks off with 32 teams, up from 24 in 2019. The Women's World Cup betting odds are likely to change as the season progresses with a number of debutant teams competing from Groups A through H. While a number of these teams are expected to be pushed out of the groups early on (with odds reflecting these expectations), it's never false to assume anything can happen in sports betting. For the 2023 Women's World Cup, teams will play each competitor within their group, adding up to three total matches per team, per group.
The groups for the 2023 Women's World Cup are as follows:
Where Will the 2023 Women's World Cup be Held?
All 32 teams will play within Australia and New Zealand this August, as the countries co-host the largest Women's World Cup to date. This World Cup will use a record setting 10 host cities throughout the two co-host countries. The locations for the initial group matches include:
Brisbane Stadium – Brisbane, Australia
Hindmarsh Stadium – Hindmarsh, Australia
Melbourne Rectangular Stadium – Melbourne, Australia
Perth Rectangular Stadium – Perth, Australia
Stadium Australia – Sydney, Australia
Sydney Football Stadium – Sydney, Australia
Dunedin Stadium – Dunedin, New Zealand
Eden Park – Kingsland, New Zealand
Waikato Stadium – Hamilton, New Zealand
Wellington Regional Stadium – Wellington, New Zealand
And there you have it — everything you need to know to get started on betting for the 2023 Women's World Cup! As with any betting activity, remember that you're wagering real money. Sports betting should be a fun activity for avid sports fans and bettors alike, and is an excellent way to get involved in all the World Cup action! Ready to get started? Head on over to our partner sites and place your first wager today!
---
Women's World Cup Odds FAQ
Where can I bet on the 2023 World Cup?
There are over 35 sportsbooks available to Canadian sports bettors. We recommend bettors shop around and compare at sportsbooks like bet365, Sports Interaction, and Bet99 to make sure you find the best odds available. At these sites, you'll be able to make a deposit, select your bet, and (hopefully) cash out on your wins when it comes to fruition.
Which sportsbook is the best to bet on the Women's World Cup?
While there's no one "best" sportsbook, some sites are more reputable than others and will offer players better odds, bonuses, or deposit methods that fit your needs. We recommend bet365, Sports Interaction, Bet99, BetVictor, and 888sport. At Canada Sports Betting, we only partner with the best sportsbooks that we trust, and that's how we form our recommendations.
Who is the favourite to win the 2023 Women's World Cup?
The United States are the favourite to win the 2023 Women's World Cup with +250 odds.
Where can I find the best Women's World Cup odds?
Through our research, we found the best Women's World Wup odds to be available at bet365, Sports Interaction, Bet99, BetVictor, and 888sport. "Best odds" are simply determined by being reasonably priced, and competitive with similar sportsbooks.
Which team won the first Women's World Cup?
The United States won the first ever inaugural Women's World Cup in 1991.
What are the 10 host cities for the upcoming 2023 Women's World Cup?
The 10 host cities for the Women's World Cup will be in Australia and New Zealand. In Australia, the cities will be: Brisbane, Sydney, Hindmarsh, Melbourne, and Perth. In New Zealand, the host cities will be: Dunedin, Kingsland, Hamilton, and Wellington.

How many teams are competing in the 2023 Women's World Cup?
There will be 32 teams competing in the world cup this July and August. This is an increase from only 24 teams competing four years ago.