UFC / MMA Betting Odds
Premier UFC events are held regularly. Check if there is any UFC Odds for the Fight tonight and get the best odds provided by
on this page. Click on any price to connect to SportsInteraction. UFC 237 odds last updated on April 18, 2019. We will update the odds once bookmakers post full card prices.
Here is the fight card for UFC 237. Stay tuned for full coverage of UFC 237 on Saturday May 11, 2019, at Jeunesse Arena in Rio de Janeiro, Brazil.
| Fighter 1 | Win | UFC 237 Odds | Win | Fighter 2 |
| --- | --- | --- | --- | --- |
| Rose Namajunas | +115 | VS | -115 | Jessica Andrade |
| Jose Aldo | -150 | VS | +120 | Alex Volkanovski |
| Jared Cannonier | OTB | VS | OTB | Anderson Silva |
| Thiago Alves | OTB | VS | OTB | Laureano Staropoli |
| Francisco Trinaldo | OTB | VS | OTB | Diego Ferreira |
| Antonio Rogerio Noguiera | OTB | VS | OTB | Ryan Spann |
| Thiago Moises | OTB | VS | OTB | Kurt Holobaugh |
| Irene Aldana | OTB | VS | OTB | Bethe Correia |
| B.J. Penn | OTB | VS | OTB | Clay Guida |
| Luana Carolina | OTB | VS | OTB | Wu Yanan |
| Warlley Alves | OTB | VS | OTB | Sergio Moraes |
| Raoni Barcelos | OTB | VS | OTB | Said Nurmagomedov |
| Talita Bernardo | OTB | VS | OTB | Melissa Gatto |
Keep it locked here as we update you on all results UFC.
UFC 237 Betting Odds
It is rarely a boring event when the UFC returns to Rio de Janeiro, Brazil. With a women's strawweight championship on the line, the UFC has packed the event with Brazilian action heroes and MMA legends. Rose Namajunas defends her belt against wrecking ball Jessica Andrade while Jose Aldo and Anderson Silva are out to prove they still have it. 
UFC 237 takes place on May 11 at 10:00 PM ET, live on pay-per-view. 
Our UFC 237 Picks
Just like UFC 236, UFC 237 has two closely contested main events.
Namajunas, despite being champion, will be an underdog for the third straight time at +115. The challenger, Andrade will be the favourite at -145 as she is also fighting on home soil. Aldo (-150) is slightly favoured over Volkanovski (+120).  
Rose Namajunas (C) vs Jessica Andrade
Namajunas is the champion of the deadliest division in women's MMA. Her reign at the top might be short-lived as she is fighting the division's hottest and most powerful fighter in Andrade. The champ is only just 26 and is always improving. She is fast, long, and explosive. But she is going up against a monster.
Andrade has only lost in the division once and she took the fight to Joanna Jedrzejczyk. She hits hard, is durable and has underrated grappling. She will push Namajunas back for most of the fight. While it won't always be pretty, she should win on volume and forward aggression.
Andrade should win via decision.
Jose Aldo vs Alex Volkanovski
Even though he is an eight-year UFC veteran, Aldo is still just 32 and has plenty of fight left. He is coming off two consecutive TKO wins, one over the ultra-durable Jeremy Stephens in which he was an underdog. Volkanovski has been on a hot streak himself having won all six of his UFC fights with his latest coming over Aldo's old nemesis, Chad Mendes.
This is the type of fight that favours Aldo as Volkanovski is a similar opponent to Mendes. He is a burly wrestler with ever-improving striking skills. He can hit hard and if he catches Aldo, he could hurt him bad. But Aldo is still the superior striker and his elite takedown defence and Muay Thai will allow him to control this fight at his range.
Aldo should win this via a decision. 
Where to bet on UFC fights in Canada
Canadians get it easy when it comes to betting UFC fights. You can bet on UFC fights through any of these online sportsbooks. Thanks to the magic of competition, each book offers you signup bonuses and great betting lines. Each book specializes on different sports and have additional features. 
See below the top sportsbooks where you can wager online and choose the best one for you:
How to read UFC Odds
Before you get to betting UFC fights, you'll have to understand how to bet on UFC fight night odds. It is not very complicated how to understand betting odds. But, as any other sport, UFC has its own characteristics and particularities.
Here are the three types of odds formats you will run into on betting sites:
Moneyline Odds:
These are the most popular odds format among North American sportsbooks sites and UFC linesmakers. The format is based on a standard $100 bet: a negative number (-) indicates the favourite and how much you have to bet to win $100 and a positive number (+) indicates the underdog and how much you win on a $100 bet.
If Max Holloway is -275 to win, it means you need to bet $275 to win $100. 
If Dustin Poirier is +215 to win, it means you win $215 if you bet $100.
To calculate how much you can win based on the odds, use these formulas:
For Minus Numbers/Favourites:
Wager / Odds x 100 = potential winnings
e.g. 100 / 275 x 100 = $36.36 (your winnings)
For Plus Numbers/Underdogs:
(Wager x Odds) / 100 = potential winnings
e.g. (100 x 215) / 100 = $215 (your winnings)

UFC Prop Bets
UFC betting odds come in many types. You can go beyond betting who wins the fight by diving into prop bets. These are short for "propositions" meaning you can win bets based on a variety of bets that deal with the many outcomes of a fight.  
UFC Total Rounds
This is the most popular bet outside "Method of Victory" and involves betting how many rounds the fight goes. You can bet specifically (Fight Ends Round 4) or within a range (Fight Doesn't Go To Round 4). The more specific your bet is, the higher the payout. This is where the UFC Vegas odds turn. 
UFC Draw
Draws rarely happen in the UFC or any combat sport, but if you're a brave (and lucky) bettor, you will profit significantly (as in you will win at least 100 times your investment).
Method of Victory
This is the best MMA fight odds type of prop and involves picking what type of finish a fighter wins by (knockout, submission, or decision). It is a useful way to get better odds on a favourite or a bigger payout due to the prop adding a stipulation to the outcome. 
Live UFC Betting:
Live UFC betting doesn't just add to the excitement but can be profitable. Just like finishes, timing is everything. UFC ESPN had a glorious slugfest between heavy favourite Vicente Luque and underdog Bryan Barbarena.
At the end of the first round, it was unclear if Luque was going to win. His live betting odds shot down from his pre-fight line. Sharp bettors sniped his line and swiped cash when he came back to finish Barbarena in the third. 
MMA Betting tips
The MMA odds are affected by a lot of things. Below, we go through the three main factors that determine why fighters are favourites or underdogs and why bettors put money on either side:
Fighter Styles
"Styles makes fights". This is the first thing bettors and oddsmakers look at when determining who the likely winner is. Some fighters are weak to certain styles. But the ultimate fighter can win from almost any style. The greatest UFC fighters aren't just versatile fighters but could defeat anyone regardless of style.
Fighter Conditions
The weigh-ins are popular not just because of the staredowns but because it shows signs of which fighters look good and which look troublesome. The weight cutting is an x-factor. Some fighters become drained by the cut and perform poorly. The size, length, and intimidation factors are also other factors to consider.
Weight Class
Not all weight classes were made the same. The different sizes of fighters mean different fighting conditions. Heavyweights, for instance, hit harder and have more knockouts. But they also tire out faster. Bantamweights don't knockout as much but they are much faster and can go longer.
UFC 236 Results
UFC 236 saw five underdogs emerge victorious with the biggest one being in the main event: Poirier defeating Holloway by decision to capture the interim UFC lightweight title.
Poirier opened at +170 and closed as high as +186 with most bets going against him. Despite his dog status, Poirier outclassed Holloway and won four out of five rounds.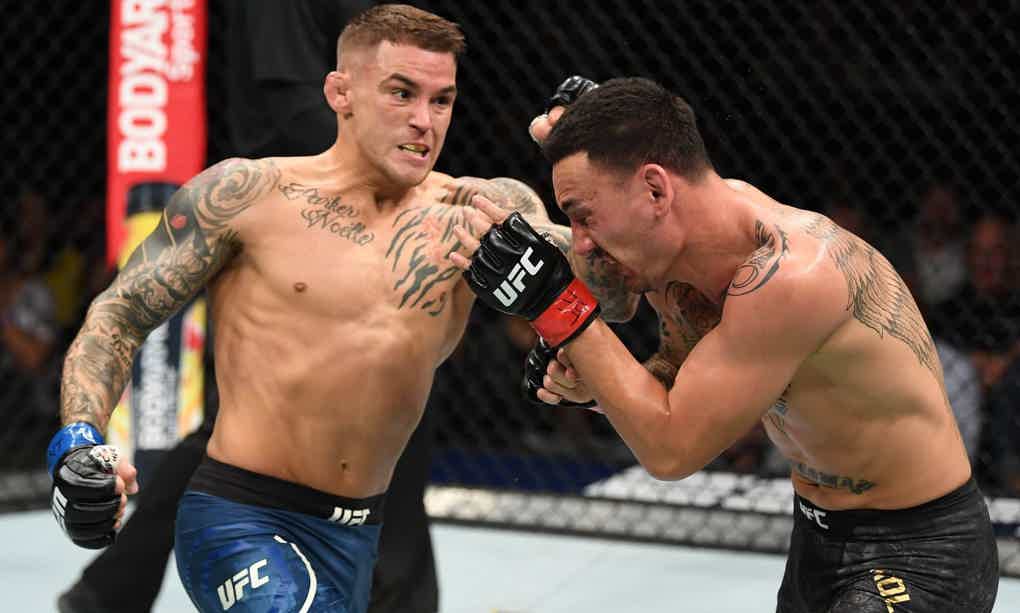 For the co-main event, Israel Adesanya defeated Kelvin Gastelum as the decided favourite. There was some dog action on Gastelum as Adesanya opened at -220 but closed as low as -175. Adesanya fought through adversity and capture the interim middleweight belt.
Here is the complete results for UFC 236. Winners are bold and in red:
| Fighter 1 | Win | UFC 236 Odds | Win | Fighter 2 |
| --- | --- | --- | --- | --- |
| Max Holloway | -205 | VS | +165 | Dustin Poirier |
| Kelvin Gastelum | +135 | VS | -175 | Israel Adesanya |
| Alan Jouban | -125 | VS | -110 | Dwight Grant |
| Curtis Millender | +115 | VS | -145 | Belal Muhammad |
| Lauren Mueller | +125 | VS | -145 | Poliana Botelho |
| Matt Frevola | +110 | VS | -145 | Jalin Turner |
| Randy Costa | +130 | VS | -165 | Brandon Davis |
| Zelim Imadaev | -120 | VS | -110 | Max Griffin |
| Khalid Taha | +120 | VS | -155 | Boston Salmon |
| Andre Soukhamthath | +335 | VS | -495 | Montel Jackson |
| Eryk Anders | -185 | VS | +150 | Khalil Rountree Jr. |
| Ovince Saint Preux | -110 | VS | -120 | Nikita Krylov |
| Wilson Reis | +120 | VS | -150 | Alexandre Pantoja |
Stay tuned as we keep you updated on current and future UFC events.