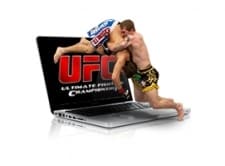 It's official: former two-time UFC welterweight champion Georges St-Pierre returns in the summer 2017 to fight Michael Bisping for the UFC middleweight championship – and eventually become the fourth two-division UFC champion. This announcement came on the heels of several months of back-and-forth between UFC President Dana White and St-Pierre about his status with the company and thank the MMA gods they reached an agreement!
GSP vs Bisping Odds
Since abruptly departing from the UFC late in 2013, news of about whether "GSP" comes back or not were viral around the MMA community. St-Pierre was commonly quoted with positive messages later in 2015 where he discussed possibilities of returning as he felt the "hunger" returning though White repeatedly said St-Pierre is not coming back.
It was difficult to trust any source or if St-Pierre would indeed come back. In mid-2016, St-Pierre emphatically stated his commitment to returning though White still insisted it won't happen. Plenty of events took place like the new Reebok sponsorship deal and USADA drug testing but after St-Pierre cleared all of that, an announcement was finally made and St-Pierre will grace the octagon one more time much to the delight of fight fans everywhere.
Just hours after the fight announcement, sportsbooks everywhere like Sports Interaction opened betting lines in St-Pierre's fight against Bisping. St-Pierre opened as a -150 favourite with a +120 comeback on Bisping. The lines have gone back-and-forth but have since tightened back to their opening lines. St-Pierre will have the challenge of fighting a bigger opponent with excellent boxing, takedown defense, and cardio, and he is untested at middleweight.
This is a stiff test for St-Pierre as Bisping has been on a roll coming off his best year in 2016. Bisping defeated the great Anderson Silva then upset Luke Rockhold as a massive underdog to win the belt and finally avenged his loss to Dan Henderson. With Conor McGregor and Ronda Rousey out, this match-up may be this year's biggest UFC fight.
GSP Record
A quick look through St-Pierre's record reveals that he only fought high-level talent. His first fight was against Ivan Menjivar, a UFC veteran. Early in his career, he earned the nickname "Rush" for his aggression and it showed when he finished 9 of his first 11 victories. He quickly earned a title shot against Matt Hughes but a critical error gave him his first loss. In the next two rematches, he made short work of Hughes. But it was his loss to Matt Serra, one of the best UFC Fighters at the time, that galvanized his fighting style. St-Pierre morphed from a hyper-aggressive finisher to a more calculated fightmaster. He rarely finishes fights now but he thoroughly outclasses his opponents with the exception of Johny Hendricks who he still beat.
GSP Last Fight
In St-Pierre's last fight, he won a controversial split decision over Hendricks. The result was a bit of a shock as all 16 media outlets scored it 48-47 for Hendricks. St-Pierre won rounds 3 and 5 with Hendricks taking rounds 2 and 4. It was the first round where judges split with two scoring it for the champ and only one awarding it to Hendricks. Regardless of the victory, St-Pierre didn't appear like a victor. He suffered more damage and shocked the world by announcing a hiatus from the sport. Now returning against Bisping, St-Pierre will be fighting a different type of fighter who is primarily a boxer but can wrestle if necessary. Check the latest odds on their upcoming fight with the top online sportsbooks like Sports Interaction, the two best for UFC.