Starting as a Canadian sports media company, theScore now also operates a Canadian sportsbook under the moniker theScore Bet. The company launched its first sportsbook in 2019 in New Jersey and has continued to expand since, finally landing in their home province of Ontario in April 2022. After parent company Penn National decided to rebrand theScore's US facing book to Barstool Sports, they set their focus exclusively on Canada.
Is theScore Bet Canada the right platform for you? Learn about it in our theScore Bet app review.
Well-designed mobile betting app
Excellent in-play betting markets
Knows the North American market well
Play+ payout option is unique
Cannot place bets on their website
theScore Bet Canada History
Launched in 1994 as Sportscope – essentially a ticker with sports, news, and betting information – and changing its name theScore in 2000 – the company has a long history in Canada as a source for sports.
After selling off its sports television branch to Rogers (owner of Sportsnet) – theScore shifted to a digital-only outfit (app, website, and social media). After seven years of steadily growing their user base, theScore launched theScore Bet – joining Sports Interaction and provincial sports betting services as the only sportsbooks to have head offices within Canada.
In August of 2021, Penn National Gaming (now known as Penn Entertainment) announced the acquisition of theScore. Penn has been a long time owner/operator of brick and mortar casinos in the US and acquired theScore as part of a push to diversify into digital sports and entertainment.
When the legal Ontario market opened its doors in 2022 and theScore Bet began establishing its foothold in their home province, Penn Entertainment decided to rebrand theScore Bet to Barstool Sportsbook in the United States (Penn owns 36% of the Barstool brand). theScore meanwhile announced that their sportsbook would operate exclusively in Canada.
theScore Bet Canada – A Homegrown Sportsbook
theScore Bet is located in Toronto, Ontario – making them about as home-grown as you can get without being an official provincial platform. Ontario is just the start for them, as they hope to get preferential treatment once more provinces legalise and regulate single-event betting beyond government-run outlets.
Speaking of legalisation and regulation, in addition to being at the forefront of betting apps in Canada we also have theScore to thank (in part) for the legalisation process itself. John Levy, founder and CEO of theScore has long argued on behalf of single event sports betting in Canada. Alongside others who worked to bring forth a fair and regulated market, Levy and by extension theScore aided in making this goal a reality.
Customers can therefore expect a uniquely Canadian flavour (with a u) when using theScore Bet. Their attention now focused squarely on home soil, theScore represents a Canadian success story in the new world of sports betting.
Signing Up for theScore Bet
Sign up is quick and easy on theScore Bet Ontario but be prepared to provide validation documents before you can use your account. Remember to download the correct theScore Bet: Sports Betting version of the app and not the theScore Sports news app.
Complete all the required fields and select a username and password combination that you won't soon forget. theScore Bet does require a special character in its passwords in addition to at least one uppercase letter and one number.
After filling out all your account details and choosing a secure password, now comes time for account validation. If for any reason you close the page before validating, fear not, you will be able to log into your account using the credentials you chose and try validating again.
To validate your theScore Bet account you must provide images of documents proving your identity and address are accurate. Once submitted you will receive confirmation in short order and your account will be ready to use.
theScore Bet Look and Feel
As theScore is focused exclusively on in-app betting (theScore's website doesn't not offer access to betting), their app is a cut above. A clean, responsive and intuitive platform that's a joy to use.
It is a clutter free and easy to use interface but the factor that really sets it apart is the platform's integration with the wider range of theScore products.
theScore Sports was already an incredibly popular app for sports fans. A one stop shop for scores, stats and analysis. Now the inclusion of curated betting news and markets, in addition to the ability to build out your perfect bet slip and send it seamlessly to the Bet app makes for a perfect marriage.
theScore brand excels in the world of mobile apps and as such one can almost forget the lack of a betting website.
The Blue Jay Way
Notably for those wanting to bet close to home, theScore Bet has an exclusive partnership with the Toronto Blue Jays. While not the only platform you can bet on the Jays at, the deal makes theScore Bet their exclusive marketing partner for betting, casino games, and fantasy sports, and will create all sorts of promotional tie in – including a themed bar and restaurant in the Rogers Centre.
The partnership is slated to run through the next 10 seasons and is the first of its kind for the Blue Jays. Jays' President and CEO; Mark Shapiro said of the deal, ".. this monumental partnership with theScore Bet offers compelling new ways for sports enthusiasts to be a part of the game. We are excited to be partnering with a Canadian company that operates at the highest level of the industry and understands our role in Toronto and Canada, to bring baseball to more fans nationwide."
In addition to branding and promotions throughout the ballpark and on television, theScore will also be presenting partner of the Blue Jays' famous "Jays Care 50/50 program".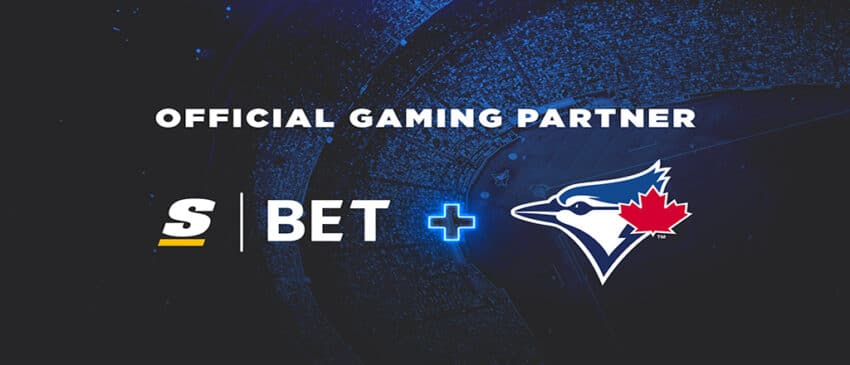 Teeing Off Canadian Style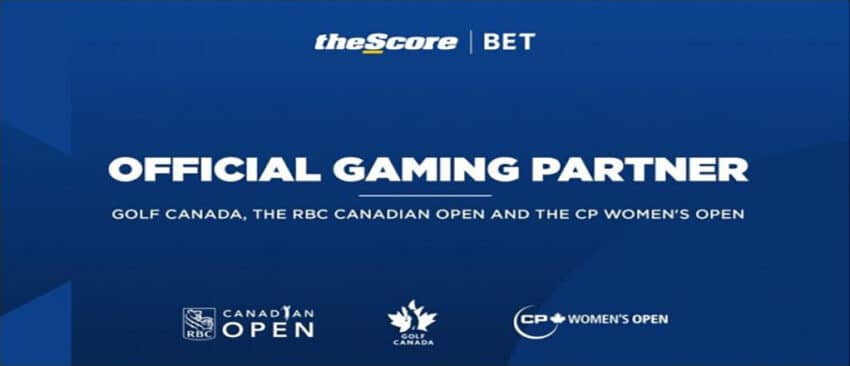 In August 2021 Golf Canada entered into a multiyear deal with theScore Bet, introducing the Canadian brand as the official betting partner to Golf Canada and its two prestigious tournaments; The RBC Canadian Open and the CP Women's Open.
As Golf Canada's first ever gaming partner, theScore will gain exclusive access to branding and promotional opportunities both on and off the golf course. theScore also aims to provide engaging on-site activations during premier tournaments, giving golf fans opportunity to experience the action in completely new ways.
The 2022 RBC Canadian Open was the first to showcase the new partnership and theScore Bet took full advantage of the opportunity. Bet Mode putting challenges were present at various locations on the course to entertain fans and hand out prizes. An exclusive theScore Bet Members Lounge, a premium hospitality area complete with complimentary food and beverages overlooked the 18th fairway and was open to theScore Bet account holders only.
The cherry on top were the theScore Bet Skyline Seats, a suspended viewing platform offering wonderful new views of the course during play. 30min in the Skyline box with food and drinks could be won in putting challenges and in the members lounge.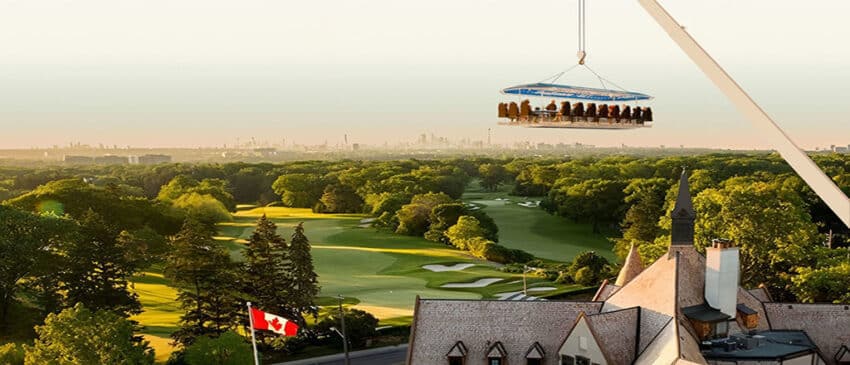 The Bottom Line on theScore Bet
theScore Bet sportsbook gets some things right and misses on others. For a new player, only operating in a few states, the product is good. The things they do well – such as mobile betting and live sports betting – are done very well. However, the lack of a website and live chat features hurt theScore Bet sportsbook. As they currently only operate in one province, we expect as they expand their reach, they will expand their services.
theScore Bet plans to expand further into the Canadian market once provinces legalize single-event betting. Having a head office in Toronto helps them score some points from Canadians. However, their sportsbook is designed for experienced punters and does not match the betting options available from the online sportsbooks currently available in Canada.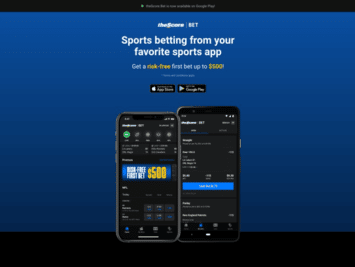 Visit TheScore and see for yourself…
Want to check out theScore Bet? Open an account at TheScore and make a first deposit.
Ok! Let's Check Out TheScore!
theScore Bet FAQ
Can I Use theScore Bet in Canada? Can I use theScore bet in Alberta? Is theScore Bet coming to BC?
If you're in Ontario – either as a resident or while passing through – you can! theScore is one of iGaming Ontario's founding vendors. Members must be at least 19 years of age and must verify themselves with Photo ID. Other provinces are also on the horizon for theScore, though details there are still up in the air.
Who Can Play at theScore Bet?
In Canada, theScore Bet sportsbook is only usable in Ontario, for members that are 19 and older. In the United States, theScore Bet sportsbook has officially become Barstool Sportsbook
Where is theScore Bet Located?
theScore is located at 500 King Street West, Toronto, Ontario, M5V 1L9. The office is home to theScore Bet sportsbook and their sports news app. The office is only a few blocks away their old office from their television era, which Rogers operated for several years after the sale but shut down recently.
In What Provinces is theScore Bet Available? Is theScore bet only for Ontario? Where is theScore Bet legal?
In Canada, theScore Bet is operating exclusively in Ontario, as a founding member of the iGaming Ontario launch. theScore is an ambitious company, however, and as the other provinces figure out how they'd like to allow for third-party operators, be sure that theScore will be pushing for licenses and expanding as they can.
What States is theScore Bet Available?
In the United States, theScore Bet sportsbook has officially become Barstool Sportsbook. theScore Bet will continue to operate in Canada only.
Does theScore Bet have a Mobile App?
Yes, theScore Bet sportsbook is exclusively available on a mobile app. There is no option to place bets on theScore Bet website. This could change in the future, though with theScore being an app-focused company, it's unlikely they will see this as a priority.
Can I use a VPN to access theScore Bet?
We do not recommend using a VPN to access theScore Bet. Using a VPN may result in your winnings forfeited and your account blacklisted from the sportsbook.
Does theScore Bet pay real money?
theScore Bet is indeed a real money Sportsbook. Understand the risks involved with sports betting before making real money deposits and wagering on theScore Bet Canada.
Are Winnings from theScore Bet Taxed?
Canadians do not pay taxes on gambling profit won in Canada. Winnings are not subject to tax unless you are considered a professional bettor (making most or all of your income through gambling) or the law changes.
How much money does theScore Bet take from winnings?
theScore Bet does not take a cut from winning bets, the winnings are all yours. theScore Bet earns money from losing wagers only.
What Sports are Available for Betting at theScore Bet?
While theScore Bet sportsbook offers odds on a range of domestic and international sports – the best selection is on the NFL, NHL, NBA, MLB, and the UFC. The other sports at theScore are available but not nearly as well represented.
Can you do Parlays on theScore Bet?
Yes you can. All the betting combinations from major online sportsbooks can be found on theScore Bet Canada. From single bets to parlays, round robins and teasers.
Can you Cash Out bets on theScore Bet?
Yes. Certain bets will be available to cash out prior to the event in question at theScore Bet Canada's discretion.
What is Not Available for Betting at theScore Bet?
Like every sportsbook operating in the United States – theScore Bet is subject to regional restrictions on what is available. Depending on the state you live in, you may not have the option to bet on college sports (or just in-state college teams), amateur sports, high school sports, and eSports. What is restricted in each region is subject to change.
Do people win big on theScore Bet?
As with any online sportsbook people do sometimes win big, but big losses are even more common. Luck is the ultimate decider when gambling so please gamble responsibly and within your means. Know your limits and stop when gambling isn't something you enjoy anymore.
Does theScore Bet Accept Bitcoin?
No, theScore Bet does not accept Bitcoin as payment.
What Types of Incentives are Available at theScore Bet?
theScore Bet sportsbook offers multiple incentives for new members – our suggestion would be to sign up and see which ones are best for you. While the current offers are respectable, theScore Bet could stand to expand their options to already-existing customers as well.
They also offer daily odds boosts and the odd other promotion – but it is not as many as other sportsbooks.
Is theScore bet Legit?
Absolutely! theScore bet is one of the most legitimate sportsbooks in Canada, in fact. They've got AGCO and iGaming certification, and are attached to an already existing sports media empire. With decades of reputation already built up and plenty of support on the gaming end, theScore bet is about as trustworthy as it gets.
Who owns theScore? Is theScore owned by Rogers? Who is the CEO of theScore?
theScore is owned by Penn National Gaming, known historically for their many Casino properties. They purchased the platform in 2021 for $2 billion (USD) in cash and stocks. This is not to be confused with Score Media, the original broadcasting property, which was spun off into its own company and sold to Rogers in 2012. Rogers did get shares in the present day version of theScore as part of their purchase, but sold them in 2014. The CEO of theScore is John S. Levy, who is the founder of the original network. Needless to say, he did some smart business with his split!
How long does score bet take to pay out? How long does theScore bet take to withdraw? How does theScore bet payout?
Payouts on theScore bet are a relatively simple process. On the "my account" page, select Withdrawal, then select a method and follow the steps provided. Payout generally takes between 1 and 3 business days and can be done through Visa Debit, Trustly, Interac, Paypal, and EFT.
---