On this page you'll find all the best UFC betting sites Canada has to offer, in addition to the latest MMA betting and UFC odds updated for UFC 296 on Saturday December 16th! Even with few Canadian superstars in the MMA scene, UFC betting in Canada is a huge event as the nation contains some of the most passionate fans around. Thankfully, fans get a host of options for online UFC betting sites with competitive betting odds – meaning there's tons of options to choose from, including some of the top Canadian sportsbooks.
Next Event – UFC 296 at T-Mobile Arena in Las Vegas, United States
Coming up on Saturday December 16th, UFC 296 is set to take place in Las Vegas at the famous T-Mobile Arena. The next title fight is set to feature reigning champion Leon Edwards and Colby Covington as they go head to head for the title of welterweight champion.
Leon Edwards to Beat Colby Covington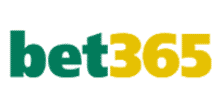 -125
Bet Now!
What Happened at UFC 295?
UFC 295 took place on Saturday November 11th at Madison Square Gardens in New York where all five title fights wrapped up in under 21 minutes. Former UFC Middleweight Champion Alex Pereira, who now competes in the Light heavyweight category took on challenger Jiří Procházka. Pereira won his bout by TKO in the second round, becoming the first UFC fighter to dominate the UFC Light Heavyweight category in addition to Middleweight. Fans of Jiří were stoked to see the Light Heavyweight challenger pummel Pereira in round 1, with calls for foul play by the champion leading up to his win. However the win took place, Alex Pereira took home the belt and performance of the night with a whole lot of damage dealt to his opponent.
Overall, UFC 295 was a wicked fight night, sending 19 fighters into indefinite suspended medical leave. Fighters will need to undergo weeks of mandatory rest before being cleared by a doctor to return. In the co-main event, Tom Aspinall dominated the scene against Heavyweight competitor Sergei Pavlovic. As the two fighters with the shortest average fight length in the UFC, Aspinall and Pavlovic lived up to their reputation with Aspinall winning by TKO in round 1. Overall, UFC 295 brought the punches (and much more), delivering a true ultimate fighting experience.
UFC Odds for December 16th – UFC 296
Betting odds for UFC 296 are now available. The odds available for UFC 296 at each sportsbook are vastly different, and we encourage bettors to check out our top recommended sportsbooks for the best value odds. So far for UFC 296, UFC line movement has been minimal to say the least. Andre Fili and Lucas Almeida are late to join the lineup, and for some reason bet365 has pulled their betting odds for Emmett versus Chikadze. Stay tuned for updates — we'll keep this page updated as the bookies shift the line (if they do, that is).
These odds were last updated on Dec 07, 2023.
Best UFC and MMA Betting Sites in Canada
The UFC odds from top-rated online sportsbooks for UFC events will be displayed on this page as well as the best venues for UFC betting in Ontario and beyond, so keep checking back for updates! We do the homework so you don't have to –you can focus on the event, your favourite fighters, and a chance to make some scratch along the way.
The UFC is a global phenomenon, yet you'll be surprised to find that there are still some sportsbooks that don't offer great UFC odds or UFC betting services. With hundreds of sportsbooks, and even dozens in the regulated Canadian market, it can be overwhelming just finding the best books for UFC betting online.
We took the liberty of finding the 10 best online sportsbooks for UFC betting. Canada Sports Betting readers who want to bet on UFC should know that our quick reviews will help you get the gist of what each UFC sportsbook is about, and what you should pick depending on how you want to approach your betting while watching UFC in Canada. Our reviews and notes should help you decide where to bet on UFC when all is said and done.
What Makes The Best UFC Betting Site?
The best UFC betting site in Canada is largely dependent on the individual bettor, as each player has their own preferences. However, generally speaking, UFC betting sites should offer a broad range of competitive UFC betting odds and an extensive list of markets to choose from when playing. For those wondering how to bet on UFC fights in Canada, it's these sites that get you right into the Octagon.
It's not just about UFC fight odds, though. Ideally, a quality bookmaker will offer futures, live betting, and some information regarding the upcoming events. Getting some inside information is key to success. Oddsmakers know sports betting than anyone, so a few tips always go a long way to improving the quality of the overall service. Let's take a look at how our overall favourite Canadian sportbooks ramp up for events:
1. bet365 Ontario UFC Betting

One of the most frequently-advertised platforms in Ontario since the AGCO/iGaming launch in April, bet365 is as aggressive with its menu as they are with their sales pitch. The variety in how you can bet on any given fight – outright, by round, by method, all that fun stuff – is all there, plus many fights have boosted UFC odds on more precise outcomes, or bonuses to include specific fights in your parlays. Some UFC fights won't have all eight modifier options available to them, and occasionally you'll find only straight-up results available, but you're generally in good shape with bet365 Ontario's portfolio.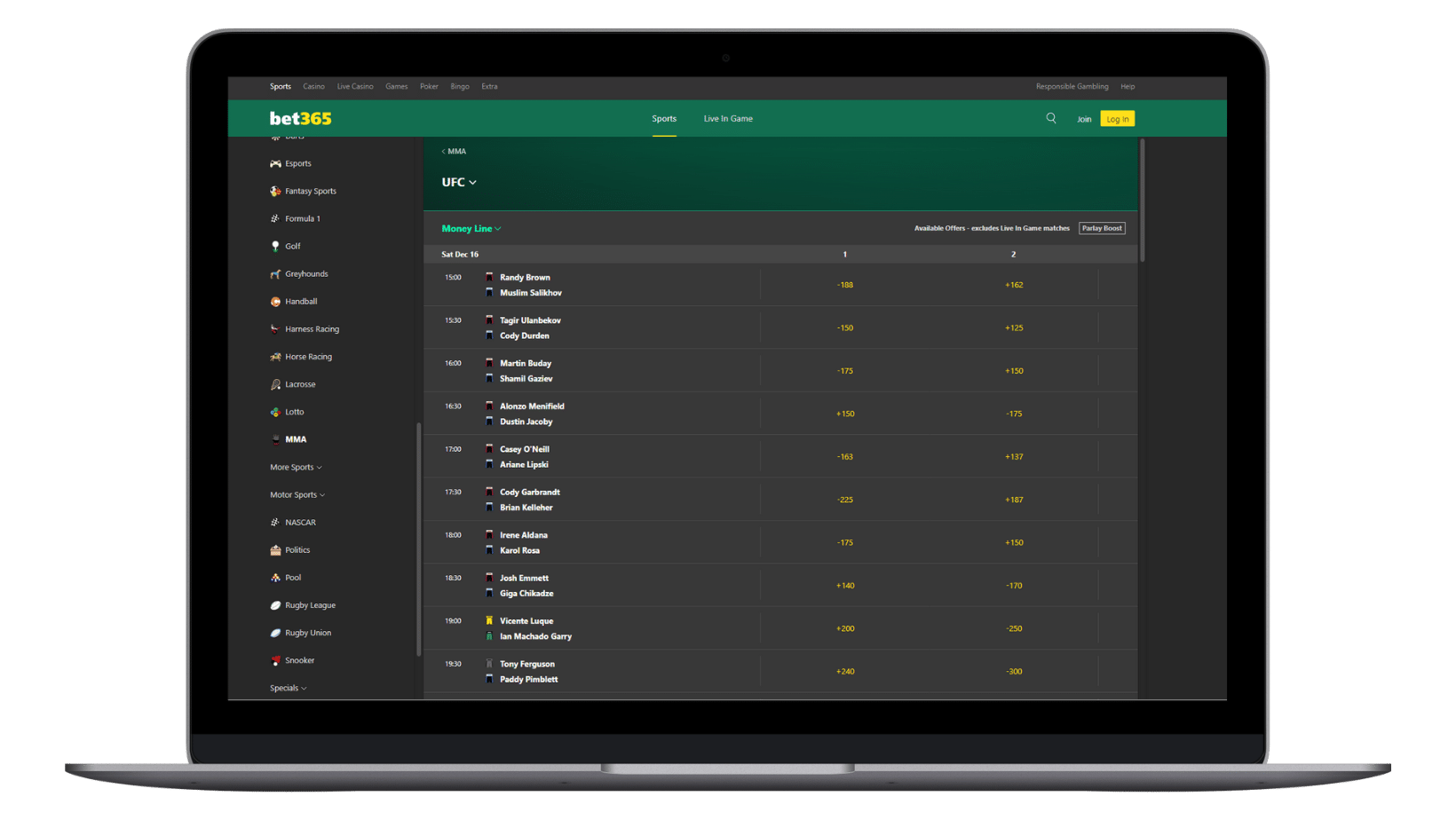 2. Bet99 Canada UFC Betting

It likely wouldn't surprise you that the sportsbook made famous in Canada by Georges St. Pierre's work as a spokesperson brings the energy for fight night. Typically, you'll be able to get lines on every fight on the card with strong UFC odds, and occasionally you'll even find early lines for multiple events ahead, if a matchup has already been announced. Besides the GSP connection, we like Bet99 for it's brilliant user interface, and Canadian focus, something we talk about in our Bet99 Canada Sportsbook Review.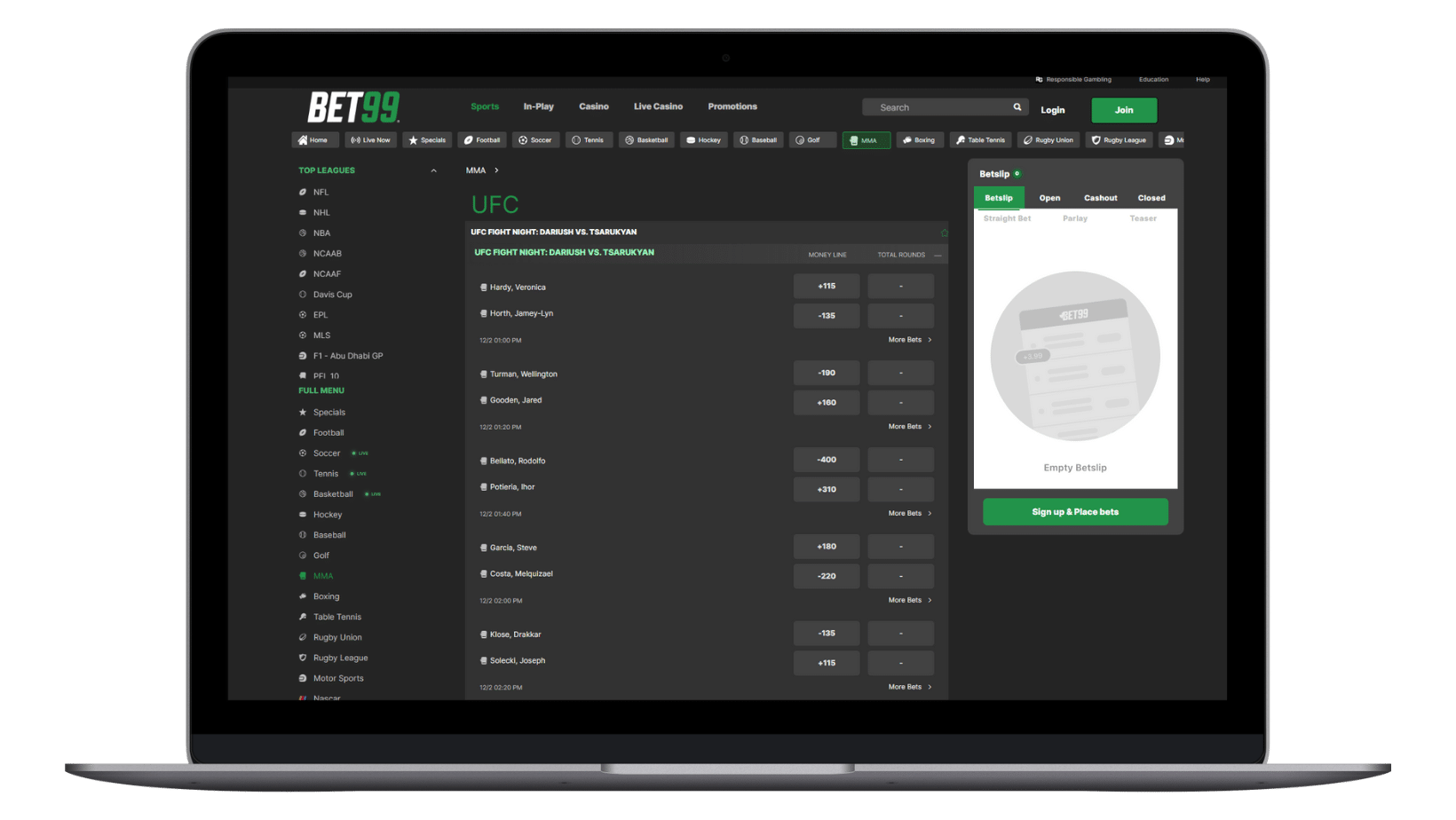 3. Sports Interaction UFC Betting

SIA covers MMA from all sorts of angles, with UFC fight betting, of course, included. What's really interesting is the amount of detail that they go into with some fights – some will be as simple as who wins, but with others, you can often find over/unders on rounds, whether the fight will go the distance, or even how the fighter of choice will win. Of course, if you're feeling really frisky, you can make your most if you correctly call for a draw. As we talk about in our Sports Interaction Canada review, the platform has decades of experience in this country, and it shows with the level of detail put in.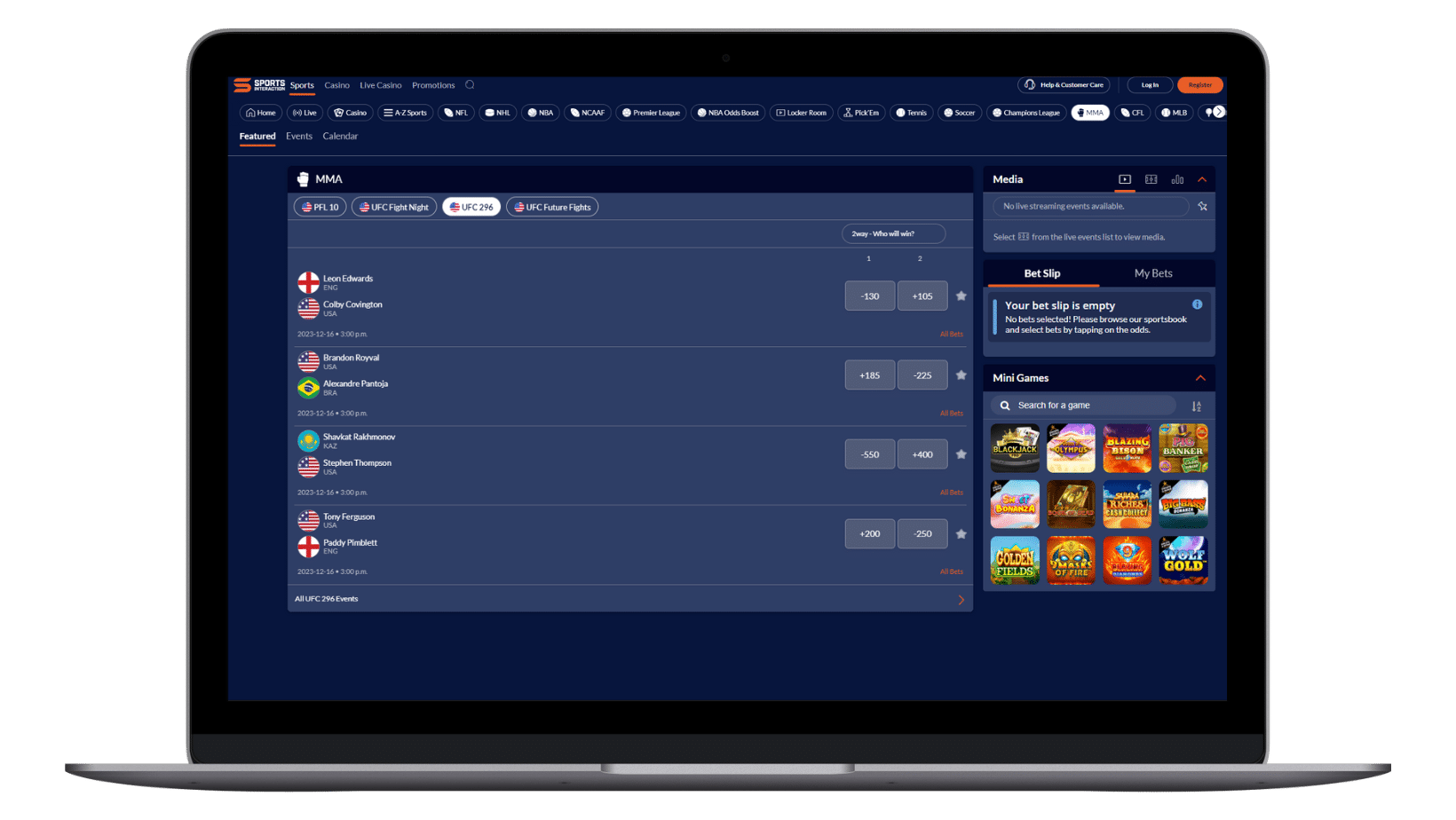 4. BetRivers Ontario UFC Betting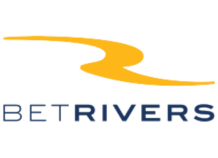 Of our top vendors, BetRivers' top matches have the most available props, with some of the higher-profile octagon battles even allowing you to bet on groups of rounds won by scorecard or whether or not the matchups will be decided in the first minute. Upon our last check, BetRivers had some fights available to bet as far as five months in advance, and a lot of the fight windows will have attached tips to tell you about fighters' recent streaks and trends to help you make a decision on what props you'd like to involve yourself with.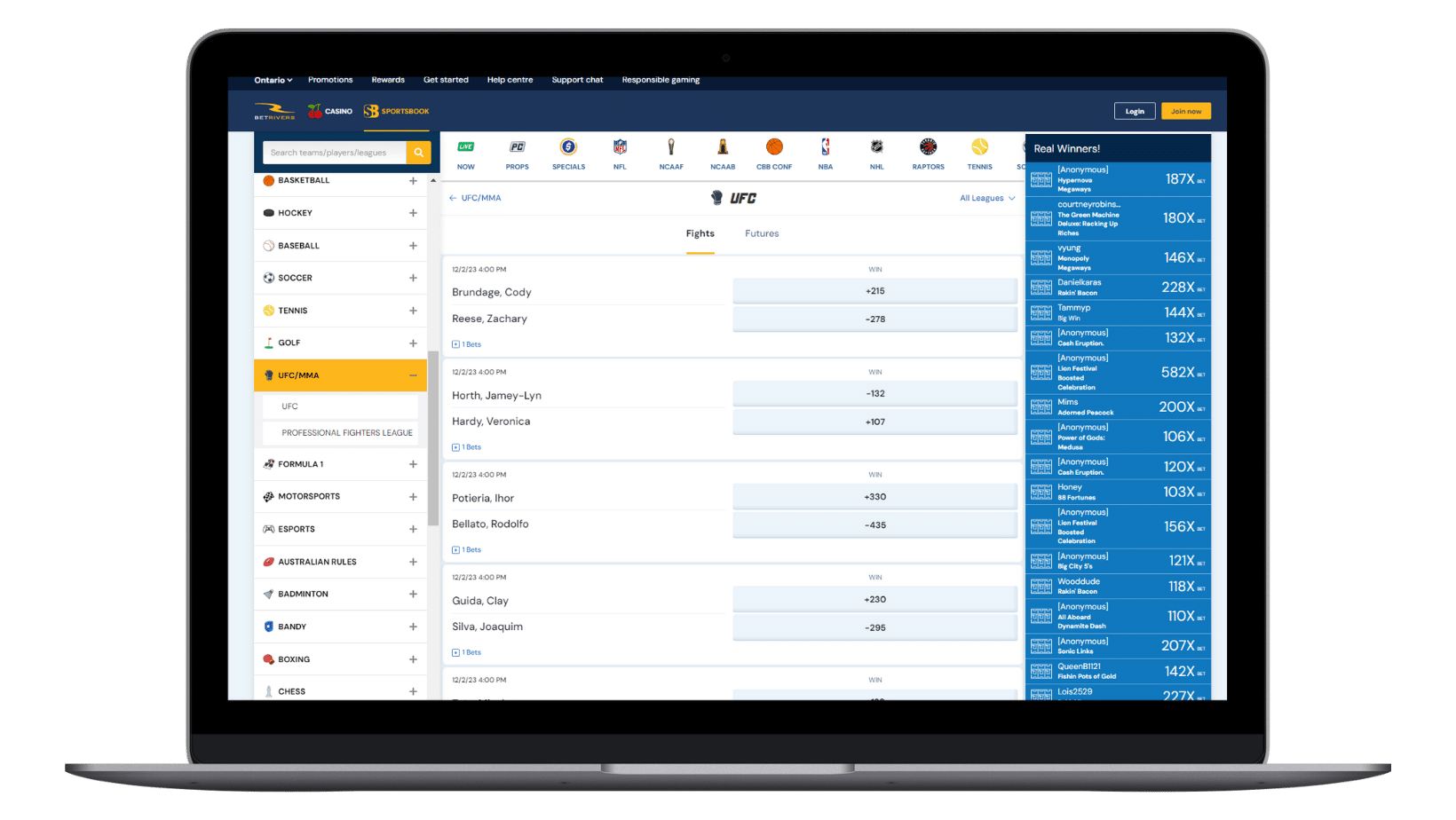 5. PowerPlay Canada UFC Betting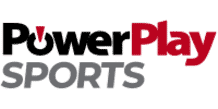 Powerplay offers much of the same as the above as far as how you can bet on fights, though more of their fights are outright-winner-only than the other vendors. Where they do have an advantage is a live-betting offer they have, offering free bets to those who make live bets on the site during the action, including live UFC bets. For more information on how this works, check Powerplay's site, or our Powerplay Canada Review.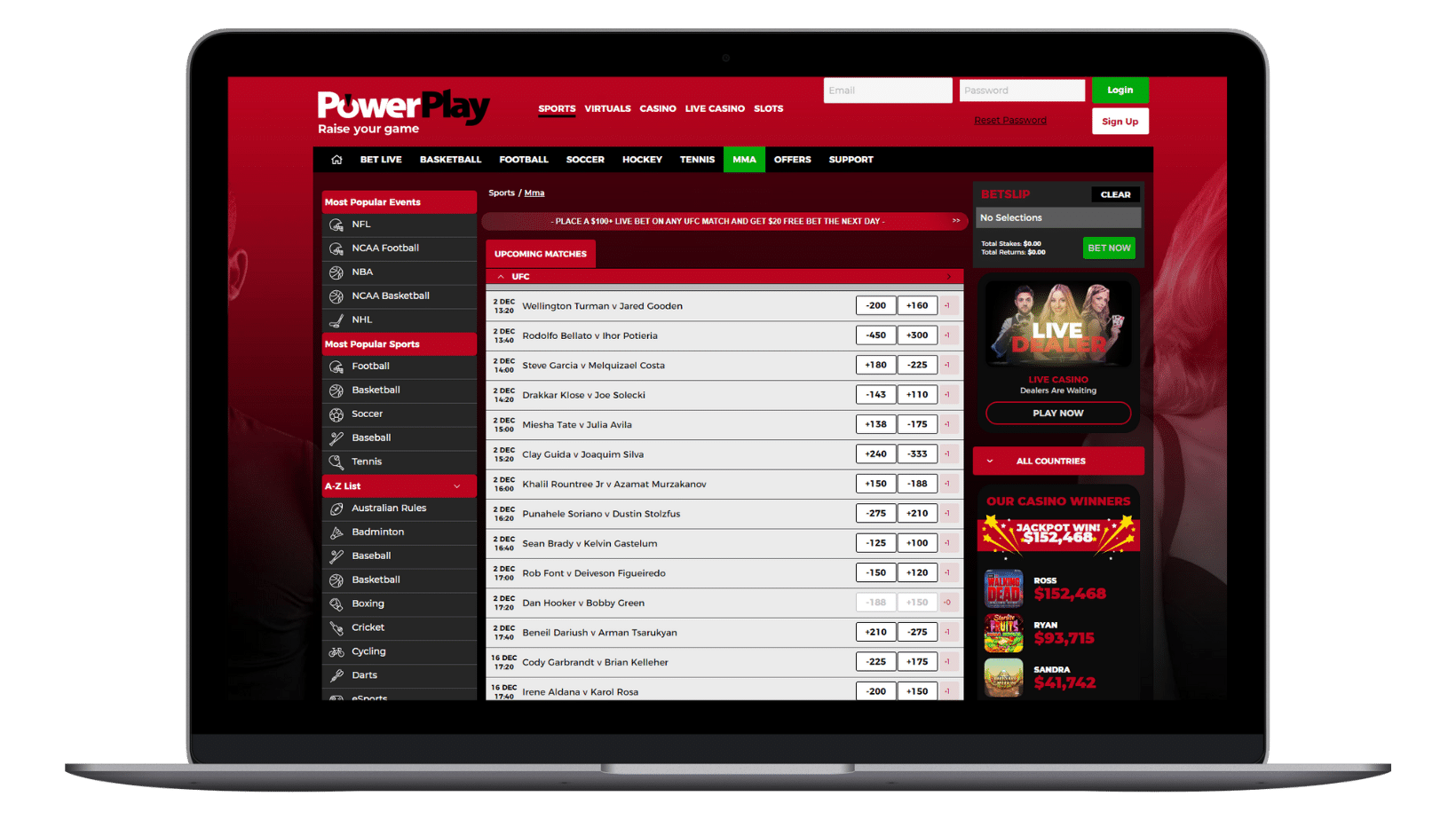 6. BetMGM Ontario UFC Betting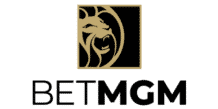 As we mentioned in our BetMGM Ontario review, the world-famous book has done a great job transitioning its history in the industry into a product that legal bettors in Ontario can enjoy. This includes options for UFC online betting, usually for the current event and the one following it if there are cards already announced. BetMGM is fantastic for props across all sports and this is no exception – even fights that might only be offered straight-up on most platforms will offer you a little extra, be it whether the right will go the distance, how many rounds it'll last, or the method of victory.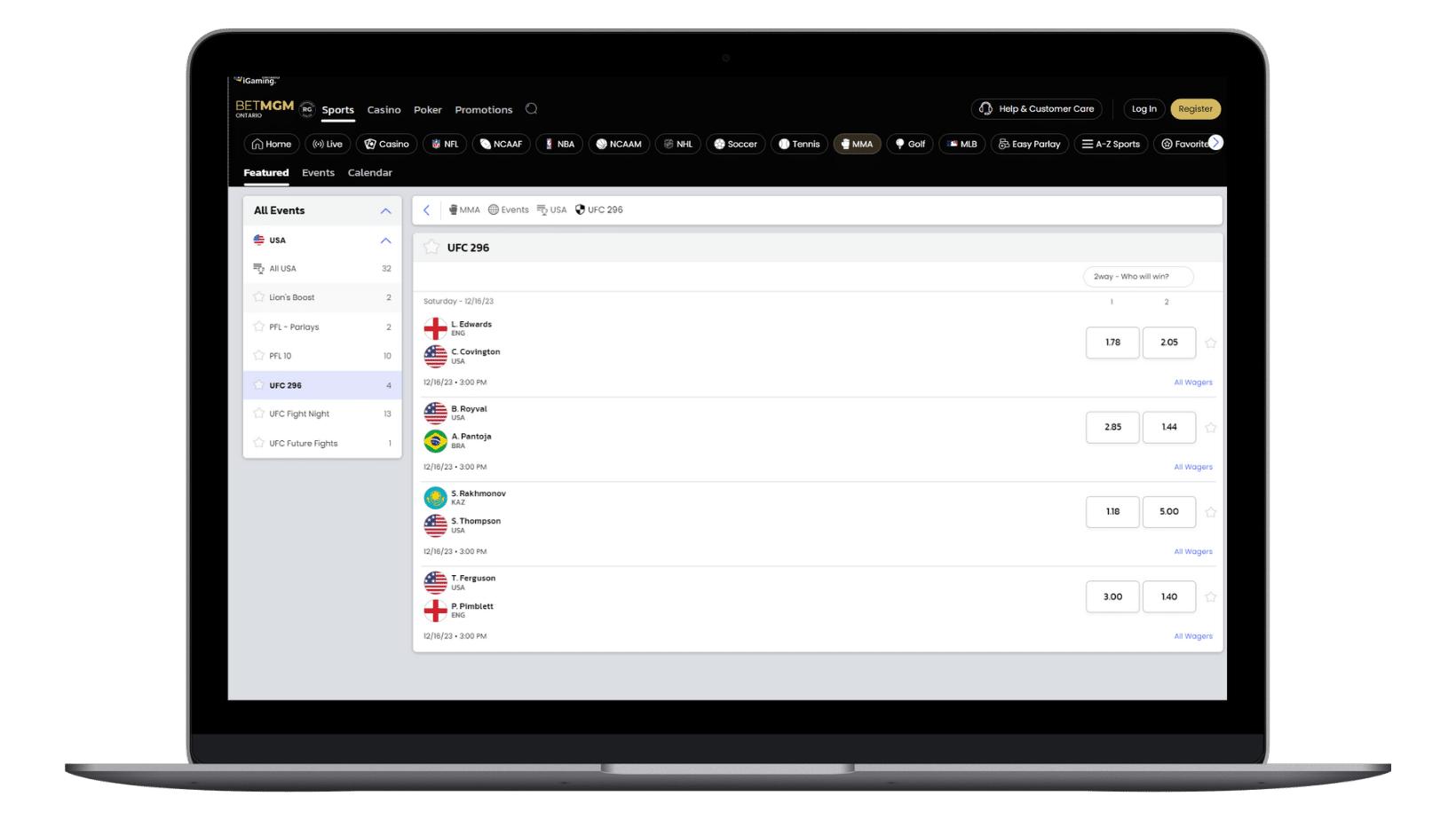 Best UFC Betting Options
When it comes to UFC bets, it's important to find the right market to suit your needs and desires. Obviously, there are always better markets than others, but this is mainly subjective. So, learn what you like to play and try to locate those UFC odds at the top bookmakers for Canada UFC betting. Let's take a look most popular UFC betting markets.
Moneyline Betting
Moneyline betting is probably the most popular betting type out of all UFC betting markets. This is mainly because of the nature of the sport; one versus one fighting, with normally only one outcome—though split decisions aren't uncommon. As such, understanding and finding value in the moneyline odds is a smart move for UFC fans.
Futures
The UFC events are normally laid out on paper anywhere up to three months before the events take place. This is due to the high volume of UFC bettors and the demand for certain fights, the UFC is able to build anticipation a long time before the fight takes place. The Futures often offer great value, because they are the opening odds and a lot can happen that'll make the UFC odds adjust in that time.
Fighter Props
Fighter props offer bettors a great opportunity to focus their wagering on one particular fighter. Often is the case in the UFC that fans want more than simply backing their fighter to win. Given that, sportsbooks provide statistic-based information and round betting to offer more to UFC fans than simply betting on a win-loss outcome.
Latest UFC Betting Sites Promotions
The UFC is one of those unique sports that has regular promotions, as each event often features a title fight. With a stacked roster across all weight classes, the UFC has great fighters on an almost weekly basis. Bookmakers have responded to this by providing a range of promotions for events, as well as throughout the year.
To ensure our readers get the latest and greatest promotions, we will list all the UFC betting site promotions right here:
As we mentioned before, UFC betting promotions pop up around the time fights come around. Look forward, there aren't any events for some time, so this is likely while we only see one promotion across the top bookmakers.
UFC History 101
The UFC was founded in 1993 and has grown into the most in-demand fighting competition in the world. We are even seeing highly popular UFC fighters become just as popular, if not bigger than the top boxers as the sports fanbase looks to MMA for entertainment.
Things weren't always this way – MMA was looked at as a dangerous side show for decades due to the anything-goes nature of the sport. Even the founders originally saw UFC as a one-time event! Weight classes and detailed rules were not a factor, and a tournament format was used at the beginning.
After some battling with the legal system for the right to survive, UFC 28 was the first event to actually be sanctioned, in compliance with the State of New Jersey's Unified rules and regulations. Shortly after this late 2000 event, Zuffa LLC purchased the championship for just $2 million, and under Dana White's vision and control, hope began to reappear.
In 2001, UFC gained sanctioning in Nevada – key for any serious fighting art that wants to pull in fans. A TV deal was made with Fox Sports to get some of the fights on cable, and by 2002, pay-per-view ratings had returned to their unsanctioned peak.
This still wasn't enough to turn the operation around financially, but their moment. In 2005, UFC launched The Ultimate Fighter as a reality show on Spike TV, and it's success led to meteoric growth, both in pay-per-view sales and in the greater public conscious. Since then, UFC has continued to grow, acquiring competitors to bolster their market share and successfully marketing their superstars, eventually becoming the behemoth it is now.
The major events are numbered—such as the next event UFC 292 for example—while the almost weekly events are known as Fight Nights, which are named based on the headline fighters involved.
Competitors enter what is known as the "Octagon" cage and fight it out over 3 rounds for regular fights and 5 rounds for title fighters, both of which involved 5-minute rounds. The best thing about the UFC is the electric, fast-paced nature of the sport, which always leaves you wanting more.
UFC Betting Resources
The UFC and Canada
While Canada can't exactly take ownership of what the UFC is today, we can safely say that we contributed to the footprint of the operation. In March 2006, UFC 58 decided to theme itself around pitting American fighters against Canadians, largely from the TKO Major League that was assembled up north at the time. The night ultimately went to the Americans, with five matches won by them to most notably Rich Franklin's win over Montreal's David Loiseau.
With that said, there were three Canadian victors that night – Sam Stout and Mark Hominick in the lightweight tiers, both of whom would go on to respectable careers in the UFC and across MMA. But there was also a man in the welterweight class named Georges St-Pierre who picked up his sixth victory in UFC that night, and he would go on to be crucial to the sport in this stage of it's existence, and put Canada on the MMA map.
His next match, against Matt Hughes at UFC 65, saw him take the UFC Welterweight Championship just eight months later. He'd lose it to Matt Serra in April, but he'd go on to get the belt back a few months later and hold onto it for the rest of his welterweight career – a whole six years!
In this stretch, knowing the popularity that GSP had in Canada, the UFC started to bring events to us. GSP started full control of that welterweight belt in Montreal at UFC 83, and the championship returned for UFC 97 and 113. Vancouver hosted for the first time in 2010 for UFC 115, and after another stop in Montreal, Toronto got it's first taste in what was at the time the largest UFC event ever – a massive 55,724 crowd filled up the Rogers Centre to, you guessed it, see GSP headline and win. Canadian venues hold 4 of the top 9 spots for largest-ever UFC crowds.
The most recent headline event in Canada was UFC 240 at Rogers Place in Edmonton, and most the recent UFC event in general was Fight Night on September 2019. The COVID-19 Pandemic has obviously disrupted the flow of the schedule since, but one hopes there will be a return in the near future.
On the fighter end, GSP remains our prodigal son of sorts, but fighters like the aforementioned Stout, Hominick, and Loiseau, along with Carlos Newton, Patrick Cote, and Rory Macdonald remain in Canadian UFC lore as well.
Can You Bet on UFC in Ontario?
Can you bet on UFC in Ontario again? YES! After a temporary pause on UFC Betting in Ontario that came into place on December 1st, the AGCO has, for a lack of a better term, brought the octagon back into its circle. We have all the details on this decision over on the news end of our site – in short, UFC has limited who within the championship can bet on events, lessening match fixing concerns. Thanks to this, the Ontario MMA betting market is back, and Ontarians can return to their favourite sites and bet on their favourite UFC fights.
For those wondering how to bet on UFC in Ontario now, it's the same as it was before. For more on how to do that, keep scrolling!
Ranking the best UFC Betting Sites in Canada
Ranking the best UFC Betting Sites in Ontario
UFC Betting Sites FAQ
How do UFC odds work?
UFC odds come in three formats – American odds, fractional odds and decimal odds. The odds represent the fighter's chances of winning the fight and how much you can win when betting on that individual to win the fight. A fighter with decimal odds of 3.0, American odds of +200 or fractional odds of 2/1 will net a $200 win on a $100 bet if they win the fight.
Is UFC Betting legal in Canada?
Yes, Canadians can legally bet on the UFC in Canada. Nearly every popular sport is available on all of Canada's top sportsbooks, and MMA bets are no exception. Canadians love to bet on UFC, and the books love to take those bets in.
Can you bet on the UFC in Canada?
Yes, Canadians can bet on the UFC in Canada, when using an online sportsbook. If you're wondering how to bet on UFC fights in Canada, we've got you covered here at CSB – throughout this page and others, you'll find MMA betting tops, UFC fight night odds, and lots of options for where you can bet on UFC.
Where can you bet on the UFC in Canada?
Our UFC betting sites page highlights the best online sportsbooks to bet on the UFC, along with info on how to bet on UFC in Canada. There is a lot of variety in the sportsbook market in this country, so be sure to find the platform that works best for you! Of course, we're more than happy to help you find that book of choice.
Is there are a difference between UFC betting sites and Vegas UFC odds?
With today's competitive odds market in Canada, particularly post-Ontario launch, you don't need Vegas odds explained to you to thrive in UFC betting. UFC betting sites should offer the same or very similar UFC odds available from Vegas sportsbooks.
What types of bets are available on the UFC?
There are a handful of different UFC betting lines available on each fight. The most popular is what fighter will win the fight. Other betting options include the method of victory in the fight and how long the fight will last. MMA betting in Canada provides vast variety and that's part of what makes it so popular.
How do you bet on the UFC online?
To bet on the UFC online, you first need to make an account with an online sportsbook. Once your account and created and verified and you complete your first deposit, you are able to bet on upcoming UFC fights.
Can you receive a promotion or bonus when betting on the UFC?
Yes, when you sign up for an online sportsbook and receive a bonus or promotion, you can use that bonus to bet on the UFC. To find the best online betting bonuses and promotions, check out our bonus review page.
Where can I find UFC betting tips and picks?
Here at Canada Sports Betting, we do not only review online sportsbooks, but we also provide bettors with free MMA betting tips, UFC betting odds, and predictions. Those free picks and tips include free UFC betting information on the biggest upcoming fights.
Is live betting available on the UFC?
Yes, online sportsbooks offer live betting on UFC fights. This tends to vary on a sportsbook by sportsbook basis, but the vast majority of the most popular platforms have some form of live betting, for UFC and other sports.
What is the best UFC betting site?
Some of the best UFC betting sites include bet365, Sports Interaction, Bet99, BetRivers, and PowerPlay.
Where can I bet on UFC?
We recommend betting on the UFC at one of the following sportsbooks in Canada: bet365, Sports Interaction, Bet99, BetRivers, or PowerPlay.
How can I bet money on UFC?
You can bet money on the UFC by registering at your preferred sportsbook and navigating to the UFC section of the website. From there, you can select your bet, deposit funds, and wager your desired stake.
Is it legal to bet on UFC in Canada?
Yes it is legal to bet on the UFC in Canada. Single game sports betting and parlay bets are legal and regulated within Ontario, while single games and parlays are legal through offshore sports books in the rest of Canada.
Is UFC betting easy?
UFC betting can be easy depending on your knowledge of the UFC fighters. While moneyline odds can be easy to bet on as there are only two options, there are also prop bets that bettors can choose from. While moneyline odds typically do reflect the skill of the fighters, bettors who know a fighter's specialty, their training history, or they way in which they qualified for championships (such as through a disqualification), may have an upper hand in betting.
What UFC is next?
UFC 296 is the next championship title fight taking place on December 16th at T-Mobile Arena in Las Vegas. The fight will feature Welterweight fighters Leon Edwards and Colby Covington.
Where is the next UFC fight?
UFC 296 will take place at T-Mobile Arena in Las Vegas. The fight will take place on December 16th between Leon Edwards and Colby Covington.
What are the UFC weight divisions?
There are four women's weight classes and eight men's weight classes. The classes are: Strawweight (under 115 lbs includes women only); Flyweight (116 – 125lbs includes men and women); Bantamweight (126 – 135 lbs includes men and women); Featherweight (136 – 145 lbs includes men and women); Lightweight (146 – 155 lbs includes men only); Welterweight (156 – 170 lbs); Middleweight (171 – 185 lbs); Light Heavyweight (186 – 205 lbs); and Heavyweight (up to 265 lbs).