While American Football isn't played all over the world, it's certainly watched far and wide and due to the nature of how it's played, it's top league remains a fixture in sports betting. The National Football League (NFL)'s dominance is most apparent in the United States, but despite not having a team of our own, Canada is no stranger to the league, be it through watching or through placing wagers.
Thanks to the explosion in regulated Canadian betting in recent years, combined with a very competitive market, there is no shortage of options for Canadian NFL bettors. Nothing beats the end-of-season Super Bowl, betting sites will be the first to acknowledge that, but Canadians can use NFL betting sites to make all sorts of wagers throughout the year.
Odds for the 2023 Super Bowl Outright Winners
The 2022 Super Bowl LVI was a fascinating one featuring two irregular opponents, reminding us that "any given Sunday" is a phrase rooted in the real world. The Cincinnati Bengals were the Cinderella team heading into the big game, but the Los Angeles Rams listed the ever so coveted Vince Lombardi trophy at the end of the night.
But with a new year comes a new (or perhaps repeated?) champion, and everyone is fired up to see who see who comes out on top. And hey, it wouldn't be NFL gambling without picking your Super Bowl winner, right? So let's look at the favourites heading into the season.
The NFL betting odds were updated on Sep 30, 2022:
With Ontario being the biggest market in both population and NFL online betting footprint, it's easy to say that many are going to be excited to see the nearby Buffalo Bills at the top of this list. Will the Bills Mafia members from the north side of the border finally get to see them win it all? That remains to be seen, but they're certainly favoured to have a great shot.
What makes the Super Bowl so great from a betting stand point is the sheer amount of prop bets, right down to borderline novelties, that are available. The Super Bowl prop odds are just what make Super Bowl betting odds so unique: no other sport offers these types of props. But what exactly are props? And why are they such a big deal? We'll break it all down for you, so you're ready for the action once you get to head to the best Super Bowl betting sites.
Remember that the Super Bowl props are often different from the NFL prop bets markets.
NFL Betting Resources
Super Bowl Betting Sites
Here at Canada Sports betting, our handicapping experts do our best to keep Canadian NFL bettors in the loop, as we cover an extensive variety of NFL sports betting odds. From the second the Lombardi trophy is lifted, to the off-season, to the preseason, and then throughout the year, we maintain a sharp focus on NFL wagering markets, taking into account every last change as momentum moves towards the Big Game.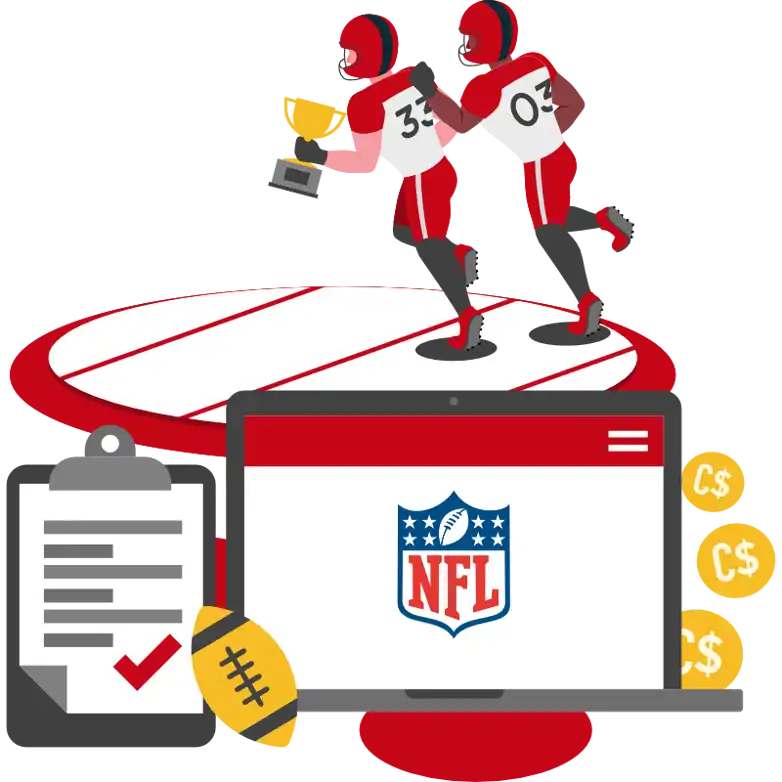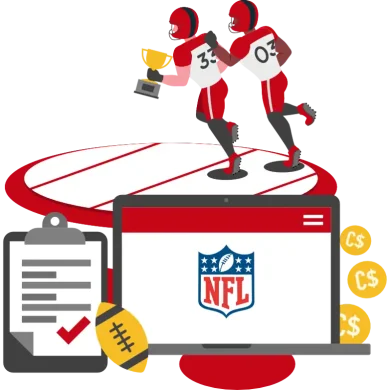 Playing out each year, in early February, the Super Bowl is the Grand Finale of each NFL season. Not just that, it's arguably the biggest sporting event of any given year, with few in any other sport even holding a candle to the attention that the Super Bowl gets. It transcends sport, and with it, comes the game within the game – the bets.
While there are many online NFL betting sites in Canada – which is the best site to bet on football games? Beyond the Bowl, what are the best NFL games to bet on?
Offering hundreds of betting options, and attracting global attention, the top-ranked CSB sportsbook offers the best odds. Please read on for more info.
NFL Betting Sites Canada
Being as it is an amazing experience – a Super Bowl trip to Las Vegas should be on every sports fan's bucket list. However, for bettors who can't make the trek to Sin City, Canadians have access to top betting sites that are laser-focused on NFL wagering action.
As part of the criteria, to earn a spot on the CSB best American football betting sites list, sportsbooks must offer a variety of NFL markets. That includes regular season wagering lines, NFL playoff odds plus a complete list of popular Super Bowl prop betting options. Below, we present our best betting sites for football: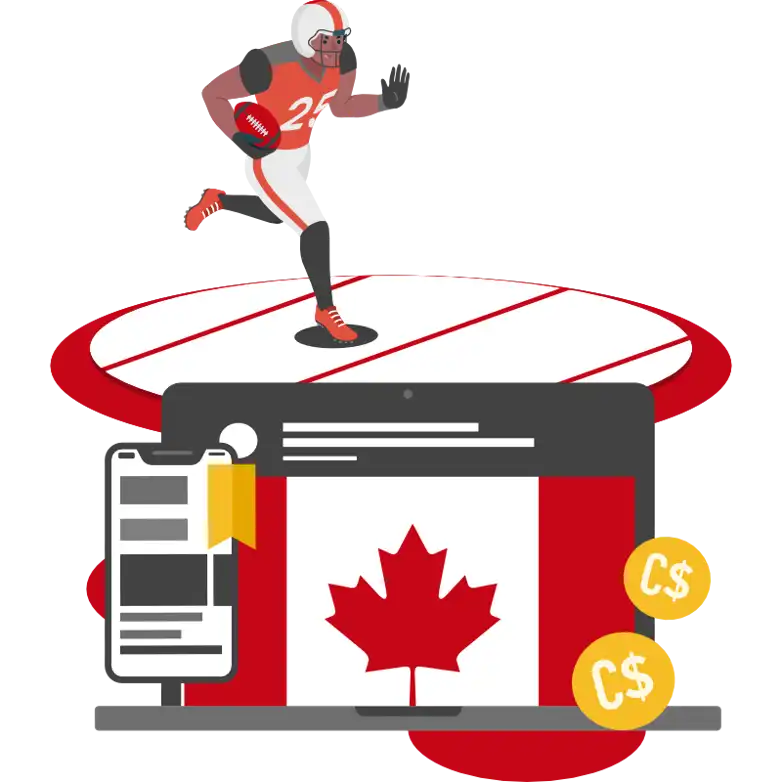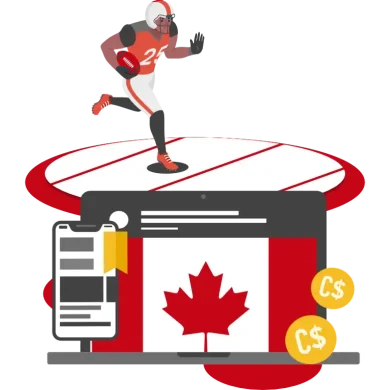 Sports Interaction: One of Ontario's most recently licensed sportsbooks, Sports Interaction comes with nearly three decades of prior experience in the Canadian Market. Needless to say, that means they know a thing or two about betting on NFL action. They're extremely quick to work with their odds, provide dozens of props for even the most low-profile games, and are the gold standard for NFL live betting as such.
Like many other platforms, their online American football live betting stretches beyond the pros and into the college ranks, along with the Canadian-loved CFL, but the amount of depth in their NFL options means you won't run out of selection if you want to stick just to the main event.
There are many reasons why our Sports Interaction review ranks them as arguably the best book around regardless of sport – their expertise when it comes to the NFL is certainly part of that.
North Star Bets: There's a certain novelty in a sportsbook that actively informs you on how to go up against it, which NordStar capital has pushed as a central part of their ethos. What makes North Star Bets such a unique football betting site, and one of the best NFL sportsbooks overall, is their integration of news around the NFL and other major sports leagues, written by platform-exclusive writers and those in the TorStar / Toronto Star umbrella. This integration was one of the features we loved the most in our North Star Bets review.
This means that you can keep up to date with the sports world without leaving the app, particularly useful when you're looking to bet on NFL games. Beyond that, the sleek and simple interface makes it easy to identify what your best odds, props, and margins will be. Certainly, it's a platform we're more than happy to recommend as one of the best NFL online betting sites.
bet365: If you were to describe bet365 as the best site for betting on football, that would historically mean the pitch, rather than the gridiron. Bet365 is, of course, an English-founded platform with hits roots in soccer, but that doesn't mean you can't find american football live betting, props, futures, and more on there. Now fully acclimated with the North American market, betting on NFL games is just a few clicks away, with much of the same variety that the other popular books have.
Their section for NFL betting offers all the single game action you could possibly want, season specials curated specifically by their staff, and early picks for league-wide awards. Is it the best online NFL betting site? That's up for you to decide, but they're certainly competitive, and as we've said in our bet365 review, a very well rounded book beyond that scope as well.
BetRivers: Another great option for NFL betting. Canada had no shortage of eager sportsbooks to enter its market once regulations allowed for it, and BetRivers was very aggressive in promoting themselves once they got the green light. Similar to North Star, BetRivers sees value in tying in expertise via their podcasting talent like Mike Francesa and Dan O'Toole, and they give you all sorts of options for how to use that knowledge within their books.
A quick glance shows no shortage of props for the NFL, from the big game to division leaders, to trophy winners to stat leaders, and even team-specific outcomes. Combine that with their fantastic iRush membership system that we praise in our BetRivers review, and you've got a good potential home here.
BetMGM: They're the self-proclaimed king of sportsbooks, but are they the best online NFL betting site? Some would argue that they are, and if you want to bet on NFL football, they're certainly not a bad choice.
What makes BetMGM so great is their prop variety. The others we've mentioned are great, but the amount of detail BetMGM goes in is above and beyond. You can get into insanely specific stats – for example, lets say you're really confident that the Dallas Cowboys, Denver Broncos, and Los Angeles Chargers will all win 10+ games? No need to dig through a complicated parlay process, there's a futures option already baked in for that. Think you know what the longest rush will be in the NFL this season? You can bet on that too. Got a good feeling about the Comeback Player of the Year? Yep, even that's on the table.
BetMGM's variety and prestige carry it a long way – keep it mind for your NFL football betting need.
theScore Bet: Last for now we come to Canadian-owned theScore Bet, who are based in the Toronto area. Certainly, they're another great place to bet on NFL football, and maybe the most tailored spot for mobile NFL betting that you'll find.
theScore Bet builds on the success of theScore's mobile app, which means that it's a mobile-only experience. Why not double down on the area you know best, right? While you won't get to experience their NFL betting offers on your computer, the phone experience is clean, fast, and seamless, with great integration with their content and score-tracking app.
As we conclude in our theScore Bet review, If you do most of your betting from your phone, this will be a great experience for you. If not, you may want to look to the other sites above.
Knowing which teams and players to bet on is important to cashing winning wagers. Just as important though, NFL fans need to know the best NFL betting sites Canada has to offer. Searching for the sharpest pregame odds to get a step ahead of the competition, knowing the best NFL games to bet on, and tracking live in-match odds for live NFL betting are crucial skills to maximizing your results. As well, it's important to know best betting sites for accumulators and parlays or sportsbooks that offer the most prop wagering options.
Tackling that task for our readers, let's take a look at the top 13 football betting sites available to NFL bettors in the Great White North.
What Makes the Best NFL Betting Site
Due to the always-expanding online betting business, pro and recreational bettors alike often wonder how they can find the right site to make NFL best bets.
Playing at sportsbooks that offer a vast mix of NFL betting odds, plus props, LIVE, and futures wagering markets are keys to a profitable online wagering experience. Other important components also go into being recognized as one of the best online NFL betting websites. All of them are available at top-ranked CSB NFL sport betting websites.
Preferred NFL Super Bowl betting sites offer simple account registration – plus a variety of popular and secure banking options. Both help bettors get into the action seamlessly.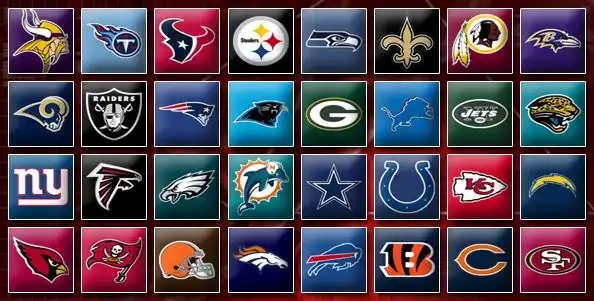 Find the Best NFL Bets
To get started on making the best NFL bets, you should become familiar with the basic NFL bet types. Well, really, you should become familiar with as many NFL bet types as you can. If you stick with just the basics, you will not be using all the tools that are truly at your disposal.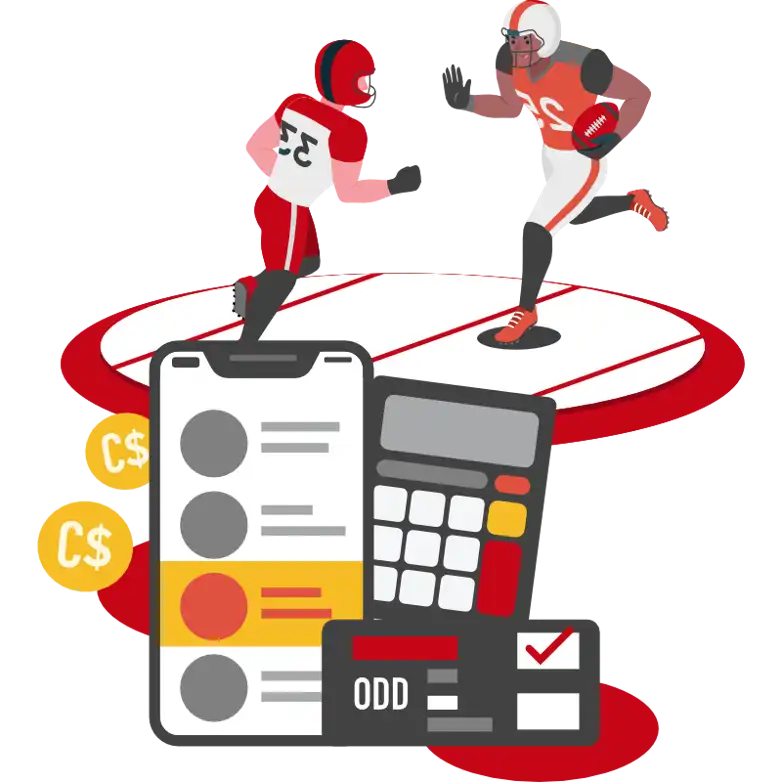 NFL Spread and Totals
Spreads and totals are two types of bets that are very common in NFL betting. It is a good idea to become familiar with them, as they are excellent backups when moneylines are not ideal.
Moneylines are not ideal when the game is going to be a blowout. In other words, if the odds are not even close, then there is no money to make–neither on the favourite, nor on the underdog. This is where spreads and totals come in.
In spreads, the favourite has to win by a certain number of points. In other words, the bookies provide a number and you bet on whether or not the favourite will win by at least that amount. You can see why this will make the wager a closer call than the actual game. Teams react to each other situationally and in a sport where six to eight points can be swung on the clock in a matter of seconds, so truly understanding how both teams operate is key to a shrewd spread bet.
In totals, the bookie will also provide a number. In this case, it is the potential total amount of points scored in a game. You bet whether, together, they will score more or less than the amount posted by the NFL sportsbook. Even a lopsided overall matchup could go a lot of ways in score totals depending on the style the teams are playing, who is healthy, whether or not the teams use "garbage time" to prepare for their next opponents, etc. A one sided affair could mean a 21-3 result, it could mean 52-28. So having a feel for both teams, rather than just which one is better can go a long way in finding success via the totals method.
NFL Futures
Futures bets are some of the most popular in any sport. Especially in football betting, they can be where a lot of the excitement is packed. We love futures bets, as they tend to focus the biggest events of the year in an easy-to-find format.
Futures are often like moneylines in that you make a rather simple bet on who you think will win. The only kicker is that these bets tend to be for bigger events, farther into the future. For example, you can bet on next year's Super Bowl winner as soon as the game is over. The odds go up almost immediately. You'll also find props for things like player awards (Most Valuable Player, Offensive and Defensive Player of the Year, Coach of the Year, Comeback Player of the Year, etc), division champions, and more.
One thing to keep in mind for futures is that the odds are likely to move as time goes on. Because the odds are up and available for so long, they have a good chance of changing as time goes. This means that if you follow the markets closely and know which players are on the rise and on the fall, you are likely to find great deals at some point along the way.
NFL Team and Player Props
NFL sportsbooks are famous for their great prop selections. This is one sport where you can find plenty of these exciting and creative bets.
But, what is a prop bet? That can be hard to explain as it encompasses so many different bets. They are bets that do not have to do with the end of the game. they tend to be more creative. They are often divided into two subdivisions: team and player props.
In team props, you might see questions like "Which team will score first?" or "Will the first score be a field goal?" They are bets that deal with the entire team.
Player props, on the other hand, deal with individual players. They might ask "How many times will Aaron Rodgers be sacked?" They may also ask about rushing yards or points scored for example. In this category, you may also see bets on the NFL MVP.
Latest NFL Betting Sites Promotions
The NFL is the one sports bookmakers cannot ignore. With an enthralling action-packed regular season and a postseason that grabs the attention of sports fans across the globe, top-tier bookmakers are posting a range of great bonuses and promotions for NFL fans.
As it stands, we have listed the latest promotions available to NFL fans. However, we would advise checking across the top bookmakers for the most up-to-date promotions today.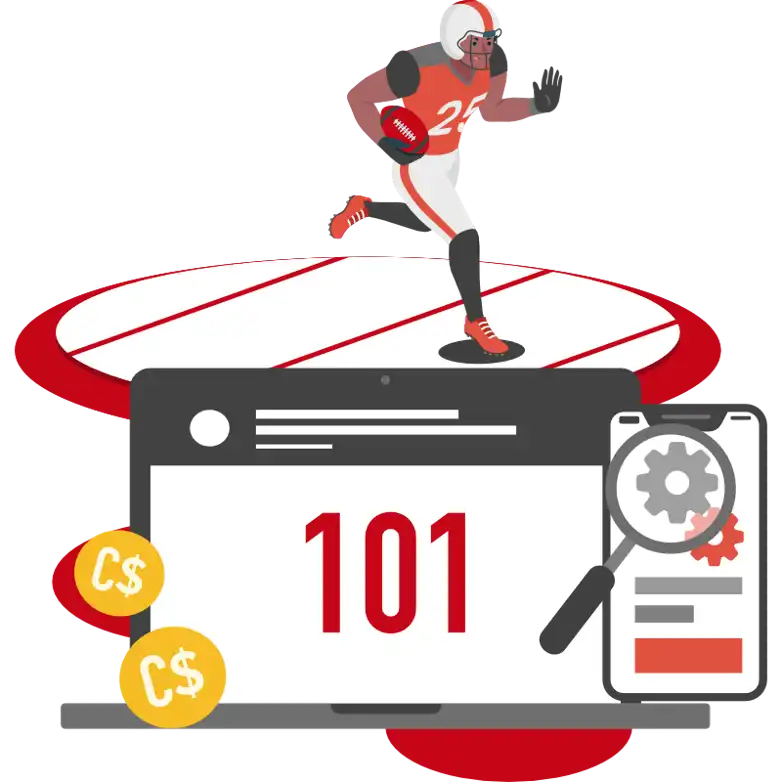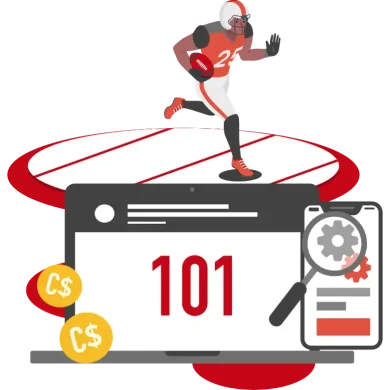 NFL 101
In order to make the most out of your experience at any football betting site, you should get to know the basics of how the National Football League works. Getting a good idea of the structure and how the league works will be key to making the best NFL bets.
The National Football League is made up of thirty-two teams. They are equally divided between two conferences: the American Football Conference (AFC) and the National Football Conference (NFC), with sixteen teams in each.
Each conference is then subdivided into divisions. In each conference, there is a north, south, east, and west division. Each division contains four teams. These are the teams you will play most often, generally twice per season.
The NFL's regular season is 18 weeks long and includes one bye week for each team. It runs from September to early January. Before the regular season, you can watch the pre-season, which can give you great insight into how the season will unfurl. The postseason normally begins in January, culminating in the Super Bowl normally in February.
The NFL Playoffs are a single-elimination tournament, meaning the heat is turned up every match. The highest-seeded teams earn a first-round bye week, giving them extra time to rest and train, and a huge advantage. From then on, the top-seeded teams face off against the lower seeds. In other words, there is a huge advantage baked into the post-season based on the regular season.
The postseason culminates in the Super Bowl: a one-off championship game. This normally takes place in February at a pre-determined football stadium. After this game, the Most Valuable Player is also announced.
Canada and the NFL
While the NFL is an American league, that doesn't mean it's without Canadian links!
The first NFL game played in Canada happened all the way back in 1950, when the New York Giants took on the Ottawa Rough Riders in Lansdowne Park. It wasn't actually the first time pro American Football team played up here – that would be a New York vs. Los Angeles exhibition game between the respective cities AFL teams in 1926, but it was the beginning of a tradition of NFL/CFL blended matchups. Ottawa would play one more gainst the Giants the following year, followed by games in 1959, 1960, and 1961 in Toronto, Montreal, and the first Canadian win in Hamilton, though the Buffalo Bills were, like the 20's group, still in the non-merged AFL at the time.
More exhibition games would be played in Montreal in the 60s and 80s, followed by a few in Toronto and Vancouver in the 90s.
Toronto, in particular, has been of interest to the NFL throughout the decades, due to the size of the market. Already hosting teams in the other top pro sports leagues (NHL since 1917, MLB since 1977, NBA since 1996 and MLS since 2007), the city is bigger by population than all but two American cities, essentially making it the biggest untouched market in the NFL's immediate scope.
Toronto's need for a new football-focused stadium and the NFL's ownership structure being adverse to corporate ownership groups has presented a challenge here, but there was some signs of a closing-in future for the city when the Buffalo Bills signed a five-year agreement with Rogers to play at the Rogers Centre twice a per year in 2007. The deal had its ups and downs due to high ticket prices and while it was re-upped in 2012, the new deal was terminated after two years.
The Bills have, of course, found their footing in Buffalo once more and while they appreciate their Southern Ontario fanbase, the idea of moving there, or even sacrificing current home revenue isn't a serious threat. But the interest in a team lives on, and especially with the addition of the Canadian sports betting market, it would be of no shock to see the NFL revisit Toronto through expansion or another teams' relocation in the future.
Even without games presently being played on a regular basis in Canada, though, the nation makes its presence known. Just like in the US, games are a staple of broadcast television, fantasy and NFL betting are as big as they've ever been, Super Bowl parties are the norm, and perhaps most obviously in NFL locker rooms, Canada is sending more talent to the big leagues than ever. Nearly three dozen active NFLers call Canada home, including Pittsburgh Steelers wide reciever Chase Claypool, Carolina Panthers backup running back and former college sensation Chubba Hubbard, and guard Laurent Duvernay-Tardif, who opted out of the 2020 NFL season to put his medical school degree to noble use, working on the front lines during the COVID-19 pandemic.
Needless to say, while the NFL doesn't call Canada home just yet, their friendly neighbours continuously welcome them over to visit, and find their ways to leave a mark.
NFL Betting Sites FAQs
Where can I bet on football? Can I bet online in Canada? Which is the best site for NFL betting in Canada?
The best site for NFL betting in Canada isn't something that's an easy question to answer, as there are many options available. What we would advise to new players is to take a look at our list of sportsbooks and decide on one which suits your betting desires.
When is the next Super Bowl?
The next Super Bowl is the LVI and it will take place on Sunday, February 13, 2022.
How can you find the right NFL betting site?
When searching for an NFL betting site, you should take into account various factors. The bonuses on offer, the competitiveness of odds, the range of betting markets, and payment methods available. Once you've assessed these, you'll be able to make an informed decision on where to bet.
Is the moneyline the best NFL bet?
The moneyline is certainly the most popular, but it largely depends on how you want to bet. The moneyline is simply betting on the winner and loser of a game outright, so it's worth venturing elsewhere if you want a more complex wager.
Are NFL betting sites legal? Can I bet on NFL games online legally?
Absolutely. There are all sorts of legal sportsbooks in Canada now, and pretty much all of them not only have the NFL as an option, but put extra effort into giving you the best experience. When you work with our bookmakers, you're always betting with registered bookmakers.
What is the best NFL Betting App?
A lot of this will be personal preference. All the books we mentioned in our breakdown above have either mobile apps, or mobile-friendly components to their website. In fact, with the app-only theScore Bet in mind, there are technically more apps and web apps than dedicated sites in the Ontario market!
How do you win an NFL bet? How can I bet successfully in football?
Obviously, if there was an easy way to guarantee success, everyone would be betting on the NFL! Knowing that there's no such thing as a sure thing is a key part of playing responsibly. With that said, staying up to date with the latest NFL news, NFL injury reports, and the like will go a long way, as well as being educated on the matchups. We help with that here on CSB as well – a quick glance at our home page will show our latest posts, including weekly NFL betting guides.