Sports bettors in Ontario will surely be familiar with the PROLINE display at their local convenience store. The long standing relationship Ontarians have with OLGs PROLINE product has solidified it as a name to trust in the Canadian betting industry.
As more robust online betting options become available in Ontario, OLG is modernizing PROLINE with the advent of PROLINE PLUS. A full featured, web based sportsbook that aims to compete with the best in the business.
The online betting marketplace could not be more crowded and OLG surely wants as big a piece of the action as possible. Can Ontarians continue to trust PROLINE? Or will it get left behind by the competition?
We take a deep dive on PROLINE PLUS to find out.
A trusted name in Ontario
Serving Ontarians since 2021
A simple and clean Sportsbook
Deposit with Visa, Visa Debit, Mastercard or Debit Mastercard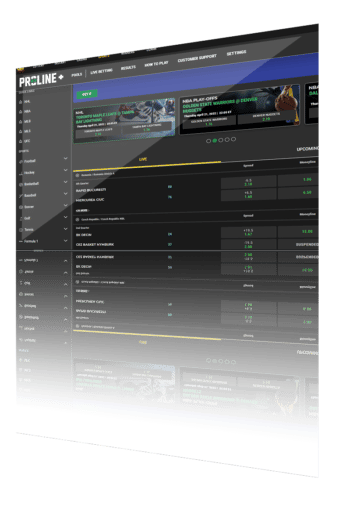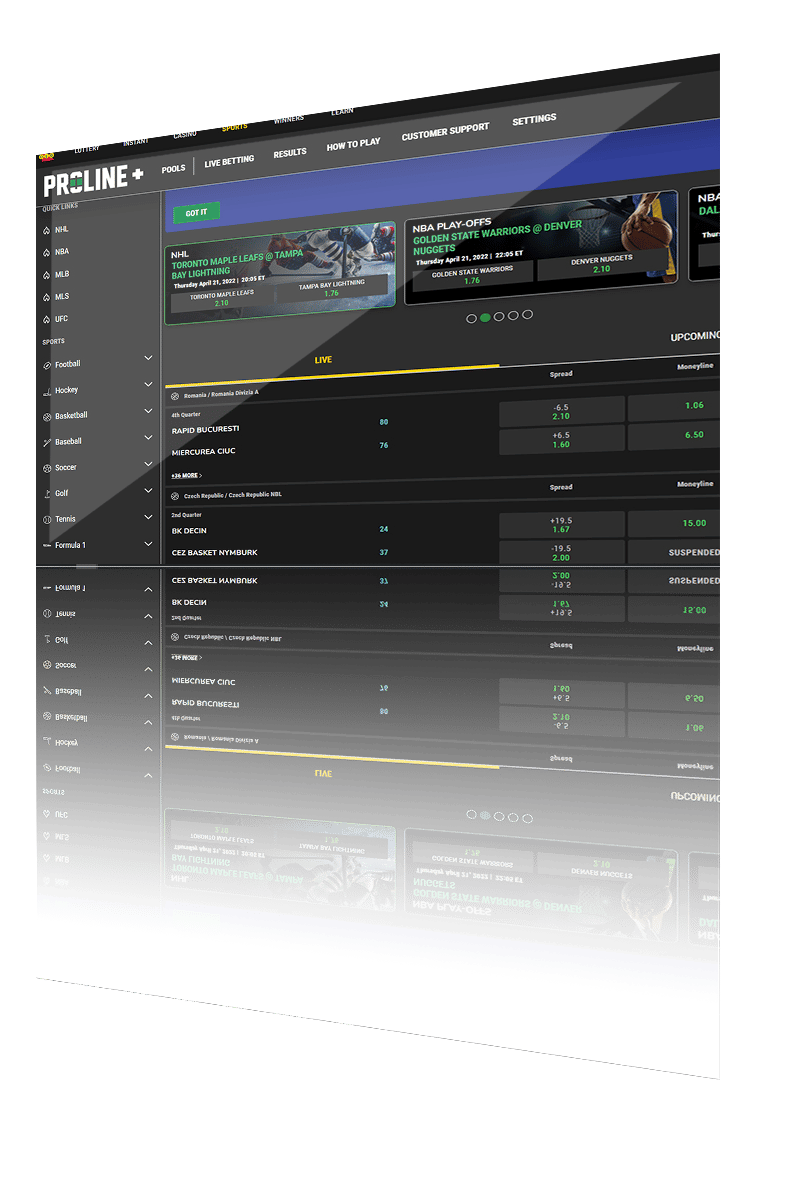 The History of PROLINE+

Ontario Bettors will likely be aware of the PROLINE kiosk at their local convenience stores. PROLINE is the sports betting arm of the OLG (Ontario Lottery and Gaming Corporation) in the province of Ontario, however the PROLINE odds and games themselves are managed by a Canada wide entity named Sports Select. In conjunction with Canada's lottery corporation; Sport Select provides sports betting games across the country. Sport Select games can be found in Ontario and Atlantic Canada under the moniker PROLINE and can be found by other names in Quebec (Mise-O-Jeu), BC and Western Canada (Oddset).
Though the games are provided by different provincial lottery retailers, and are known by different names, the games all function the same. As single game sports betting was illegal at the time of its inception (1992), PROLINE lottery games deal exclusively with what bettors would know as parlays.
After single game betting became legal under the Canadian Criminal Code on August 27 2021, the OLG expanded its sports betting offerings and aimed to capitalise on the already established PROLINE brand. PROLINE+ was created and launched as a full featured online sportsbook, optimised for mobile. The OLG aimed to recreate the ease of filling out a PROLINE card in person, by allowing Ontarians the opportunity to bet on sports from the comfort of their homes.
Since the opening of the legal online sports betting market in Ontario in April of 2022, PROLINE PLUS has found itself surrounded by new competitors, but only PROLINE PLUS can boast that all profits return to the province. Something they hope gives them the edge they need to stay competitive in the suddenly crowded market.
Signing Up for PROLINE+

Sign up is quick and easy on PROLINE PLUS Ontario but be prepared to provide validation documents before you can use your account.
Complete all the required fields and select a username and password combination that you won't soon forget. PROLINE+ does not require a special character in its passwords in addition to at least one uppercase letter and one number.
After filling out all your account details and choosing a secure password, now comes time for account validation. If for any reason you close the page before validating, fear not, you will be able to log into your account using the credentials you chose and try validating again.
To validate your PROLINE PLUS account you must provide images of documents proving your identity and address are accurate. Once submitted you will receive confirmation in short order and your account will be ready to use.
PROLINE+ Look and Feel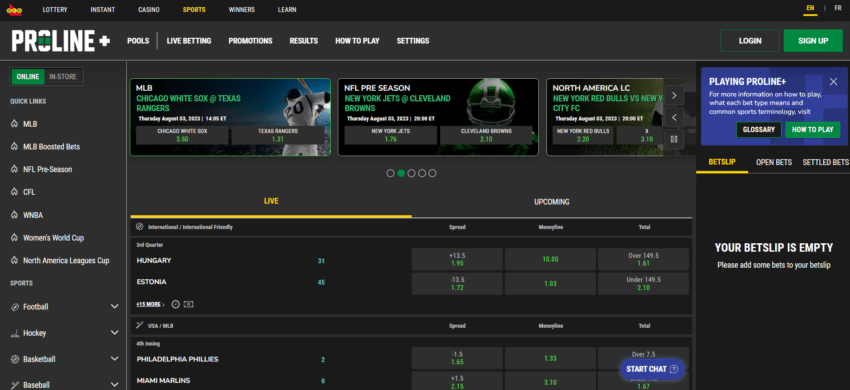 This reviewer's experience with PROLINE PLUS has been a positive one. While it may lack the flash or caché of a major casino brand, it's exactly what you want from a betting portal run by the government of Ontario.
It does not contain unnecessary bloat and gets you from point a to point b in a very streamlined way.
PROLINE PLUS offers a great experience for the new customer just entering the world of single game betting. It is not intimidating or confusing as many betting platforms often are.
At the same time, it is a perfectly reasonable option for seasoned veterans. It offers clear integration with OLGs wider array of products and even offers bettors the option to download a code should they prefer to buy their bet slips in store.
The sports and categories on offer at PROLINE+ are:
– Football
– Hockey
– Basketball
– Baseball
– Soccer
– Golf
– Tennis
– Boxing
– Cricket
– Darts
– Snooker
– Novelty Bets and Politics
The bottom line on PROLINE PLUS' design is that of a simple, quick and responsive platform that can get you from page load to bet placed about as fast as anyone on the market can hope to offer. While not loaded with bells and whistles, much like its physical retail counterpart, PROLINE PLUS offers a streamlined experience with the added satisfaction of knowing the proceeds will be reinvested into the province of Ontario.
OLG Casino Look and Feel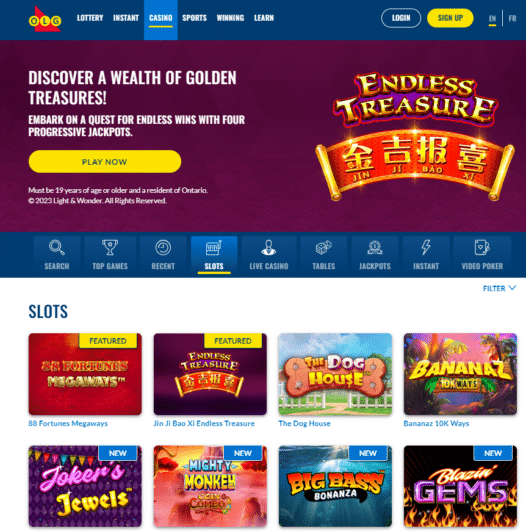 At the heart of the OLG Online Casino's design philosophy lies a user-centric approach. The website's interface is intuitive and easy to navigate, allowing both novice and experienced players to access their favourite games effortlessly. A clean and uncluttered layout, complemented by visually appealing graphics, ensures that players can find everything they need without feeling overwhelmed.
The OLG Online Casino offers a vast array of games, ranging from classic table games to cutting-edge video slots. The games are neatly organised into different categories, enabling players to browse through their preferred gaming options efficiently. Additionally, a powerful search function allows users to find specific titles quickly, saving time and enhancing the overall gaming experience.
Much like it's competitors, tabs separate OLG's sports betting faire from it's Casino games. Navigation is a breeze and thought they may not share a single moniker, Proline+ and the OLG Casino are truly a one stop shop.
The Bottom Line on PROLINE+

Simply put, PROLINE PLUS is a simple sportsbook, but sometimes simple is what online sports bettors want. There is nothing negative in outlining the streamlined nature of OLG's online betting offering, after all it was the easy to use, easy to understand nature of PROLINE's retail betting slips that have made them a mainstay in Ontario stores since 1992.
Ontario bettors can take pride in using a sportsbook designed in Ontario, employing Ontarians and reinvesting all profit back into their home province.
Looking past the flash of some newcomers to Ontario's sports betting landscape, one has to appreciate the brand we've trusted for so long. If it ain't broke don't fix it as the adage says, and it's safe to say PROLINE's winning formula is anything but broke.
Bet with confidence Ontarians, PROLINE PLUS continues OLG's strong tradition of sports betting.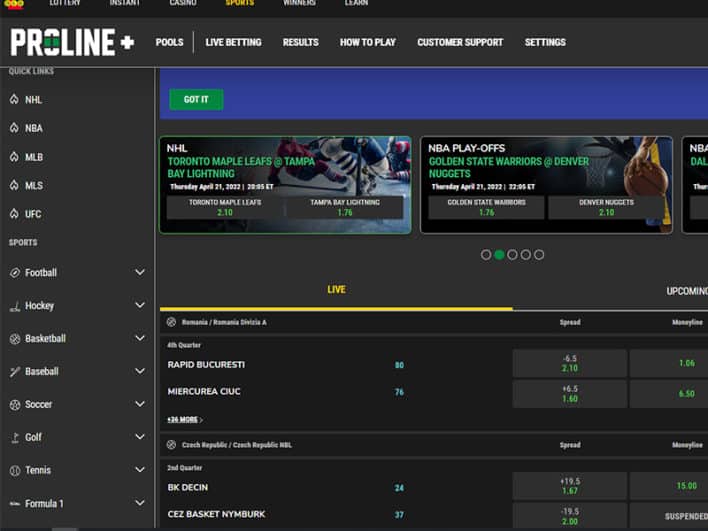 Connect to PROLINE+ From Anywhere
Open a free personal betting account; make an initial deposit, collect valuable welcome rewards and wager on thousands of options instantly!
Take Me To PROLINE+ Sportbook!
---
PROLINE+ FAQ

Can I Use PROLINE+ in Canada?
PROLINE PLUS is currently only available in Ontario in the Canadian market.
Who Can Play at PROLINE PLUS?
Verified residents of Ontario who are of legal betting age are eligible for a PROLINE+ Canada account.
How do I verify my identity on PROLINE+?
PROLINE PLUS Ontario will ask you to verify your identity by asking for proof of your age to comply with the local and federal regulatory requirements. You will need to provide proper government-issued ID such as a driver's license and/or a copy of a bank/card statement. The copies have to be clear images.
Where is PROLINE+ Located?
PROLINE PLUS is operated by the OLG. OLG's head office is located at 70 Foster Drive, Suite 800, Sault Ste. Marie, ON
Will the PROLINE PLUS Sportsbook Come to Canada?
PROLINE+ is operated by the Ontario Lottery and Gaming Commission and is offered exclusively to residents of Ontario. Keep reading CSB for updates on other provinces' plans for online gaming expansion.
In What Provinces is PROLINE+ Available?
The PROLINE PLUS sportsbook is available to residents of Ontario only.
Does PROLINE PLUS have a Mobile App?
Yes, PROLINE+ has a mobile app available for PROLINE PLUS' Ontario customers. The app is available to both iOS and Android users and can be downloaded on the appropriate app store.
How do I deposit on PROLINE+?
You can deposit money to your PROLINE PLUS Canada account on your initial signup or by logging in and going to your personal profile.
You can use a variety of deposit methods including Visa, Visa Debit, Mastercard Debit and Mastercard Credit.
Can I make deposits on PROLINE PLUS with my credit or debit card?
PROLINE+ Ontario allows deposits using Visa, Visa Debit, Mastercard Debit and Mastercard Credit. However, some banks restrict transactions made on credit cards from gaming sites.
How long does it take for my PROLINE+ deposit to clear?
It takes mere seconds for your PROLINE PLUS Canada deposit to clear. Your funds will automatically show on your balance from your profile. If your transaction does not go through, there may be some incorrect details from your method of payment.
What do I need to do to withdraw funds from PROLINE PLUS?
PROLINE+ Ontario will need to verify several aspects of your personal account and your activity on the site before issuing your withdrawal. This is in compliance with their anti-fraud policies.
You will have to have done the following to qualify for a withdrawal:
– Verified your email address
– Supplied proper documents to verify your identity and proof of ownership of the financial tools used
– Made at least one real money deposit
Can I set limits on my PROLINE+ account?
"Know your limits." PRO LINE PLUS Canada abides by this adage and will allow you to set limits to both your deposit and gaming limits on a daily, weekly, and monthly maximum.
To set these limits, simply login to your PROLINE+ Ontario account and select "Responsible Gaming".
Can I self-exclude myself on PROLINE PLUS?
To further honour responsible gaming, PROLINE+ Canada offers you the ability to restrict gameplay on the site. If setting betting limits still isn't enough, you can choose to pause your account.
Do this by logging in to your PROLINE PLUS account. Select "Responsible Gaming" then select "Self Exclusion". You can choose to "Timeout", a temporary ban on yourself that ranges from three to 30 days or "Self-Exclusion", which is a ban from 1 to 5 years.
If you select Self-Exclusion, PROLINE+ Ontario will not reopen your account in most cases.
How do I contact PROLINE+ Canada?
To contact PROLINE PLUS' customer support, browse to www.olg.ca/en/help.html to utilize their 24/7 live chat.
Can I use a VPN to access PROLINE PLUS?
We do not recommend accessing PROLINE+ using a VPN. If you are caught gambling on PROLINE PLUS' sportsbook from a restricted region, you risk forfeiting your winnings and being blacklisted from the sportsbook.
Does PROLINE+ pay real money?
PROLINE PLUS is indeed a real money Sportsbook. Understand the risks involved with sports betting before making real money deposits and wagering on PROLINE+ Canada.
Are Winnings from PROLINE PLUS Taxed?
Canadians do not pay taxes on gambling profit won in Canada. Winnings are not subject to tax unless you are considered a professional bettor, making most or all of your income through gambling.
How long does it take to withdraw from PROLINE+?
Your first withdrawal process might take some time, as you'll have to verify your identity. PROLINE PLUS Ontario does typically try to take care of this during the processing window, though, which takes about three business days on their end. It can sometimes take another three business days after that for the funds to end up in your bank account, though this varies from bank to bank.
How much money does PROLINE PLUS take from winnings?
PROLINE+ Canada does not take a cut from winning bets, the winnings are all yours. PROLINE PLUS earns money from losing wagers only.
Can you do Parlays on PROLINE+?
Yes you can. All the betting combinations from major online sportsbooks can be found on PROLINE PLUS Canada. From single bets to parlays, round robins and teasers.
Can you Cash Out bets on PROLINE PLUS?
Yes. Certain bets will be available to cash out prior to the event in question at PROLINE+ Canada's discretion.
Do people win big on PROLINE+?
As with any online sportsbook people do sometimes win big, but big losses are even more common. Luck is the ultimate decider when gambling so please gamble responsibly and within your means. Know your limits and stop when gambling isn't something you enjoy anymore.
What Sports are Available for Betting at PROLINE PLUS?
PROLINE+ offers markets on the following sports:
– Football
– Hockey
– Basketball
– Baseball
– Soccer
– Golf
– Tennis
– Boxing
– Cricket
– Darts
– Snooker
– Novelty Bets and Politics
What is Not Available for Betting at PROLINE PLUS?
College sports, amateur sports, and eSports are the most notable omissions from PROLINE+.
Does PROLINE+ Accept Bitcoin?
No – PROLINE PLUS does not accept Bitcoin or any other crypto currency as a form of deposit/withdrawal.
---