For basketball betting fans across Canada and the USA, plus those around the globe the WNBA is the premium women's basketball league around. It hosts top-tier talent and provides an excellent level of basketball.
The WNBA betting odds were last updated on May 23, 2022:
Congratulations to the 2020/21 WNBA Winners
Congratulations to the Chicago Sky on winning the title in the 2020/21 season! They have been the most consistent team all year long and really deserve this win!
Final 2021 Regular Season Standings
Washington Mystics finished with the best 2021 regular-season.
| Eastern Conference | PCT |
| --- | --- |
| Chicago Sky (3-1) | .750 |
| Washington Mystics (3-1) | .750 |
| Indiana Fever (2-2) | .500 |
| Atlanta Dream (2-2) | .500 |
| Connecticut Sun (0-4) | .000 |
| New York Liberty (0-4) | .000 |
Western Conference
PCT
Seattle Storm (3-1)
.

750

Minnesota Lynx (3-1)
.

750

Los Angeles Sparks (2-2)
.500
Las Vegas Aces (2-2)
.500
Phoenix Mercury (2-2)
.500
Dallas Wings (2-2)
.500
WNBA Betting Odds
The most popular bet for WNBA fans to make is predicting who will win the 2022 championship. The WNBA Vegas odds will likely have the Washington Mystics as the most favourites tow in the championship.
As the season progresses, these numbers will fluctuate. Who knows, a team could go on a surprise run and become a top contender after being an underdog early in the year. With so much skill across the league, don't count out anyone too soon.
The different types of WNBA odds are the same ones available for NBA odds. After that, you should see below the top sportsbooks where you can wager online and choose the best WNBA online betting sportsbook for you:
How many games in the WNBA season
The 2020 WNBA regular season will start in May and run all the way until September. The 12 teams in the league will be pushing to make the postseason. All 12 squads will play in 34 regular-season games. The eight teams with the best records will see their season continue in the playoffs.
The 2020 WNBA All-Star Game will be played in July, with the location for the final yet to be announced.
Which WNBA franchise has the most championships
When you look back at the most successful teams in the WNBA's history, it certainly begins with the Houston Comets. The Comets have four titles to their name, winning the first four championships of the league's existence. However, the team folded and was disbanded from the WNBA back in 2008.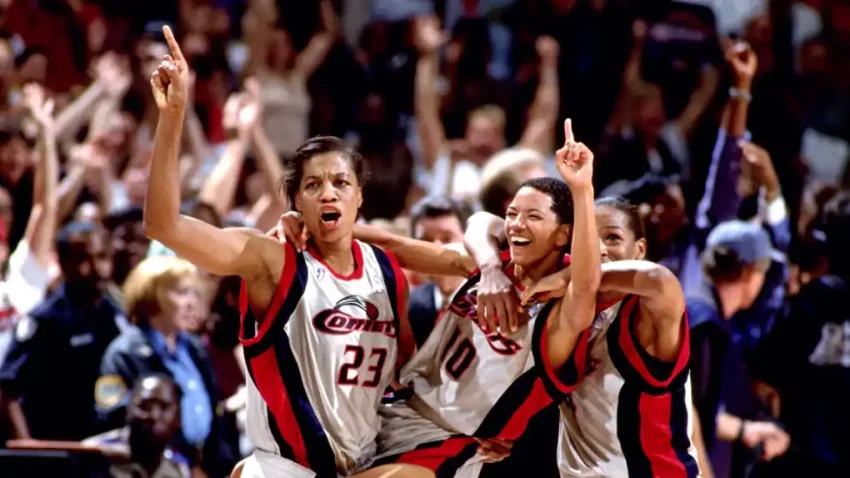 In addition to the Comets, the Minnesota Lynx also have four WNBA championships. Those two teams stand at the top, while the Los Angeles Sparks, Detroit Shock, Phoenix Mercury and Seattle Storm have all won it all three times.
| WNBA Champions | Year |
| --- | --- |
| Chicago Sky (1) | 2021 |
| Seattle Storm (4) | 2020 |
| Â The Washington Mystics (1)Â | 2019 |
| Seattle Storm (3) | 2018 |
| Minnesota Lynx (4) | 2017 |
| Los Angeles Sparks (3) | 2016 |
| Minnesota Lynx (3) | 2015 |
| Phoenix Mercury (3) | 2014 |
| Minnesota Lynx (2) | 2013 |
| Indiana Fever (1) | 2012 |
| Minnesota Lynx (1) | 2011 |
| Seattle Storm (2) | 2010 |
| Phoenix Mercury (2) | 2009 |
| Detroit Shock (3) | 2008 |
| Phoenix Mercury (1) | 2007 |
| Detroit Shock (2) | 2006 |
| Sacramento Monarchs (1) | 2005 |
| Seattle Storm (1) | 2004 |
| Detroit Shock (1) | 2003 |
| Los Angeles Sparks (2) | 2002 |
| Los Angeles Sparks (1) | 2001 |
| Houston Comets (4) | 2000 |
| Houston Comets (3) | 1999 |
| Houston Comets (2) | 1998 |
| Houston Comets (1) | 1997 |