When you think of sports that define Canada's cultural identity, curling is right up there. The sport that originated in Scotland is now an established event at the Winter Olympics, and Team Canada has dominated the medal tally over the years. Betting on curling has become much more sophisticated over the last decade, and online sportsbooks around the world all provide plenty of lines and markets. It has never been easier to place a wager.
All the leading sportsbooks have options available for users to bet on curling, and every major tournament is covered. The odds were last updated on May 23, 2022.
We will be sure to inform you of the next big event when it becomes available. There are no Curling odds available right now, but we'll display the latest below when they come around.
Curling World Championships 2022
The annual World Curling Championships in Glasgow has been cancelled. The 2021 World Curling Championships, which is due to take place between April 3-11, will be contested between teams from the World Curling Federation's across the globe, including the America's, European and Pacific-Asia Zones. Teams compete for qualification to the Olympic Winter Games by competing in the World Curling Championships.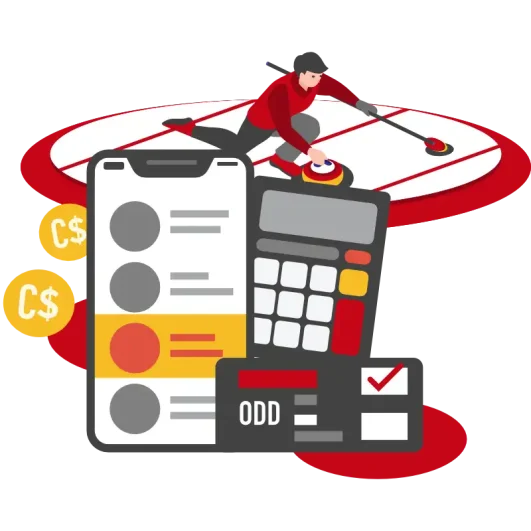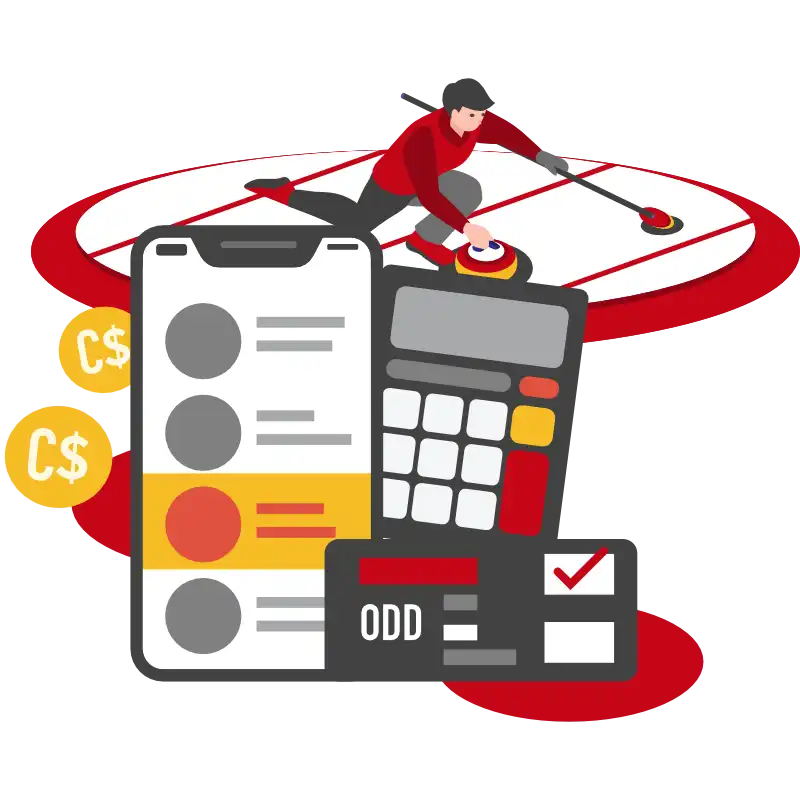 One of the biggest curling betting events each year is the Curling World Championships, which invite the best women and men from around the globe to compete. Fans who bet curling odds on sports betting sites choose from 13 teams on the women and men's draw, all of whom represent the best from qualifying countries.
Tournament Outright Markets
Curling, like most sports, is often contested by many individuals or teams in a large competition. The best examples are the World Championships, the World Juniors, the Continental Cup of Curling and of course the Winter Olympics. Sportsbooks will provide a futures line for each division. The main divisions include men's, ladies, mixed and in some cases wheelchair curling.
You will find that the best odds on a team will generally appear well before a major event is due to start.
For example, the Canadian men's team enter most tournaments as clear favourites, yet will be often available for odds of +100 a few weeks out from the commencement of the competition.
Obviously you run the risk of injuries or loss of form when you bet well before the event, although the risk is often worth the reward.
See below the top sportsbooks where you can wager online and choose the best one for you:
HOW TO BET ON CURLING
The most simple form of betting is the head to head line, which simply puts the two players or teams up against each other. Like most North American sports, there are no ties in curling, meaning that all odds available will be 2-way. This is a great way to make money if you have a good curling knowledge base. By researching form and previous results, you should be able to establish the likely victors in any matchup.
While matches between outsiders may showcase attractive odds in the head to head market, there's always going to be games where there is a clear and obvious favourite, and the price available will make a money line bet almost pointless. This is where handicap betting becomes a viable option, and it also provides you with an even better chance of making a profit.
A typical handicap line in curling will be -1.5. The easiest way to get your head around this figure is to imagine it as the final match margin, and if you're familiar with the handicap line in other major sports then it is no different. Essentially if Canada are paying -115 to cover a -1.5 handicap against nearest rivals Sweden, you will win your bet if they can win by a margin of two or more.
The last of the main markets available is the total points market, which literally involves you determining how many points will be scored in the match. Sportsbooks will offer you a line, again similar to other sports, which is an indication of what they believe to be a close estimate of the number of points likely to be scored in the match. It is then up to you whether to pick above or below their figure (for example 11.5).

There are two things to consider when looking at this market. –the number of ends in the match and also the dispairty between the two teams (if you are unsure, the head to head odds will normally indicate the likelihood of a closer game). Obviously, the more ends, the higher chance of a large score, and if a team is miles better than their opponents, there is more chance they will win ends by a big margin.

There's no denying the strategy required in a high intensity curling match, and the nickname 'chess on ice' perfectly sums up the game and the mindset required to succeed. It almost goes hand in hand with sports betting, where top punters require focus and a good strategy if they are to have any hope of winning big.
It's one thing doing your research and being prepared, but being able to adapt and change on the fly takes a whole new level of skill. The top sportsbooks will provide bettors with the opportunity to bet live on the biggest curling tournaments, and it is here that you can really make some money. All it takes is discipline, poise and a little bit of luck.
Let's take the men's 2006 Winter Olympics final between Canada and Finland as an example. The Canadians went into the match (like they normally do) as favourites, paying roughly -200 for the win. Finland jumped out to an early lead by winning the first end and scoring two points. Canada would of course go on to tie the match after two ends and eventually win 10-4, although you would have likely received closer to -115 for the favourites after that first end.
As long as you note the odds prior to the match and are disciplined enough to stick to your plan, you put yourself in a position to benefit from the circumstances. In this case, you could have been celebrating an easy win at much better odds thanks to your live bet.
The same opportunities are available in the total points and handicap markets. Odds will fluctuate throughout a match, and most commonly at the end of each end. If the initial handicap for the Canada vs Finland match was -4.5 to the Canadians, you can be sure that the revised handicap after the first end would have been either -2.5 or -3.5, giving you an opportunity to get odds of close to +100 on a much more likely result.
Curling is now as prevalent as any major sport thanks to growing coverage and the ability to access data all over the world. Therefore, there are plenty of news articles, analysis pieces and player profiles out there to aid you in your quest for knowledge. The more you read, and the more statistics you search through, the higher your chances are of placing a winning wager.
Websites such as Curling.ca will provide you with all the latest information, including match history, individual performances and statistics, so make sure you utilise this valuable source before placing your bet… Betting on curling has never been so easy, and you can rely on us to provide you with the best odds from a variety of the top online sports betting sites.
All-Time Curling World Champions
Canada has a strong tradition in this sport and has a total of 53 world championships.
Women:
1. Canada – 17
2. Sweden – 8
3. Switzerland – 6
4. Germany – 2
4. Norway – 2
4. Scotland – 2
7. China – 1
7. Denmark – 1
7. United States – 1
Men:
1. Canada – 36
2. Sweden – 8
3. Scotland – 5
4. Norway – 4
4. United States – 4
6. Switzerland – 3