Mage takes Derby after Favourite Forte Scratched
15-1 shot Mage took the 2023 run for the roses after chaos reigned earlier on Derby day. The favourite to win it all; Forte, was scratched by race veterinarians early Saturday morning. This came fresh off the heels of 3 other horses being scratched late in the game as Practical Move, Skinner and Continuar were taken out of the race on Thursday.
Churchill Downs will host the Kentucky Derby on Saturday, May 6th, for its latest edition. Being the most renowned horse race globally, the Derby attracts a massive crowd. It is also an eagerly awaited occasion for bettors, and Canada Sports Betting provides comprehensive coverage with odds and analysis to help with betting on the Kentucky Derby.
Since its debut in 1875, the Kentucky Derby has been held continuously every year. The event goes beyond horse racing as both ardent followers and casual observers tune in. As such, betting for the derby is a big draw.
Below are the latest odds for the 2023 running of the Kentucky Derby. Kentucky Derby odds shift as race day approaches so if you plan to bet on the Kentucky Derby stay locked on Canada Sports betting for the latest odds. Updated onDec 07, 2023:
2023 Kentucky Derby Top Contenders Breakdown
Join us as we break down the top 6 favourites for the 2023 Kentucky Derby. Betting on the Kentucky Derby without any prior knowledge of the field can be a fun challenge but having a little insider info can really help target your betting dollars. Kentucky Derby betting lines will shift and change as the race nears and as such, knowing the field will give you a major edge come race day.
Forte (Scratched)
As the Kentucky Derby draws near, all eyes are on Forte, the horse with the most qualifying points, the most wins, and the highest career earnings. This talented colt has left his competition in the dust while posting triple-digit Beyer Speed Figures. Forte's impressive pedigree is reminiscent of 2016 Derby winner Nyquist, as both horses were winners of the Breeders' Cup Juvenile, the 2-year-old championship, and the Florida Derby. With these credentials, it's no surprise that Forte has emerged as a top contender for the Derby crown.
Guiding Forte to victory will be his skilled trainer Todd Pletcher, who has already won the roses twice before. Meanwhile, jockey Irad Ortiz Jr. will be looking to claim his first Derby win aboard this magnificent horse.
Tapit Trice
Another contender from the Pletcher barn; Tapit Trice will be among the top contenders in this year's derby. Despite a modest start, with a third-place finish at Aqueduct in November, this talented colt has gone on to win four consecutive races in impressive fashion.
Tapit Trice's victories include the prestigious Tampa Bay Derby and the Blue Grass, where he triumphed by a mere head. What's most remarkable about Tapit Trice's wins is his ability to come from behind, often with thrilling closing trips that leave the competition in the dust.
Practical Move (Scratched)
Practical Move has emerged as the top horse from the horse racing hotbed of California. What makes this colt's story particularly intriguing is that he's been trained by Tim Yakteen throughout his career, unlike other horses who were transferred to Yakteen from Bob Baffert solely for Derby eligibility purposes after the latter was banned for 2 years due to horse doping allegations.
Yakteen's connections to Baffert aside, Practical Move's talent speaks for itself. Bred by the renowned Chad Brown, this colt has won his last three starts in spectacular fashion. It all began with a maiden win in the Los Alamitos Futurity, followed by impressive victories in the San Felipe and the Santa Anita Derby.
Angel of Empire
Another talented contender; Angel of Empire, who recently won a 100-point prep race in the Arkansas Derby is an impressive colt with a unique style, preferring to bide his time and make a thrilling closing trip to surge ahead of the competition.
Angel of Empire's journey to the Derby has taken him to four different tracks, starting with a victory at Horseshoe Indianapolis. He's since picked up an impressive 154 points at Oaklawn and Fair Grounds, solidifying his status as a top contender in this year's field.
As the stakes get higher and the competition grows fiercer, Angel of Empire's determination and skill will be put to the ultimate test. But with a proven track record of success and a powerful closing kick, this colt is more than ready to take on the challenge.
Derma Sotogake
The Kentucky Derby is always full of surprises, and this year is no exception. One of the most intriguing contenders in the field is Derma Sotogake, who punched his ticket to the big race with an impressive front-running victory in the UAE Derby, winning by a commanding five lengths.
Hailing from Japan, this colt is part of a wave of horses from the country that have been making strides on the international racing scene in recent years, including notable victories at the prestigious Breeders' Cup.
With his impressive front-running style and undeniable talent, Derma Sotogake is poised to make a splash in this year's Kentucky Derby. But as the field narrows and the competition heats up, it remains to be seen whether this promising colt will be able to go the distance and emerge victorious on the biggest stage of all.
Kingsbarns
The Kentucky Derby field is filled with formidable competitors, but one horse is making waves with an impressive undefeated record. Kingsbarns, the 3rd Todd Pletcher trainee on this list, has won all three of his career starts with commanding performances.
After making his debut at Gulfstream Park in January, this talented contender quickly followed up with a dominant victory in an allowance race at Tampa. But it was his latest triumph at the Fair Grounds that truly put him on the map, as he took home top honors with impressive speed and a front-end effort that left a field of 12 trailing in his wake.
2023 Kentucky Derby
This year's edition of the Kentucky Derby will run on Saturday, May 6th at Churchill Downs. The derby is the most famous horse race in the world and draws a huge audience each year. It is also a highly anticipated event for bettors and Canada Sports Betting has got you covered with odds and analysis.
The Kentucky Derby debuted in 1875 and has run ever since. It is an event that often transcends the sport, as die-hard horse racing fans and casual observers tune in.
In 2022, in a stunning turn of events, the underdog Rich Strike, with odds at a staggering 80-1, defied all expectations and crossed the finish line as the victor. This unexpected upset marked the second-largest upset in the history of the Derby, leaving fans and pundits alike in awe.
All eyes were on the two favorites leading up to the race: Epicenter, who had claimed victory at the Louisiana Derby, and Zandon, the reigning champion of the Blue Grass Stakes. But it was Rich Strike, a late entry into the race after a scratch, who stole the spotlight and raced to glory.
The victory was not only a triumph for Rich Strike, but also a breakthrough moment for his trainer Eric Reed, who celebrated his first-ever Kentucky Derby win.
Visit our page to see horse racing odds for other competitions.
Best Kentucky Derby Betting Sites
Finding the best odds for the Kentucky Derby can help you get an edge on the competition. Here are some great racebook options for Canadian bettors shopping for the best derby odds as well as safe betting on the Kentucky Derby.
William Hill
William Hill is a great Canadian racebook and is known for having the latest odds on a large variety of races, including William Hill Kentucky Derby odds.

Betway
Betway is known for its great promotions, helping to improve your bottom line!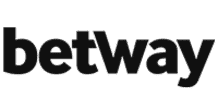 Sports Interaction
A prominent name in racing across North America. Sports Interaction is known for its silky smooth interface.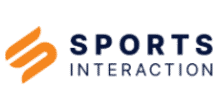 Bet99
A Racebook with an exemplary reputation. Perhaps the most respected racebook in Canada.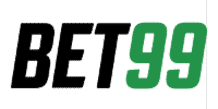 888Sport
Known for having great event specific promos. If you're looking for more than just the run of the mill bets, check out 888Sport.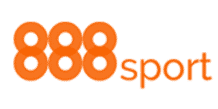 Betting on The Kentucky Derby in Ontario
Horse racing was not included in the sports categories allowed in the private Ontario sportsbook market that opened in 2023.
Instead, Ontarians can bet on horse racing as they would have before the opening of the market, through trusted Canadian purveyor; Woodbine Entertainment Group.
Woodbine offers Ontario bettors two options for all levels of horse racing knowledge and experience.

Dark Horse offers bettors a sleek and modern betting app (iOS and Android) complete with information, tips and coaching geared towards newcomers to Horse Racing. Live streaming compliments the offering and makes Dark Horse a one stop shop for all your horse racing needs.

HPIbet represents a longstanding and comprehensive racebook experience for Ontarians. A browser based platform, HPIbet offers a more stats based experience catered to horse racing veterans. Live streaming is a key feature of the platform and makes for a great betting/viewing destination for race fans.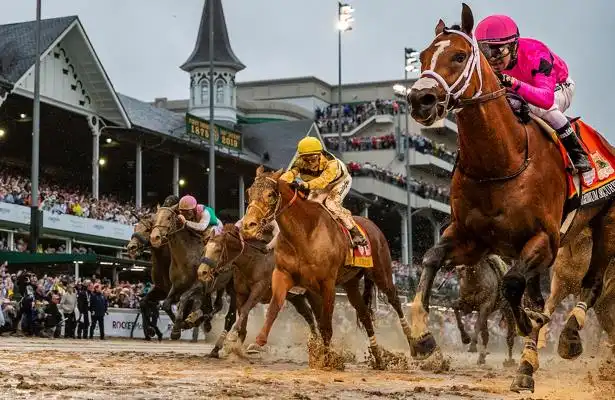 Who will win the 2023 Kentucky Derby?
Horses Tapit Trice, Angel of Empire, Derma Sotogake and Kingsbarns round out the top 4 most likely contenders. Staying informed on the race field can help you make the best Kentucky Derby bets.
What are the types of odds?
Kentucky Derby betting has one of the broadest betting markets you'll find at any online derby betting provider. It's important to recognize there are a variety of different bets, which are worth playing in different circumstances.
But first, all bettors should be aware that there are three main types of betting odds displayed at online racebooks. These are American odds (+500), Fractional odds (5/1), and Decimal odds (6.00), which can all hold the same value but look quite different. So, be aware of which odds you're working with!
Win odds
Simple win odds are available and are the most common form of bet, picking a win is the main punters bet you'll come across at any racetrack.
Kentucky Derby Exacta, Trifecta and Superfecta Wagering Odds
These may seem strange names for odds if you're coming from a sportsbook, but these are commonplace wagers and very popular among racebook players. The bet relates to the order in which the horses place; the top two (exacta), three (trifecta) or four (superfecta).
Live odds
Live odds are dictated by the amount of money that goes into the win pool. So, if a bettor is looking to play "live odds" they will bet on the day of the race. It's a frequent bet and sportsbooks support this type of wagering.
Multirace Exotics
The double, the Pick 3, Pick 4, Pick 5, and Pick 6 all involve picking the winners of consecutive races. Using multiple combinations is the strategic way to place these kinds of bets.
Kentucky Derby 2023
There's nothing quite like Kentucky Derby betting, and the 2023 Run for the Roses is on May 6th. Last year's field was particularly wide-open. When you look at the Kentucky Derby contenders, you talk about the Kentucky Derby Future betting and examine the scope of the famed first leg of the U.S. Triple Crown, which is traditionally followed by the Preakness Stakes and Belmont Stakes.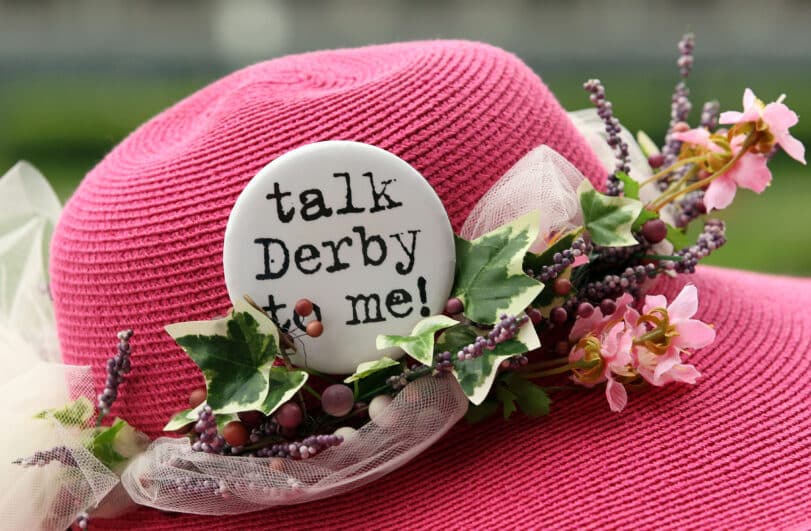 Food, Fashion and Fun at the Kentucky Derby
The Derby is known for its exciting atmosphere, elegant fashion, and delicious food and drinks. So let's take a closer look at the food, drink, and clothing traditions of the Kentucky Derby.
Food
One of the most famous foods associated with the Kentucky Derby is the iconic Kentucky Hot Brown. This dish is a hearty sandwich that was first created at the Brown Hotel in Louisville in the 1920s. It consists of turkey, bacon, and Mornay sauce on toast, all baked until golden brown and served with tomato and Parmesan cheese.
Another popular food at the Derby is the burgoo. This is a thick, stew-like soup that traditionally contains a variety of meats, vegetables, and seasonings. Burgoo is often served with cornbread and is a staple of Kentucky cuisine.
Of course, no Derby experience would be complete without a slice of Derby pie. This sweet treat is similar to a pecan pie, but with the addition of chocolate chips and a splash of bourbon for an extra kick. Derby pie is a delicious dessert that is a must-try for anyone attending the race.
Drink
The official drink of the Kentucky Derby is the mint julep. This refreshing cocktail is made with bourbon, sugar, water, and fresh mint leaves. It is typically served in a silver or pewter cup filled with crushed ice, which helps to keep the drink cold on a hot day.
In addition to mint juleps, the Derby is also known for its wide selection of bourbons and whiskeys. Kentucky is home to many of the world's top bourbon distilleries, and visitors to the Derby can sample a variety of different brands and flavors.
Fashion
When it comes to fashion, the Kentucky Derby is all about classic Southern style. For women, this means wearing a stylish hat or fascinator, often decorated with feathers, flowers, or other embellishments. The hat is a key part of the Derby dress code and is an opportunity for women to show off their creativity and personal style.
Men typically wear a suit or sport coat and dress pants, often paired with a colorful tie or bowtie. Seersucker suits and pastel colors are popular choices, as they reflect the light and airy feel of springtime in Kentucky.
Overall, the Kentucky Derby is a unique and exciting event that combines the best of Southern hospitality, delicious food and drinks, and timeless fashion. Whether you're a horse racing enthusiast or simply looking for a fun and festive experience, the Derby is definitely worth adding to your bucket list.
Kentucky Derby Past Champions
The Kentucky Derby has been running since 1875, with over a hundred winners over the years. The race is held on the first Saturday of May, capping a two-week-long Kentucky Derby Festival. It's a Grade I stakes race for three-year-old Thoroughbreds at a distance of one and a quarter miles at Churchill Downs. Colts and geldings carry 126 pounds and fillies 121 pounds.
Last year the race was won by Rich Strike, in a time of 2:02.61. We've compiled a list of all previous winners back to the year 2000 for you below:
| Year | Horse | Jockey |
| --- | --- | --- |
| 2022 | Rich Strike | Sonny Leon |
| 2021 | Mandaloun | Florent Geroux |
| 2020 | Authentic | John Velazquez |
| 2019 | Country House | Flavien Prat |
| 2018 | Justify | Mike E. Smith |
| 2017 | Always Dreaming | John Velazquez |
| 2016 | Nyquist | Mario Gutierrez |
| 2015 | American Pharoah | Victor Espinoza |
| 2014 | California Chrome | Victor Espinoza |
| 2013 | Orb | Joel Rosario |
| 2012 | I'll Have Another | Mario Gutierrez |
| 2011 | Animal Kingdom | John Velazquez |
| 2010 | Super Saver | Calvin Borel |
| 2009 | Mine That Bird | Calvin Borel |
| 2008 | Big Brown | Kent Desormeaux |
| 2007 | Street Sense | Calvin Borel |
| 2006 | Barbaro | Edgar Prado |
| 2005 | Giacomo | Mike E. Smith |
| 2004 | Smarty Jones | Stewart Elliot |
| 2003 | Funny Cide | Jose A. Santos |
| 2002 | War Emblem | Victor Espinoza |
| 2001 | Monarchos | Jorge F. Chavez |
| 2000 | Fusaichi Pegasus | Kent Desormeaux |
Kentucky Derby Records
There have been numerous records set over the years, including speed records, winning margins, among many more.
Speed record:
Mile and a Quarter: 1:59​2⁄5 – Secretariat (1973)
Mile and a Half: 2:34​1⁄2 – Spokane (1889)
Margin of Victory:
8 lengths – Old Rosebud (1914), Johnstown (1939), Whirlaway (1941), Assault (1946)
Most wins by a jockey:
5 – Eddie Arcaro (1938, 1941, 1945, 1948, 1952)
5 – Bill Hartack (1957, 1960, 1962, 1964, 1969)
Most wins by a trainer:
6 – Ben A. Jones (1938, 1941, 1944, 1948, 1949, 1952)
6 – Bob Baffert (1997, 1998, 2002, 2015, 2018, 2020)
Most wins by an owner:
8 – Calumet Farm (1941, 1944, 1948, 1949, 1952, 1957, 1958, 1968)
Longest shot to win the Derby:
91 to 1 – Donerail (1913)
How to Bet on the Kentucky Derby in Canada
The first step to betting on the Kentucky Derby in Canada is to find the right racebook for you. You should use sites that are recommended by experts, so that you know they are safe.
You can check out any of the recommended Canadian horse racing betting sites that we recommend on this page to bet on Kentucky Derby Canada. Signing up is a breeze.
Depending on when you sign up, you can either investigate some of your early betting options and get in on the futures, or you can check out the specials that become available during Derby week. Developing a betting portfolio based on the Kentucky Derby horse racing odds is your next step.
Then you can start selecting bets, placing them in your bet slip and finalizing the deals.
Sign up at a top racebook
Research bet options and strategies
Select bets to put into your bet slip
Input your risk and review the bet details
Finalize the bet and win big!
Kentucky Derby FAQ
When is the Kentucky Derby?
The 2023 Kentucky Derby is set to take place on Saturday, May 6. Every year, the world-famous Kentucky Derby steals the spotlight and hosts countless celebrities. Whether stars of sports or film, it's usually a safe assumption that plenty of high-profile folks will make their way to Kentucky for the event.
Will the race be on TV?
In the United States, the Kentucky Derby is aired on NBC. In what many call the 'best two minutes in sports', you'll be able to hear an exciting call of the race via the commentators on NBC. It's truly a fun event to watch no matter where you are.
Who won the Derby in 2022?
Rich Strike, a late entry to the 2022 Derby, won in dramatic fashion. Coming good as an 80-1 longshot.
What was the worst odds winner in the Kentucky Derby?

Similar to 2022's Rich Strike, the most legendary underdog story in Kentucky Derby history belongs to Donerail, who defied all expectations to emerge as the victor in the 1913 race.

What really made Donerail's victory stand out was the incredible odds against him. At a staggering 91-1, he was the biggest long shot ever to win the Derby, and his victory remains one of the most remarkable upsets in racing history. For those daring enough to bet on him, the payoff was truly extraordinary, with each dollar wagered returning a stunning $91 in winnings. It's a moment that has gone down in history as a testament to the unpredictable, awe-inspiring nature of horse racing.
How many horses compete in it?
The Kentucky Derby features a larger field than your average race of thoroughbreds, as 20 compete in the event. Usually, you'll see eight to ten horses square off in a race. However, you'll see twice as many in one of the greatest races of the year.
How many people attend the track each year?
The Kentucky Derby is one of the most popular sporting events in the United States every year. In 2021, more than 51,000 people made their way to Churchill Downs.
How much does the winner of the Kentucky Derby get?
The purse for the Kentucky Derby is actually quite impressive, as the winner earns $2 million. With it being one of the three Triple Crown races, it's easy to understand why there is so much at stake and why the payout is so large.
How long is the race?
The race distance for the Kentucky Derby is one and one-quarter miles long. A typical Kentucky Derby race will last right around two minutes.
Who is the favorite to win the 2023 Kentucky Derby?
Horses Tapit Trice, Angel of Empire, Derma Sotogake and Kingsbarns round out the top 4 most likely contenders.
What Kentucky Derby horse has the best odds?
After favourite Forte was scratched early on race day, Tapit Trice currently holds the edge on competition heading into the race. The favourite sits at +350.
Is it possible to bet on the race from your home?
Absolutely! Bettors can bet and even view the races from their own home without any difficulty. All they need is access to a device such as a computer, smartphone, tablet, or another device with internet access.
Bettors then have access to two options; they can either access a sportsbook online and place bets that way or to download software from one of the oddsmakers onto their device and get instant betting access.
Is it possible to bet on the race from a mobile device?
Smartphones with internet access allow users to visit sportsbook websites directly, which enables them to play the odds online.
However, as advancements in technology have influenced the gambling industry we begin to see more and more sportsbooks offering downloadable betting software. So, betting via mobile is in fact one of the most common ways to bet.
How much did you win if you bet on Rich Strike in the Kentucky Derby?
Rich Strike won the 2022 Derby as a late entry and big time longshot. Coming in at 80-1 odds, anyone who took a chance on Rich Strike to win enjoyed a great and unlikely outcome.
What would a $100 bet on the Kentucky Derby win?
Had you bet $100 on 2022 Derby champion and ultra long shot Rich Strike, you would have netted a tidy $80,100 pay day. However extreme long shots like Rich Strike winning is rare, and typically Derby winners will come in at much lower odds, think 2-4x your initial bet.
Which are the best sportsbooks for betting on this race?
With so many sportsbooks on offer, it can be a daunting task to find the right oddsmaker for betting on the Sport of Kings. Some of the top options for Canadian race fans include Bet365, Sports Interaction, Bet99, 888Sport and William Hill.
Do the bookies offer any promotions for betting on the Kentucky Derby?
There are always a variety of promotions available to bettors that offer free money and bets to players. The vast majority of racebooks offer a horse-racing rebate, which varies in value. The value is normally somewhere between 7-15% on your daily bet volume, win or lose, which is paid out every single day.
Do any of the bookies offer live streaming of the race?
It's not common for partners to stream events live, although it is something that companies are lobbying for regularly. However, closer to the event itself, it's worth looking out and checking to see if any providers have made a deal to licence a streaming service.
What types of markets are usually available?
Horse racing offers one of the broadest betting markets of them all. There are some simple bets and there are others which are far much more difficult to find success on. It's important to pick a bet which you can be confident in and feel the payout and risk are balanced – at least to some degree! The following types of bets are common with horse racing fans:
– Win
– Place
– Show
– Quinella
– Exacta
– Trifecta
– Superfecta
– Double
– Pick 3
– Pick 4
– Pick 5