Below are the latest odds for the 2023 running of the Kentucky Derby. Updated on May 23, 2022:
This year's edition of the Kentucky Derby will run on Saturday, May 6th at Churchill Downs. The derby is the most famous horse race in the world and draws a huge audience each year. It is also a highly anticipated event for bettors and Canada Sports Betting has got you covered with odds and analysis.
The Kentucky Derby debuted in 1875 and has run ever since. It is an event that often transcends the sport, as die-hard horse racing fans and casual observers tune in. In 2021, the race was mired in controversy, as winner Medina Spirit was disqualified after an investigation concluded a performance enhancing drug was used. The second-place horse; Mandaloun, was officially declared the winner in February of 2023.
Visit our page to see horse racing odds for other competitions.
Best Kentucky Derby Betting Sites
William Hill
William Hill is a great Canadian racebook and is known for having the latest odds on a large variety of races.
Betway
Betway is known for its great promotions, helping to improve your bottom line!
Sports Interaction
A prominent name in racing across North America. Sports Interaction is known for its silky smooth interface.
Bet99
A Racebook with an exemplary reputation. Perhaps the most respected racebook in Canada.
888Sport
Known for having great event specific promos. If you're looking for more than just the run of the mill bets, check out 888Sport.
2022 Kentucky Derby Top Contenders Breakdown
Here's a quick breakdown on all the horses expected to challenge for horse racing's biggest prize. Check back with Canada Sports Betting often to get the most up to date odds.
Zandon (3-1, #10) Trained by Chad Brown, Zandon is a horse with boundless energy and a tantalizing potential that hasn't quite been realized. He'll join Epicenter, Messier and Taiba as the favourites on May 7th.
Epicenter (7-2, #3) Trained by Steve Asmussen, this versatile colt has made a ton of progress since finishing 6th in the 2021 Derby. He looks primed as one of the favourites and has already beaten fellow top pick Zandon earlier this year.
Messier (8-1, #6) Trained by Tim Yakteen, Messier is the 2-year old son of 2003 Belmont Stakes winner Empire Maker. Formerly a Bob Baffert trained horse, Messier was moved to the Yakteen stables after the controversy surrounding the 2021 Derby, which earned Baffert a ban from Churchill Downs until 2023. Messier has performed well under his new trainer, most recently earning a 2nd place finish at Santa Anita, narrowly losing out to fellow Derby hopeful Taiba.
Mo Donegal (10-1, #1) Trained by Todd Pletcher, Mo Donegal is an even keeled horse with strength to spare. Always able to stay with the main pack, it's hard to tell if he'll have what it takes to win it all, but he should be in prime position if he does.
White Abarrio (10-1, #15) Trained by Saffie Joseph Jr., White Abarrio is an excitable horse who has the energy and strength to win but will need to strike a good balance with his jockey to have a chance to win the day.
Taiba (12-1, #12) Trained by Tim Yakteen, Taiba is the young up and coming son of 2017 Horse of the Year; Gun Runner. Taiba made his start in March 2022 and has won both his races leading up to the Derby.
Cyberknife (20-1, #16) Trained by Brad Cox, Cyberknife (in addition to having the most badass name in the field) is a capable colt who's having an excellent 2022. Sired by 2017 Horse of the Year; Gun Runner (like fellow Derby entry Taiba), Cyberknife looks to be a sleeper candidate to win the 2022 edition.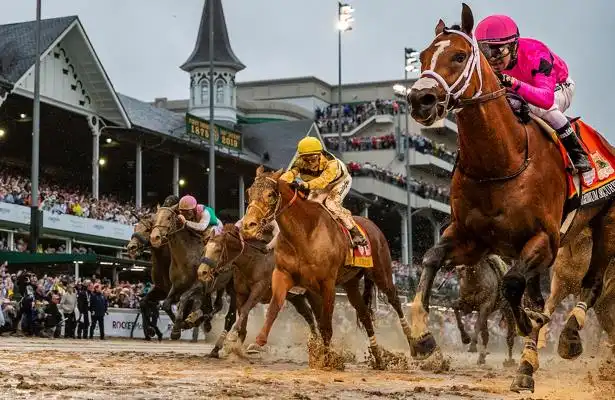 Who will win the 2022 Kentucky Derby?
As it stands, Epicenter and Zandon have been exchanging the favourite tag leading up to race day. Each paying off roughly 3-1. Messier, Taipa and White Abarrio round out the top 5.
What are the types of odds?
Horse racing has one of the broadest betting markets you'll find at any online betting provider. It's important to recognize there are a variety of different bets, which are worth playing in different circumstances.
But first, all bettors should be aware that there are three main types of betting odds displayed at online racebooks. These are American odds (+500), Fractional odds (5/1), and Decimal odds (6.00), which can all hold the same value but look quite different. So, be aware of which odds you're working with!
Win odds
Simple win odds are available and are the most common form of bet, picking a win is the main punters bet you'll come across at any racetrack.
Kentucky Derby Exacta, Trifecta and Superfecta Wagering Odds
These may seem strange names for odds if you're coming from a sportsbook, but these are commonplace wagers and very popular among racebook players. The bet relates to the order in which the horses place; the top two (exacta), three (trifecta) or four (superfecta).
Live odds
Live odds are dictated by the amount of money that goes into the win pool. So, if a bettor is looking to play "live odds" they will bet on the day of the race. It's a frequent bet and sportsbooks support this type of wagering.
Multirace Exotics
The double, the Pick 3, Pick 4, Pick 5, and Pick 6 all involve picking the winners of consecutive races. Using multiple combinations is the strategic way to place these kinds of bets.
Kentucky Derby 2022
There's nothing quite like Kentucky Derby betting, and the 2022 Run for the Roses on May 7th. Last year's field was particularly wide-open. When you look at the Kentucky Derby contenders, you talk about the Kentucky Derby Future betting and examine the scope of the famed first leg of the U.S. Triple Crown, which is traditionally followed by the Preakness Stakes and Belmont Stakes.
Kentucky Derby Past Champions
The Kentucky Derby has been running since 1875, with over a hundred winners over the years. The race is held on the first Saturday of May, capping a two-week-long Kentucky Derby Festival. It's a Grade I stakes race for three-year-old Thoroughbreds at a distance of one and a quarter miles at Churchill Downs. Colts and geldings carry 126 pounds and fillies 121 pounds.
Last year the race was won by Mandaloun, in a time of 2:01.02. We've compiled a list of all previous winners back to the year 2000 for you below:
| Year | Horse | Jockey |
| --- | --- | --- |
| 2020 | Authentic | John Velazquez |
| 2019 | Country House | Flavien Prat |
| 2018 | Justify | Mike E. Smith |
| 2017 | Always Dreaming | John Velazquez |
| 2016 | Nyquist | Mario Gutierrez |
| 2015 | American Pharoah | Victor Espinoza |
| 2014 | California Chrome | Victor Espinoza |
| 2013 | Orb | Joel Rosario |
| 2012 | I'll Have Another | Mario Gutierrez |
| 2011 | Animal Kingdom | John Velazquez |
| 2010 | Super Saver | Calvin Borel |
| 2009 | Mine That Bird | Calvin Borel |
| 2008 | Big Brown | Kent Desormeaux |
| 2007 | Street Sense | Calvin Borel |
| 2006 | Barbaro | Edgar Prado |
| 2005 | Giacomo | Mike E. Smith |
| 2004 | Smarty Jones | Stewart Elliot |
| 2003 | Funny Cide | Jose A. Santos |
| 2002 | War Emblem | Victor Espinoza |
| 2001 | Monarchos | Jorge F. Chavez |
| 2000 | Fusaichi Pegasus | Kent Desormeaux |
Kentucky Derby Records
There have been numerous records set over the years, including speed records, winning margins, among many more.
Speed record:
Mile and a Quarter: 1:59​2⁄5 – Secretariat (1973)
Mile and a Half: 2:34​1⁄2 – Spokane (1889)
Margin of Victory:
8 lengths – Old Rosebud (1914), Johnstown (1939), Whirlaway (1941), Assault (1946)
Most wins by a jockey:
5 – Eddie Arcaro (1938, 1941, 1945, 1948, 1952)
5 – Bill Hartack (1957, 1960, 1962, 1964, 1969)
Most wins by a trainer:
6 – Ben A. Jones (1938, 1941, 1944, 1948, 1949, 1952)
6 – Bob Baffert (1997, 1998, 2002, 2015, 2018, 2020)
Most wins by an owner:
8 – Calumet Farm (1941, 1944, 1948, 1949, 1952, 1957, 1958, 1968)
Longest shot to win the Derby:
91 to 1 – Donerail (1913)
How to Bet on the Kentucky Derby in Canada
The first step to betting on the Kentucky Derby in Canada is to find the right racebook for you. You should use sites that are recommended by experts, so that you know they are safe.
You can check out any of the recommended Canadian horse racing betting sites that we recommend on this page. Signing up is a breeze.
Depending on when you sign up, you can either investigate some of your early betting options and get in on the futures, or you can check out the specials that become available during Derby week. Developing a betting portfolio based on this is your next step.
Then you can start selecting bets, placing them in your bet slip and finalizing the deals.
Sign up at a top racebook
Research bet options and strategies
Select bets to put into your bet slip
Input your risk and review the bet details
Finalize the bet and win big!
Kentucky Derby FAQ
When is the Kentucky Derby?
The 2022 Kentucky Derby is set to take place on Saturday, May 7. Every year, the world-famous Kentucky Derby steals the spotlight and hosts countless celebrities. Whether stars of sports or film, it's usually a safe assumption that plenty of high-profile folks will make their way to Kentucky for the event.
Will the race be on TV?
In the United States, the Kentucky Derby is aired on NBC. In what many call the 'best two minutes in sports', you'll be able to hear an exciting call of the race via the commentators on NBC. It's truly a fun event to watch no matter where you are.
Who won the Derby in 2021?
Medina Spirit won the 2021 Kentucky Derby but was eventually stripped of the title after investigators concluded performance enhancing drugs were used. Mandaloun the second place horse was eventually named the winner in February 2022.
How many horses compete in it?
The Kentucky Derby features a larger field than your average race of thoroughbreds, as 20 compete in the event. Usually, you'll see eight to ten horses square off in a race. However, you'll see twice as many in one of the greatest races of the year.
How many people attend the track each year?
The Kentucky Derby is one of the most popular sporting events in the United States every year. In 2021, more than 51,000 people made their way to Churchill Downs.
How much does the winner of the Kentucky Derby get?
The purse for the Kentucky Derby is actually quite impressive, as the winner earns $2 million. With it being one of the three Triple Crown races, it's easy to understand why there is so much at stake and why the payout is so large.
How long is the race?
The race distance for the Kentucky Derby is one and one-quarter miles long. A typical Kentucky Derby race will last right around two minutes.
Who is the favorite to win the 2022 Kentucky Derby?
The early favourite to capture the glory at the Kentucky Derby is Epicenter.
Is it possible to bet on the race from your home?
Absolutely! Bettors can bet and even view the races from their own home without any difficulty. All they need is access to a device such as a computer, smartphone, tablet, or another device with internet access.
Bettors then have access to two options; they can either access a sportsbook online and place bets that way or to download software from one of the oddsmakers onto their device and get instant betting access.
Is it possible to bet on the race from a mobile device?
Smartphones with internet access allow users to visit sportsbook websites directly, which enables them to play the odds online.
However, as advancements in technology have influenced the gambling industry we begin to see more and more sportsbooks offering downloadable betting software. So, betting via mobile is in fact one of the most common ways to bet.
Which are the best sportsbooks for betting on this race?
With so many sportsbooks on offer, it can be a daunting task to find the right oddsmaker for betting on the King of Sports. However, as we mentioned before, we have a list of recommended providers.
Do the bookies offer any promotions for betting on the Kentucky Derby?
There are always a variety of promotions available to bettors that offer free money and bets to players. The vast majority of racebooks offer a horse-racing rebate, which varies in value. The value is normally somewhere between 7-15% on your daily bet volume, win or lose, which is paid out every single day.
Do any of the bookies offer live streaming of the race?
It's not common for partners to stream events live, although it is something that companies are lobbying for regularly. However, closer to the event itself, it's worth looking out and checking to see if any providers have made a deal to licence a streaming service.
What types of markets are usually available?
Horse racing offers one of the broadest betting markets of them all. There are some simple bets and there are others which are far much more difficult to find success on. It's important to pick a bet which you can be confident in and feel the payout and risk are balanced – at least to some degree! The following types of bets are common with horse racing fans:
– Win
– Place
– Show
– Quinella
– Exacta
– Trifecta
– Superfecta
– Double
– Pick 3
– Pick 4
– Pick 5