A gift card is sometimes known as a gift certificate in the U.S., gift voucher/token in the UK is a prepaid card payment system and the growing popularity of Visa Vanilla deposit methods in Canada isn't going unnoticed. These types of cards can be purchased in stores or from banking and financial institutions. Gift cards are widely distributed and widely accepted across the world and many sportsbooks use Visa Vanilla deposit methods.
Prepaid Visa cards have long been an option to bettors looking to deposit online, with the ease-of-access to cards boosting its popularity – these cards are often given to people as presents and gifts. The simplicity of prepaid Visa cards makes them an easy choice for many. The process is simple, stress-free, and easy to repeat. There are no long applications to fill out or companies to deal with.
Purchase the card, load the amount desired, and upload it to your favourite sportsbook provider.
Transactions Completed In Seconds
Reliable and Easy to Use
No Banking Approval Needed
Visa Vanilla Deposit Bonuses
Boasting almost instantaneous deposit times, generally no fees, and an internationally recognized brand name, Visa Vanilla is one of the best payment options available to users.
The reliability of a brand like VISA means users can make transactions without a doubt in their minds about the quality of the service they're using. This and the fact that many betting sites support VISA is what makes Visa Vanilla one of the leading financial options for gamblers.
Speedy transactions, coupled with non-existent charges/fees solidifies Visa Vanilla as one of the top betting options out there. The availability and quick access to funds are what separates Visa from the rest.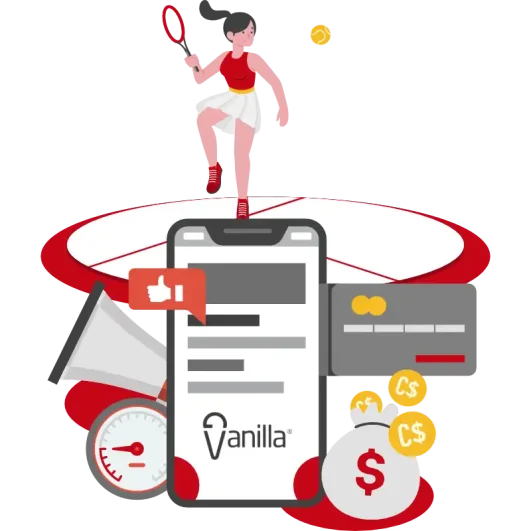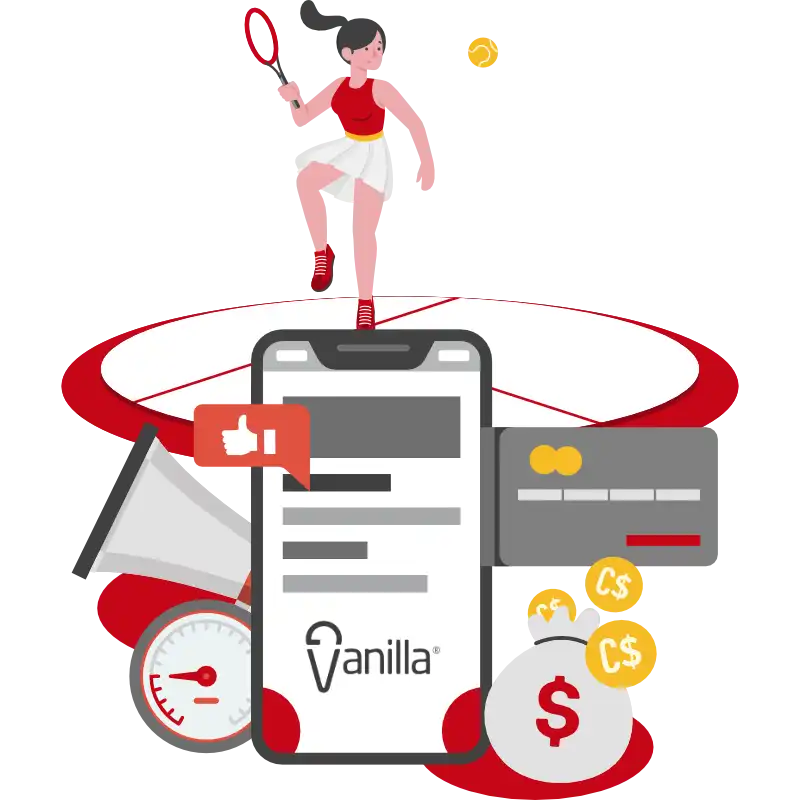 Visa Vanilla Deposits
A Visa Vanilla gift card carries many of the same advantages as a regular Visa credit card, especially when it comes to making swift deposits. Once the user has confirmed the amount to be deposited on a registered account, the money will be credited to the account almost instantaneously.
The prepaid cards are by a major bank or bought from local vendors. Since the cards are so frequently used and the company is very reputable, many sportsbooks reward customers for using them as a deposit method. Check out each sportsbook's promotional deals for customers depositing with Visa Vanilla.
There are a variety of different prepaid Visa cards to choose from, all offering various different options to users. With over 40 options currently available, we can only predict to see Visa Vanillas' popularity amongst bettors increasing.
This may not be something that's promoted through oddsmakers or Visa themselves, but using a prepaid card acts as a moderator. Limiting the amount of money going into your sportsbooks account is a good thing. This still allows users to reload the card and bet again, but it does stop users from simply pumping money into their account – even if they're having a really bad day!
Visa Vanilla Withdrawals
Navigating online sportsbooks can be a stressful process. However, simply search for the VISA logo and this will ensure that the provider allows users to deposit using Visa Vanilla. It's always worth checking to see if fees are involved.
Before opening an account and making the first deposit, it's also worth learning a bit about the network provider. Offering fair odds, competitive markets and solid reviews are all things bettors should be considering.
Getting a withdrawal in this fashion isn't a thing, as it functions as a deposit method. The possibility to withdraw money once the money has landed in the new sportsbook account is readily available. But, the user must investigate the withdrawal charges relevant to the new sportsbook account.