Interac e-Transfer® is one of the most convenient payment options to bet in Canada and make a deposit / withdraw the earnings from your bets. Once connected to your bank account, you can use Interac to send money to anyone (including betting sites such as Sports Interaction (SIA)) with the simple function of an email address.
Below you'll find the list of sportsbook which currently handle deposits with email money transfers.
The security of your online banking.
Without sharing any personal financial information.
Many other usages outside betting.
The list may be slim for now, but as Interac will be gaining popularity, we can expect that several more betting sites will start supporting it as one of their deposit methods.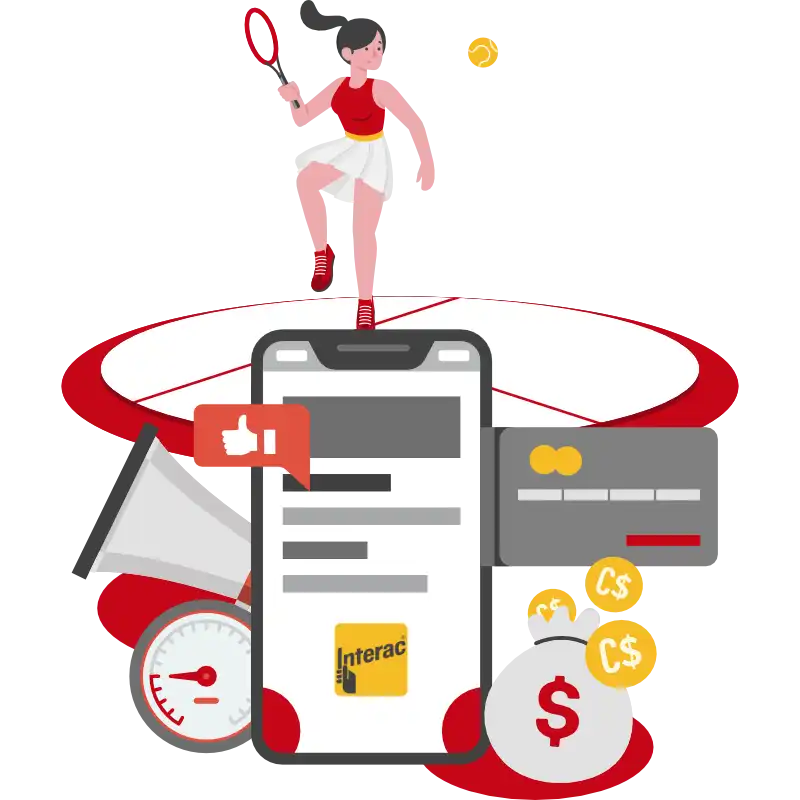 Sportsbooks deposits with Email Money Transfers
Once you've created your account on the above sportsbooks, you can find out more information on their website with regards to how they handle the deposit process. Each sportsbook is different and may manage that with slight differences, but the main steps should always be the following ones:
Choose 'Interac' as the deposit method you wish to use.
Enter the amount you wish to deposit on your sportsbook's account.
Click on "Generate Payment Details"
Login to your personal banking platform (app or website) to make the e-transfer with the details provided by the sportsbook.
Once confirmed and sucessful, your deposit will be credited and you can start playing within minutes.
---
Interac FAQs
1. What is Interac e-Transfer?
Interac e-Transfer is a fast payment system that allows users to send and receive money to anyone in Canada using online banking. The banks make the transfer, which is requested using Interac. Transfers are almost instant but can take up to an hour depending on the bank.
2. Is Interac legal?
Of course, Interac e-Transfer is a regulated payment system that has been in use for years. It's used by members of the public for all kinds of reasons, not just as a payment system for online gaming.
3. How do you send money using Interac e-Transfer?
It depends largely on which bank or credit union is involved in the process. Regardless of that, the process is always swift and simple. By logging into your bank you can make the transfer using Interac e-Transfer.
4. How do you receive money using Interac e-Transfer?
The money isn't sent through a third party but through the users' bank account. This means that the money is received automatically to the account of the person receiving the money.
5. Are there limits on the amount you can spend?
As is with any online transaction, there are always limits on the amount one can send. So these fees are set by each financial institution. Check with the bank or credit union in question for more details.
6. Can I send money through the Interac website?
No. The only way you can send money using the Interac e-Transfer payment system is through an associated bank or credit union. Always be sure that the bank in question offers Interac e-Transfer as a payment system.
7. What if you don't want to receive the funds sent to me via Interac?
In order to prevent unwanted funds arriving in the account is to ignore the notification until it expires after the 30 day period. Alternatively, decline the money directly through your bank account, which isn't something all banks offer so if not use the aforementioned option.
What happens if you answer your secret question wrong too many times?
If you cannot remember the answer to your secret question, or get it wrong too many times, the e-Transfer will automatically be cancelled.
9. Is Interac safe and reliable?
It's absolutely safe and reliable. This is assured as Interac e-Transfer doesn't actually deal with the client's funds, it's the banks that send the money.
10. How much does it cost to send money via Interac?
Occasionally, there is a small fee from the financial interaction for using the Interac e-Transfer service. However, this isn't always, so check with the bank in question.