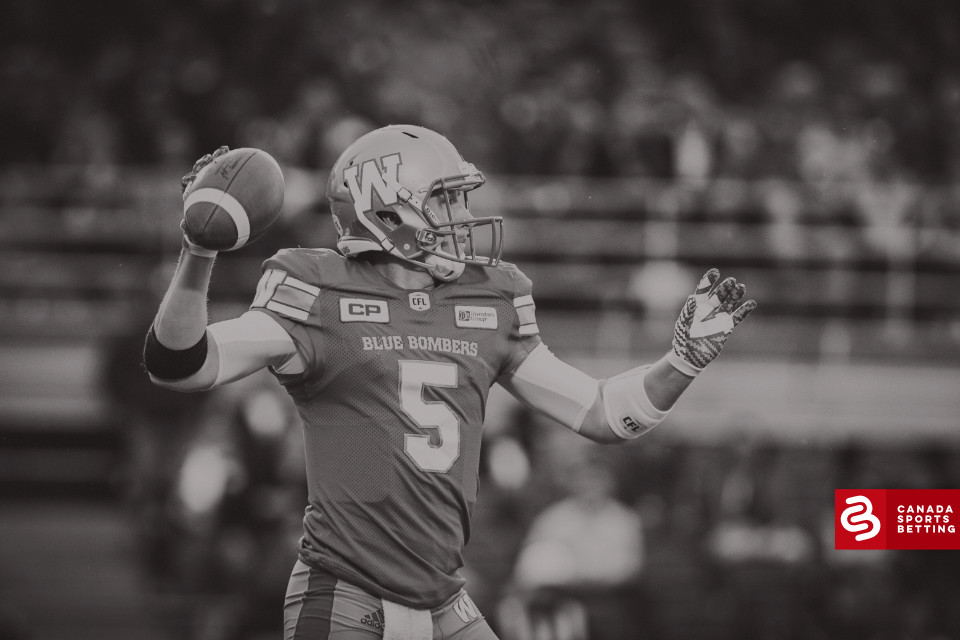 Let's have a look at the 2021 CFL's Most Outstanding Player betting picks updates.
2021 CFL Most Outstanding Player Picks
It appears as though the careers of Zach Collaros and Cody Fajardo are destined to be forever intertwined. Injured in the 2019 Saskatchewan Roughriders season opener, Collaros lost his job to Fajardo and was moved to the Winnipeg Blue Bombers. Collaros led the Blue Bombers to a 2019 Grey Cup victory. Collaros has also made another move on Fajardo. He's usurped Fajardo as favourite in the CFL picks to be the 2021 Most Outstanding Player.
Winnipeg Blue Bombers quarterback Zach Collaros is the 4.00 favourite to be the 2021 CFL Most Outstanding Player
Saskatchewan Roughriders QB Cody Fajardo, the previous betting choice, is now second in the odds at 4.50
Four of the last five CFL Most Outstanding Players were QBs
It seems somewhat appropriate that Winnipeg Blue Bombers QB Collaros should pick off Cody Fajardo, his Saskatchewan Roughriders counterpart, in the CFL picks for Most Outstanding Player. After all, that's what the Blue Bombers defence did to Fajardo in a home-and-home series between Winnipeg and Saskatchewan earlier this month.
In 2019, the prior CFL season to this year's campaign. Saskatchewan quarterback Collaros was hurt in the season opener. Fajardo stepped in as Saskatchewan's QB. He was so impressive that the Riders opted to move Collaros to the Winnipeg Blue Bombers.
While Fajardo led the Roughriders to 13 wins and their best season since 1970, Collaros led the Blue Bombers to the CFL's most significant prize, the Grey Cup.
Fajardo may have taken his job but Collaros has taken over Fajardo's status as the chalk in the CFL picks for he 2021 Most Outstanding Player. Fajardo was the 2.10 betting choice in the preseason odds to be CFL MOP. The latest CFL MOP betting lines show Collaros as the chalk at 4.00, following by Fajardo at 4.50.
Two other QBs, Andrew Harris of the Edmonton Elks and Michael Reilly of the B.C. Lions, are also given odds of 4.50 in the CFL MOP picks.
Bombers The Pick Of The CFL
Picking up where they left off when they picked up the Grey Cup at the conclusion of the 2019 season, the Bombers are on top of the CFL standings. While the Winnipeg defence has proven to be outstanding, Collaros is also playing a significant role in Winnipeg's dominance.
Collaros leads all CFL QBs in pass completions (140), passing yardage (1,731) and touchdown passes (10). Winnipeg is a CFL-best 6-1. The Blue Bombers have scored more points (173) than any other team and allowed fewer points (98) than any other team.
Fajardo Faltering
The Roughriders hit a serious speed bump in success in September losses to the Blue Bombers, who clearly displayed which team right now is the best in the West.
Fajardo was intercepted three times during a 23-8 home loss to Winnipeg on September 5. Six days later in Winnipeg, Fajardo was picked off once and left the game with an injury as the Blue Bombers romped to a 33-9 triumph. 
Saskatchewan bounced back with a solid 23-10 verdict over the Ottawa RedBlacks. Fajardo was 30-of-35 through the air for 321 yards. Even so, he's been intercepted as often as he's thrown TD passes, with six of each.
Life Of Reilly Worth A Look
In his second tour with the Lions, this season, veteran QB Reilly is looking a lot like the guy who led Edmonton to the 2015 Grey Cup and was named MVP of the game.  
Reilly has thrown for eight TDs against just one interception. He leads the league in passer rating (115.3), completion percentage (75.9) and interception rate (0.6).
Where to Bet On The CFL?
There are a number of leading online betting sites that will provide bettors with the chance to place a wager on the CFL, whether it be a moneyline or point spread wager, a future book bet, a parlay wager, or a player or team prop wager. The best bet you can make is to shop around in advance and seek out the right deal before joining one of these sportsbooks. Check out Sports Interaction and Bet99 as examples.
The signup bonus offers that are in place at all of these recommended sites will prove advantageous to the bettor. And since you'll get a good deal wherever you go, why not check out several sites and find the ideal fit for your needs?
Do you want a risk-free first bet as a signup bonus? Perhaps you find a no deposit bonus to be enticing. Or maybe you simply like the feel of cold, hard cash in your account and you want to go for a matching first deposit bonus. Whatever option you choose, you're already a winner.
Remember that new players and returning customers are eligible for better bonuses when they deposit using Bitcoin. As well, take advantage of the betting advice offered at these sites to help newcomers acclimatize to sports betting.
See below the top sportsbooks where you can wager online and choose the right one for you: