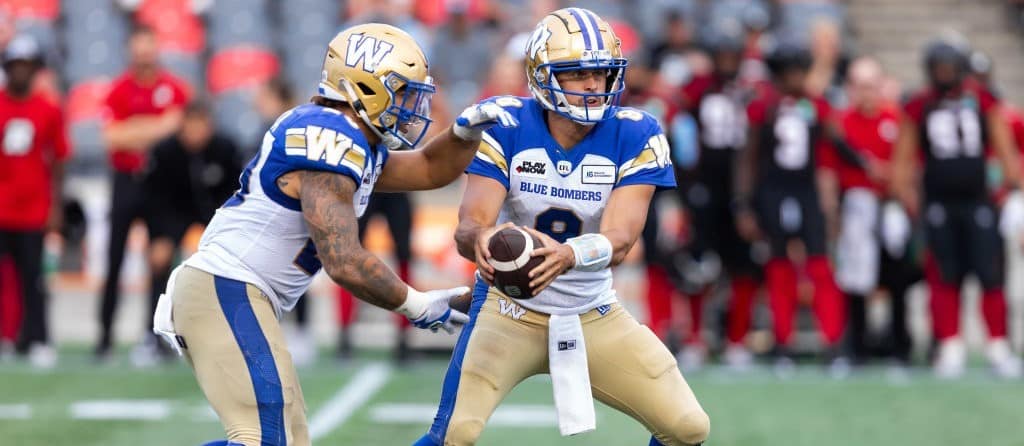 The CFL Week 9 schedule will start with a bang as the Winnipeg Blue Bombers are set to host the BC Lions on Thursday night at IG Field.
Winnipeg will be looking to avenge the 30-6 beatdown it suffered at the hands of BC back in Week 3, and the Bombers have had extra time to prepare for the rematch after a bye week.
The Toronto Argonauts improved to 6-0 on the season with a win over the Saskatchewan Roughriders in the Touchdown Atlantic Game in Halifax, Nova Scotia last week. Toronto will now head to the West Coast for a date with the Stampeders on Friday night.
This weekend, Montreal will visit Hamilton and Ottawa will do battle with the Roughriders in Saskatchewan.
Here's a look at the latest CFL Grey Cup outright odds, followed by our bet365 Week 9 betting preview:
| Team | Grey Cup Outright Odds |
| --- | --- |
| Toronto Argonauts | +175 |
| Winnipeg Blue Bombers | +260 |
| BC Lions | +260 |
| Montreal Alouettes | +1200 |
| Ottawa Redblacks | +1400 |
| Saskatchewan Roughriders | +1500 |
| Hamilton Tiger-Cats | +1500 |
| Calgary Stampeders | +1600 |
| Edmonton Elks | +75000 |
All odds courtesy of

BC Lions @ Winnipeg Blue Bombers (-6, 45 o/u)
About the Lions (6-1 SU, 5-1-1 ATS, 2-5 o/u): BC really has a chance to pull away in the West Division if it can find a way to defeat the Blue Bombers on Thursday night. As previously mentioned, the Lions feasted on the Bombers at home back in Week 3, and they'll attempt to replicate that suffocating performance again in Week 9.
BC is coming off a 27-0 shutout victory over the lowly Edmonton Elks last week. It was the second time the Lions defence, which has allowed a league-low 94 points through seven games this season, posted a shutout against Edmonton this season. The unit is holding the opposition to just 253.9 net yards of offence this year, also tops in the CFL.
Dane Evans will get the start again at quarterback as Vernon Adams Jr. continues to recover from a knee injury. Evans has thrown for 549 yards and three touchdowns in his last two outings, but BC could miss the dual-threat capabilities of Adams Jr. in this one.
About the Blue Bombers (5-2 SU, 4-3 ATS, 3-4 o/u): You can bet the Bombers had this week circled on their calendars after their poor showing in Week 3 against BC. This is still a dangerous squad that is more than capable of responding with a beatdown of their own to even the score on the season.
Receiver Kenny Lawler returned from suspension to play his first game of the season in Week 7, hauling in seven catches for 93 yards in a winning cause. He'll be Winnipeg's x-factor in this one, as the big-play wideout has the potential to be one of the best in the league for the remainder of the season.
Winnipeg also boasts a nasty defence, so expect both teams to get after the quarterbacks. Both BC and Winnipeg lead the league with 25 sacks apiece. Willie Jefferson's eight sacks are second in the league to Lions defender Mathieu Betts' 10 sacks. The Bombers have also picked off seven passes and recovered five fumbles this year.
Betting trends:
The Lions are 1-5 ATS in their past six trips to Winnipeg.
The under is 7-1 in BC's past eight road games.
Winnipeg is 7-3 ATS in its past 10 home games.
Pick: Bombers -6. The Lions not having Adams Jr. and his scrambling ability should drastically change the dynamic of this game. Winnipeg also didn't have the game-breaking ability of Lawler available back in Week 3. This should be quite the defensive battle, so take a look at the under 45 points.
Bet on Lions vs. Blue Bombers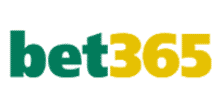 BC +6
WPG -6
Bet Now!
Toronto Argonauts @ Calgary Stampeders (+8.5, 51 o/u)
About the Argonauts (6-0 SU, 6-0 ATS, 3-3 o/u): This is a classic letdown spot for the undefeated Argos. All of the extra media attention and travel to the East Coast last week could take its toll on them, and CFL schedulers didn't do them any favours by making them fly back across the country to Calgary this week.
However, the Argonauts are putting up a league-best 36.2 points per game thanks to their potent rushing attack led by quarterback Chad Kelly and running back A.J. Ouellette, who lead the CFL with five and four rushing touchdowns, respectively.
About the Stampeders (2-5 SU, 2-5 ATS, 3-4 o/u): This is a pivotal game for Calgary's postseason hopes as it tries to hunt down the Roughriders for third in the West Division. Trailing the Green Riders by just two points in the standings, the Stampeders have dropped two straight games and are still seeking their first home win of the season (0-3).
Quarterback Jake Maier leads the CFL in passing yards (1,928), yet the team is just 2-5. However, the Stamps could be getting some reinforcements in time for this one, with linebacker Silas Stewart and running back Ka'Deem Carey both inching closer to returning after suffering toe injuries.
Betting trends:
The under is 5-0 in the past five meetings.
The Argos are a perfect 6-0 ATS this season.
The Stampeders are 7-22 ATS in their past 29 home games.
Pick: Stampeders +8.5. If you really want to be really bold, throw a sprinkle on the Calgary moneyline (+350).
| Home Team | | | Away Team | Date/Time (ET) |
| --- | --- | --- | --- | --- |
| Winnipeg Blue Bombers | -6 | 45 o/u | BC Lions | Aug. 3, 8:30 PM |
| Calgary Stampeders | +8.5 | 51 o/u | Toronto Argonauts | Aug. 4, 9:00 PM |
| Hamilton Tiger-Cats | +2.5 | 45 o/u | Montreal Alouettes | Aug. 5, 7:00 PM |
| Saskatchewan Roughriders | +1 | 44 o/u | Ottawa Redblacks | Aug. 6, 7:00 PM |
Montreal Alouettes @ Hamilton Tiger-Cats (+2.5, 45 o/u)
About the Alouettes (3-3 SU, 3-3 ATS, 3-3 o/u): The Alouettes snapped a three-game losing streak with an ugly 25-18 win over Calgary last week. The teams combined for 12 field goals in the contest (one short of the CFL record for field goals in a single game), and Montreal's offence failed to score a touchdown.
More troubling for the Als coming into this week is a rash of injuries. Defensive back Najee Murray's season is over after he tore a pectoral muscle. He had recorded 32 tackles, one interception and one forced fumble through six games. Linebacker Avery Williams, defensive back Dionté Ruffin and Canadian receiver Kaion Julien-Grant will also miss this week's game.
About the Tiger-Cats (3-4 SU, 3-4 ATS, 3-4 o/u): Things were looking up prior to Hamilton's Week 8 clash with Ottawa as quarterback Bo Levi Mitchell returned from the six-game injured list, but the vibes were short-lived as the veteran quarterback re-injured himself on a sneak play late in the game. It was an injury that should've been avoided and now he'll miss at least the next several games with a right leg injury.
Complicating matters for Hamilton is that second-stringer Matthew Shiltz is also still on the shelf with a leg injury, so that means Taylor Powell will be under centre for the Ticats this week. With 16 players listed on this week's injury report, morale can't be very high heading into this divisional battle with Montreal.
Betting trends:
The over is 5-0 in Montreal's past five road games.
The Alouettes are 4-0 ATS in the past four meetings.
Hamilton is 3-9 ATS in its past 12 games against East Division foes.
Pick: Montreal -2.5.
Bet on Alouettes vs. Tiger-Cats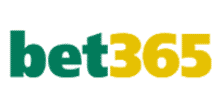 MTL -2.5
HAM+2.5
Bet Now!
Ottawa Redblacks @ Saskatchewan Roughriders (+1, 44 o/u)
About the Redblacks (3-4 SU, 3-4 ATS, 2-5 o/u): The Redblacks had some momentum heading into last week's tilt with the Tiger-Cats after pulling off back-to-back overtime victories to reach the .500 mark, but then they fell 16-12 to Hamilton at home.
Both offences struggled on the rain-soaked field as the game had to be delayed due to a major thunderstorm. Quarterback Dustin Crum still managed to scramble for 82 yards in the loss, although he only managed to put up 158 yards through the air while getting intercepted once. Crum leads the league with 12 runs of 10+ yards.
Crum will have a new receiving option this week, though, as the Redblacks activated Bralon Addison from the six-game injured list on Tuesday. The former Ticats receiver, and 2019 All-Star, will be making his Ottawa debut and should significantly bolster the team's receiving corps.
About the Roughriders (3-4 SU, 2-4-1 ATS, 3-4 o/u): The Roughriders have lost three straight games after starting the season 3-1, but they won't be making a change at quarterback this week.
Mason Fine will be back under centre on Sunday after the offence sputtered the last two games against powerhouses Toronto and BC. Fine took over the starting duties following a major injury to Trevor Harris, and he's responded by throwing for 702 yards, two touchdowns and four interceptions in three contests.
The good news is the receiving duo of Tevin Jones (548 receiving yards) and Shawn Bane Jr. (527 receiving yards) sit first and second in the league in receiving yards. They're both coming off huge offensive performances (over 100 yards receiving) against Toronto and appear to be developing chemistry with Fine.
Saskatchewan has not trailed in its previous three games against Ottawa.
Betting trends:
The Redblacks are 0-4 ATS in the past four meetings.
Ottawa is 7-3 ATS in its past 10 road games.
The Roughriders are 0-5 ATS in their last five home games.
Pick: Roughriders +1.