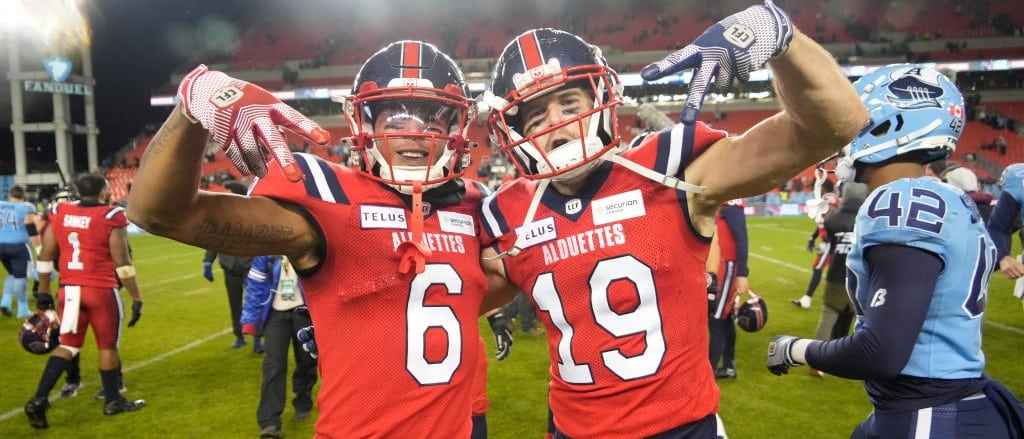 The stage is finally set for the 110th Grey Cup this Sunday at Tim Hortons Field in Hamilton, Ontario.
Last Saturday, the Montreal Alouettes covered the spread as 10-point underdogs and shockingly won outright against the powerhouse Toronto Argonauts in the Eastern Final at BMO Field to punch their ticket to the Grey Cup for the first time since 2010.
Bet on Blue Bombers vs. Alouettes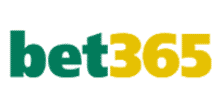 WPG -8.5
MTL +8.5
In the Western Final, the Winnipeg Blue Bombers utilized their home advantage to prevail over the BC Lions to earn their fourth straight Grey Cup appearance.
This will be the first time the Blue Bombers and Alouettes have ever clashed in the Grey Cup.
Let's dive into this David vs. Goliath CFL matchup using bet365's odds for analysis.
Blue Bombers vs. Alouettes odds
All odds courtesy of

Previous meetings
Week 12 – Winnipeg 47, Montreal 17 (Bombers covered the spread as 7.5-point favourites and teams played over the 47.5-point total).
Week 4 – Winnipeg 17, Montreal 3 (Bombers covered the spread as six-point favourites and teams played under the 48-point total).
About the Blue Bombers (14-4 SU, 11-7 ATS, 13-5 o/u)
Another year, another Grey Cup appearance for the Blue Bombers.
This team has proven that it knows how to win when it matters most and team executives have done a great job of keeping this dynasty together over the past few years. Exactly 21 players on the roster are playing in their fourth straight Grey Cup, including Zach Collaros who is the first quarterback in league history to ever accomplish the feat. He has a 2-2 record (also appeared in 2012 with the Argos) in the Grey Cup and a 2-1 record while at the helm for Winnipeg, which is seeking a third Grey Cup victory in the past four years.
It's no secret what the Bombers will try to do in this game. Brady Oliveira rushed for 109 yards on 21 carries and a touchdown in the Western Final and he'll be utilized in a ground-and-pound role again in the season finale. He recorded career highs in rushing yards (1,534), yards from scrimmage (2,016), and total touchdowns (13) during the regular season and Montreal's defence has been leaky against the rush in two playoff games, allowing 142.5 yards per game to the opposition.
Winnipeg does have some major injury concerns heading into the Grey Cup. Middle linebacker Adam Bighill was seen wearing a walking boot on his right leg upon arriving in Hamilton for the Grey Cup festivities, leading to speculation he won't play. Head coach Mike O'Shea said Bighill, who recorded 74 tackles and four sacks in 17 regular season contests, will be a game-time decision after suffering an undisclosed lower-body injury in the Western Final. Leading receiver Dalton Shoen is also questionable after missing the last three games with an ankle injury. The Bombers managed just 158 yards through the air last week against the Lions in his absence, with Kenny Lawler leading all Winnipeg receivers with six catches for 83 yards.
About the Alouettes (11-7 SU, 10-7-1 ATS, 8-10 o/u)
Montreal has won seven straight games, including two playoff games, after an improbable 38-17 drubbing of the Argos last Saturday. The Als forced nine turnovers! Yes, nine turnovers in the lopsided victory, including four interceptions (two returned for touchdowns). Montreal's ball-hawking defence has scored 11 defensive touchdowns this season and was a major reason why the Als defeated a team with a winning record for the first time this year.
Montreal's opportunistic defence will have to replicate last Saturday's smothering performance if the Als hope to pull off another unlikely upset this Sunday because the team is mediocre on the offensive side of the ball. Quarterback Cody Fajardo completed 18 of his 25 passes in the Eastern Final for 175 yards and he was intercepted once. He was also sacked seven times in the win. The Als were held to 15 first downs and 197 yards of net offence, and running back William Stanback could only amass 15 yards on nine carries.
Now, Fajardo and Co. will have to find a way to put a few points on the board against the league's best defence, which only allowed 20.9 points and 319.8 yards per game to the opposition during the regular season. And Fajardo better be ready to scramble after the Bombers amassed nine sacks against the Lions last week.
The Alouettes will be in big trouble if they fall behind early in this one, but if they can somehow grab an early lead and force Winnipeg to throw the ball against their outstanding secondary, they'll have a chance to keep this one close and maybe even pull off an outright win.
Nobody is hotter than the Alouettes right now and they're oozing with confidence after knocking off one of the best Argos teams ever assembled, at least statistically during the regular season.
Team total: Alouettes over 17.5 points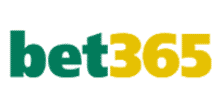 -120
Betting trends
The Blue Bombers are 5-0 ATS in their last five games.
The Alouettes are 7-0-1 ATS in their last eight games.
The over is 8-1 in Winnipeg's last nine games.
The under is 7-2 in Montreal's last nine games.
Montreal is 0-6 ATS in its past six Grey Cup games.
Winnipeg has a 12-15 (.444 winning percentage) all-time record in the Grey Cup.
Montreal has a 7-11 (.389 winning percentage) all-time record in the Grey Cup.
Weather
Forecasts are calling for temperatures around the freezing mark under partly cloudy skies on Sunday evening in Hamilton. Winds will be light out of the west.
Wagers to consider
This spread has already moved from Bombers -7.5 to -8.5 since opening at bet365 on Monday. If you like the Als to cover the spread, you might want to hold off as money continues to pour in on the favoured Bombers throughout the week. It's possible this spread creeps closer to Winnipeg -10. Be patient and get the best number on the Als you can if you're leaning that way.
Alouettes team total over 17.5 points: -120. Montreal's ability to convert turnovers into points puts this number in jeopardy. Yes, the Alouettes offence isn't electric, but the team did average 24.6 points per game this season, which ranked fourth in the CFL. Winnipeg effectively shut down Montreal's offence in the previous two meetings this season by holding the Als to just 20 points combined, but this Montreal team has really hit its stride since Week 16 and is a different beast now. I like the Alouettes to get into the 20-point range on Sunday.