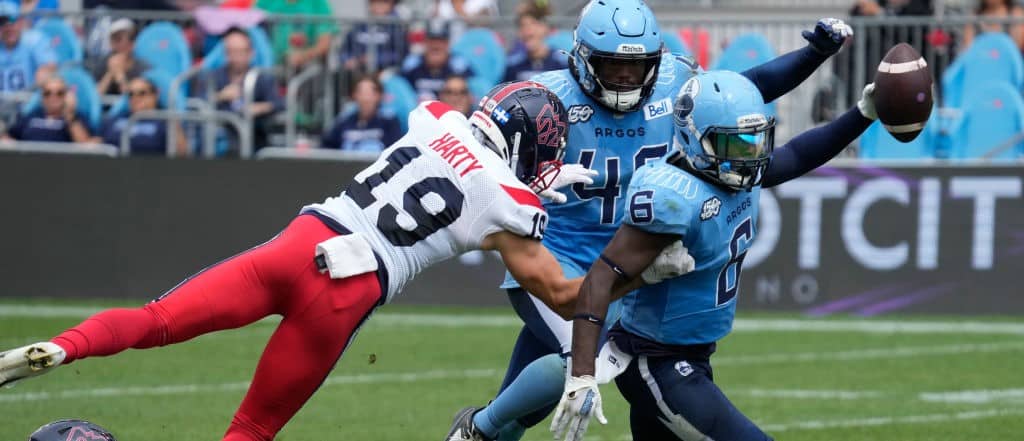 With just seven weeks remaining in the CFL regular season, the push to secure a playoff spot is on for several teams entering Week 15.
The Toronto Argonauts, who have the shortest Grey Cup odds at +130 heading into action this week, can clinch the East Division title with a win against the Montreal Alouettes on Friday. They've already secured a playoff berth, joining the Winnipeg Blue Bombers as the only teams to punch their postseason tickets so far.
Toronto Argos to win the Grey Cup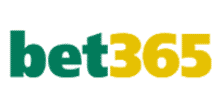 +130
There are three other games on the Week 15 slate, as the surging Edmonton Elks visit the Saskatchewan Roughriders on Friday night. On Saturday, the Hamilton Tiger-Cats will host the Blue Bombers and the Ottawa Redblacks will visit the BC Lions.
Here's a look at the latest CFL Grey Cup outright odds, followed by our bet365 Week 15 betting preview:
| Team | Grey Cup Outright Odds |
| --- | --- |
| Toronto Argonauts | +130 |
| Winnipeg Blue Bombers | +150 |
| BC Lions | +380 |
| Saskatchewan Roughriders | +1500 |
| Montreal Alouettes | +1600 |
| Hamilton Tiger-Cats | +2200 |
| Calgary Stampeders | +5000 |
| Ottawa Redblacks | +17500 |
| Edmonton Elks | +17500 |
All odds courtesy of

Toronto Argonauts @ Montreal Alouettes (+6.5, 53 o/u)
About the Argonauts (10-1 SU, 9-2 ATS, 6-5 o/u): Backing the Argos has been an extremely profitable strategy for bettors all season long and this week should be no different.
With the East Division title up for grabs, motivation will be high for the Argos to get the job done on Friday night. However, should Toronto fall to Montreal, it can still clinch the division title with a Hamilton loss.
The Argos cruised to a 39-10 win over the Als last week in Toronto and covered the spread as 9.5-point favourites. Running back A.J. Ouellette ran wild in the victory, rushing for 105 yards and two touchdowns on 19 carries. On defence, Toronto held Montreal to just 24 yards on the ground.
There are a few key injuries that are slightly concerning for the Argos. Defensive back Robertson Daniel (ankle) and wide receiver Kurleigh Gittens Jr. (hip) haven't practiced this week and won't be available on Friday. Receiver Cam Phillips (groin) is also questionable.
About the Alouettes (6-6 SU, 5-7 ATS, 7-5 o/u): Montreal has lost three straight games to fall back to the .500 mark as it continues the most daunting portion of its schedule. The Als have dropped consecutive games and have failed to cover the spread to CFL powerhouses Toronto, BC, and Winnipeg over the last three weeks. After this week's clash with Toronto, though, they won't face a team with a record currently over .500 for the remainder of the regular season.
As previously mentioned, Montreal was crushed 39-10 by Toronto last week, and it was also on the wrong side of a 35-27 game between the East Division foes back in Week 6 at home.
Running back William Stanback hasn't practiced this week due to a hand injury, but the Als say he will be available for Friday's game. He won't be close to 100% against Toronto's league-best run defence (allowing just 73.4 yards per game).
Betting trends:
The under is 22-9-1 in the past 32 meetings.
The over is 4-1 in Montreal's last five games.
Montreal is 0-7 ATS in its past seven games against opponents with a winning record.
The Argos are 5-1-1 ATS in their last seven road games.
Pick: Argos -6.5.
Bet on Argos vs. Alouettes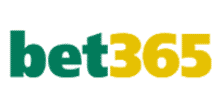 TOR -6.5
MTL +6.5
Edmonton Elks @ Saskatchewan Roughriders (-3, 46.5 o/u)
About the Elks (3-10 SU, 5-8 ATS, 5-8 o/u): How about these Elks? Suddenly, they've become a very tough football team to play against over the past four weeks.
Edmonton rallied from a 23-7 hole last week to claim a 25-23 come-from-behind victory over the Stampeders, one week after suffering a 35-31 defeat at the hands of that same Calgary team.
The Elks have won three of their last four games after starting the season 0-9, and if they can pull off a win against the Riders this week, they will legitimately have a chance of making the playoffs.
After averaging just 14.8 points per game over their first nine games of the season, the Elks offence has averaged 27.5 points per game over their last four with speedy quarterback Tre Ford leading the charge. He's scrambled for 351 yards (87.7 yards per game) over the last four weeks, causing headaches for opposing defences.
About the Roughriders (6-6 SU, 5-6-1 ATS, 8-4 o/u): After pulling off a big 32-30 upset over the Blue Bombers in Week 13, the Riders were humbled by a score of 51-6 in last week's rematch with Winnipeg.
It's amazing that this team has a .500 record at this point in the season despite having the league's worst defence (allowing 29.4 points per game) and the second-worst offence (20.7 points per game).
The team could be inspired this week by the news that first-string quarterback Trevor Harris, who suffered a knee injury that required surgery in July, is planning to start field work in two weeks. The team hasn't ruled out a potential return for Harris at some point late in the season.
Betting trends:
The under is 5-1 in Edmonton's last six road games.
The Elks are 3-0-1 ATS in the past four meetings between the teams in Saskatchewan.
The over is 5-0 in Saskatchewan's last five games.
Pick: Elks +3.
| Home Team | | | Away Team | Date/Time (ET) |
| --- | --- | --- | --- | --- |
| Montreal Alouettes | +6.5 | 53 o/u | Toronto Argonauts | Sept. 15, 7:00 PM |
| Saskatchewan Roughriders | -3 | 46.5 o/u | Edmonton Elks | Sept. 15, 9:30 PM |
| Hamilton Tiger-Cats | +6.5 | 48 o/u | Winnipeg Blue Bombers | Sept. 16, 4:00 PM |
| BC Lions | -10 | 46.5 o/u | Ottawa Redblacks | Sept. 16, 7:00 PM |
Winnipeg Blue Bombers @ Hamilton Tiger-Cats (+6.5, 48 o/u)
About the Blue Bombers (10-3 SU, 7-6 ATS, 8-5 o/u): The Bombers have won six of their last seven games and have already clinched a playoff berth. However, motivation will still be high this week as the West Division title is still up for grabs down the stretch with the Lions on their heels.
Winnipeg leads the league with 423.4 net yards of offence per game and it also boasts the CFL's top defence (allowing 313.4 yards per game and 20.2 points per game). Strong on both sides of the ball, it's clear that Winnipeg is once again the team to beat in the West Division and destined to meet Toronto in the Grey Cup this year.
The Bombers only had two players listed on their injury report this week, which is incredible this far into the season. Linebacker Jesse Briggs didn't practice Wednesday and is questionable and defensive lineman Jackson Jeffcoat was limited with a hip injury. Jeffcoat is a major centerpiece of the team's defence and it would be a huge loss if he can't play, although it looks likely he will be in action.
About the Tiger-Cats (5-7 SU, 5-7 ATS, 5-7 o/u): Despite being decimated by injuries at the quarterback position the Tiger-Cats are holding their own in the East Division.
They're coming off a 27-24 road win over Ottawa and have now won four straight games away from Tim Hortons Field. The only problem is that this week's game is being played in Hamilton, where they're 1-5 this season.
This week's opponent, the Blue Bombers, handed them a 42-31 defeat way back in Week 1 in Winnipeg, prior to Hamilton losing its top two quarterbacks, Bo Levi Mitchell and Matthew Shiltz, to serious injuries.
Hamilton's playoff hopes could fade away if it can't find a way to win this week against Winnipeg, or next week at Toronto.
Betting trends:
The Bombers are 0-4 ATS in their last four road games.
The over is 5-1 in Winnipeg's last six games.
Hamilton is 0-4 ATS in its last four home games.
Pick: Bombers -6.5.
Bet on Blue Bombers vs. Tiger-Cats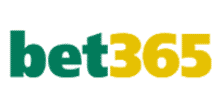 WPG -6.5
HAM +6.5
Ottawa Redblacks @ BC Lions (-10, 46.5 o/u)
About the Redblacks (3-9 SU, 4-8 ATS, 7-5 o/u): All signs are pointing to the Redblacks missing the playoffs for a fourth straight season. With a 3-9 record, they trail Hamilton for third place, and the final playoff spot, in the East Division with six games to play. More troubling, they lose the tiebreaker with the Ticats, so they'll have to win three more games than Hamilton down the stretch. Of course, a fourth-place team from the West Division could potentially cross over and claim the East's final playoff spot, too. Oh, and all six of their remaining games are against teams currently with a .500 record or better.
So, this is obviously a pivotal game in Ottawa's season. A win over the Lions could give the Redblacks some momentum for a playoff push. A loss will essentially put the nail in the coffin on another failed campaign. The Redblacks have lost six straight games coming into this one, so their spirits may already be broken.
About the Lions (8-4 SU, 7-4-1 ATS, 5-6-1 o/u): The Lions will be fresh coming off a bye week and they find themselves sitting comfortably in second in the West Division standings with six games remaining. They trail the Bombers by four points for top spot in the division, but they also have a four-point cushion over the third-place Riders.
Vernon Adams Jr. has been on an absolute tear lately. Over his last four games, the quarterback has completed 66% of his passes for 1,407 yards and 11 touchdowns. He passed for 300-plus yards in each of those games and is on pace to set a career high in passing yards. Additionally, he's tied with Winnipeg's Zach Collaros for the highest average pass depth at 12.8 yards and leads all quarterbacks in attempts (82), completions (39), and touchdowns (14) on 20-plus yard depth passes.
The Lions haven't lost to Ottawa at home since a 30-25 defeat on Oct. 7, 2017.
Betting trends:
The Redblacks are 1-5 ATS in their last six games.
The over is 5-0 in Ottawa's last five games.
BC is 6-1-1 ATS in its last eight home games.
Pick: Redblacks +10. This is a make-or-break game for the Redblacks, so they should keep it relatively close and cover this double-digit spread.
Bet on Redblacks vs. Lions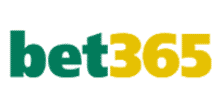 OTT +10
BC -10