Bodog Sportsbook Review
What does a hog farm in Lloydminster, Saskatchewan, have in common with the Bodog Sports and Entertainment wagering juggernaut? As some may know – one helped give rise to the other. Once the caretaker of a small drift of piglets, within a bigger pig plantation, Calvin Ayre earned cash and experience that would build an Empire. Here we delve deeper into the legendary Bodog sportsbook.
The most recent updates in our Bodog review can be seen here.
Deposit with Interac e-Transfer
Sleek Operating Betting Platforms
Reasonable Minimum Deposit Limits
Great Array of Sports and Entertainment Props
Lines Are Usually Posted Later Than Most Books
Bodog Bonus
CLAIM YOUR BONUS - Bodog is open for business! Join the industry's biggest online sportsbook anytime 24/7 and get a 100% cash bonus valued up to $$400 + 50 free spins!
TAKE ME TO BODOG!
Bodog Canada Sports Betting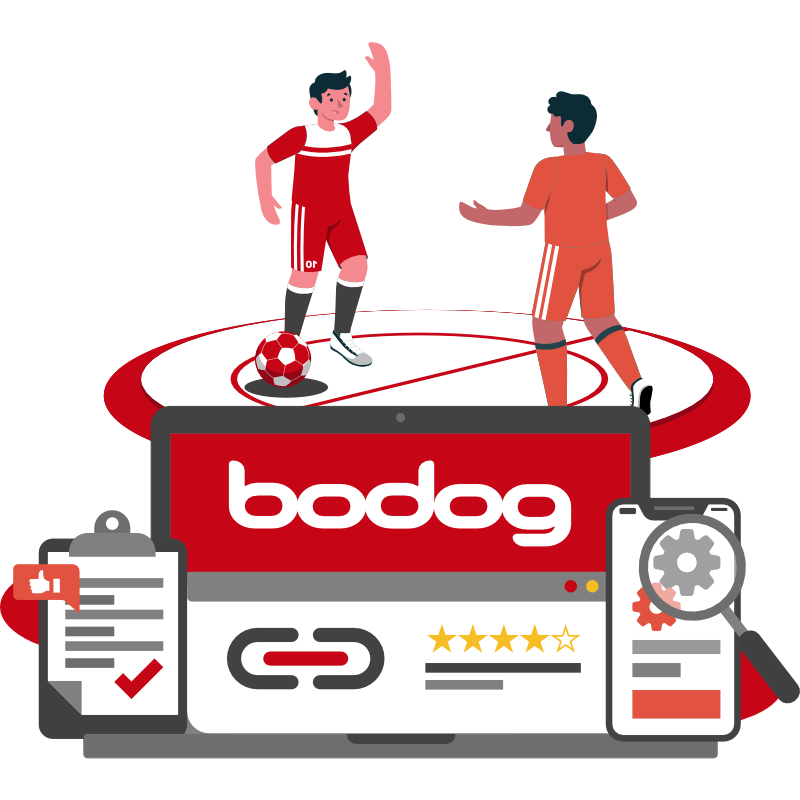 Made In Canada yarns rarely get more dramatic than the one Calvin Ayre can spin. From working on his family's farm, to a couple of University runs & white-collar jobs, to teaching himself network design and then launching Bodog, Arye's life is unique.
As a bonus, throw in money laundering charges, making the US Homeland Security 10 Most Wanted list, and never being able to step foot in the USA due to a fear of being arrested, and you have a James Bond style movie. It's all real life though and Bodog's founder is very rich and living comfortably in offshore havens like Antigua.
In 1992, Ayre caught wind that offshore companies were taking telephone wagers that were squeezing out backroom bookies everywhere. Figuring sports fandom wasn't going anywhere but up, Ayre determined that gambling and the burgeoning internet industry were a match made in Heaven.

Offering value and quality, Bodog has doled out loyalty rewards since bodog.com was launched in 1994. The Sign-up Bonus is a perfect example as it offers a 100% first deposit match up to $400 + 50 free spins to get new players into the game.

Deposit with cryptocurrency to collect a Bitcoin Double Bonus up to $300 in sportsbook free bets and $900 in Casino free plays.

Entertainment experts - Bodog understands the value of customer loyalty. Offering promos and contests is in their DNA and that spills over to the Bodog sportsbook, casino, racebook and poker playing platforms. We were very impressed by a dedicated section that explains the current offers and conditions in easy to understand terms.

Bodog Rewards Program: As part of the registration package, players at Canada's original online bookmaker are instantly enrolled in the Bodog Rewards Program. Every wager, whether in the Sportsbook, Casino, Racebook or Poker Room, earns player reward points.

Bad Beat Bonus: There are lots of daily rewards in the Poker Room including the Bad Beat Bonus. Losing with Aces full of Kings or higher, to Four of a Kind or higher, earns cash back of up to $1000 that is free of any rollover requirements. 

Plus, we love the standard rollover rates are a low 5X on sports and horses. Since they explain it better than we can in this limited space - surf over to the website anytime 24/7 to view all the pertinent details.

Due to roots that run deep, and include genres like pro fighting, music and poker, the look and feel at Bodog draws upon years of experience. Cutting edge across the board, Bodog is a pioneer of ease of use and simplicity. Crisp visually, with lightning quick navigation, the betting platforms are intuitive whether players are on a desktop, or on the go with laptops, smartphones or tablet devices. Players move around seamlessly, via easy click homepage tabs, and the Bodog website offers a secure and convenient one-wallet banking system.

Similar to Bodog, the Crew here at Canada Sports Betting have roots that run deep in the vast wagering landscape that continues to grow. Whether focused on Canada, Europe, or the United States, we have been tracking the progression of the world's best bookmakers for decades. When it comes to innovation - very few are further ahead on the curve than Bodog. That includes their LIVE betting platform as in-game odds, along with team and player props are offered on major sporting events around the clock – seven days a week. 

Looking back on reviews, written years ago, it's nice to spot improvements made at major sportsbooks. Back in the early days, email, phone and fax were the main communication options at Bodog. That led us to rate their customer service as fair to middling. Along with a fantastic FAQ section, they're still viable help options, but Bodog is now fully up to date with a LIVE Chat feature. Manned 24/7, by a professional client care staff, assistance with opening an account, banking queries, or placing a bet, is always just a simple click away.

With a Midas Touch, everything seems to turn to gold in the Land of Bodog. Listening to their clients, and lots of hard has put Bodog on the Mount Rushmore of online wagering websites. While poker and horse betting options have boosted their brand recognition, along with Bodog's state-of-the-art casino, the sportsbook continues to be a wagering hotspot. Whether on the North American "Big Four" sports like the NFL, or international events, Bodog takes the pulse of the overall odds market and then posts sharp lines daily. 

Simple, safe and secure is the Bodog way when it comes to their banking methods. Whether loading a betting account or requesting a cash-out, MasterCard and VISA credit cards, along with Bitcoin, are the most popular options available.

Those new to the Bitcoin wave can check out a helpful tutorial at the website that explains the entire process.

Other popular cryptocurrencies accepted by Bodog are Ethereum, Bitcoin SV, Bitcoin Cash and LiteCoin.

Clients can also contact the Bodog banker via LIVE Chat to inquire about additional funding methods available in their jurisdiction. As always - check-in at the cashier section for all the info.

Pioneers, in every sense of the word, it is not a surprising that Bodog is a mobile betting leader. Living in an upward climbing society, taking Bodog out on the road is simple as bettors can make deposits and place wagers directly from tablets and smartphones.

The best part of the Bodog mobile platform is clients don't need to download a separate app to wager on the fly at Bodog. All the conveniences customers enjoy from their home computer are available quickly and safely with Android and iOS devices – from anywhere on the Planet.

Aussie Rules
Baseball
Basketball
Beach Volleyball
Boxing
Cricket
Cycling
Darts
Entertainment
Esports
Football
Futsal
Gaelic Games
Golf
Handball
Hockey
Motor Sports
Politics
Rugby
Snooker
Soccer
Table Tennis
UFC/MMA
Virtual Sports
Volleyball

Bodog is top in so many aspects, but they are not yet on the live streaming train. We hope they will add this key feature in the coming years. 
Bodog Bottom Line Recommendation
Should this seem a little "flowery" we remind everyone that Canada Sports Betting respects players and bookmakers equally. We want to bettors to enjoy a safe and exciting experience and we only recommend offshore wagering websites that meet our lofty standards. If Bodog was a blacklisted bad boy - we would certainly spell that out as a loud warning to our loyal readers. Although Calvin Ayre has largely stepped away from the day-to-day operations at Bodog - clients can rest assured that his imagination and fingerprints will always be all over this betting industry leading brand.
We also remind everyone that many of the issues Bodog has faced in the past are a direct result of overzealous Government agencies that are trying to protect their inferior Sports Lottery schemes. The availability of single game betting lines, props and futures, plus LIVE In-Play wagering, gives sportsbooks a huge advantage over anything bettors can find at their local gas station. Decades of experience in providing secure service, great player rewards, plus top-notch customer care, tie this full meal deal together. Like the ladies always on Calvin Arye's arms - Bodog is a near perfect ten.
---
Bodog Sports FAQ
How to cash out at Bodog?

Veterans of the online betting business, Bodog has long been a top provider of secure and convenient banking options. When clients want to cash out their winnings – a few choices are available.

Bitcoin, Bitcoin Cash, LiteCoin and Ethereum

 are both FREE withdrawal options that take up to 15 minutes to complete. Limits are high, up to $9500, and daily requests are unlimited.

Players can request a Direct Bank Transfer or a Check by Courier. Transfers are FREE, with a $3000 maximum, and take up to five business days. Checks have the same limit and take up to 15 business days.

Wire Transfers, up to $9500, can be requested and take up to 10 business days. One Check and Wire Transfer request are FREE every 90 days.

Why can't I deposit at Bodog?

A Canadian original, Bodog has focused on the banking needs of their True North clients for decades. Bodog bankers work closely with customers to ensure a smooth and safe deposit process.

There are however a few reasons why bettors can't successfully fund their account. The first is players not being able to confirm they are at least 18 years old. 

Credit card deposits may be declined due to restrictions imposed by banks that don't allow payments to offshore betting sites.

Also, clients need to make sure they correctly input all banking information, as just one wrong digit will cause the request to fail.

Deposits are also declined if customers are over their daily deposit limits or they are self-excluded.

Why can't I withdraw at Bodog?

Nothing turns off bettors more than not being able to cash out their winnings. Bodog has a solid record of meeting withdrawal requests, since their inception.

There are times that cash out requests are not completed though. The primary reason for a Bodog withdrawal request being refused is players not having enough winnings in their account.

Players are reminded to double-check their address information when requesting a pay out. Bodog will not authorize a cheque by courier withdrawal request if players use a Post Office Box address.

Customers may also be required to submit documentation for identity verification prior to a payment request being processed. 

Why is my Bodog bonus not working?

Bonus offers help players receive added value when they make a deposit or place bets. Depending on the reward, bonus bucks can be used to wager on sports and horse racing or in the casino and poker room.

 

While it has been our experience that Bodog promptly credits rewards, there are a couple reasons players may not have access to a bonus.

 

There are times when a coupon is required to collect a bonus and players need to successfully redeem the code provided to receive and then bet with the funds.

 

Players accepting a deposit bonus usually need to fund their account in order to trigger the bonus. Some bonus offers have expiry dates and will not work beyond a stated time frame.

Why can't I login to my Bodog account?

During the simple registration process, new Bodog customers are asked to enter a password and an active email address. Recording and storing that information in a secure location is important.

 

Beyond a bad internet connection, entering incorrect login credentials is the primary reason why players are not able to access their Bodog account.

 

Bodog may suspend a player account if they notice something is not right – especially banking errors. In this instance, players are notified via email and Bodog then works with the client to resolve the issue.

 

Players may find the website down due to the tech team upgrading the system. Clients who have self-excluded are no longer allowed account access.

How to start playing at Bodog in Canada?

With decades of experience, and as innovators in the online betting business, Bodog makes it very easy for Canadians to start playing.

 

Getting into the game begins with filling out a short and simple sign up process. Basic personal information is required and the single page registration form is easily completed in less than one minute.

 

New clients are then directed to the banking section where Bodog offers a variety of popular deposit options. Using crypto currency, credit cards or bank transfers, players can fund their account with a minimum $20.00 deposit.

 

In most instances, funds are available for immediate play and bettors then head to a wealth of wagering options.

Is it legal to play at Bodog in Canada?

Since betting companies first went online, back in the 1990's, players have wondered if it's legal to play at Bodog. The short answer is yes. 

While the Canadian Government is the sole legal supplier of gambling products in Canada, there is nothing specific in the Criminal Code that states Canuck 'Cappers can't play at offshore gaming sites like Bodog. 

Although it is illegal for Bodog to incorporate in Canada, they are registered in Antigua and have servers in Kahnawake, Quebec, so they are viewed as an offshore betting provider.

Defined by most legal analysts as a "grey area" there are no records of any Canadian citizen being arrested or convicted for playing online at Bodog.

Does Bodog accept Bitcoin in Canada?

Huge supporters of accepting cryptocurrency payments - Bitcoin deposits are the #1 accepted account funding method at Bodog.

Anyone who uses cryptocurrency regularly will find that it is quick and easy to fund an account with Bitcoin, BitcoinCash, LiteCoin and Ethereum.

Simply click on Deposit, select a currency option, open your Digital Wallet and hit Send. Cryptocurrency transactions are normally completed in mere minutes and credited to players' accounts instantly.

For non-crypto fans, credit cards and bank transfers are available.

Does Bodog accept Paypal in Canada?

Widely used by Canadians everyday – PayPal has become a very popular payment option in the True North. While there are online betting sites that accept Paypal, Bodog is not one of them.

This is a decision the Bodog finance department most likely made. However, there are ways to use an active Paypal account to boost a bankroll at Bodog.

Simply move money stored at Paypal to a Visa or Mastercard account and then deposit with that credit card. Money can also be sent to a players bank account and then transferred to Bodog or used to purchase Bitcoin currency.

Does Bodog offer bonuses in Canada?

Around the clock, 365 days per year, there are always bonus offers available to Bodog customers in Canada. Player rewards begin with the 100% Sports Welcome Bonus that pays players up to $400 + 50 free spins when they make a first deposit.

Paid in free plays, once the initial deposit is processed, bonus bets are available for wagering within about 30 minutes. 

As their featured deposit option, customers collect up to $300 in sportsbook free plays when they fund their account with Bitcoin, Bitcoin Cash, LiteCoin and Ethereum cryptocurrencies. 

Players can also cash in on various promotions in the casino, racebook and poker room. The Bodog Reward program pays players "reward points" on all bets and a "Refer A Friend" bonus is also offered.

How to find Bodog bonus in Canada?

Bodog bonus offers come in all shapes, sizes and value in the offshore betting business. Determining what bonuses pay, or how they are collected and redeemed, should always be straightforward and simple to understand.

That's the case at Bodog as their player rewards and contests are clearly explained in a dedicated Promotions section at the website.

Well presented, with informative text and images, heading to the bodog.eu website is the best way to find Bodog bonus rewards offered in Canada.

Once an account is registered and funded, simply log in and click your "Gift Box" image to view current offers. No matter the bookmakers, players should always review all bonus terms and conditions.

Who can play at Bodog?

Born and raised in Canada, their original founder was born in Saskatchewan eh, Bodog has warmly welcomed Canadian clients since 1994.

There is however criteria and stipulations on who can play at Bodog. First and foremost, players must 18 or older (or legal age of majority in their Province) to register a personal betting account at Bodog. 

Since Bodog does not accept telephone wagers, an internet compatible computer or mobile device is needed to get into the action.

Access to online banking is another key factor to playing at Bodog, as players need to fund their account in order to place real money bets. Clients without an account, or who have self-excluded, can't play at Bodog. 

What can I bet on at Bodog?

With an endless supply of gambling options, offered LIVE 24/7 daily, gamblers can bet on just about anything at Bodog.

Did you know that Bodog offers more markets than the bookies in Las Vegas or the sports lottery kiosks in Canada?

It's true, as their sportsbook is loaded with pregame, LIVE and futures odds on sporting events that play out in Canada and around the Planet.

Bodog bookmakers also offer a wide range of eSports as well as entertainment and political betting options.

Casino players are offered a nice mix of modern slot machines plus standard and LIVE table betting action. Futures and LIVE horse racing action, from a variety of International tracks, is available in the Racebook.

Rounding out the fantastic betting platforms, card players can pull up a chair and go all-in at any time hour Poker Room.

Why can't I bet at Bodog?

Available across Canada, to anyone who is of legal age, there aren't many instances when players can't bet at Bodog.

Players who are not registered, or do not a balance in their account, are primary reasons why someone would not be able bet at Bodog.

On rare occasions, in order to keep their fantastic playing platforms up to date, bettors may find they can't bet due to the tech crew pausing the website.

Since Bodog wants players to play, and spend their money, any outages rarely last long.

Have I self excluded at Bodog?

Should the thrill of playing, be replaced by the agony of defeat, bettors may want to consider self-excluding at Bodog.

Players feeling they need to take a break can contact Bodog and have their account disabled for client chosen period of time. 

Being as individual customers must initiate the process – players never need to wonder if they have self-excluded at Bodog.

If there is an issue with an account, and players are locked out, they can contact Bodog via LIVE Chat, email or phone.

Who owns Bodog?

Conceived, developed and launched by Canadian Calvin Ayre, the son of Saskatchewan pig and grain farmers, Bodog is a True North success story. 

In 1992, as a brilliant and shrewd visionary, Ayre surmised that internet gambling would be the next big thing.

Ayre was dedicated to morphing his vision into practice and he became a self-taught network and software design genius. 

His hard work lead to the launch of Bodog, along with subsidiaries like BodogFight and BookFantasy. Ayre became a billionaire when he sold Bodog to the Mohawk Morris Gaming Group.

At the time of publishing (03/10/19) Bodog is operated by ll Nido Limited.

Why is Bodog down?

Long time registered bettors at Bodog; we cannot recall a time when Bodog was down for any extended period of time.

Scheduled maintenance, normally performed in the overnight hours and announced in advance, does shut down Bodog on rare occasions.

Broadly speaking, Bodog is always on and navigating the site is quick and easy. Clients are reminded that Bodog has their own FAQ section if they have a question that we didn't cover herein.

Respecting their Canadian clients - a top betting experience awaits at Bodog.
SIGNUP BONUS:

$ 400 Bonus