Founded in 2012, Guts.com delivers fantastic Sports, Casino and Poker betting action. Based in Saint Julian's, Malta, Guts Sports is operated by MT SecureTrade Limited. This premium online betting platform is regulated and licensed by the Malta Gaming Authority, as well as the UK Gambling Commission. Offering something for everyone, with a focus on a wide variety of global sports betting options, here is our Guts website review.
Deposit with Interac e-Transfer
LIVE Global Sports Betting Action
Vast Variety of Slot and Table Games
Valuable Player Rewards and Promos
Cash Outs Limited to Bank Transfers



Guts Canada Sports Betting
Located in the Mediterranean gambling hot spot of Malta, Guts.com is a relatively new player on the global wagering scene. That said, with a few years of service under their belts, Guts is guided by an expert management team which delivers a solid online betting experience. Accepting bettors from Canada, with simple signup that is available 24/7, there's plenty to like at Guts Sportsbook & Casino.
Guts.com Sportsbook Bottom Line Recommendation
Though gaining popularity, the guts gambling website doesn't receive the same exposure as some of the more popular "home grown" sportsbooks in Canada. During our meticulous review, we uncovered far more positives than negatives at this European betting site. Guts bookmakers cover a broad range of sports and the casino is packed with the latest games bettors would find in Las Vegas. Quick account registration, plus a safe and secure banking system, get players into the action in mere moments. Being as having a stable of quality sportsbooks is wise – we recommend adding Guts.com to your list!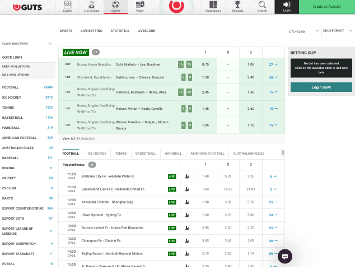 Head to Guts and see for yourself…
Ready to bank this bonus? Register at Guts and make an initial deposit today!
Connect To Guts Instantly!
---
How to cash out at Guts?
Withdrawals can be made via the same cashier link that you deposit in.
There is a tab at the top to switch between deposit and withdrawal pages.
You can also access the Deposit and Withdrawal functions via the Account section – in the "More" menu via their mobile site.
Why can't I deposit?
This could be for one of several reasons.
The account you are choosing to make a deposit from may not have the appropriate funds to make said deposit.
Additionally if you are attempting to make a deposit via credit card, the credit card itself may not have granted permission to make deposits to gaming sites.
Please check the allowances on the card in question.
Why can't I withdraw?
This could be for one of several reasons.
Most commonly is that your Guts account is not yet properly linked with an outside account of yours to receive the funds.
This is a very important step and should be done properly. Once linked properly, it should not be an issue in the future.
Why is my Guts bonus not working?
Read the terms and conditions to make sure you followed all the steps correctly.
For example, the $100 new customer deposit bonus Guts offers applies to the first 30 days of your patronage.
Make sure to be aware of the conditions pertaining to the bonus in question.
You can also use the live chat feature to speak with an agent live to troubleshoot your issues.
Why can't I login to my account?
Either you have entered your "username" or "password" incorrectly.
Please make sure to write it down some where safe and remember any uppercase/lowercase letters if you have included both.
If you have forgotten your username and password you can reset them by clicking on the 'Forgot Password?' link on mobile and desktop and follow the instructions.
How to start playing?
First Register as a new customer by clicking here.
This option can be located on the top left hand of their home page is a black "create account" tab next to the green "login" tab. This step should only take a couple of minutes.
Next verify your account.
This step may take slightly longer as they will need you to send them a photo of your identification, and then approve.
Verification over the live chat feature is the fastest way to get verified. Verification through email can take up to 24 hours.
Once verified, make your initial deposit via one of the allowed methods and you can begin.
Guts occasionally requests verification over the phone.
Is it legal to play at Guts in Canada?
Provided that you are of legal age in the province/ territory in which you reside, yes, it is legal to play on Guts in Canada.
Can I play with Bitcoin?
No. Guts does NOT offer deposit via bitcoin.
Check out here which sportsbooks offer bitcoin deposits.
Can I deposit with Paypal?
Yes. Guts offers deposit and withdrawal via Paypal.
Can I get bonuses in Canada?
Yes. At present Guts is offering a 100% deposit bonus up to $100 for new customers in Canada.
On the Promotions page you can also read about their various other promotions including a "Cash Out" option for losing wagers, as well as others.
How to find Guts bonus in Canada?
Guts offers a 100% bonus up to $100. For more information on the terms and conditions click here.
Who can play at Guts?
Anyone of legal age with the ability to verify themselves with a piece of identification (passport, for example) and a permitted deposit method (credit or paypal, for example) can play at Guts.
What can I bet on?
Guts sports betting offers all popular North American and European sports, and in addition offers several niche markets such as video gaming (Call of Duty, Starcraft) and well as unique sports such as Pesapallo.
Why can't I make bets?
This could be for a few reasons.
You may not have the appropriate funds in your account to make such wagers.
Or the event you may wish to wager on may have already started and is no longer on the board.
If the event is in the future a line may not yet have been generated for you to wager on.
Have I self excluded myself?
Guts offer the option of self exclusion. Furthermore they provide other responsible gaming options detailed below:
– Deposit Limit: this will limit the amount you can deposit in a given time period;
– net Loss Limit: this will limit the amount you can lose in a given time period;
– wagering Limit: this will limit the amount you can wager in a given time period;
– session Limit: this will limit the amount of time you can stay logged into the website in a given time period;
– reality Check: this allows you to set a reminder at regular intervals informing you of the time you have spent playing on one given game since your first bet;
– time-out: this can be used to take a break from the website from 24 hours up to 6 weeks, and it applies only to the account in which it is set;
– self-exclusion: this should be used if you are no longer in control of your gambling;
When applying a self-exclusion, any account held with the group will be closed until the chosen time period has elapsed (plus an additional 24-hour cool-off period).
Further information can be found in their Responsible Gaming page.
Who owns Guts?
Guts sports book launched in March 2014. They originally started in Sweden but now operates out of Malta.  Guts Gaming Limited is majority owned and backed by Gaming Innovation Group Ltd (GIG Ltd). GIG Ltd is incorporated in Malta.
Guts.com CEO is Robin Erik Reed.
The sports book have their own odds compiling team, risk managers, supervisors, and customer service staff. Guts' workforce is comprised of approximately 40 employees.
Why is Guts down?
In very rare instances the website will need to shut down for a few hours to undergo maintenance.
As they are very conscientious of their patrons, this will usually only take place during off peak times, for only a few hours at most.
---