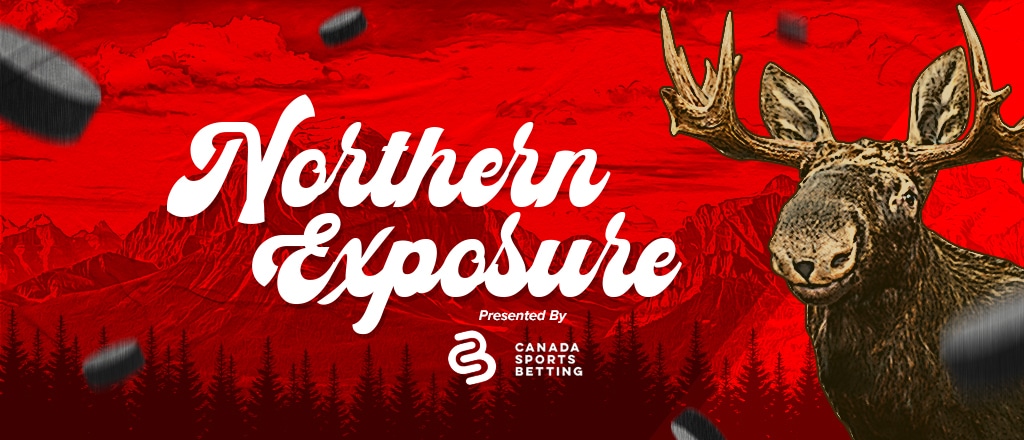 Each week, Canada Sports Betting recaps all the top sports betting and iGaming news in Canada and highlights upcoming events.
Our top stories this week
Event of the week
UFC 294 – October 21
It's been over a month since UFC's last pay-per-view event, so the anticipation has been building leading up to UFC 294 on Saturday from Abu Dhabi. This will be UFC's 18th visit to the United Arab Emirates and the first since October of last year.
Islam Makhachev was slated to defend his lightweight title against Charles Oliveira in the headline fight, but Oliveira withdrew due to injury and was replaced by UFC featherweight champion Alexander Volkanovski. Makhachev defeated Volkanovski by unanimous decision at UFC 284 and is a -250 favourite in the rematch at NorthStar Bets, while Volkanovski is +200 to exact some revenge.
In the co-main event, former welterweight champion Kamaru Usman (+250) is moving up to 185 pounds to take on Khamzat Chimaev (-335).
Check back with Canada Sports Betting on Friday for a full betting preview of the event!
OLG releases annual report
Shortly after the Atlantic Lottery Corporation released its annual report, the Ontario Lottery and Gaming Corporation followed suit this week by making its annual report public.
In the 2022-23 fiscal report, OLG says the crown corporation delivered $2.5 billion in net profit to the province through its lottery, land-based gaming, and digital gaming sectors, smashing the previous yearly record of $2.3 billion set back in 2019-20.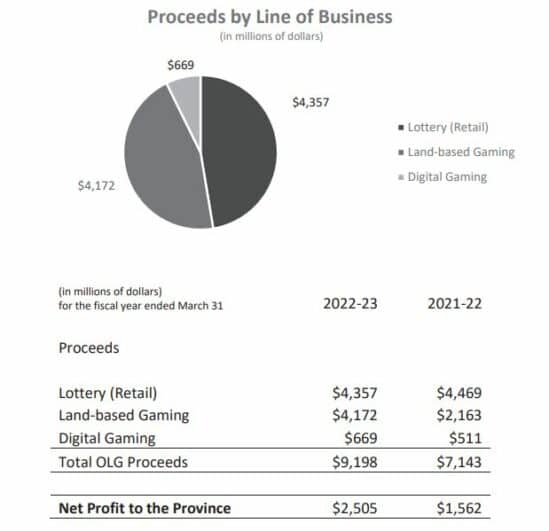 OLG began the year as the only legal online gaming option in the province of Ontario before the launch of the province's regulated iGaming market on April 4, 2022. OLG says digital gaming proceeds increased by 31% to $669 million ($561 million digital gaming revenue) and monthly average player accounts rose by 22% when compared to the previous fiscal year.
Some other highlights from the report include:
Net profit to the province from OLG's digital business was just over $300 million for the fiscal year.
The Charitable Gaming program achieved its highest proceeds on record, with 2,200 participating charities receiving a record total of $80 million.
OLG generated $123 million for Ontario First Nations through the Gaming Revenue Sharing and Financial Agreement, based on the corporation's prior fiscal year's gross revenues.
Retail PROLINE sports betting brought in $293 million in proceeds and accounted for 7% of lottery proceeds. Interestingly, the $293 million in proceeds remained consistent with the prior year ($293 million) despite the launch of the new iGaming market during the most recent fiscal report. In other words, PROLINE bettors in Ontario are still placing their wagers in person at over 10,000 retail outlets across the province despite having the option to wager online. Although some of these sports bettors may be placing wagers both in person and online.
OLG and its casino service providers successfully launched retail sportsbook operations at 13 casino sites across the province.
OLG launched the PROLINE + digital sportsbook in August 2022. It also introduced PROPS games to provide more selection for players and launched POOLS games on PROLINE + in October 2022.
Ontario's regulated iGaming market reported $1.4 billion in total gaming revenue in its first year of operation (April 4, 2022-March 31, 2023). However, OLG's digital revenue data is excluded from the iGaming Ontario's report. When factoring in the $561 million in digital revenue from OLG from the last fiscal year, it actually brings the total iGaming revenue to roughly $1.96 billion in the province. However, if I'm reading the 100-page annual report correctly, OLG also includes iLottery products in its digital revenue numbers without separating out iCasino and sports betting data. In other words, we don't know how much of OLG's $561 million in digital revenue is coming from the sale of online lottery products, so we can't decipher the exact value of online sports betting and iCasino revenues from the past fiscal year.
OLG is the only gaming operator in Ontario that reinvests 100% of its profits back into provincial programs.
Bill S-268 update
Senator Scott Tannas's Bill S-268 progressed to a second reading in the Senate on Tuesday.
The bill, which aims to provide First Nations with the exclusive authority to license, conduct and manage gaming operations on reserves, was initially tabled in June. If passed, it would amend the Indian Act and Section 207 of the Criminal Code of Canada.
"Bill S-268 would formalize First Nations' control of gaming only on-reserve. It would displace provincial control over those activities, including licensing and — here's the tricky part — the appropriation of the profits," Senator Tannas explained to the Senate on Tuesday. "The desired outcome is that all activity and profit would be under the control of duly elected First Nations governments for gambling on their territories and reserves, in the areas of their jurisdiction. We're talking about hundreds of millions of dollars per year that would accrue to the benefit of the First Nations communities involved. That's what this bill attempts to do."
Tannas was asked by another member of the Senate about whether or not he consulted any provincial governments prior to tabling the bill.
"No, I did not," Tannas replied. "I intend to invite provincial governments to come and tell us what impact it will have, but, at the end of the day, this is about sovereignty — for Indigenous and First Nations peoples — and they either have it or they don't. We either believe in reconciliation, and that they have jurisdiction on their own lands, or we don't. I know what we will hear from the provinces, and you know what we will hear: It will cost them money. This will come out of their cut of casino betting and other betting that occurs on reserves. We're going to give them the chance to come and talk about that. Maybe some provinces will see this as a positive step — one that is doable and within their purview to support. Just as the federal government didn't consult with First Nations when they gave the power to the provinces, we did consult with First Nations and received the support of the Assembly of First Nations, or AFN, through their gaming subcommittee. They have already started to work on some initiatives in support of this, should it pass — but no, I did not talk to the provinces."
Tannas also fielded several other questions regarding the logistics of how the bill would play out given existing structures and agreements surrounding gambling in certain provinces, especially in Saskatchewan where First Nations tribes participate in profit sharing from casinos on reservations.
Tuesday's debate was adjourned without action on the bill, which is now likely to be referred to a committee for study. If that happens, research and community outreach will then be conducted to evaluate the potential impact of the tabled legislation. More information on the legislative process for this bill can be found here.
IBIA releases Q3 Integrity Report
As the regulation of iGaming continues across North America and the rest of the globe, the issue of match integrity is of extreme importance to the success of legalized sports betting markets.
On Thursday, the International Betting Integrity Association released its 2023 Q3 Integrity Report, which revealed 50 suspicious sports betting alerts were sent to relevant authorities concerning eight sports during the quarter.
None of the alerts sent by the IBIA were relayed to Canadian authorities, but there were two alerts reported to U.S. partners relating to tennis matches.
Eighty-four alerts reporting suspicious matches taking place in North America have been sent by the IBIA from 2018-2022, with only four of those alerts advising of suspicious matches taking place in Canada.
Of the 50 alerts sent by the IBIA this quarter, 30 (60%) of them involved matches taking place on European soil. The majority of these alerts were sent regarding tennis and soccer matches (56%).
Overall, the IBIA is reporting a 41% decrease in alerts compared to the Q3 total from 2022.
Fitzdares to open club at Royal Horse show in Toronto
This week, Fitzdares CEO William Woodhams announced that the company would be launching a "pop-up club" at the Royal Horse Show in Toronto in November.
It'll be the second pop-up club the operator has hosted in the city after its Super Bowl event at the Harbour 60 restaurant. Fitzdares invited 100 high-profile local bettors to the event for a "luxury" experience featuring champagne and lobster to mark its landing on Canadian soil.
Fitzdares, known for its comprehensive horse racing markets, went live in Ontario last February, marking its first global market outside of the United Kingdom. One of the world's oldest bookmakers, Fitzdares' aim is to provide a luxury, social sports betting experience to Ontarians with its various high-profile events.
Unfortunately for Fitzdares, there are unique regulations surrounding private operators offering horse racing markets in Ontario. Recently, bet365 struck a deal with Woodbine Entertainment to allow its customers to wager on local horse racing events, like the King's Plate. As of Thursday, bet365 is the only private operator from the regulated iGaming market in Ontario allowed to offer these markets, but its deal with Woodbine isn't exclusive, which leaves the door open for other operators, like Fitzdares, to negotiate entrance into the market.
The Royal Horse Show will take place at Exhibition Place from Nov. 3-12.