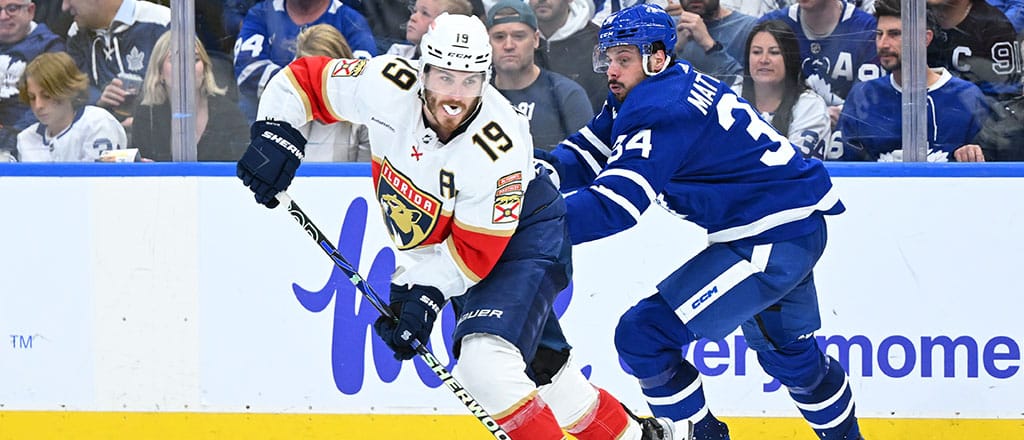 It's a return to last season's end for the Toronto Maple Leafs tonight, as they take their talents to South Beach to begin a road trip with a Round 2 rematch against the Florida Panthers. Both teams have moved around some pieces, and the Cats are short some bodies, but some bad blood remains, and fans are eager to see if it spills onto the ice, or at least manifests itself into a quality hockey game.
Bet on Maple Leafs vs. Panthers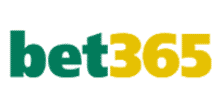 TOR -135
FLA +115
The Maple Leafs enter this game as slight favourites, having an edge in talent but lacking home-ice advantage, to go with not having a favourable recent history against Florida.
Maple Leafs vs. Panthers odds
All odds courtesy of

About the Maple Leafs (2-1 SU, 1-2 ATS, 2-1 o/u)
Well, our fears of a "trap game" against the Blackhawks were swiftly realized. Arvid Soderblom played the role of "random goalie who inexplicably shuts Toronto down", improving his career record to 3-13-2 with 34 saves on 34 shots.
John Tavares scored Toronto's lone goal, giving him six points in three games (the second-hottest start of his career, to his MVP-finalist season in 2014/15). Auston Matthews did not score a hat trick, and days later, the main story is still Ryan Reaves chirping at Corey Perry. Say what you will about his play on the ice, but the man is an effective media smoke grenade.
One positive here is that most of Toronto's lineup was at or above even on the shot charts – most noticeably Mark Giordano, who has faced early-season questions but picked up a 76% share of the attempts. The fourth line remains an issue here, all getting outshot despite limited and tailored minutes.
About the Panthers (1-2 SU, 1-2 ATS, 2-1 o/u)
After a Cinderella run to the Stanley Cup Final last year, the Panthers are struggling a bit out of the gate. In fairness, a short summer and a lot of injuries (we'll get to that) haven't done them many favours.
Nevertheless, the Cats opened their year with a pair of losses, getting shut out by the Minnesota Wild in their season opener, followed by a 6-4 defeat to the Jets in Winnipeg. A silver lining came earlier this week when they defeated the New Jersey Devils, an early favourite to take their spots as Eastern Conference Champions, though they nearly squandered a 4-0 lead, eventually winning 4-3.
So far, just four players have found the scoresheet, and their points leader is not Matthew Tkachuk, Aleksander Barkov, or even Sam Reinhart or Carter Verhaeghe. It's… Evan Rodrigues? "E-Rod", who Florida signed as a free agent this summer, has two goals and three helpers to kick off the year.
Last Matchup
You know the one, of course. This is the first time the two teams have faced each other since their second-round clash in last year's playoffs, which makes Toronto's season-ender in Game 5 the last game between the two.
Projected Lineups
Toronto Maple Leafs
Florida Panthers
Forwards
Tyler Bertuzzi – Auston Matthews – Mitch Marner
Matthew Knies – John Tavares – William Nylander
Max Domi – Fraser Minten – Calle Jarnkrok
Noah Gregor – David Kampf – Ryan Reaves

Defence
Morgan Rielly – TJ Brodie
Jake McCabe – John Klingberg
Mark Giordano – Timothy Liljegren

Starting In Goal
Ilya Samsonov
(2-0-0, 0.839 SV%, 4.39 GAA)
Forwards
Sam Reinhart – Aleksander Barkov – Evan Rodrigues
Carter Verhaeghe – Eetu Luostarinen – Matthew Tkachuk
Nick Cousins – Anton Lundell – Justin Sourdif
Ryan Lomberg – Kevin Stenlund – Steven Lorentz

Defence
Gustav Forsling – Oliver Ekman-Larsson
Niko Mikkola – Dmitry Kulikov
Josh Mahura – Uvis Balinskis

Starting In Goal
Sergei Bobrovsky (Expected)
(1-2-0, 0.888 SV%, 3.41 GAA)
A slight change to the Toronto lineup looks to be in the books for Thursday, with Matthew Knies going up to the second line, with Max Domi taking his place on the third line. Head Coach Sheldon Keefe stressed to the media that the move was more about getting more minutes for Knies, who has averaged 12:12 per game to start the year, though Domi's lack of impact to start the year probably helps the decision.
Under 7 total goals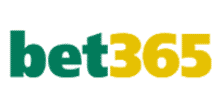 -125
Key Injuries
The Maple Leafs are the same as they were last game. Where have you gone, Conor Timmins? A nation turns its lonely eyes to you.
The Panthers, as mentioned before, are quite banged up. Most notably from a hockey perspective, they're without their two most important defencemen in Aaron Ekblad and Brandon Montour. Montour is out with a shoulder injury suffered during the playoffs, with a very wide return window of "November to January" last given before training camp. The same, right down to the timeline was given for Ekblad, though Montour is expected to return first.
Also missing is Sam Bennett, which is a tough break for Florida's forward depth, but also for the narrative arc of this game. Those hoping that Toronto would get revenge on Bennett for his body slam on Matthew Knies in the playoffs will have to wait, as he suffered a lower-body injury in the preseason. Probably for the best, as the expectation here involves sending players who weren't on the team at the time after a guy to get revenge for a game they never played in, which feels a little silly. If nothing else, though, it means there should be a little bit less juice in this matchup, at least from a shenanigans perspective. It also makes Florida that much weaker.
Betting trends
Toronto continues to struggle against the puck line and against the goals over, now 2-8 in its last 10 in both regards. One of the puckline and both of the overs come from their first two games of this season.
Further to this point – looking back to the playoff series against the Panthers, the Leafs, besides going 1-4 straight-up (duh), went 0-5 on the puckline and 0-5 on the goals over.
Tonight is the Panthers' home opener, which is a mixed omen for them. In their last 10 home games, they're 5-5, with 4-6 records against the puckline and the goals over. Against Toronto, they're 6-4 in their last 10, both at home and in general.
Player prop trends
Despite not keeping up his hat trick per game pace, Auston Matthews was still geared towards the net against Chicago, taking eight shots on goal. He's hit his over in six of his last 10, and taken 53 shots in that stretch. His line is usually at about 4.5.
Matthew Tkachuk is a player who earned a lot of love during the Stanley Cup Playoffs, but he doesn't have a ton of value going for him lately on props. He's failed to hit the over on goals, assists, and points more often than not in his last 10 games, and is a wash on shots, averaging the 3.5 per game he's usually priced for.
Aleksander Barkov has just one goal in his last 10 games, dating back to Game Three of the Eastern Conference Finals. If you're a believer in guys being "due", though, he might be interesting, as the career 14% shooter has now gone 0-for-25 in that stretch.
Wagers to consider
I'd consider the under in this game. Given all the talk in town about Toronto being poor defensively, Ilya Samsonov being overdue for a quality start, the need for Florida to exercise some caution of its own with three key pieces out, and the room for a distraction tonight (banner-raising ceremony for the Panthers, bad blood between the two teams, etc), I could see things all adding up to a result similar to the playoffs (Please don't quote me when this game ends up with a 7-5 final).
Mitch Marner has had a pretty tough time to start the year, picking up three assists but not showing his usual control of play. I could see him simplifying a bit tonight to try to pick up his first goal. That tally coming at +190 might be a bit of a risk, but clearing the shots line of 2.5 at -110 is something I can easily see.
As we saw with Sam Lafferty last year, players have a way of bouncing back once I start to really give them the gears. I doubt there's anything extrasensory there, just the inevitability of regression timing itself well, but if you really believe in the "Shut Up Jeffler" play, bet365 has the Leafs winning with a Max Domi goal at a boosted +700 tonight, up from +575.