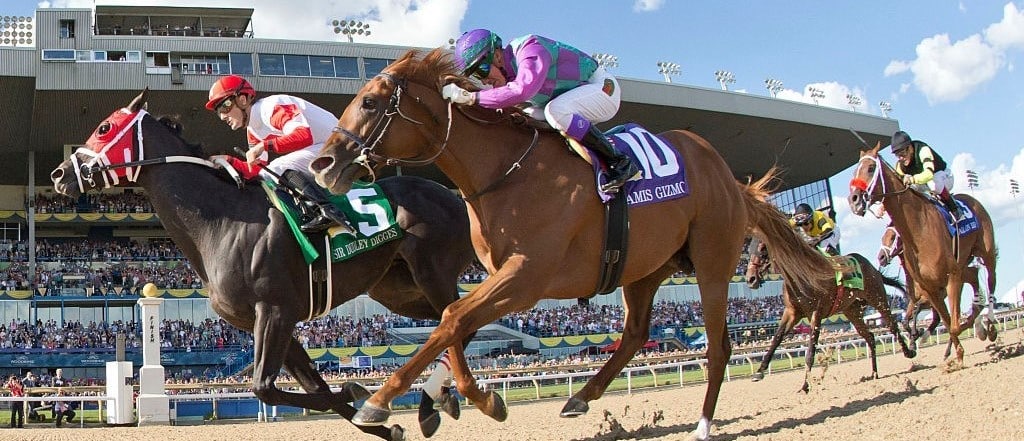 Ontario sports bettors using the bet365 app will now be able to wager on horse racing in Canada.
On Wednesday morning, Woodbine Entertainment CEO Jim Lawson made the announcement during the King's Plate Breakfast press conference.
"This is a historic announcement in my perspective, and we will look back over the years at this moment. Woodbine is officially announcing today, that horse racing, including the King's Plate, will be available to Ontario sports bettors through the licensed bet365 platform," a cheerful Lawson announced. "This is huge. It's a huge win for the Ontario horse racing industry and the 25,000 jobs that this industry supports in the province."
"We are excited to partner with Woodbine Entertainment in this significant milestone as Horse Racing is now available to Ontario sports bettors. With bet365's years of expertise combined with Woodbine's prestigious history and passion for the sport, we are confident that our customers will have a thoroughly enjoyable experience," a bet365 spokesperson said.
Canadian horse racing markets are not yet available on the bet365 app as of Wednesday morning, but Woodbine is anticipating they'll be available in time for the 164th running of the prestigious King's Plate (formerly Queen's Plate) event on Sunday.
Lawson, who says horse racing accounts for roughly 8% of all sports bets worldwide, teased the announcement on Twitter/X an hour prior to the press conference.
This will be the first time that horse racing will be offered via a legal Ontario sportsbook. Previously, horse bettors had to place their wagers physically at racetracks or by using Woodbine's two online sites – HPIbet and Dark Horse Bets. Those two websites will remain operational and are viable options to continue placing wagers with, in addition to the new bet365 online offerings, Lawson said.
Lawson didn't mention that the new deal with bet365 was exclusive, which means Woodbine is leaving the door open for potential other sportsbook partners. Woodbine is a not-for-profit business, which means the proceeds from wagering will be reinvested back into the business and the industry.
As a result of the four-year deal, bet365 becomes the "Official Online Sports Betting Partner of Woodbine Entertainment" and will receive exclusive branding opportunities in the sports betting category at Woodbine Entertainment Group Racetrack, in-network television and simulcast broadcasts, across digital properties and virtual signage.
In addition, bet365 will have naming rights for the apron winner's circle, inner turf course and thoroughbred paddock and stakes races at both racetracks throughout the year.
Horse racing holds a unique position in the legal gambling framework of the country. The federal level Canadian Pari-Mutuel Agency (CPMA) regulates and supervises pari-mutuel (a system in which bets are pooled and shared after the house takes its cut) betting in Canada on horse races. The Alcohol and Gaming Commission of Ontario acts as the provincial regulator for the CPMA in Ontario, and it's also the regulator for Ontario's new iGaming industry which launched in April 2022.
Prior to single-event sports wagering being decriminalized at the federal level in 2021, Woodbine lobbied for the exclusion of horse racing from Ontario's new iGaming framework.
"We do want sports betting operators to be available to offer horse racing, we just don't want them to do it for themselves," Lawson explained during the press conference while reminiscing about a conversation he had with Minister of Justice David Lametti. He said the idea was to essentially keep any profits within the industry.
Woodbine won the right to exclude private operators from offering pari-mutuel wagering and that's why sports bettors in Ontario haven't been able to wager legally on domestic horse racing with operators in the new regulated online gambling market, until now.
Lawson said tickets for the 164th running of the King's Plate are already sold out.