Check out the latest NHL Playoffs betting information for the 2021/22 season below.
NHL Odds to win the Stanley Cup
The odds to win the new Divisions, as well as the Stanley Cup 2022 odds and NHL playoff odds, are constantly changing so we'll keep you updated as the bookmakers submit odds. The odds were last updated on June 14, 2022:
Canadian Stanley Cup Playoff Previews 2022
Three Canadian teams are in the Stanley Cup Playoffs this year – the Toronto Maple Leafs, Calgary Flames, and Edmonton Oilers, and all three teams have their pros and cons, and very different tiers of opponents. As you can imagine, Canada Sports Betting has you covered for coverage of all three series:
Round 2
Calgary Flames vs. Edmonton Oilers Preview: Canada is guaranteed a team in the Western Conference Final this year, as a result of the famous "Battle of Alberta" coming to a head for the first time in over 30 years. Will this one go to the run-and-gun offensive dynamos in Edmonton, or the two-way, structured beats in Calgary? How will Jacob Markstrom and Mike Smith, who both had spectacular seven-game series in Round 1, hold up? Is Connor McDavid even human? We all of that in our preview, with some odds sprinkled in to help inform your decisions.
Round 1
Toronto Maple Leafs vs. Tampa Bay Lightning Preview: The Maple Leafs had their best regular season of the "Big 4" era, but concerns about their perpetual failures loom heading into round one – particularly with the back-to-back defending champs as their opponent. It's a star-studded battle unlike any other in the NHL this season – we break down who our minds and hearts respectively see taking the series.
Edmonton Oilers vs. Los Angeles Kings Preview: In what veteran fans could describe as the "Gretzky Bowl", this matchup involves the best player in the world, an other top five talent, and yet a real chance that the team that has both of them could be upset. Will the high-flying Oilers ride their thoroughbreds to the finish line, or will the two-way savvy Kings pull out one more run from their aging core to match their wins in 2012 and 2014?
Calgary Flames vs Dallas Stars Preview: Perhaps the safest bet of these three, the Flames come in with an elite first line and one of the best overall teams in the league. They also see themselves up against an underwhelming Stars team, making them heavy favourites. As we mention in our coverage, however, Dallas could make this a little interesting, particularly if the big pieces from their 2020 run to the Stanley Cup Final catch fire one more time.
NHL Odds to make the Playoffs 2022
We all love betting on our favourite team to win. Unfortunately, we cannot always realistically hope that our team will win the Stanley Cup. This is where the NHL odds to make the playoffs come in. Here the bar is a bit lower, giving you more leeway to smartly bet on your team.
As the odds come out, you can check the table below for your team's chances of making the NHL playoffs. It is a great option to consider, though these odds tend to come out later in the season than those for the Stanley Cup.
2022 NHL Playoff Teams
As the pandemic eases, the NHL is back to it's regular season length and structure in 2021/22. With about ten games to go in the season, five teams have punched their ticket into the Stanley Cup Playoffs already with the other eleven soon to follow. The divisions, no longer separating out Canada and the United States due to Covid restrictions, look as follows:
Atlantic Division
Arguably the most top half / bottom half structured division in the NHL this season. The Atlantic features four teams considered to be Stanley Cup contenders with top-to-bottom depth, and four teams considered to be well into or just starting rebuilds. The difference between 4th and 5th in goal differential is an incredible 75 goals. The two packs in this group were decided early and with little doubt; the only real debate in a playoff sense has been the order of the four. Florida and Toronto were the first two in the division to clinch their spots, with the Panthers all but certain to claim the division. Tampa and Boston clinched close behind with two similarly incredible teams, while the bottom four are already looking towards next year.
Atlantic Division Playoff Teams 2021/22:
Clinched: Florida Panthers, Toronto Maple Leafs, Tampa Bay Lightning, Boston Bruins
Missed: Buffalo Sabres, Detroit Red Wings, Montreal Canadiens, Ottawa Senators
The next match will be displayed here once announced.
Metropolitan Division
The Metropolitan Division, or the "Metro", is a tricky one to explain. You have the Carolina Hurricanes on top – a well rounded team that was poised for 1st in the NHL until a recent slump, and then it starts to get a bit muddy. The New York Rangers are playing a bit above their means thanks to a Herculean season by goaltender Igor Shesterkin, and the veteran-led Penguins and Capitals are still kicking about as they try to get the last out the NHL's previous generational talents (Sidney Crosby and Evgeni Malkin on Pittsburgh, Alex Ovechkin on Washington, and each of their respective supporting casts).
The Islanders have recovered form a putrid start to their season but are unlikely to get back into the playoff picture, the Blue Jackets are comfortable with skipping this year's dance, while Philadelphia and New Jersey have questions to ask themselves and answer on the transaction sheet to not be back in their 7th and 8th-seed spots next year, as both expected more from their groups.
Metropolitan Division Playoff teams 2021/22:
Clinched: Carolina Hurricanes, New York Rangers, Pittsburgh Penguins, Washington Capitals
Missed: New York Islanders, Columbus Blue Jackets, Philadelphia Flyers, New Jersey Devils
Central Division
There is a clear, shining star in the Central, and it's the Colorado Avalanche. On paper, and in the regular season, this looks to be the best team they've put together since their 1996 and 2001 Stanley Cup-winning core, with Nathan MacKinnon, Cale Makar, Mikko Rantanen, Nazem Kadri, and others leading the way. Many lines will tell you that they have the best Stanley Cup odds in the NHL right now, though that could change depending on the day. Minnesota and St. Louis have put up good cases to not be forgotten about as well, though, and both Nashville and Dallas joined them via the wildcards.
Below that block, the Chicago Blackhawks' attempt to blast through off-ice controversy and get one last squeeze of life out of their dynastic core has failed miserably, and the Arizona Coyotes, well, they exist, with one of the league's worst records and goal differentials and a roster that's often described as a salary cap laundering exercise.
Central Division Playoff teams 2021/22:
Clinched: Colorado Avalanche, Minnesota Wild, St. Louis Blues. Nashville Predators, Dallas Stars (crossover to Pacific)
Missed: Chicago Blackhawks, Arizona Coyotes, Winnipeg Jets
Pacific Division
Likely the weakest division in the league, but within that comes a lot of the fun. The only team that most feel to be safely considered "strong" are the Calgary Flames, a group finally realizing their potential as a member of the elite class after years of expectation and failure to reach it. The Edmonton Oilers have caught up a fair bit since swapping out Head Coach Dave Tippett with newcomer Jay Woodcroft, however, and it's hard to bet against a team with two of the best players in the world in Connor McDavid and Leon Draisaitl. Below them, the rebuilding Los Angeles Kings made their first push back into the postseason.
At the bottom, the Vegas Golden Knights surprised many by not making the dance, while the Canucks surprised by how close they got to turning around an awful start – however, it was to no avail. The other two California teams in Anaheim and San Jose continue their turmoil windows, and the expansion Seattle Kraken prove to not have the same magic touch that Vegas did in year one.
Pacific Division Playoff teams 2021/22:
Clinched: Calgary Flames, Edmonton Oilers, Los Angeles Kings,
Missed: Vegas Golden Knights, Vancouver Canucks, Anaheim Ducks, San Jose Sharks, Seattle Kraken
NHL Playoff Betting Odds
For NHL fans out there, perhaps there's no better time of the year than when the NHL postseason arrives. And when it comes to making different wagers, Canada Sports Betting will always have NHL odds to make the playoffs ready for you.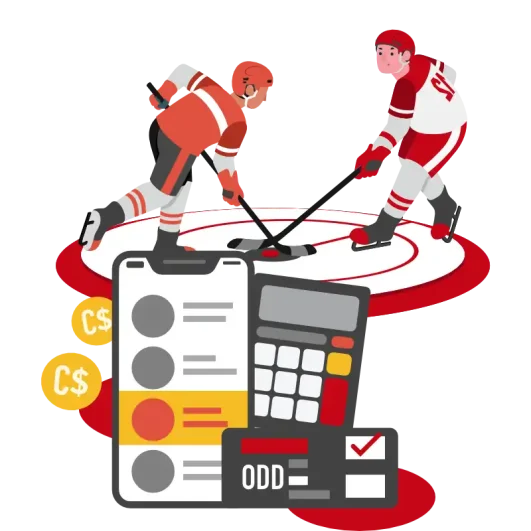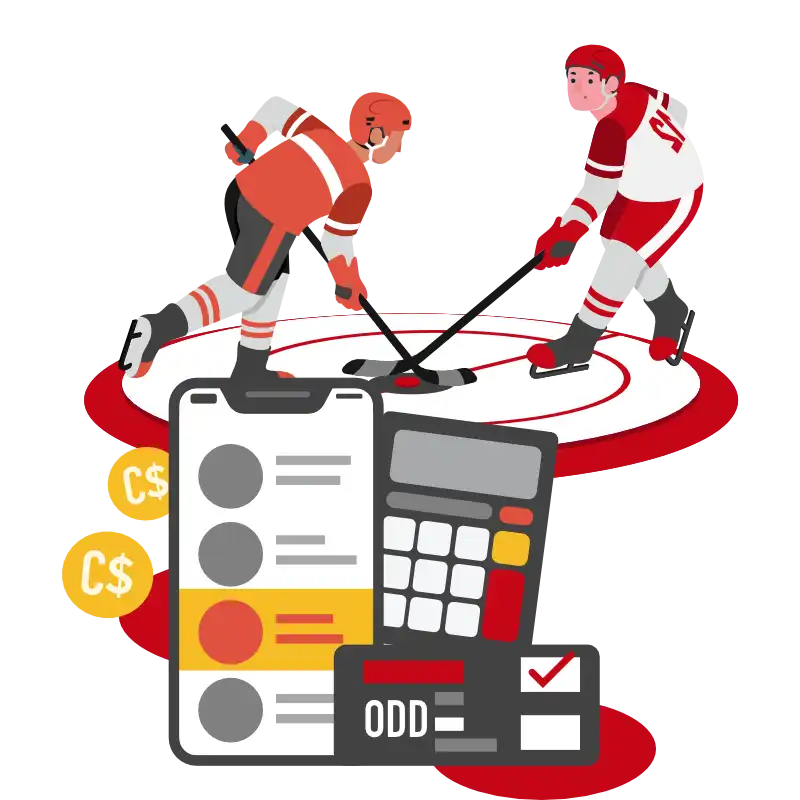 The odds of making the NHL playoffs will surely vary from team to team, with the NHL playoff odds calculator working overtime throughout the year. When you get ready to make your bets, remember you can pick the different NHL Playoff Vegas odds for action before the game, during the game, as well as prop bets out there.
Interested in a futures bet? You can pick the winner of the Stanley Cup, MVP of the league and much more.
When it comes to Sports Betting Odds, we pride ourselves on delivering the most up to date numbers possible. This will 100 percent be the case for your NHL betting odds and the Vegas odds for the NHL playoffs.
How to get the most out of NHL Playoffs betting lines?
Before you make your wagers, it's always going to be important to open up multiple tabs and check out the best hockey playoff odds that are available to you. Say you're a fan of Toronto, you're going to want to find the best numbers for your Leafs playoff odds.
Fortunately, all of our partners offer up up-to-the-minute odds as they come in. This includes Stanley Cup Betting Odds. In addition to that, they also have different welcome bonuses for our users.
For the bonuses, they're different depending on where you go. One of our partners may offer you a $100 welcome bonus, while the other could offer up $200. It's up to you to decide which deal you want to take advantage of.
Remember, too, you can't simply make a deposit into your account then cash out. Sportsbooks will require you to make a certain amount of wagers for your account to be valid.
Whenever you are ready to bet, you'll see different sportsbooks will have different odds. The higher the odds, the more you'll receive for a payout should your team deliver for you. If you're interested in mobile betting, this is also an option for you.
While some users may prefer to bet from their computers, many of our partners have an app, allowing you to place your bets while on the go. It offers the same kind of simplicity and user experience from your desktops.
How to find the best welcome bonus for NHL Playoffs Betting Odds
If you're on the fence about signing up with one of our partners, perhaps one of their free welcome bonuses will be enough to sway you. As we mentioned above, all of our partners offer welcoming bonuses for when you sign up.
There are different ones out there, though. For example, Sports Interaction (SIA) may offer you a $200 welcome bonus, while William Hill will offer $100. It's up to you to go with.
Once you have your bonus, you're free to place bets on whatever you choose within the sportsbook. This obviously includes NHL action.
So, when NHL Playoffs 2020 odds come out, you'll be able to place a bet without hesitation. Again, you must make wagers in order for your bonus to be active.
You cannot simply put in $200 into an account, receive your $200 bonus and then cash out. Depending on which sportsbook you go with, there will be a number of wagers you must meet.
With that being said, with all of our partners putting a welcome bonus on the table, your options to increase your accounts are through the roof.
Which sportsbook has the highest NHL Playoff odds
With dozens of partners we work with here at Canada Sports Betting, you're always going to find different odds when it comes to NHL action. Whether it be NHL playoffs first round odds or a second-round showdown, things will always be changing up.
So, who do you go with? That will be your call. The biggest thing we try to encourage is to open up as many sportsbooks as possible to see which outlets have the best odds.
In addition, you can also take a look at our odds widget, which showcases the different odds delivered by the different sportsbooks side by side.
Whether you're looking at a pre-match bet, right in the middle of the action, or a futures pick, shopping around and seeing what's out there will always be your best choice. Then, you'll find the best odds and move forward with the bet you hand in mind.
Which Sportsbook has the most current NHL Playoff Odds?
While you're checking out all of the different sportsbook and their odds, some may have higher odds than others. However, they'll always be within spitting distance of one another. It's tough to pick one as the best for your best NHL odds, so checking out as many sportsbooks as possible will be necessary.
However, go into this knowing our partners will always provide the latest NHL odds as soon as they're available. If you check for a line and it's not up, it could simply be that the latest odds have not been released out of Vegas yet.
Also, don't forget that odds typically won't go up until a batch of games is done from a previous night.
So, if you're looking to bet the Leafs against the Sharks for example and the game is on a Friday night, it'd be best to check the odds on Thursday evening after the games that day are done.
However, this isn't the case for prop bets and futures bets. If you have a player in mind for who will win the MVP, that will be available much earlier. Think you know who will score the most goals in the Stanley Cup Finals?
That's something you can also take a look at. For prop bets, Sports Interaction (SIA) typically has the best up-to-date odds up in a timely fashion.
Who has the best app for NHL Playoffs Betting
When life comes at you, there's always going to be times where you've got to fly out of your house and will be away from your computers for hours and hours. When it comes to NHL betting, this is no longer a problem.
Many of our partners now offer all of its users the ability to place their wagers via their phones on a mobile app.
The benefits of the mobile app are that you can place your bet from wherever you might be. Say there's an injury on the New Jersey Devils, but you still think they'll win the Stanley Cup.
Well, on multiple sportsbooks, their 2020 NHL playoff predictions for their odds have dropped tremendously. You don't care and still want to bet on them despite their 2020 NHL Playoff predictions taking a hit. You can now do that from your phone.
At the end of the day, it's up to you to decide which betting option you prefer: desktop or mobile? They both provide the same odds when you're searching. If you're more on the go, perhaps mobile is best.
But, if you're at home and in front of your computer a lot, a desktop could be your best decision in this case.
While not all of our partners offer an app, a good chunk does. On those apps, you have the ability to make bets, check live scores and in some cases even watch games live.
This Is How You Make The Best NHL Playoff Predictions tonight
Got a bet you're hoping to make before a big game? Well, you should never pull the trigger and make that bet if you don't know exactly what's going on with each team. And let's be real, you may not have enough time to do your research to be best prepared.
That's where Canada Sports Betting steps in.
On our site, we provide fans with quality research from our expert writers. This includes releasing our NHL Power Rankings and our NHL Free Picks. With the power rankings, we take a look at which teams have been on a hot streak and which teams have been on the decline.
In these rankings, we'll always provide context as to why we have teams ranked so high or so low.
Say for example the Dallas Stars go on a four-game winning streak and take down the Devils, Penguins, Avalanche and Rangers in the process. Then, their status in our rankings will certainly go up.
When it comes to our free NHL picks, we take a look at some of the biggest games on the schedule and discuss why we think a certain team will come out on top.
Whether it be injuries, players in a slump or more, we do the research and let you know why a certain team might be a favourite over the other.
So, before you're getting ready to place your different bets, be sure to check in with us at Canada Sports Betting to see who we think can help deliver you some happiness leading up to your wagers.
NHL playoff bracket predictions
In the highly competitive NHL postseason, NHL Playoff predictions for 2021/22 will be all over the place, as the league is stacked with talent across the board. The NHL playoffs odds 2021/22 will heat up around the end of April start of May.
We'll always do our best to pick the right matchups as the playoffs go on, by taking a look at how things will play out starting with NHL playoff first-round predictions.
This will be followed by NHL round 2 predictions, NHL round 3 predictions plus NHL conference finals predictions.
As the postseason goes on, different odds will be presented and more teams will see their positions move forward. And when the Stanley Cup Finals arrive, you better believe the excitement and areas to make bets will only increase.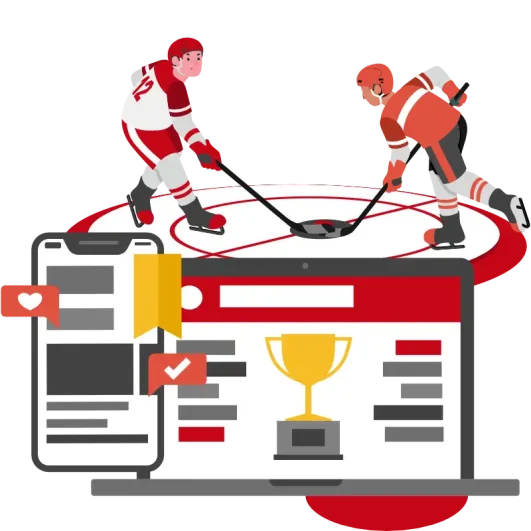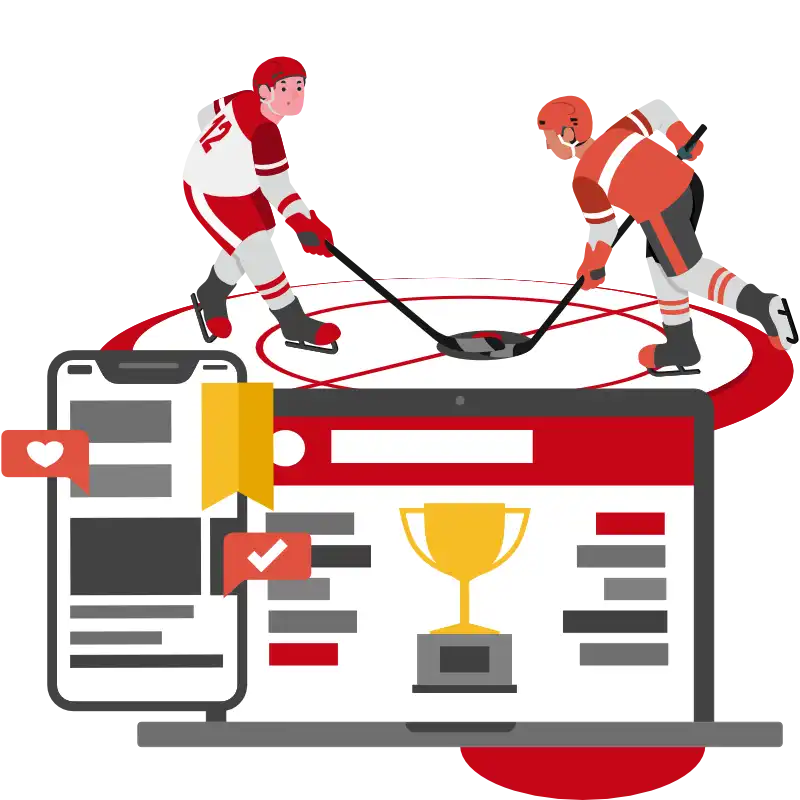 NHL Game 7 Predictions
Is there anything more exciting in all of the sports than a Game 7 in the playoffs?
You enter this game knowing your season is on the line. Win and you move on, but if you lose, your season ends in a heartbreaking fashion.
Well, imagine the excitement of betting on a Game 7 as part of your NHL series predictions? You'll be even more fired up as you're glued to your seat waiting to see if your team will be able to come away with a timely victory.
Leading up to the Game 7, you already know research and analysis will be delivered on Canada Sports Betting before the puck is dropped too.
NHL Second-Round Predictions
While some fans may be looking ahead to the conference finals and the Stanley Cup finals, don't sleep on second-round action. This is the opportunity where some mid-ranked postseason squads have the opportunity to shock us all and take down a top dog.
We've seen this happen before and don't be totally stunned should it happen this season as well. There are superstars stacked on every team in the NHL. On any given night, any team could beat another.
And in the second round of the postseason, updated odds and prop bets will be enticing to bet on. Why not make a move if you're confident in an underdog or favourite? It could really pay off.
NHL Playoff Odds FAQ
What are NHL playoff odds?
It depends on what time of the year you're looking to bet. Generally, NHL playoff odds pursued early in the season are futures picks. This often means outright plays based on the team's chances to clinch a postseason spot or even win the Stanley Cup.
Once you get closer to mid-April, the market for NHL Playoff-related odds expands in its variety. Once matchups are set, you bet on individual games just like you would for a regular season game, along with the results of the various series.
What are NHL playoff odds to win series?
The NHL playoff odds to win series projects what both teams' chances are at winning their seven-game playoff series. These become available as soon as the matchup is set and are available for most of the series even if a team goes up 3-0 (depending on the book).
What are NHL playoff odds to win Stanley Cup?
The NHL playoff odds to win Stanley Cup estimate what chances each team has at winning the Stanley Cup. These odds become available as soon as the previous Stanley Cup Final ends. But they constantly change as the season goes on.
When are NHL playoff odds released?
The NHL playoff odds to win the Stanley Cup are released right after the NHL season. Other NHL playoff-related odds, such as each team's chances of making the playoffs, are released throughout the offseason. The Stanley Cup odds are available all year long.
How do you keep track of the odds?
You can keep track of the NHL playoff odds by constantly being updated with the NHL season. You can also search for them online via sports blogs and betting sites. Also, check the sportsbooks for any changes to odds. A cue would be when a team goes on a winning or losing streak, makes big roster changes, and/or has players injured.
How are these odds determined?
NHL playoff odds are determined by the bookmakers for the sole purpose of getting players to bet – a balance of lines that entice the majority of betters while still giving them some security. Ideally, they indicate the probability of a team to make the playoffs. But that is part art and part science. While there are advanced statistics used to gauge this, a lot of it is human intuition.
Why can't I find NHL playoff odds?
Sometimes some books take down NHL playoff odds temporarily. This could mean they are changing the odds or are waiting for more information so they can more "accurately" line the odds. Some books also don't offer NHL playoff odds, but rarely. Most of the top books do.
How do you bet on NHL playoff odds?
You can bet on NHL playoff odds by signing up on online sportsbooks. Many of the best books are open for Canadians and promote the NHL. These books also offer sign-up incentives and some offer NHL-specific betting promotions.
Which sportsbooks offer the best NHL playoff odds?
There are two ways to find the best NHL playoff odds. The old-fashioned way is to go to every sportsbook you know and check which offers the best odds. The easier method is to find a site, like Canada Sports Betting, which creates a table comparing the different odds side by side. Odds change frequently, so it's always best to check the lines before making your next commitment!
How are NHL Playoffs Determined?
After 82 games of regular season play, the three teams with the most points from each division qualify for the playoffs. Two wild card spots are reserved within each conference for the teams with the best records outside the top three in the division. Each conference has eight playoff spots, consisting of the top three from each division and two wildcard entrants.
How Do NHL Playoffs Work?
In the first round, the first seed in the conference faces the second wildcard team, and the division winner with fewer points goes up against the first wildcard entrant. Second and third-seeded teams in the division meet each other. Teams are not re-seeded in the second round, keeping the competition mostly within the division before the conference finals, which determines the teams that play in the Stanley Cup. All rounds are best-of-seven series.
What are Different Types of NHL Playoff Bets?
Standard bets for NHL playoff games include straight up moneylines, puckline spread wagers, and over/under on total goals. A wide variety of prop bets are available, where you predict outcomes for aspects of the game. NHL Stanley Cup futures involve predicting the winner before the Final begins. You can also bet on individual series and the outcome of conference playoffs.
How Do Stanley Cup Futures Work?
Throughout the NHL season, sportsbooks publish odds for each team, representing their chance to win the Stanley Cup. As teams are eliminated from playoff contention, or lose their playoff series, the list of teams you can bet on for Stanley Cup futures shrink. Futures odds change often throughout the regular season and playoffs.
What's NHL Playoff Bracket Betting?
Predicting the entire bracket of the NHL playoffs, whether a single round, conference, or the Stanley Cup playoffs as a whole, has become a more popular type of wagering pursuit, reflecting the influence of March Madness brackets. Bracket betting is more difficult than other types of NHL bets because you must correctly predict the outcome of multiple series. Perhaps more than any other form of NHL bet, bracket betting requires more luck than skill.
Where Can You Bet on NHL Hockey?
Canadians can place wagers on the NHL playoffs through two providers: sportsbooks and provincial betting lotteries. Sportsbooks give you full access to individual game bets, futures, props, and other types of hockey bets. Provincial sports lotteries mostly restrict bets to individual games, while requiring a minimum of three bets per ticket to win.
Why Do NHL Playoffs Betting Odds Change?
NHL playoff odds change frequently, responding to changes such as injuries, roster moves, and the amount of money wagered on different outcomes. For example, if a team is a popular bet to win the Stanley Cup, the odds for betting on that team will become more expensive.
When Do the NHL Playoffs Start?
This year, expect the Stanley Cup Playoffs to begin in late April. The NHL is still balancing out their schedule in response to the COVID-19 pandemic, and while 2021/22 has been the most stable season since it started, the league still afforded itself some wiggle room. After this year, playoffs will likely start in the second week of April like they did in the pasat.
Which player has the Most Stanley Cup Rings?
Henri Richard, also known as the "Pocket Rocket", won 11 Stanley Cup rings with the Montreal Canadiens, scoring the last goal of the last game twice in his career.