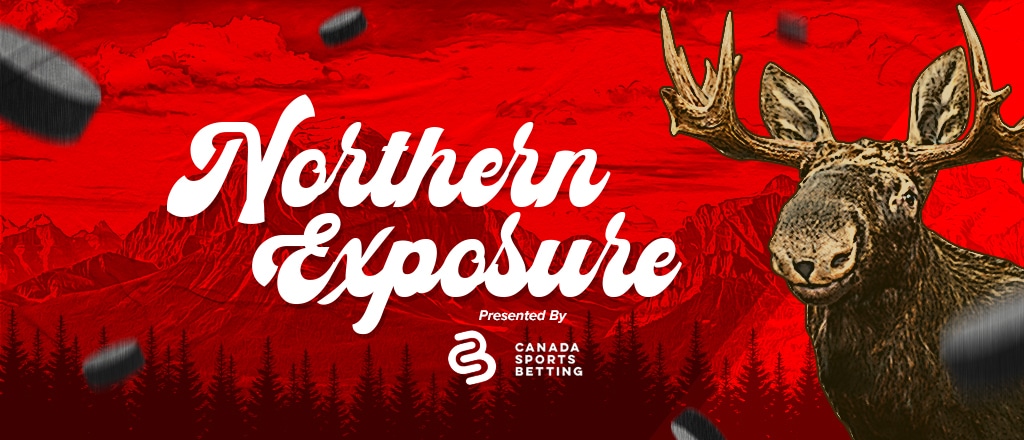 Each week, Canada Sports Betting recaps all the top sports betting and iGaming news in Canada, highlights the event of the week, and takes a look ahead at some of the most intriguing games to bet on over the weekend.
Our top sports stories this week
Event of the week
UFC 285 – Saturday, March 4
The highly anticipated UFC 285 event is finally here!
The stacked card will feature two title fights – Jon Jones vs. Ciryl Gane for the Heavyweight Championship and Valentina Shevchenko vs. Alexa Grasso for the women's Flyweight Championship – as well as the UFC debut of decorated college wrestler Bo Nickal, who will take on Jamie Pickett.
Jones is making his return to the Octagon for the first time in three years. He moved up a weight class to fight in the Heavyweight category for this bout and is a -170 favourite at bet365 to win the fight and claim the Heavyweight title.
UFC fans and bettors are calling this a can't-miss event, so don't miss out on the chance to place a few wagers before the event gets underway from Las Vegas on Saturday night.
PointsBet reveals Ontario numbers
On Tuesday, PointsBet released its half-year financial results in an investor's presentation for the six months ended Dec. 31, 2022.
Online sports betting in Ontario generated a net win of $2.5 million AUD (roughly $2.3 million CAD), while iCasino produced a net win of $4.2 million (roughly $3.85 million CAD).
These numbers demonstrate how valuable iCasino offerings are to private operators in comparison to sports betting. In comparable regulated markets in the United States that offer both iGaming and online sports betting, like Pennsylvania, Connecticut, and New Jersey, iGaming represents roughly 80%-90% of the monthly handle in those states.
Unfortunately, the revenue reports released quarterly by iGaming Ontario, a subsidiary of the Alcohol and Gaming Commission of Ontario (AGCO), don't break down financials into categories, and by operator market share, like many states do south of the border.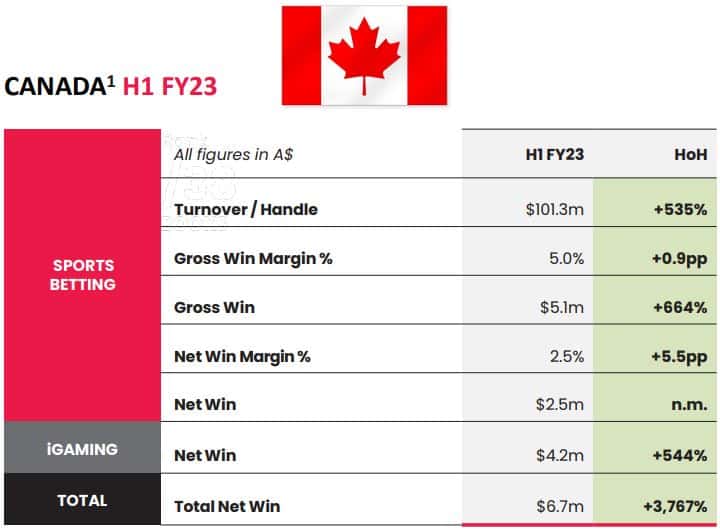 A few other highlights regarding PointsBet's Ontario performance (numbers in AUD unless otherwise stated) from the presentation:
Revenue: $6.7 million, EBITDA: $19.4 million
Total sportsbook handle was $101.3 million driven primarily by the NFL, NBA, NHL and FIFA World Cup.
Customers continued to experience and enjoy in-play betting with in-play mix of overall handle growing throughout H1FY23.
Sportsbook Gross Win was $5.1 million and Net Win came in at $2.5 million.
Casino delivered $4.2 million in Net Win.
In total across the full offering, Canada delivered a Total Net Win of $6.7 million.
Cash actives in the 12 months to December 31, 2022 grew to 20,777 with average bets per customers and average bet size metrics exceeding expectations.
While Marketing spend was $13.7 million CAD in H1FY23, the Canadian Net Win Payback Ratio continues to improve driven by higher expected customer lifetime values.
The Australian-based operator was one of the first to launch in Ontario on April 4 when the regulated market opened in the province.
FanDuel partners with MLB
FanDuel, one of the first operators to launch in Ontario last April, is now an official sportsbook partner of Major League Baseball.
The multi-year partnership will give FanDuel the right to use official MLB branding and category designations for its sportsbook, daily fantasy, FanDuel faceoff platforms, and in its marketing campaigns. FanDuel has worked with MLB as an Authorized Gaming Operator of the league since 2019.
"The baseball fan is one of the most engaged in all of sports, which is why we're delighted to be the new sports betting partner of Major League Baseball. Our team is eager to showcase FanDuel in nationally broadcast MLB games and help enhance game narratives and bring America's Pastime directly into our mobile app and OTT platform for fans to watch and wager," said Christian Genetski, President, FanDuel Group, in the release. "We're also very excited about the opportunity to work together with MLB on new betting product innovations that will give customers the opportunity to enhance their experience on every pitch from March until October."
FanDuel also has established partnerships with three MLB teams: New York Yankees, Cincinnati Reds, and Detroit Tigers.
Last summer, the Ontario Lottery and Gaming Corporation and its PROLINE sportsbook became the first MLB sportsbook partner in Ontario. The deal enabled OLG to activate baseball content across its digital platforms through its PROLINE + sportsbook and to provide free-to-play digital games throughout the baseball season.
BCLC extends RG partnership with MGM Resorts
MGM Resorts International and the British Columbia Lottery Corporation have extended their existing partnership regarding player health services for five more years, they announced Wednesday.
As a result, more bettors across North America will have access to the tools and resources that support healthy play via the GameSense program when they visit any of MGM Resorts' properties.
GameSense is used by provincial lottery corporations in the provinces of Alberta, Saskatchewan, and Manitoba in addition to British Columbia. The program has four cornerstones: the making of informed decisions, positive play, processes focused on referral and follow-up support, and an overall focus on safer products and play environments in general.
GameSense encourages healthy gambling behaviours by giving players the tools to make informed decisions. This includes helping players understand the odds of winning, the truth behind gambling myths, and how to set and stick to personally allocated time and monetary limits.
Last week, BetMGM made a renewed promise to promote responsible gambling with the help of the British Columbia Lottery Corporation's GameSense program as part of Problem Gambling Awareness Month for March.
TVO panel on sports betting
A few weeks ago, Canadian Gaming Association President and CEO Paul Burns was a panelist on TVO's The Agenda to discuss the problem gambling concerns associated with the recent launch of Ontario's regulated iGaming market and the boom in advertising associated with it.
Burns was joined by Brian Masse, NDP MP for Windsor-West, Chelsea Rodrigues, problem gambling counsellor at Hôtel-Dieu Grace Healthcare, and Deirdre Querney, registered social worker with the City of Hamilton's Alcohol, Drug & Gambling Services.
The 30-minute discussion touched on a number of key issues, with the panel coming to a general consensus that the current volume of online gambling advertisements in mainstream media is concerning and that an effort should be made by all industry and media stakeholders to scale the number of ads back.
Rodrigues and Querney both stated that their problem gambling caseloads have increased since the pandemic and the launch of Ontario's market last April, but they also acknowledged that further research into the effects of gambling advertisements is needed before declaring the new market as the cause of a recent spike in demand for their respective treatment programs.
Canada Sports Betting recently spoke with Canadian-certified gambling counsellor Diana Gabriele from Hôtel-Dieu Grace Healthcare, and Rodrigues confirmed many of her colleague's observations.
"There has definitely been an increase in the number of young men (typically ages 20-40) with sports gambling problems," Gabriele previously told CSB. "The No. 1 issue these men are complaining about is the media exposure. They can't even watch a game without commentators mentioning the odds, stats, and bets. They said it's so incredibly triggering for them, that it really challenges their ability to manage their gambling or abstinence."
The TVO discussion took place several weeks after the CBC aired an eye-opening documentary on "The Gamblification of Canada" via one of its flagship programs, The Fifth Estate.