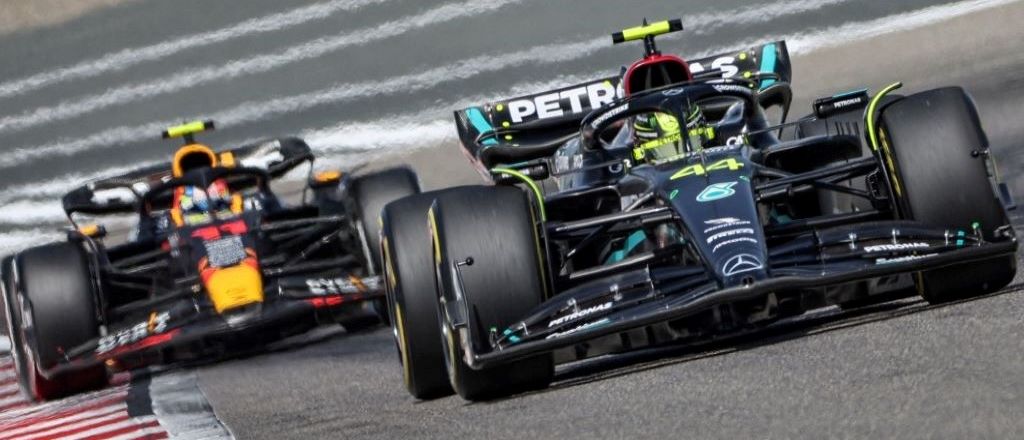 The 2023 Formula 1 auto racing season kicks off this weekend with the Bahrain Grand Prix. This upcoming season looks to be an exciting one with plenty of storylines to keep us engaged all the way until the final race in Abu Dhabi this November.
Can Max Verstappen repeat his dominant 2022 performance and complete the three-peat? Will Lewis Hamilton have a comeback season? Or, have we seen the last of the seven-time World Drivers' Championship winner's peak? Will another team break up the Mercedes – Red Bull duopoly in the Constructors' Championship?
These are just some of the many interesting storylines heading into the season. Here's everything you need to know about those storylines, the upcoming season, and the opening race in Bahrain on March 5, including our picks for the Bahrain Grand Prix winner and other futures betting markets covering the entire season.
Bahrain GP Preview and Picks
Last year's F1 champion, Verstappen, has never won the Bahrain Grand Prix. In his eight appearances, he's finished as high as second twice, but he's never won it all. Last year, Verstappen was forced to retire due to fuel system issues, so many are eagerly anticipating what he can do in this year's edition of the race.
There are two ways most people are thinking about Verstappen's 2023 chances at the Bahrain Grand Prix: Either he's cursed and will never at the track, or he's due and 2023 is his year to win it. Based on his test run performances, the answer is the latter.
Verstappen was the best performer over the first two test days before ceding the third day to his Red Bull teammate Sergio Pérez. Pérez managed to record the fastest lap of all three Bahrain Grand Prix test days. Based on these performances and last season's form, Verstappen and Red Bull should perform very well at the Bahrain Grand Prix.
Another contender we want to spotlight is last year's Bahrain Grand Prix winner, Charles Leclerc. The Monaco native started out last year's F1 season strong by winning two of the first three races while recording the fastest lap in each of those three races. Leclerc faded and had a rough stretch in the middle of the 2022 F1 season, but finished strong and ended the season in second place behind Max Verstappen.
Leclerc has shown he can dominate the Bahrain Grand Prix after nearly completing a grand slam on the course last year. While I think Verstappen should be favoured this year, I don't want to underestimate Leclerc.
The best bet for the Bahrain Grand Prix is for Leclerc to finish on the podium, which is being offered at -150 odds at bet365. This is good value considering Leclerc's pedigree and and his previous dominance at the course.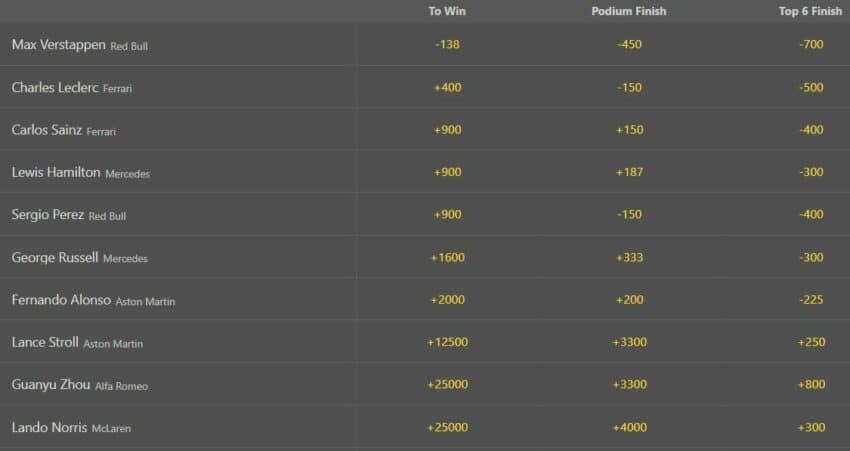 Now that we've discussed the opening race of the F1 season, let's look ahead to the rest of the season.
Season Preview: World Drivers' Championship
Verstappen is looking to win his third straight Formula 1 World Drivers' Championship and deliver another Constructors' Championship to Red Bull. Verstappen won 15 Grand Prixs last season, breaking Michael Schumacher's record of 13 wins from the 2004 F1 season. Verstappen comes into this season as a seemingly unstoppable force, so we find it difficult to bet against him, which is reflected in the betting odds.
You'd be hard-pressed to find a sportsbook giving Verstappen plus odds to win the 2023 F1 Drivers' Championship. Bet365 is offering -150 odds right now, which is reflective of the general market. Some sportsbooks are also offering a betting market for who will finish highest excluding Verstappen, which is just another sign of how dominant Verstappen is expected to be this season.
Bet365 has Leclerc as a significant underdog with +400 odds to win the 2023 F1 title, but he's the favourite among drivers not named Max Verstappen. Leclerc's odds to finish top excluding Verstappen are a much more reasonable -120 at bet365. If Leclerc has a more consistent season than last year, we can easily see him finishing second again, but this pick might not have the best value considering the alternatives.
Hamilton is one of those alternatives despite not winning a single race in an F1 season for the first time in his F1 career. This led to him recording his lowest ever finish in sixth place overall last season. Issues with his car, which reportedly won't be a problem this year, largely caused Hamilton and Mercedes' poor performances last year, so there's reason to think this year will be better for him. Despite this, Hamilton's slump last season has sportsbooks more down on him than they'd usually be.
Hamilton's odds to win the F1 title are similar to Leclerc's at +500, but he's a bigger underdog in bet365's market that excludes Verstappen. Hamilton is a +275 underdog to finish best among the rest. If you're backing Hamilton to bounce back strong after a disastrous 2022 campaign, this bet represents good value.
If you think last year's poor performance was a sign of things to come for Hamilton this year, consider betting on his Mercedes teammate George Russell to have a better record than Hamilton this season. Russell is currently a +137 underdog against Hamilton in bet365's head-to-head market. Russell finished fourth last season in his inaugural campaign with Mercedes and was responsible for Mercedes' sole Grand Prix win last year when he won the São Paulo Grand Prix in November. Russell is one of the biggest rising stars F1 has to offer, so it wouldn't be completely surprising to see him take his game up to another level and finish above Hamilton again.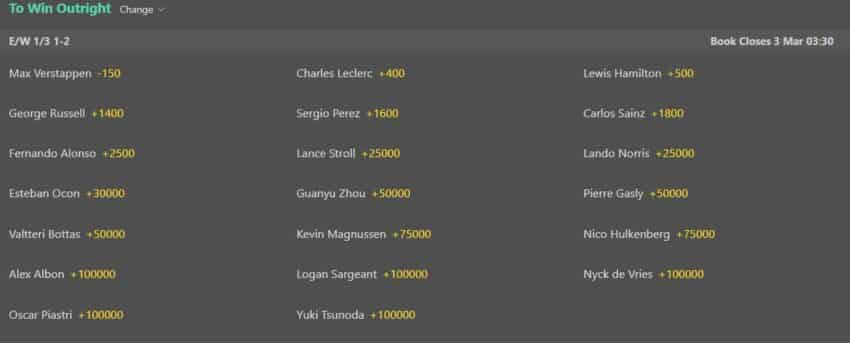 Season Preview: Constructors' Championship
Red Bull enters the 2023 F1 season as a heavy favourite with -150 odds in this category. This is largely due to the dominance of Verstappen, which we've already discussed, but Pérez's consistency also plays a big role in why Red Bull is favoured.
Pérez finished in a podium position in half of the Grand Prix events last season. He finished third overall in the Drivers' Championship, just three points behind Ferrari's Leclerc. It would be unfair to expect the same kind of dominance from Verstappen this season, but if he and Pérez can maintain even a slightly lower level of performance, Red Bull should repeat as Constructors' champions.
While sportsbooks haven't tipped Lewis Hamilton to overtake Verstappen, they have more faith in his team against Red Bull this season. Bet365 gives Mercedes +300 odds to win the Constructors' Championship. Mercedes finished third last season thanks to Hamilton's below-par showing.
Hamilton and Russell will both need to significantly drive better if Mercedes is going to jump to the top of the F1 standings this year. I think too many things need to go right for it to happen, so I'd suggest not betting on Mercedes to win the Constructors' Championship, especially since there are safer Mercedes bets out there.
One of the safer bets we're eying is Mercedes' head-to-head performance versus Ferrari this season. Bet365 has Mercedes as a slight underdog against Ferrari with +100 odds compared to Ferrari at -138. We can make a good argument for either team to finish second to Red Bull this season, so we don't think you can really go wrong betting on Mercedes at plus money here.
There was just a 39-point gap between Ferrari and Mercedes last year. If Hamilton improves the way we are expecting him to, he could make up that difference by himself. However, if Hamilton's slump continues and Ferrari's Carlos Sainz continues his upwards trajectory, Ferrari could finish ahead of Mercedes for the second straight season.