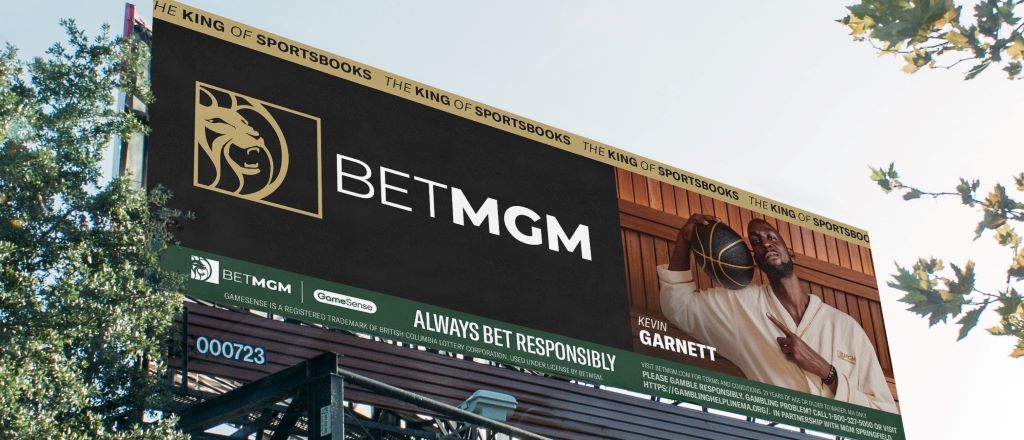 BetMGM is making a renewed promise to promote responsible gambling with the help of the British Columbia Lottery Corporation's GameSense program.
In a press release Friday, BetMGM says responsible gaming messaging will be featured within the operator's mobile app and advertisements across all platforms, including billboard marketing, TV, print, and radio across the U.S. and Canada. Additionally, responsible gaming messages and banners will be incorporated into BetMGM's digital and social platforms, as well as on property signage within physical BetMGM sportsbooks south of the border.
This push to promote responsible play will coincide with Problem Gambling Awareness Month in March.
"We are committed to leading the industry in promoting responsible gaming, which is why we're announcing this unprecedented pledge to spotlight responsible gaming messaging in our advertising," said Adam Greenblatt, BetMGM CEO. "As the legalized sports betting and online gaming industry continues to expand, it is vital that we not only equip players with tools and resources for how to play in a responsible and safe manner, but that we also make a significant commitment to showcasing responsible gaming in our advertising."
BetMGM has adopted BCLC's innovative GameSense responsible gambling program. Launched in 2009, GameSense is designed to help players make informed gambling decisions and improve player trust, awareness, and education using research-based guidelines and best practices. The program is licensed in 14 gambling organizations across North America and has earned international recognition from the World Lottery Association, the National Council on Problem Gambling, and the North American Association of State.
GameSense is used by provincial lottery corporations in the provinces of Alberta, Saskatchewan, and Manitoba in addition to British Columbia. Its practices have also been adopted in Connecticut and Massachusetts and by MGM Resorts International. The program has four cornerstones: the making of informed decisions, positive play, processes focused on referral and followup support, and an overall focus on safer products and play environments in general.
GameSense encourages healthy gambling behaviours by giving players the tools to make informed decisions. This includes helping players understand the odds of winning, the truth behind gambling myths, and how to set and stick to personally allocated time and monetary limits.
BetMGM in Ontario
BetMGM launched its sports betting and iCasino platforms in Ontario on April 4, the day the province launched its regulated iGaming market.
However, shortly after launching in Ontario's market, the province's industry regulator, the Alcohol and Gaming Commission of Ontario, fined BetMGM for violating its strict advertising requirements.
BetMGM Canada was tagged with a monetary penalty of $48,000 for violations of both Standards 2.04 and 2.05.
Standard 2.05 prohibits the advertising of inducements, bonuses or credits, except when a user is on the operator's direct website or through direct advertising and marketing issued after receiving active player consent. While Standard 2.04 requires that all operator marketing, advertising, and promotions must be truthful, not mislead players or misrepresent products, including materials that imply that chances of winning increase the more one spends.
The AGCO cited the following violations:
A "$250K Launch Party" advertisement, including a contest offer where the first-place winner was to receive $100K in casino bonus. The post was initially tweeted on April 4, and then again on April 11.
A "Bellagio" advertisement, including an offer of a $10 casino bonus in return for a $25 bet. The post was tweeted on April 4, April 6, and April 8.
A "Jimi Hendrix Free Spin Friday," offering a chance to win 100 free spins in return for following its Twitter account. The post was tweeted twice on April 8.
A tweet stating that "the more money you put in per bet, the higher your chance is of winning," posted on April 10.
Canadian hockey icons Wayne Gretzky and Connor McDavid are working for BetMGM as brand ambassadors. Canadians have likely seen the pair in a recent TV advertisement for BetMGM. McDavid signed in March as one of the first active professional athletes from the four major professional sports leagues to become an ambassador for a sports betting operator, joining Gretzky who signed in June 2021.
Academy Award-winning actor Jamie Foxx and Basketball Hall of Famer Kevin Garnett also work as brand ambassadors for BetMGM and have appeared in several advertisements.
The sheer volume of sports betting advertisements in Canada, and especially Ontario, since the launch of the regulated market last April has worried many problem gambling professionals who say there's been an increase in people seeking treatment for gambling issues.
A recent CBC documentary on the harmful effects of sports betting advertisements also aired in January, which raised a few eyebrows across the industry.
According to a new Ipsos poll, Canadians are growing tired of the bombardment of ads and believe there should be limitations placed on the sheer volume of advertising across the country.