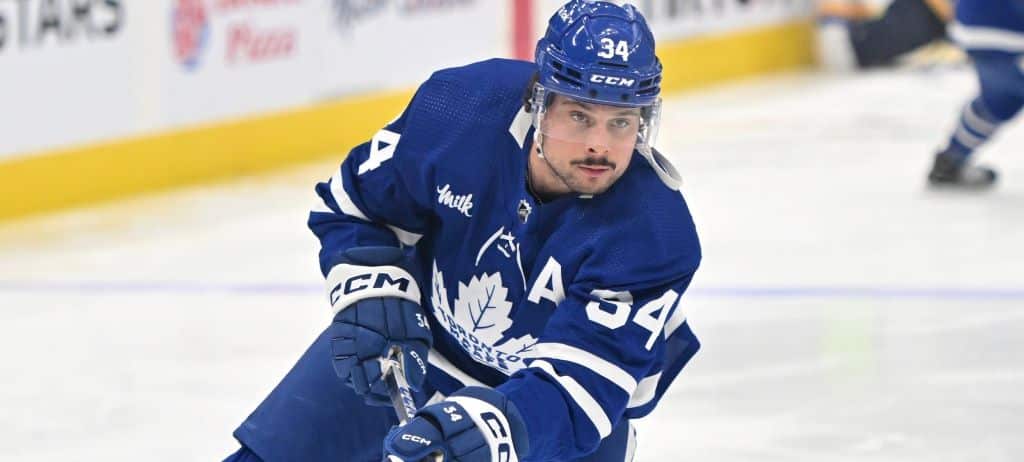 Last week, The Fifth Estate, a Canadian investigative documentary series that airs on the national CBC Television network, explored the sudden explosion of sports gambling advertisements across Canada and the potential impacts these advertisements will have on society.
The 45-minute episode titled "The Gamblification of Canada" described the recent explosion of sports betting advertisements in Canada as "irresistible to the most problem gamblers" while exploring the sports gambling issues the United Kingdom recently endured. The program relied on the expertise of many overseas industry experts from the UK to make a strong point that the advertising boom will likely have serious problem gambling implications as Canada's blossoming sports betting industry matures.
And although the volume of sports betting advertisements in Canada is certainly concerning, the CBC program didn't explore the issue from the perspective of the sports betting industry and private operators in depth. Host Bob McKeown did conduct an interview with Canadian Gaming Association President Paul Burns, who pleaded that "the product is directed at adults" when asked about the effect the unrelenting barrage of sports betting advertisements, which feature NHL stars like Wayne Gretzky, Auston Matthews, and Connor McDavid, could have on kids viewing them.
"Any gaming operator I've ever talked to, they're not looking to build their business on the backs of problem gamblers," Burns said in the interview. "They don't want that kind of relationship with the customer. They want a healthy relationship with the customer. They want the player to understand that they need to play within their means, play within their budgets. They need to use it for entertainment. It's not a way to make money, it's a form of entertainment."
The program did briefly touch on some of the strict advertising rules that Ontario's regulators – the Alcohol and Gaming Commission of Ontario and iGaming Ontario – have in place since the province's regulated iGaming market launched last April, but they are, in fact, quite comprehensive.
In addition to these strict advertising standards, private operators are also implementing a plethora of responsible gambling tools for bettors. Many of these tools have been, or are being, reviewed by the Toronto-based Responsible Gambling Council and its RG Check program, which ensures operators have the most recent responsible gambling policies and programs in place to provide player education and effective safeguards for the prevention and mitigation of gambling harms.
The general industry reaction on social media to The Fifth Estate's portrayal of the current Canadian sports betting landscape was that the documentary was one-sided. Ryan Doyle, the host of The Guaranteed Money Podcast which focuses on the multi billion-dollar sports wagering industry, was shown in the documentary interviewing BetMGM CEO Adam Greenblatt.
The market requires healthy gambling habits to be successful
All eyes are on Ontario right now as its regulated iGaming market continues to grow with nearly 70 online gaming sites now live in the province from over 40 different private operators.
The AGCO developed the legal framework for Ontario's iGaming industry and it implemented strict advertising standards for private operators ahead of the launch of the market. Regulators have prohibited the promotion of bonuses or sign-up offers in a public forum, such as billboards, and social media platforms like Twitter or TikTok. A level of consent is required from all players in order for them to receive deposit, signup, or bonus offer information.
The advertising standards spell out that minors, self-excluded persons, or high-risk players can't be targeted by advertisements. A responsible gaming message must also be included in all advertising, and the iGO logo needs to appear on all operator websites, advertising channels, and social media so that players know they're playing with a government-approved and legal operator. Ontario regulations state self-exclusion programs must be universal, so if you report yourself as a problem gambler, you won't be able to open or use accounts with any of the operators across Ontario.
In fact, the AGCO has fined several operators, including DraftKings, PointsBet, BetMGM, and Unibet, for violating the following sections of its advertising standards:
Standard 2.05 prohibits the advertising of inducements, bonuses or credits, except when a user is on the operator's direct website or through direct advertising and marketing issued after receiving active player consent.
Standard 2.04 requires that all operator marketing, advertising, and promotions must be truthful, not mislead players or misrepresent products, including materials that imply that chances of winning increase the more one spends.
"The AGCO holds all registered operators to high standards of responsible gambling, player protection and game integrity, and monitors their activities to ensure they are meeting their obligations under Ontario's Gaming Control Act and the Standards," stated Tom Mungham, CEO and registrar of the AGCO, in one of the news releases relating to the fines.
The advertising standards have forced private operators to evolve their marketing practices beyond just offering massive bonuses to entice players. One operator, FanDuel, elected to launch in Ontario with only responsible gambling advertising.
"I applaud the AGCO. I think the way that they've approached the market is in a way that is safer for Ontarians," General Manager of FanDuel Canada Dale Hooper previously told Sports Handle. "We're fine with the approach, because at the end of the day, the industry needs to prove that it's safe. No advertising of inducements was a very important thing. I think what it does is that it enables to build a trusted brand through your points of differentiation, not just price, price, price, price. It lends itself to a better customer experience."
Prior to the launch of Ontario's market, several sports betting executives debated the importance of having responsible gamblers in order for the market to have long-term sustainability. The industry simply can't exist without healthy and responsible gambling habits from its players.
"You can't give people the impression their lives will be magically transformed by opening up a sports betting account or any kind of gaming account," Kindred Group's Country Manager of Canada, Amanda Brewer, said during a webinar hosted by Brock University on sports betting last February. "There are a lot of checks and balances in place in terms of the marketing and advertising just to make sure this is done as responsibly as possible."
Canadians are already gambling with unregulated operators
An illegal grey sports betting market is still present in every Canadian province except Ontario. Research conducted by the Canadian Gaming Association suggests Canadians are betting an estimated $14 billion per year through illegal channels.
Many of those offshore websites have limited or no consumer protections. When you wager with an illegal offshore sportsbook, your deposits aren't protected, your winnings may not be paid out, your personal information and data are vulnerable, and gameplay may not have fair and competitive odds. Many offshore sportsbooks also aren't mandated to provide limit-setting features and other responsible gambling tools to keep the experience fun and within budget for bettors.
Grey market operators have been running advertisements across Canadian platforms for decades, albeit at much lesser volumes than we're seeing since the launch of Ontario's regulated iGaming market. There was no mention in the documentary about the serious dangers of wagering with unregulated sportsbooks, a practice that is very commonplace across Canada.
The recent evolution to a regulated online gambling market in Ontario has ensured local consumers have access to the latest and best responsible gambling tools and practices, but bettors in other jurisdictions of Canada are still vulnerable unless they choose to wager with legal provincial lotteries, such as the British Columbia Lottery Corporation's PlayNow platforms.
Survey says
Last July, Canada Sports Betting conducted a survey that asked 1,222 respondents from Ontario about their views on gambling advertisements, concerns, and the legal/illegal implications of wagering with specific sportsbooks.
Almost 75% of people surveyed thought there were too many sports betting ads, but more than half said they don't feel incentivized by the ads to place bets.
The Baby Boomer demographic saw television and public space advertising as the biggest concern by a nearly 10% margin (32.9% overall share), while Gen X gave a slight edge to social media ads (29.8%, about 1% more than TV) and Millennials saw it as the leader by a significant margin (33.2%, about 11% more than TV).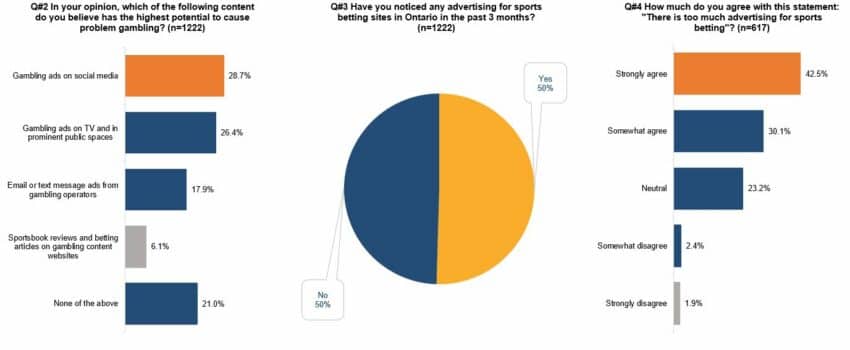 More than 55% of the respondents interested in online sports betting said they simply don't do it because they don't know how. It's clear that more education and learning tools are necessary in order for people to feel comfortable signing up and placing wagers with Ontario sportsbooks. It was also very apparent in the study that respondents had no idea how to distinguish which sites were legal and which were illegal.
It's up to the media, regulators, and private operators to do a better job of educating potential, and existing, Ontario and Canadian bettors about all facets of this emerging industry.
More research being done on harms of advertising
The Canadian sports betting industry is taking the recent advertising explosion in Ontario very seriously.
Flutter, in conjunction with the RGC, is conducting vital research on the significant influx of marketing and advertising in the Ontario online gambling industry as a result of the launch of the new market.
"Through this research, we not only have the ability to affect necessary changes to our marketing and advertising standards here in Ontario, but also the ability to make great impacts to the harm minimization efforts of jurisdictions all around the world," said RGC CEO Shelley White in a release. "This comprehensive study truly highlights the culture shift that the industry is currently undergoing, and by leveraging our research partners, we can make greater impacts in protecting players and communities."
The results of the study will be available in 2024 and they should provide critical data points for potential changes in the volume and types of sports betting advertising being offered in the future. This research will be extremely valuable for any other Canadian provinces contemplating adopting an open private sports betting market, like Ontario, in the future.
Regulators can control ad volume
The Fifth Estate documentary could serve as a wake-up call for industry regulators as the volume of sports betting advertisements continues to increase.
Although regulators have taken serious measures to ensure the types of gambling advertising aren't harmful, there has been no action taken to limit the sheer volume of these advertisements. The onus has been put on individual broadcasters and companies to make decisions on the number of ads that appear on their respective platforms.
The good news, though, is that iGO does have the ability to intervene and limit the number of sports betting advertisements, if necessary.
"We have put the provisions in the operating agreement [with operators] that if we do need to do so, we can limit advertising in a very quick manner. We'll be monitoring this very closely," said David Smith, the director of iGaming market strategy and insights for iGO, in a 90-minute webinar explaining the strict advertising standards for the new Ontario market last March.
Ontario's regulators have not yet revealed any plans to intervene and limit the volume of sports betting advertisements, but this documentary could at least prompt a discussion about potentially tweaking their advertising standards to further protect consumers.
There's no question that the volume of sports betting advertisements is a serious issue, especially for gambling addicts in treatment programs across Ontario and Canada. And we might not know the extent of the damage these advertisements could potentially be causing to the public until the RGC's groundbreaking research into the matter is released next year.
However, it's important to note that the industry has taken significant steps towards protecting consumers with its vigorous advertising standards and responsible gambling initiatives. Ontario's industry regulators have proven by swiftly fining private operators that they're taking advertising requirements seriously, and the sheer volume of ads will surely be a hot topic among Canadian industry stakeholders over the coming weeks and months.
Other countries, such as Belgium, have decided to recently ban all gambling advertisements, while others, like Spain, have reduced ads to running only during the late night and early morning hours.
Canada's media regulator, the Canadian Radio-television and Communications Commission (CRTC), has banned role models for children from appearing in ads for alcohol. Health Canada also has largely restricted advertising for tobacco and cannabis products. However, both of these organizations operate at the federal level, while sports betting is predominantly a provincial government matter.
Ultimately, it remains to be seen if any further restrictions will be placed on sports betting advertising, or if the high volume of ads will continue to flow on mainstream media channels across the country.