Starting as a daily fantasy sports (DFS) site, DraftKings was quick to enter the US market as a sportsbook once individual states were able to legalize sports betting in 2018. Canadians, particularly those in Ontario, can now get the same treatment, as the company's AGCO approval has led to their shift to more traditional, regulated means of operation. Find out what that means for you below!
Plenty of markets on North American sports
Low deposit requirements
Fast payouts
DFS no longer available in Ontario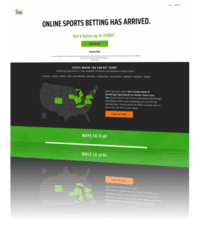 DraftKings Bonus
New users from states where DraftKings operates are eligible for a welcome bonus worth up to $500.
Deposit and get started!



Initially launching as a daily fantasy sports site in 2012 – and as the main competitor to FanDuel – DraftKings has evolved over the last decade into one of the more well-known sportsbooks in the United States. In 2017 DraftKings and FanDuel attempted to merge – but were blocked by the Federal Trade Commission.
Since the failed merger, DraftKings has been very focused on the sports betting market in the United States. After amendments to laws allowed states to enact their own on sports betting, DraftKings has been a fast player in the industry. DraftKings was the first mobile sportsbook to operate in New Jersey (the first state to legalize sports betting outside of Nevada) and since then, they have expanded throughout the US.
With Canada outlining it's path to allow regulated sports betting, and Ontario being the first to extend it beyond a public level, DraftKings was quick to pounce on the opportunity to get licenced in the country's biggest province. As of May 2022, Draft Kings Canada's sportsbook and casino are open to Canadians based in Ontario for regulated, legal use. Their next goal: cementing themselves as one of the best online sportsbooks currently available in Canada.
DraftKings FAQ

Can I Use DraftKings in Canada?
Ontarians can now bet on DraftKings! Like their competitors in FanDuel, their role has almost reversed with their licensing – a sportsbook and Casino is now available, but Daily Fantasy Sports is not. Canadians outside of Ontario can still participate in DFS, but not the Sportsbook and Casino component.
Who Can Play at DraftKings?
The DraftKings Sportsbook and Casino are currently available in Ontario, to those aged 19 or over.
How do I verify my identity on DraftKings?
DraftKings Ontario will ask you to verify your identity by asking for proof of your age to comply with the local and federal regulatory requirements. You will need to provide proper government-issued ID such as a driver's license and/or a copy of a bank/card statement. The copies have to be clear images.
Where is DraftKings Located?
The DraftKings headquarters is located at 222 Berkeley St., Boston, Massachusetts, 02116. DraftKings also has an office in the United Kingdom and Malta.
It is a bit strange their main office is in a state that has yet to legalize sports betting.
Is DraftKings available in Canada?
DraftKings Sportsbook became available in the province of Ontario in May 2022. It remains to be seen when they'll branch out into other provinces – that depends on how those governments roll out regulated single-event betting beyond their public operators.
Is DraftKings Sportsbook Legal in Canada?
DraftKings is legally permitted to operate in Ontario only. Access through the so-called grey market does occur throughout the rest of Canada but we at Canada Sports Betting do not endorse it. If you are located outside the province of Ontario there are legal sportsbook alternatives available.
In What Provinces is DraftKings Available?
The DraftKings sportsbook is available to residents of Ontario only.
Does DraftKings have a Mobile App?
Yes, the DraftKings Sportsbook app is available on both iOS and Android. With that said, since it's focused on the Sportsbook and Casino aspects of the platform, it will only work in Ontario or non-Canadian regions where they are permitted to operate.
How do I download DraftKings?
On the iOS or Google app store, search "DraftKings Sportsbook & Casino". After a quick installation process you'll be on your way.
How do I deposit on DraftKings?
You can deposit money to your DraftKings Canada account on your initial signup or by logging in and going to your personal profile. DraftKings accepts all major credit and debit cards, including Visa, MasterCard, and American Express. They also accept credit card gift cards and PayPal.
Can I make deposits on DraftKings with my credit or debit card?
DraftKings accepts all major credit and debit cards, including Visa, MasterCard, and American Express. However, some banks restrict transactions made on credit cards from gaming sites. They also accept credit card gift cards and PayPal.
How long does it take for my DraftKings deposit to clear?
It takes mere seconds for your DraftKings Canada deposit to clear. Your funds will automatically show on your balance from your profile. If your transaction does not go through, there may be some incorrect details from your method of payment.
What do I need to do to withdraw funds from DraftKings?
DraftKings Ontario will need to verify several aspects of your personal account and your activity on the site before issuing your withdrawal. This is in compliance with their anti-fraud policies.
You will have to have done the following to qualify for a withdrawal:
– Verified your email address
– Supplied proper documents to verify your identity and proof of ownership of the financial tools used
– Made at least one real money deposit
How long does it take to withdraw from DraftKings?
Your first withdrawal process might take some time, as you'll have to verify your identity. Draft Kings Ontario does typically try to take care of this during the processing window, though, which takes about three business days on their end. It can sometimes take another three business days after that for the funds to end up in your bank account, though this varies from bank to bank.
Can I set limits on my DraftKings account?
"Know your limits." Draft Kings Canada abides by this adage and will allow you to set limits to both your deposit and gaming limits on a daily, weekly, and monthly maximum.
To set these limits, simply login to your DraftKings Ontario account and select "Responsible Gaming".
Can I self-exclude myself on DraftKings?
To further honour responsible gaming, DraftKings Canada offers you the ability to restrict gameplay on the site. If setting betting limits still isn't enough, you can choose to pause your account.
Do this by logging in to your Draft Kings account. Select "Responsible Gaming" then select "Self Exclusion". You can choose to "Timeout", a temporary ban on yourself that ranges from three to 30 days or "Self-Exclusion", which is a ban from 1 to 5 years.
If you select Self-Exclusion, DraftKings Ontario will not reopen your account in most cases.
How do I contact DraftKings Canada?
To contact DraftKings' customer support, email [email protected]
Can I use a VPN to access DraftKings?
We strongly recommend you do not use a VPN to access DraftKings. People trying to access DraftKings from regions other than Ontario risk having their account blacklisted and winnings forfeited.
There are plenty of great online sportsbooks you can access in Canada without needing a VPN. We suggest you try these options out if you are looking to bet on sports.
What Sports are Available for Betting at DraftKings?
Bettors will find a large selection of sports at DraftKings. NFL, NHL, MLB, NBA, UFC, European soccer and golf are the biggest markets available on DraftKings. Bettors will also find odds on cricket, Australian leagues, car racing, and tennis.
Does DraftKings pay real money?
DraftKings is indeed a real money Sportsbook. Understand the risks involved with sports betting before making real money deposits and wagering on Draft Kings Canada.
How much money does DraftKings take from winnings?
DraftKings does not take any cut from winning bets, the winnings are all yours. DraftKings earns money from losing wagers only.
Can you do Parlays on DraftKings?
Yes you can. All the betting combinations from major online sportsbooks can be found on Draft Kings Canada. From single bets to parlays, round robins and teasers.
Can you Cash Out bets on DraftKings?
Yes. Certain bets will be available to cash out prior to the event in question at DraftKings Canada's discretion.
Do people win big on DraftKings?
As with any online sportsbook people do sometimes win big, but big losses are even more common. Luck is the ultimate decider when gambling so please gamble responsibly and within your means. Know your limits and stop when gambling isn't something you enjoy anymore.
Does DraftKings Accept Bitcoin?
DraftKings does not accept Bitcoin as a form of payment.
Signing Up For DraftKings Sportsbook

Sign up is a simple process but as with all legal books in Ontario, be prepared to provide validation documents to fully activate your account.
Fill in your account details and choose a secure password that you won't easily forget. Draft Kings Canada requires that your chosen password include at least one Uppercase letter, at least one Number and at least one Special Character.
After completing the prerequisite sign up process your account will be set up but not verified. You will be able to sign into your account but not make any deposits or bets until properly verified.
To fully activate your account provide images documents verifying your identity and permanent address within Ontario. Once these are submitted you should receive email confirmation that your account is ready to use in short order.
DraftKings Ontario
Look and Feel

DraftKings boasts a clean and stark design which provides all relevant information in an accessible, easy to read format.
White and Green text pops off the all black background and gives the interface a professional, curated feel.
What separates DraftKings Ontario from its peers is the social feed. A way to invite users into a more involved betting experience. Groups can be formed and the bets of those friends and personalities that users agree to follow will be on display. Choose to go with the flow of your preferred group or betting personality or choose to go your own way. Whatever you decide, taking part in the action with an added social dynamic makes engaging with DraftKings Ontario a worthwhile endeavour.
Official Sports Betting
and iGaming partner of the NHL

In October 2021 Draftkings Sportsbook became the National Hockey League's official partner for all things Sports Betting.
The deal affords Draft Kings the rights to use NHL logos and branding as well as offering bettors access to exclusive NHL sweepstakes and promotions throughout the regular season and the stanley cup playoffs.
In addition, a third member of this arrangement; Turner Sports, will feature DraftKings sports betting updates on their broadcast networks (like TNT) and on Turner websites like Bleacher Report.
All in all this gives Draft Kings Canada customers a unique opportunity to get closer to our country's favourite pastime and gives DraftKings itself a powerful means of attraction.
NFT-ease

The most intriguing offering connected to the DraftKings sportsbook suite has to be their foray into the world of NFTs.
Whatever you may think of spending real money on very unreal items, it's hard to argue that the closest thing to a legitimate use case for digital collectibles isn't digital sports cards.
Virtual sports cards and collectibles have carved out a considerable sector of the NFT space and DraftKings has taken notice. Their NFT marketplace boasts collections that span a wide range of sports and athletes. Ranging from digital art recreations of Tiger Woods' best "fist pump" moments to impressive deconstructions of Tony Hawk's various skateboards and everything in between.
All that is fine and dandy but does little to distinguish DraftKings from the bigger more established sports NFT products. That is where DraftKings Reignmakers comes in.
Reignmakers draws on DraftKings' daily fantasy roots to bring customers a fantasy game using collectible NFTs.
Collect real world stars of the NFL and UFC and use the cards in your collection to form the best possible fantasy squad. When your card's real world counterpart racks up the points, so will your Reignmakers team.
Now for the bad news; Reignmakers is not available to Canadian customers.
Major bummer.
So why even cover this you might ask? Why pull the rug out after describing a fun and unique way to bet on sports? Because Canadians aren't completely in the dark on this one.
You see Canadian bettors may not be able to participate in Reignmakers daily fantasy contests, or even buy Reignmakers packs to open themselves. They can however, buy and sell Reignmakers cards (as well as any other NFT DraftKings offers) on the peer to peer marketplace.
So in the end Reignmakers is not a total blackout for us in Canada, Keen football or UFC fans can keep a close eye on the market place and try to maximise value on undervalued cards. Do you think a rookie wideout's card is going for way less than it should ahead of a key matchup? Do you think a fighter has flown under the radar before their next bout? The DraftKings NFT marketplace offers Canadians a unique opportunity to wager on sports albeit in a diminished capacity.
DraftKings Dynasty
Rewards Program

Every bet on DraftKings Sportsbook Ontario will earn you a certain number of "Crowns", a currency unique to the platform.
These crowns can be accumulated over time and exchanged for casino and sportsbook credits at the low end all the way to luxury travel packages at the very highest.
The accumulation of crowns will also permit users to attain higher and higher membership tiers within the rewards program. The five stages of membership, starting at Bronze and ending at Onyx provide members with exclusive rewards and Crown earning opportunities.
The Bottom Line on DraftKings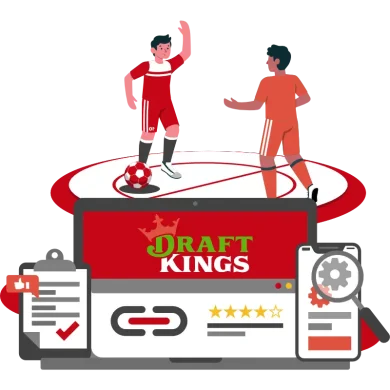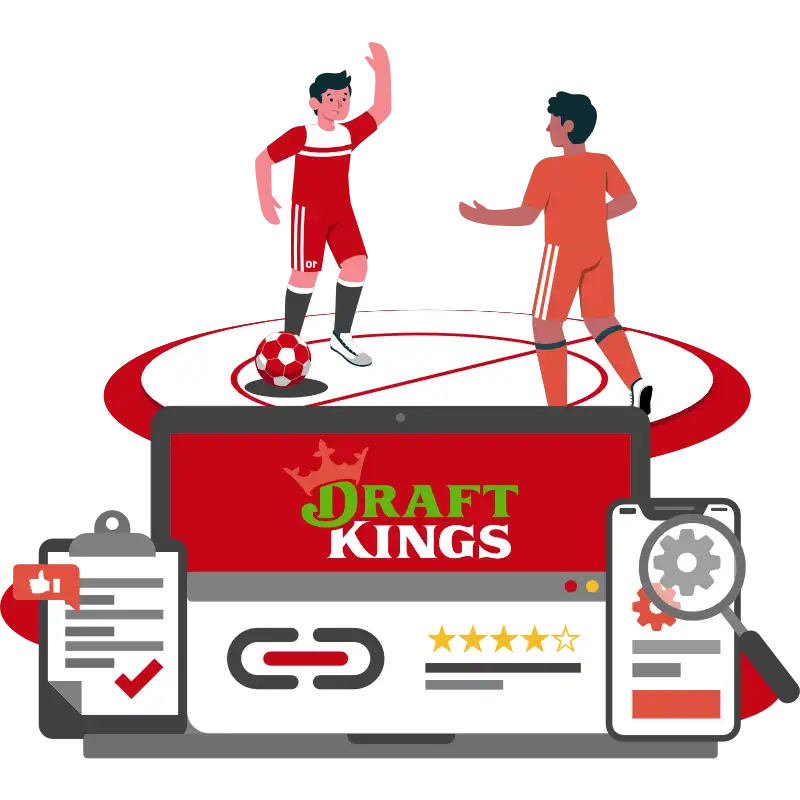 Despite its beginning as a daily fantasy sports website – DraftKings has done a good job entering the Canadian sportsbook market. They understand the demands of Canadian bettors – and push their resources into these betting markets.
For those outside Ontario, we do not encourage using a VPN to create an account at DraftKings – it could result in a ban and winnings forfeited.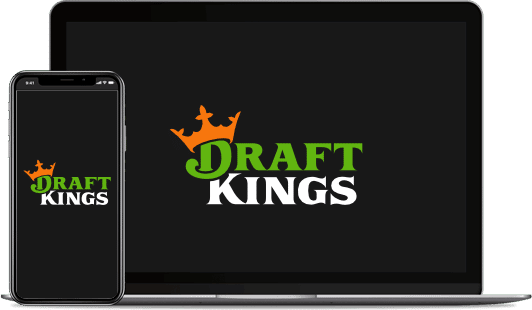 Visit Draftkings and see for yourself…
Ready to get in on the action? Open an account at Draftkings and make a first deposit.
Ok! Let's Check Out DraftKings!
---