Starting as a daily fantasy sports (DFS) site, DraftKings was quick to enter the US market as a sportsbook once individual states were able to legalize sports betting in 2018. Canadians are currently unable to use the DraftKings sportsbook but can play DFS at the site – and you can still learn about the sportsbook in our DraftKings review.  
Combination sportsbooks and DFS website
Plenty of markets on North American sports
Low deposit requirements
Fast payouts
Sportsbooks not available in Canada
DraftKings Canada Sports Betting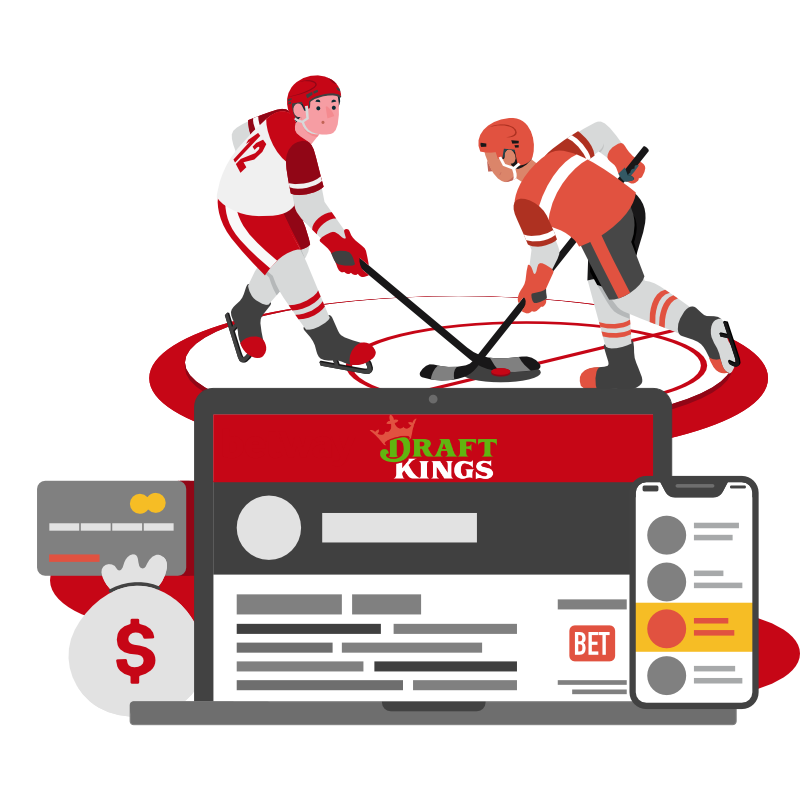 Initially launching as a daily fantasy sports site in 2012 – and as the main competitor to FanDuel – DraftKings has evolved over the last decade into one of the more well-known sportsbooks in the United States. In 2017 DraftKings and FanDuel attempted to merge – but were blocked by the Federal Trade Commission.
Since the failed merger, DraftKings has been very focused on the sports betting market in the United States. After amendments to laws allowed states to enact their own on sports betting, DraftKings has been a fast player in the industry. DraftKings is the first mobile sportsbook to operate in New Jersey (the first state to legalize sports betting outside of Nevada). Since then, they have expanded into ten states (with plans to join more).
While they have stated an interest in getting into the Canadian sports betting market – as they currently only offer DFS in Canada – we are unsure when or if this will happen. We do not believe what DraftKings offers is better than what you can find at the best online sportsbooks currently available in Canada.
Unlike the best sportsbooks in Canada, such as Sports Interaction, which consistently offers an excellent and straightforward bonus, DraftKings is known for offering different types of bonuses throughout the year (and it is a little complicated).

Since some bonuses are specific to one sport - $1 to win $100 on this sport – some people will love the bonus, while others may forgo it. They also pair bonuses – but the pairing results in a lower match (20% up to $1050) than most Canadian sportsbooks.

DraftKings promotions and contests vary throughout the year. DraftKings also offers daily rewards – which increase in value the more you wager on the site. Promos and contests at DraftKings will not require a specific DraftKings promo code.  

DraftKings website is designed relatively well, but for new sports bettors, the site can feel a little overwhelming. Luckily, the site provides plenty of information to help bettors learn about online sports betting. The site's colour palette is fitting – with the black and green providing a recognizable and modern-looking backdrop. You can also visit the DraftKings Canada site and learn about their sportsbook – but you will not be able to create an account.   

Live betting at DraftKings offers a comparative experience to what is currently available in Canada. The desktop and mobile site highlight the biggest live games on the homepage. To find more options, clicking the Live In-Game link directors you to everything available for live betting.

DraftKings definitely scores high when it comes to customer service. Problems and questions are easy to resolve and answer with DraftKings live chat feature. DraftKings often responds to requests in less than a minute.

North American sports shine the brightest at DraftKings – but the site has expanded their section to include a much more comprehensive range of markets from Australian rules football to cricket. But an American looking to bet on an American team or sport will find the selection is strong – and with daily betting specials, it is easy to find some great action every day.

The overall odds at DraftKings are comparable to other American sportsbooks.

There are also some strict laws based on what state you live in whether you can bet on college sports and amateur sports. It is very dependent on what state you live in – as some only restrict in-state college teams, while others are more restrictive.

The deposit and withdrawal options at DraftKings will not blow anyone away and is somewhat overcomplicated by individual rules in specific jurisdictions. DraftKings states it accepts all major credit and debit cards, including Visa, MasterCard, and American Express. They also accept credit card gift cards and PayPal. They pay out winnings through the same methods. Also, it is important to know that DraftKings will only accept payment methods registered in your name.

Americans betting on mobile devices are a big fan of DraftKings – and it is easy to see why. The DraftKings mobile site functions excellent, and the layout is very pleasing and easy to navigate. It feels like a rare case where the scaled-down version of the site is actually superior to the desktop version. There is no DraftKings app in Canada for the sportsbooks.
The Bottom Line on DraftKings
Despite its beginning as a daily fantasy sports website – DraftKings has done a good job entering the US sportsbook market. They understand the demands of American bettors – and push their resources into these betting markets.
If you wish, you could join DraftKings – you should know that many online sportsbooks available in Canada match, if not exceed what is available at DraftKings such as Sports Interaction and PowerPlay.
We also do not encourage using a VPN to create an account at DraftKings – it could result in a ban and winnings forfeited.
---
DraftKings FAQs
Can I Use DraftKings in Canada?

Canadians can only use the daily fantasy sports part of DraftKings – not the sportsbook section of the website.

Who Can Play at DraftKings?

The DraftKings sportsbook is currently available in the following states: NJ, PA, WV, IN, IL, NH, IA, CO, TN, VA and MI. If you are not a resident of these states but visiting one, you can place a bet at DraftKings. You must be the minimum gambling age in the state to play at DraftKings. Ages range from 18 to 21, depending on your location.

There are other states where sports betting is legal, but DraftKings either a) does not have a license to operate or b) the state only allows for retail sports betting.

Where is DraftKings Located?

The DraftKings headquarters is located at 222 Berkeley St., Boston, Massachusetts, 02116. DraftKings also has an office in the United Kingdom and Malta.

It is a bit strange their main office is in a state that has yet to legalize sports betting.

Will the DraftKings Sportsbook Come to Canada?

It is uncertain if DraftKings' sportsbook will come to Canada. They have expressed interest in entering the market with the C-218 bill, allowing provinces to regulate single-event betting in Canada – near becoming law.

It will depend on how each province regulates the industry – so we cannot know whether DraftKings sportsbook will come to Canada.

What States is DraftKings Available?

While DraftKings DFS games are legal and operate in 43 states and Washington DC, the DraftKings sportsbook is currently only available in NJ, PA, WV, IN, IL, NH, IA, CO, TN, VA and MI.

Does DraftKings have a Mobile App?

Yes, the DraftKings app does exist in the United States. It is not available in Canada due to restrictions.  

Can I use a VPN to access DraftKings?

We strongly recommend you do not use a VPN to access DraftKings. People trying to access DraftKings from regions other than the states it currently operates risk having their account blacklisted and winnings forfeited.

There are plenty of great online sportsbooks you can access in Canada without needing a VPN. We suggest you try these options out if you are looking to best on sports.

Are Winnings from DraftKings Taxed?

In the United States, gambling winnings (which includes sports betting and DFS winnings) of over $600 net profit in a year are subject to taxes. DraftKings will remit 24% of your net profit if it is over $600.

Canadians using DraftKings for DFS are also subject to tax on their winnings. However, thanks to a tax treaty between Canada and the United States – Canadians can file a tax return and reclaim some or all of their taxed gambling winnings.

What Sports are Available for Betting at DraftKings?

Bettors will find a large selection of sports at DraftKings. NFL, NHL, MLB, NBA, UFC, European soccer and golf are the biggest markets available on DraftKings. Bettors will also find odds on cricket, Australian leagues, car racing, and tennis.

The site is mainly limited on college, amateur and eSports – as regulations in some states restrict betting on these sports.

What is Not Available for Betting at DraftKings?

Depending on where you are located will determine what is not available.

Many states restrict betting on high school, college, and amateur sports. You can visit DraftKings for more details on restrictions.

Does DraftKings Accept Bitcoin?

DraftKings does not accept Bitcoin as a form of payment.

What Types of Bonuses are Available at DraftKings?

Like most online sportsbooks, the majority of bonuses at DraftKings are for new users. The bonuses include a percentage match on your first wager, small bet-large return bets on specific sports (be $1 to $100 on an MLB game), and risk-free first bets.

You will also find promos and contests on popular sports available throughout the year.
SIGNUP BONUS:

$ 500 Bonus