Opening as a daily fantasy site in 2009 – FanDuel has jumped on the opportunity to open sportsbooks in US states where sports betting has been legalized. Now one of the preeminent sportsbooks in the United States, FanDuel has a broad online presence, as well as many brick and mortar sportsbooks around the country. It came as no surprise then that in December 2022, FanDuel received licensing in the legal Ontario market.
A major player in US Sportsbooks makes its way to Ontario gamers, is it a hit? Read on for our full review of FanDuel Ontario!
Great Live Sports Betting
TSN's Official Sports Betting Partner
Same Game Parlay Innovators
No sportsbook rewards program


FanDuel Canada Sports Betting

FanDuel launched as a daily fantasy sports site (DFS) in 2009 and quickly ascended to become the biggest name in the industry. After over a decade spent in the sports betting industry and a failed merger with DraftKings, FanDuel was able to open its first physical sportsbook in New Jersey.
In the years since its inception, FanDuel has established itself as a market leader and a powerful brand presence. As Daily Fantasy was in part a precursor to the wider legal sports betting market in the US, FanDuel was well positioned as many gamers' first and preferred brand.
FanDuel entered the Ontario market several months after their chief competitors but arrived with a head full of steam and a recognizable and marketable brand behind them. Discerning gamers in the province will no doubt be curious about what FanDuel brings to the table and we break it all down for you, here at Canada Sports Betting.
The History of FanDuel Ontario

FanDuel was founded in Edinburgh, Scotland as an off-shoot of the then popular news prediction site; Hubdub. The daily predictions concept eventually became the massively popular daily fantasy sports craze for which FanDuel is largely known for.
Among Scotland's biggest ever tech exports, FanDuel quickly established itself as a premier sports betting brand and grew extremely quickly. Ever in a two horse race with DFS rivals DraftKings, the two brands announced plans for a merger in 2018. The FTC ruled however that the merger would put 90% of the DFS marketplace under one roof and would constitute an illegal monopoly. The merger was therefore squashed before the courts and the two brands continued separately.
Soon after the unsuccessful merger, Irish gambling giant Paddy Power BetFair announced plans to acquire FanDuel and utilize the brand as their primary pathway into the US market. Paddy Power merged its existing US assets into FanDuel, creating FanDuel Group. This merger came on the heels of the Professional and Amateur Sports Protection Act (PASPA) being struck down by the US Supreme Court in May of 2018. This ruling allowed legal gambling markets to open on a state level. With the American market set to kick off as never before, Paddy Power saw a can't miss opportunity to capitalize on the existing popularity of the FanDuel brand. That optimism certainly seems justified in hindsight as Paddy Power Betfair, now known as Flutter Entertainment, has seen FanDuel grow into America's number one sportsbook in 4 short years.
In 2022 FanDuel set its sights on the legal Ontario marketplace and officially launched in the province in December. As the leading sportsbook in the US, FanDuel entered the Ontario landscape with lofty expectations.
Signing Up for FanDuel Canada

Sign up is quick and easy on FanDuel Ontario but be prepared to provide validation documents before you can use your account.
Complete all the required fields and select a username and password combination that you won't soon forget. FanDuel does not require a special character in its passwords in addition to at least one uppercase letter and one number.
After filling out all your account details and choosing a secure password, now comes time for account validation. If for any reason you close the page before validating, fear not, you will be able to log into your account using the credentials you chose and try validating again.
To validate your FanDuel account you must provide images of documents proving your identity and address are accurate. Once submitted you will receive confirmation in short order and your account will be ready to use.
FanDuel Ontario Look and Feel

FanDuel Ontario presents a stark white aesthetic playing off its signature dark blue colour. Logos, categories, and promotional material all pop off the screen making for an exciting and intuitive browsing experience. The homepage is quickly populated with the most popular live and upcoming events in the sports world. FanDuel uses yellow text to accentuate exciting elements and promotions, often suggesting same game parlays for upcoming contests to make easy work of betting on your favourite sports. One click on one of the promoted parlays and your betslip automatically opens, fully populated with the pertinent bets. For those who find parlays daunting or even for those who just want to find the spark of inspiration, parlay suggestions make for an integral part of any premiere sportsbook.
In addition to suggested parlays, you will be able to see in real time, how many bettors are putting money down on popular same game parlays. This is a handy feature that lets you make those crucial decisions when time is of the essence.
A dedicated all sports tab appears next to the home tab. The categories on offer at FanDuel Canada are as follows:
Aussie Rules
Baseball
Basketball
Boxing
College Basketball
College Football
Cricket
Cycling
Darts
Football
Golf
Hockey
Motor Racing
Politics
Rugby
Soccer
Tennis
All in all the FanDuel browsing experience is a very slick one. Intuitive menus, vibrant, easy to read colours and handy betting recommendations are part of a total package which excels in the space. It's clear to see why FanDuel has carved out such a substantial part of the US betting landscape and we expect them to perform just as well here in Canada.
FanDuel x TSN

As part of their foray into Canada, FanDuel has partnered with trusted sports network TSN for cross promotion, branding and special events. The partnership will extend beyond the current Ontario market should additional provinces open up and will provide both FanDuel and TSN scaled expansion opportunities based on the make-up of new marketplaces.
FanDuel Ontario and TSN will collaborate on content which aims to elevate the viewing experience for sports fans. FanDuel will provide TSN with their betting expertise and will be the network's exclusive odds provider. FanDuel will have multiple deep and meaningful integrations across TSN platforms, including in-game broadcasts, digital marketing, mobile apps and co-branding opportunities. TSN will highlight a variety of FanDuel's online gaming formats, as well as its leading casino platform.
Dale Hooper, General Manager of FanDuel Canada said the following about the partnership: "Bringing our industry leading sportsbook platform to Canada is a watershed moment for FanDuel. Partnering with Canada's most iconic and trusted media company was integral to our strategy of delivering gaming content to passionate Canadian sports fans in the most entertaining and responsible way possible." While Stewart Johnston, Senior Vice-President of TSN had this to say: "FanDuel delivers an entertaining, customer-centric, responsible gaming experience with attractive odds that Canadian sports fans will want to engage with and we believe that combining their sportsbook with our expansive portfolio of live sports properties will not only deliver the exciting content that our passionate fan base demands but will provide new opportunities to expand the TSN brand."
When browsing, users of FanDuel Ontario will see dedicated tabs for games airing live on TSN at that moment, as well as games that will air on the network in the future. Meanwhile on TSN's platform, TSN Edge will provide FanDuel branded betting news both on their online platforms and during sports broadcasts.
The Bottom Line on FanDuel

FanDuel has already proven itself as the superior Sportsbook in America. Their reputation, history and It factor all culminate in a powerful betting force landing in Canada.
Canadians already have plenty of great options to choose from when it comes to Sportsbooks and online Casinos, but they'd be remiss not to try FanDuel for themselves. Easy navigation, brand integrations with TSN and a top tier live betting and same game parlay ecosystem make for a beast of a platform that will appeal to any kind of bettor in Canada.
We were impressed every step of the way here at Canada Sports Betting and recommend FanDuel wholeheartedly for your sports betting needs.
---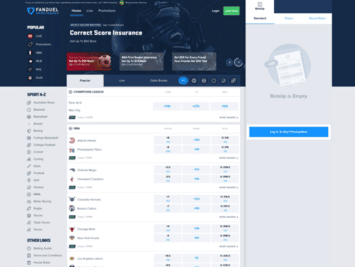 Visit FanDuel and see for yourself…
Open an account at FanDuel, make a first deposit and see what they can offer you today!
Ok! Let's Check Out Fanduel!
FanDuel FAQ
Can I Use FanDuel in Canada?
FanDuel is currently only available in Ontario in the Canadian market.
Is FanDuel legal in Canada?
FanDuel is perfectly legal however it is currently only available in Ontario in the Canadian market.
Who Can Play at FanDuel?
Verified residents of Ontario who are of legal betting age are eligible for a FanDuel Canada account.
How do I verify my identity on FanDuel?
FanDuel Ontario will ask you to verify your identity by asking for proof of your age to comply with the local and federal regulatory requirements. You will need to provide proper government-issued ID such as a driver's license and/or a copy of a bank/card statement. The copies have to be clear images.
Where is FanDuel Located?
The FanDuel head office is located at 1375 Broadway, New York, New York, 10018. FanDuel also has offices in multiple states and a large office in Glasgow, Scotland.
Will the FanDuel Sportsbook Come to Canada?
FanDuel has entered the Canadian market! Specifically in Ontario, as of December, 2022.
In What Provinces is FanDuel Available?
The FanDuel sportsbook is currently available to residents of Ontario only.
Does FanDuel have a Mobile App?
Yes, FanDuel has a mobile app available for FanDuel Ontario customers. The app is available to both iOS and Android users and can be downloaded on the appropriate app store.
How do I deposit on FanDuel?
You can deposit money to your FanDuel Canada account on your initial signup or by logging in and going to your personal profile.
You can use a variety of deposit methods including Interac e-transfer, Mastercard, Visa, and Paypal
Can I make deposits on FanDuel with my credit or debit card?
FanDuel Ontario allows deposits from credit or debit cards issued by a Canadian bank. However, some banks restrict transactions made on credit cards from gaming sites.
How long does it take for my FanDuel deposit to clear?
It takes mere seconds for your FanDuel Canada deposit to clear. Your funds will automatically show on your balance from your profile. If your transaction does not go through, there may be some incorrect details from your method of payment.
What do I need to do to withdraw funds from FanDuel?
FanDuel Ontario will need to verify several aspects of your personal account and your activity on the site before issuing your withdrawal. This is in compliance with their anti-fraud policies.
You will have to have done the following to qualify for a withdrawal:
– Verified your email address
– Supplied proper documents to verify your identity and proof of ownership of the financial tools used
– Made at least one real money deposit
Can I set limits on my FanDuel account?
"Know your limits." Fan Duel Canada abides by this adage and will allow you to set limits to both your deposit and gaming limits on a daily, weekly, and monthly maximum.
To set these limits, simply login to your FanDuel Ontario account and select "Responsible Gaming".
Can I self-exclude myself on FanDuel?
To further honour responsible gaming, FanDuel Canada offers you the ability to restrict gameplay on the site. If setting betting limits still isn't enough, you can choose to pause your account.
Do this by logging in to your FanDuel account. Select "Responsible Gaming" then select "Self Exclusion". You can choose to "Timeout", a temporary ban on yourself that ranges from three to 30 days or "Self-Exclusion", which is a ban from 1 to 5 years.
If you select Self-Exclusion, FanDuel Ontario will not reopen your account in most cases.
How do I contact FanDuel Canada?
To contact FanDuel Canada support, browse to the support field on the FanDuel site and choose to either engage with a service rep via live chat, or email your questions or concerns and receive a response via your email.
Can I use a VPN to access FanDuel? Can you use a VPN to bet on FanDuel?
We do not recommend accessing FanDuel using a VPN. If you are caught gambling on FanDuel's sportsbook from a restricted region, you risk forfeiting your winnings and being blacklisted from the sportsbook.
Does FanDuel pay real money?
Fan Duel is indeed a real money Sportsbook. Understand the risks involved with sports betting before making real money deposits and wagering on FanDuel Canada.
Are Winnings from FanDuel Taxed?
Canadians do not pay taxes on gambling profit won in Canada. Winnings are not subject to tax unless you are considered a professional bettor, making most or all of your income through gambling.
How long does it take to withdraw from FanDuel?
Your first withdrawal process might take some time, as you'll have to verify your identity. FanDuel Ontario does typically try to take care of this during the processing window, though, which takes about three business days on their end. It can sometimes take another three business days after that for the funds to end up in your bank account, though this varies from bank to bank.
How much money does FanDuel take from winnings?
FanDuel Canada does not take a cut from winning bets, the winnings are all yours. FanDuel earns money from losing wagers only.
Can you do Parlays on FanDuel?
Yes you can. All the betting combinations from major online sportsbooks can be found on FanDuel Canada. From single bets to parlays, round robins and teasers.
Can you Cash Out bets on FanDuel?
Yes. Certain bets will be available to cash out prior to the event in question at FanDuel Canada's discretion.
Do people win big on FanDuel?
As with any online sportsbook people do sometimes win big, but big losses are even more common. Luck is the ultimate decider when gambling so please gamble responsibly and within your means. Know your limits and stop when gambling isn't something you enjoy anymore.
What Sports are Available for Betting at FanDuel?
FanDuel offers markets on the most popular sports in North America, such as the NFL, NBA, MLB, NHL, UFC, and golf. They also have a great selection of international sports, including soccer, tennis, and rugby.
While Fan Duels does offer odds on college sports and eSports – there are restrictions on these depending on your region.
What is Not Available for Betting at FanDuel?
College sports, amateur sports, and eSports are unavailable in certain regions due to government regulations. Every region has different regulations which are subject to change. Check FanDuel for complete details.
Does FanDuel Accept Bitcoin?
No – FanDuel does not accept Bitcoin or any other crypto currency as a form of deposit/withdrawal.
---