Opening as a daily fantasy site in 2009 – FanDuel jumped on the opportunity to open sportsbooks in states – once they legalized sports betting. FanDuel is now one of the preeminent sportsbooks in the United States – operating a combination of physical and online sportsbooks. Although the FanDuel sportsbook is not available in Canada, Canadians can still learn about it in our FanDuel review.
Risk-free welcome bonus
Great live sports betting
Fast payouts
Friendly and responsive customer support
No sportsbook rewards program


FanDuel Canada Sports Betting
FanDuel launched as a daily fantasy sports site (DFS) in 2009 and quickly ascended to become the biggest name in the industry. Nearing ten years after launching, plus a failed merger attempt with DraftKings, FanDuel was finally able to open their first sportsbook – a physical location in East Rutherford, New Jersey.
Just prior to opening their first shop, FanDuel merged with controversial Irish bookmaker Paddy Power. The merge gave FanDuel more resources to enter states once they legalized sports betting.
FanDuel does currently operates in Canada as a daily fantasy site. However, their sportsbook is unavailable in the country. FanDuel Canada has expressed interest in getting into the Canadian market – once provinces can legalize single-event betting. However, as popular as FanDuel is in the United States, we do not believe it offers any better than what is currently from online sportsbooks available in Canada.
The Bottom Line on FanDuel
FanDuel is doing a good job establishing itself as a significant sportsbook in the United States. They are quick to jump into markets they can and know the betting preferences of American bettors. The overall product they provide in states where legal is clean, fast, and reliable.
Although FanDuel is growing in the United States, the market in Canada is already full of great online sportsbooks. When comparing FanDuel to the biggest names such as Betway – it isn't easy to pinpoint many reasons you should switch to FanDuel if it entered the Canadian market.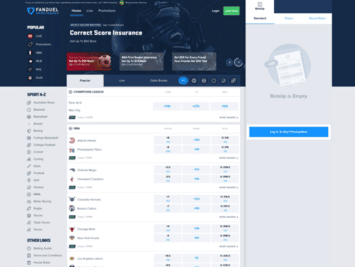 Visit Fanduel and see for yourself…
Want access to this bonus? Open an account at FanDuel and make a first deposit.
Ok! Let's Check Out Fanduel!
FanDuel FAQ
Can I Use FanDuel in Canada?
Canadians can only use FanDuel to play daily fantasy games. The FanDuel sportsbook and FanDuel app are currently unavailable in Canada.
Who Can Play at FanDuel?
The FanDuel sportsbook is currently available in the following states: MI, NJ, PA, IN, WV, CO, TN, IA, IL & VA. To play at the FanDuel sportsbooks, you must be the minimum gambling age in the state – which ranges from 18 to 21.
Residents from other states and Canadians can make bets at the FanDuel sportsbook when visiting a state where it is legal.
Where is FanDuel Located?
The FanDuel head office is located at 1375 Broadway, New York, New York, 10018. FanDuel also has offices in multiple states and a large office in Glasgow, Scotland.
Will the FanDuel Sportsbook Come to Canada?
FanDuel has expressed interest in coming to Canada. However, until provinces start legalizing single-event betting and regulating the market, the FanDuel sportsbook will remain unavailable in Canada.
What States is FanDuel Available?
The FanDuel sportsbook is currently available in the following states: MI, NJ, PA, IN, WV, CO, TN, IA, IL & VA. FanDuel daily fantasy games are available in Canada, 43 states, and Washington D.C.
Does FanDuel have a Mobile App?
Yes, FanDuel has a mobile app in the United States. In Canada, you cannot access FanDuel's sportsbook or daily fantasy sports games through an application.
Can I use a VPN to access FanDuel?
We do not recommend accessing FanDuel using a VPN. If you are caught gambling on FanDuel's sportsbook from a restricted region, you risk forfeiting your winnings and being blacklisted from the sportsbook.
Are Winnings from FanDuel Taxed?
In the United States, gambling net profits exceeding $600 are taxed – including sports betting and profits from daily fantasy sports. Canadians profiting over $600 playing DFS at FanDuel are also subject to tax on their winnings. However, thanks to a tax treaty between Canada and the United States, you can reclaim some or all of your taxed winnings by filing a tax return.
What Sports are Available for Betting at FanDuel?
FanDuel offers markets on the most popular sports in North America, such as the NFL, NBA, MLB, NHL, UFC, and golf. They also have a great selection of international sports, including soccer, tennis, and rugby.
While Fan Duels does offer odds on college sports and eSports – there are restrictions on these depending on your region.
What is Not Available for Betting at FanDuel?
College sports, amateur sports, and eSports are unavailable in certain regions due to government regulations. Every region has different regulations which are subject to change. Check FanDuel for complete details.
Does FanDuel Accept Bitcoin?
Yes – but only when playing daily fantasy sports. Under U.S. law, sportsbooks cannot accept Bitcoin as a form of payment.
What Types of Bonuses are Available at FanDuel?
FanDuel offers new users a risk-free bet worth up to $1000 as a welcome. They also offer contests on the most popular events (March Madness and the Super Bowl especially) and ongoing promotions such as insurance on parlays and friend referral incentives.
---