Starting as an online sportsbook in Australia, PointsBet expanded operations in the Northern Hemisphere by launching its betting service in the United States and Canada. PointsBet is now one of the bigger names operating in the North America – building its brand on a mix of quality odds, an international betting perspective, and a modern feel. One of the first books to make the move into the Ontario market, interested Canadians can learn more about PointsBet in this review.
Live chat customer support
Good selection of markets on international sports
Sleek website



The History of PointsBet Canada

PointsBet is one of the newest names in the industry – launching in Australia in 2017 and opening operates in the United States in 2019. Since launching in New Jersey at the start of 2019 – PointsBet has expanded operations into a half-dozen states, with plans to expand into more.
PointsBet is attracting bettors in the United States by starting new users with a high welcome and keeping their interests with impressive odds on the NBA and sports outside of North America.
In Canada, when legal, regulated third-party sports betting entered the Ontario market, PointsBet were quick to seize the opportunity, launching as one of the founding books in April 2022 as PointsBet Canada. They immediately partnered with organizations like Alpine Canada, Curling Canada, and the NHL Alumni Association to ensure that they would remain front of mind for local bettors, and have had a lot of success in the market already.
PointsBet FAQ

Can I Use PointsBet in Canada? Is PointsBet available in Canada?
Yes, if you live in Ontario! PointsBet was a big part of Ontario's iGaming / AGCO launch in April 2022. As regulated third-party gaming builds more steam in the other provinces, you'll see it there too.
Who Can Play at PointsBet?
People who are the minimum gaming age of 19 in Ontario at PointsBet Canada. You'll only be able to play while physically in the province. For the American and global versions of the platform, it will depend on the state and country's local laws.  
How do I verify my PointsBet account?
To verify your account, you need a government-issued form of ID such as a passport or driver's license. You will also need to prove your address by submitting a utility bill, bank statement, or something else with your current address on it. To find the entire list of accepted documents, visit PointsBet.
Where is PointsBet Located?
PointsBet Canada's offices are based in downtown Toronto, Ontario – their address is 111 Peter Street, Suite 700, M5V 2G9.

The PointsBet headquarters is located at 155 Cremome Street, Cremorne, VIC 2121, Australia. PointsBet's American head office is in Denver, Colorado – relocating last year from New Jersey.
How do I contact PointsBet Canada?
To contact PointsBet customer support, email [email protected] or call 1-833-441-1940
Does PointsBet have a casino?
Yes, Pointsbet has a wide variety of Casino games available to you once you're signed up and logged in.
Where can I use PointsBet? Can I use Pointsbet overseas? Can you use Pointsbet in BC?
Unfortunately, PointsBet Canada can only be used in Ontario. The app verifies your location, rather than just tying you to your signup address. If you're travelling out of the province, you'll be out of the action on the Canadian front.
Will PointsBet Come to Canada? Is PointsBet available in Ontario? Is PointsBet legal in Ontario?
PointsBet joined the Canadian market in April 2022, launching in Ontario along with about two dozen other legal sportsbooks. They hope to expand to other provinces as those governments allow for it.
What States is PointsBet US Available?
PointsBet is currently available in thirteen states: Colorado, Iowa, Illinois, Michigan, New Jersey, New York, Virginia, Arizona, Colorado, Indiana, Louisiana, Kansas Pennsylvania, and West Virginia, with plans to launch in Tennessee.
How do I deposit money on PointsBet?
To deposit money at PointsBet, you have to set up a valid payment method first. Once set up, you go into your account, select deposit, entering the amount you wish to deposit, and hit okay.
Can I make deposits on PointsBet with my credit or debit card?
PointsBet Ontario allows deposits from credit or debit cards issued by a Canadian bank. However, some banks restrict transactions made on credit cards from gaming sites.
How long does it take for my PointsBet deposit to clear?
It takes mere seconds for your PointsBet Canada deposit to clear. Your funds will automatically show on your balance from your profile. If your transaction does not go through, there may be some incorrect details from your method of payment.
What do I need to do to withdraw funds from PointsBet? Does PointsBet withdraw on weekends?
PointsBet Ontario will need to verify several aspects of your personal account and your activity on the site before issuing your withdrawal. This is in compliance with their anti-fraud policies.
You will have to have done the following to qualify for a withdrawal:
– Verified your email address
– Supplied proper documents to verify your identity and proof of ownership of the financial tools used
– Made at least one real money deposit
How long does it take to withdraw from PointsBet?
Your first withdrawal process might take some time, as you'll have to verify your identity. PointsBet Ontario does typically try to take care of this during the processing window, though, which takes about three business days on their end. It can sometimes take another three business days after that for the funds to end up in your bank account, though this varies from bank to bank.
Can I set limits on my PointsBet account?
"Know your limits." Points Bet Canada abides by this adage and will allow you to set limits to both your deposit and gaming limits on a daily, weekly, and monthly maximum.
To set these limits, simply login to your PointsBet Ontario account and select "Responsible Gaming".
Can I self-exclude myself on PointsBet?
To further honour responsible gaming, PointsBet Canada offers you the ability to restrict gameplay on the site. If setting betting limits still isn't enough, you can choose to pause your account.
Do this by logging in to your PointsBet account. Select "Responsible Gaming" then select "Self Exclusion". You can choose to "Timeout", a temporary ban on yourself that ranges from three to 30 days or "Self-Exclusion", which is a ban from 1 to 5 years.
If you select Self-Exclusion, PointsBet Ontario will not reopen your account in most cases.
Does PointsBet have a Mobile App?
Yes, PointsBet has a mobile app available for PointsBet Ontario customers. The app is available to both iOS and Android users and can be downloaded on the appropriate app store.
Can I use a VPN to access PointsBet?
We do not recommend using a VPN to access PointsBet. If you are caught using a VPN, you risk forfeiting your winnings and having your account blacklisted..
Does PointsBet pay real money?
Points Bet is indeed a real money Sportsbook. Understand the risks involved with sports betting before making real money deposits and wagering on PointsBet Canada.
Are Winnings from PointsBet Taxed?
Canadians do not pay taxes on gambling profit won in Canada. Winnings are not subject to tax unless you are considered a professional bettor, making most or all of your income through gambling.  
How much money does PointsBet take from winnings?
PointsBet Canada does not take a cut from winning bets, the winnings are all yours. PointsBet earns money from losing wagers only.
What Sports are Available for Betting at PointsBet?
The PointsBet sportsbook offers a variety of sports. They are best known for their NBA odds and markets – but offer comparable odds on the most popular North American sports and plenty of Australian sports (as they hail from Australia).

Full List:
Aussie Rules
Baseball
Basketball
Boxing
Cricket
Curling
Cycling
Darts
Football
Golf
Hockey
MMA
Motorsports
Rugby
Snooker
Soccer
Tennis
Volleyball

Can you do Parlays on PointsBet?
Yes you can. All the betting combinations from major online sportsbooks can be found on PointsBet Canada. From single bets to parlays, round robins and teasers.
Can you Cash Out bets on PointsBet?
Yes. Certain bets will be available to cash out prior to the event in question at PointsBet Canada's discretion.
Do people win big on PointsBet?
As with any online sportsbook people do sometimes win big, but big losses are even more common. Luck is the ultimate decider when gambling so please gamble responsibly and within your means. Know your limits and stop when gambling isn't something you enjoy anymore.
Does PointsBet Accept Bitcoin?
No, PointsBet does not accept Bitcoin or any other cryptocurrencies.
Is PointsBet available overseas? Is PointsBet offshore? Is PointsBet Legit?
Pointsbet is a regulated, North American sportsbook. They are available to players in about a quarter of the United States, and the province of Ontario in Canada. They are not an offshore service and you have to physically be in an area that they are regulated within to paly.

PointsBet Referral Code

If you like what PointsBet has to offer, then you might want to sign up for an account. This will allow you to get started placing bets on this wonderful platform. There are only a few steps as part of the registration process. Everything can be complete in just a few minutes.
First, you have to go to the PointsBet website or download the app on your phone. This app is available to Android and iOS users. You then start the registration process. This sees you entering standard information like your full name and date of birth. You also need to provide contact details, as well as create a username and password.
Lastly, agree to the terms and conditions, and you'll be set from there! To ensure you're able to take advantage of PointsBet's many offers, you'll want to start your signup by clicking through one of the many links on this page – like this one to sign up with a PointsBet Canada referral code!
Signing up for PointsBet Canada

Sign up is quick and easy on PointsBet Ontario but be prepared to provide validation documents before you can use your account.
Complete all the required fields and select a username and password combination that you won't soon forget. PointsBet does require a special character in its passwords in addition to at least one uppercase letter and one number.
After filling out all your account details and choosing a secure password, now comes time for account validation. If for any reason you close the page before validating, fear not, you will be able to log into your account using the credentials you chose and try validating again.
To validate your PointsBet account you must provide images of documents proving your identity and address are accurate. Once submitted you will receive confirmation in short order and your account will be ready to use.
PointsBet Ontario Look & Feel

Right off the bat, newcomers to PointsBet will either love or hate their bold red on black colour scheme. A light mode is available for those who have a hard time reading it, or are simply not fans, but for those without issue Pointsbet presents a vibrant platform that wont soon be confused with its competitors.
Besides the colour scheme, PointsBet Ontario opts for a minimalist approach to events on deck. Canadian bettors will be used to the standard side bars containing all the sports and catagories on off on one side, and your personal betslip on the other. PointsBet opts to hide these off the bat, requiring you to engage them with a click. To those that understand this, or are used to PointsBet's interface, this doesn't really pose an issue. To newcomers or those of us who like to hop from book to book, PointsBet's main page will seem devoid of info at first glance. All told this is just a question of preference and doesn't make for an inferior product in any way.
As far as that product is concerned, PointsBet performs as well as or better than it's competitors in Ontario. Navigating is simple and the front page gets straight down to business presenting featured sports and live betting without having to navigate to separate pages. Featured sports are filterable should you only be interested in certain leagues and live odds are updated in real time with colorful effects so you don't miss any changes.
The complete list of sports on offer are:
Aussie Rules
Baseball
Basketball
Boxing
Cricket
Curling
Cycling
Darts
Football
Golf
Hockey
MMA
Motorsports
Rugby
Snooker
Soccer
Tennis
Volleyball
In the end our impressions on Pointsbet's aesthetic and design choices have been positive. The stark colour scheme make it a stand out in the space and navigating the platform is quick and intuitive.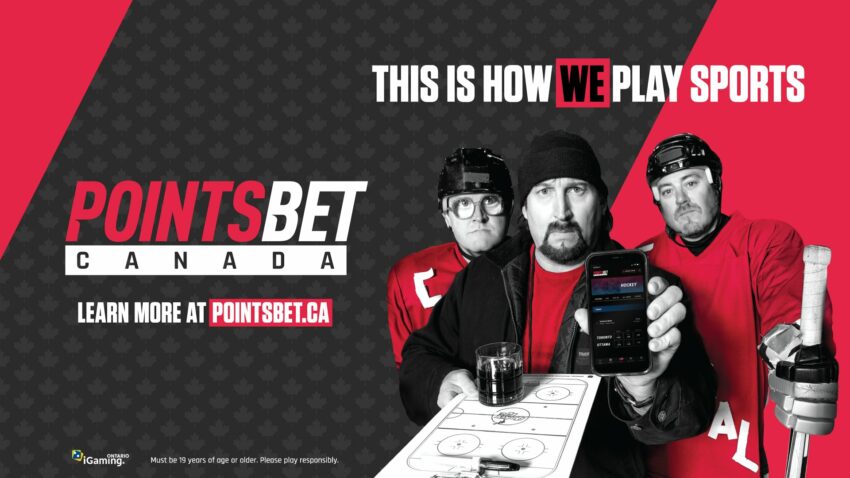 Trailer Park Boys x PointsBet Canada

As you may have seen in commercials, billboards or ads on public transit; The Trailer Park Boys are the main brand ambassadors for PointsBet in Canada.
Main characters Ricky (Robb Wells), Julian (John Paul Tremblay) and Bubbles (Mike Smith) adorn promotional material and give PointsBet a distinctive Canadian flair. Whether you're a fan of the show or not, it's hard to deny that the Trailer Park Boys are iconic in Canada.
Throughout the Pointsbet platform itself you will find Ricky, Julian and Bubbles used to illustrate categories, promotions and more. This gives the site some quirky charm and helps it stand out in a sea of competitors.
Name A Bet @ PointsBet Canada

One of the more unique feature that Pointsbet offers is the "Name A Bet".
I you cannot find the bet you would like to place in the existing categories, simply navigate to the Name A Bet tab in the sidebar.
Here you will be able to request any bet you can think of (within reason) in one of the sport categories offered by PointsBet. That request will be sent off to the sportsbook staff and if your bet is deemed acceptable, the bet will be priced for you and made available to place.
This is a welcome feature to see on a Canadian book and offers a world of possibilities to seasoned and rookie bettors alike.
The Bottom Line on PointsBet

Since PointsBet came from Australia, it knew it needed to make a splash to succeed in the American market. After two years and launching in a half dozen states, PointsBet is making a name for itself in North America.
PointsBet offers quality odds on a wide range of sports – with a particular knack at nailing NBA markets. There is still some room for improvement, but the overall experience at PointsBet is impressive for such a new sportsbook.
PointsBet's aggressiveness in the market easily stacks them among the best sportsbooks available in Canada. They might not have every single detail that the competition has, but they cover the basics well and are always looking to improve on their product, which is all you can really ask for.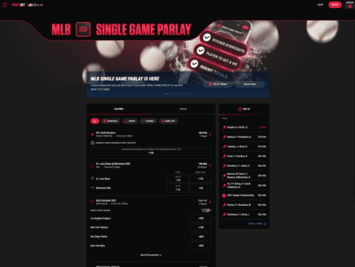 ---