Starting as an online sportsbook in Australia, PointsBet expanded operations in the Northern Hemisphere by launching its betting service in the United States. PointsBet is now one of the bigger names operating in the US – building its brand on a mix of quality odds, an international betting perspective, and a modern feel. While unavailable in Canada, Canadians interested can learn about PointsBet in our PointsBet review.
High welcome bonus
Generous loyalty rewards program
Reduced juice on some markets
Sleek website



PointsBet Canada Sports Betting
PointsBet is one of the newest names in the industry – launching in Australia in 2017 and opening operates in the United States in 2019. Since launching in New Jersey at the start of 2019 – PointsBet has expanded operations into a half-dozen states, with plans to expand into more.
PointsBet is attracting bettors in the United States by starting new users with a high welcome and keeping their interests with impressive odds on the NBA and sports outside of North America.
PointsBet has expressed some interest in opening sportsbooks in Canada – but not until 2022 at the earliest. Even if they want to carve out a piece of the Canadian market – they need to keep building their brand and improving to match what is currently available from the top Canadian online sportsbooks such as Betway.
The Bottom Line on PointsBet
Since PointsBet came from Australia, it knew it needed to make a splash to succeed in the American market. After two years and launching in a half dozen states, PointsBet is making a name for itself in the United States.
PointsBet offers quality odds on a wide range of sports – with a particular knack at nailing NBA markets. They also offer one of the highest welcome bonuses anywhere, not just in the United States. There is still some room for improvement, but the overall experience at PointsBet is impressive for such a new sportsbook.
PointsBet is open to the possibility of operating in Canada – although it would not be until at least 2022. Their product could appeal to some – especially the Australian diaspora on the West Coast. However, there are plenty of great online sportsbooks available in Canada – that cater to the needs and wants of the Canadian betting populous as well, if not better than PointsBet.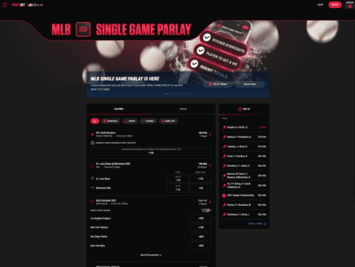 Visit PointsBet and see for yourself…
Want access to this bonus? Open an account at PointsBet and make a first deposit.
Ok! Let's Check Out PointsBet!
---
PointsBet FAQs
Can I Use PointsBet in Canada?
No, PointsBet is not available in Canada.
Who Can Play at PointsBet?
People who are the minimum gambling age in Colorado, Iowa, Illinois, Michigan, and New Jersey can play at PointsBet. This includes people visiting the states where PointsBet operates.  
Where is PointsBet Located?
The PointsBet headquarters is located at 155 Cremome Street, Cremorne, VIC 2121, Australia. PointsBet's American head office is in Denver, Colorado – relocating last year from New Jersey.
Will PointsBet Come to Canada?
PointsBet has expressed interest in entering the Canadian market once single-event betting is legalized and regulated in provinces. They have stated the earliest they will consider coming to Canada is in 2022.
What States is PointsBet Available?
PointsBet is currently available in five states: Colorado, Iowa, Illinois, Michigan, and New Jersey, with plans to launch in Virginia and Tennessee.
Does PointsBet have a Mobile App?
Yes, PointsBet has a mobile app. If you have an Android device, you must download the app directly from the PointsBet website.
Can I use a VPN to access PointsBet?
We do not recommend using a VPN to access PointsBet. If you are caught using a VPN, you risk forfeiting your winnings and having your account blacklisted – which could mean you are ineligible to use PointsBet if it becomes available in Canada.
Are Winnings from PointsBet Taxed?
If your yearly profits at PointsBet exceed $600, they are subject to tax. Canadians who play at PointsBet when visiting a state it operates are also subject to taxes on winnings over $600. However, Canadians can file a US tax return to reclaim some or all their taxed winnings.  
What Sports are Available for Betting at PointsBet?
The PointsBet sportsbook offers a variety of sports. They are best known for their NBA odds and markets – but offer comparable odds on the most popular North American sports and plenty of Australian sports (as they hail from Australia).
What is Not Available for Betting at PointsBet?
As is the case with every sportsbook in the United States, odds on college sports, high school sports, amateur sports, and eSports are subject to regional restrictions. Check PointsBet for more details. Rules subject to change.
Does PointsBet Accept Bitcoin?
No, PointsBet does not accept Bitcoin or any other cryptocurrencies.
What Types of Bonuses are Available at PointsBet?
New users at PointsBet are eligible for two risk-free bets as a welcome bonus – worth up to $2000. Other bonuses and promotions available at PointsBet include daily odds boosts, contests on football, and Points Betting Wagers – which are high-risk and high-reward wagers with multiple outcomes.
---