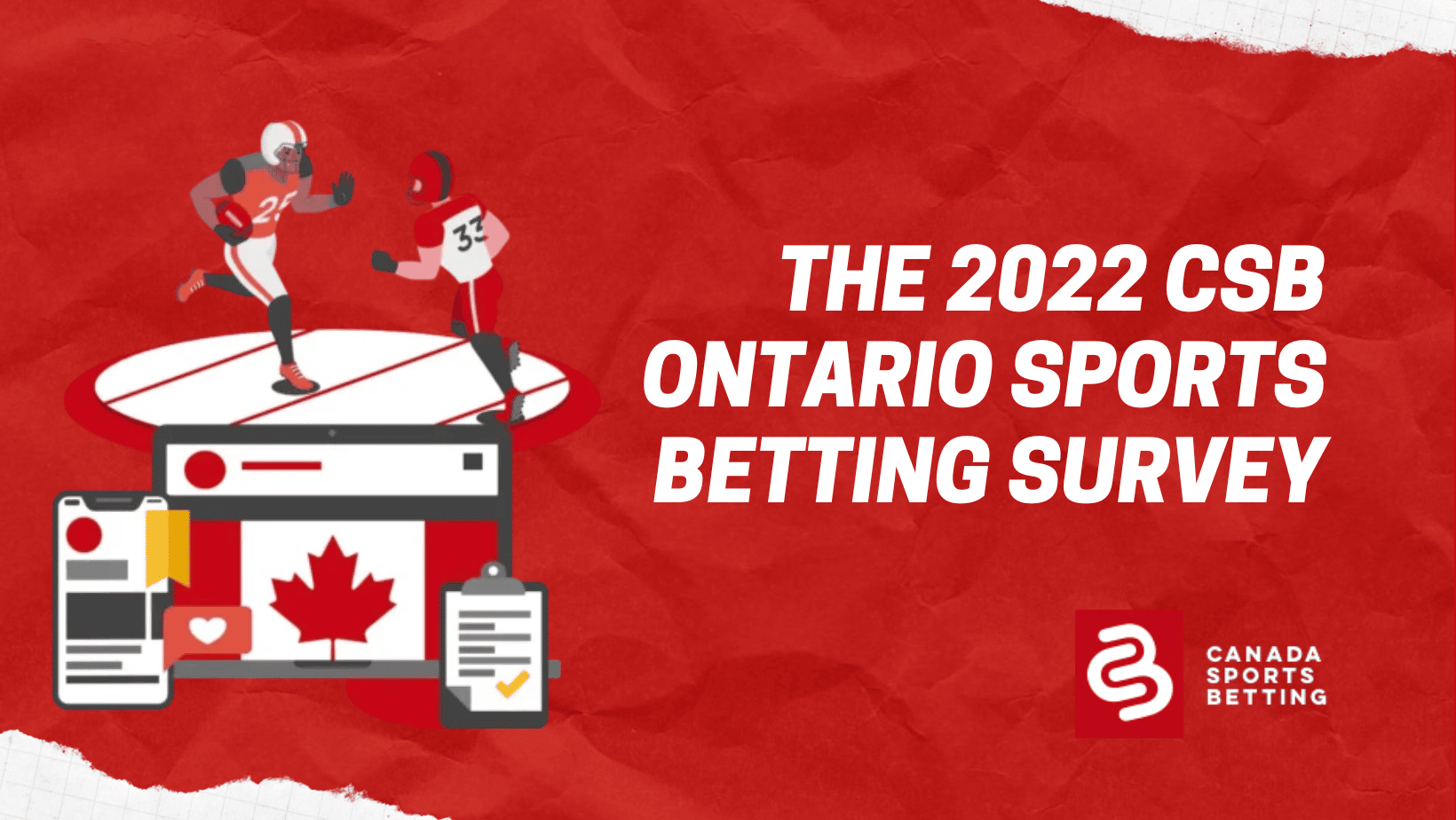 In collaboration with Caddle Insights, Canada Sports Betting brings you the thoughts of the average Ontarian on the recent regulation of sports betting in Ontario. The province began allowing for single-event betting in 2021, and in April 2022, expanded to licensing third-party vendors, including some of the biggest names in the industry.
In this survey featuring 1222 respondents from a variety of different demographics, we get to the bottom of market awareness, concerns, what people want in their ideal sportsbooks, and who they'd be most likely to use them.
These insights are not just for us, but for all of you as well – readers or fellow content creators! If this survey has some insights that interest you and might interest your audience, by all means, feel free to share them – just please, make sure to link back to this page when you do!
The Demographics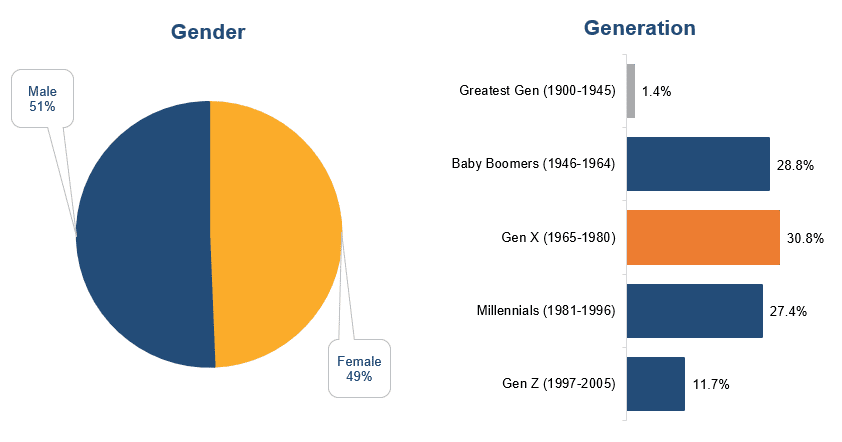 As mentioned above, we surveyed a total of 1222 people from across Ontario on their views of the regulated sports betting market. This survey took place between July 19th and 20th of 2022. Our respondents had a near even split of gender identity, with 619 identifying as male, and 603 identifying as female. By age, we had 17 respondents representing the Greatest Generation (born 1900-1945), 352 representing Baby Boomers (1946-1964), 377 representing Gen X (1965-1980), 334 representing Millennials (1981-1996), and 143 representing Gen Z (1997-2005).
The Ontario Sports Betting Survey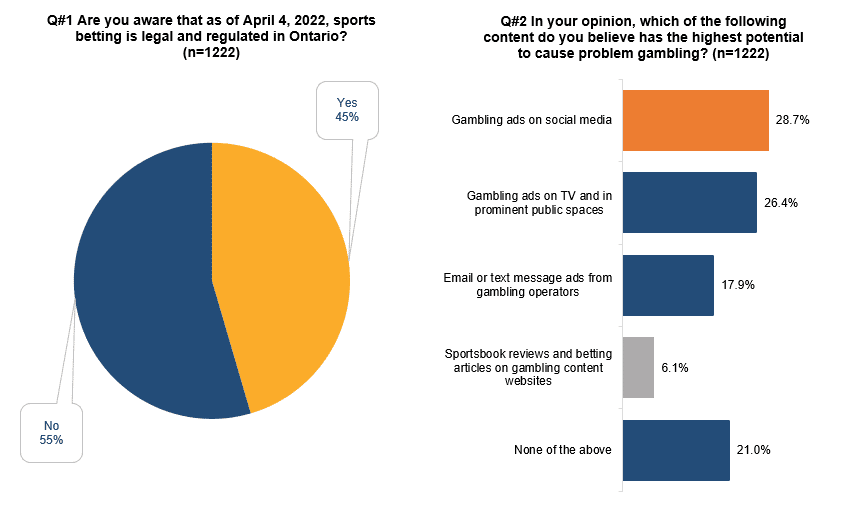 Question #1 – Are you aware that as of April 4, 2022, sports betting is legal and regulated in Ontario?
First and foremost, we get to see just how in the loop the masses our about the legal betting revolution. The answer? Somewhat, but there's still a lot of work to do. A little under half of the respondents were not aware that the legal, regulated market in Ontario was launched. Not a ton of difference comes within age groups here, with the three biggest demographics (Boomers, Gen X, and Millennials) all hovering at around the average, but the identified gender split was fascinating – 57% of males were aware of the market, while just 34% of females said the same.
Question #2 – In your opinion, which of the following content do you believe has the highest potential to cause problem gambling?
Identifying the gateways to problem gambling is a concern that impacts all of us. Playing within our limits is incredibly important, and the events should be sources of entertainment, rather than stress or potential life disruption. Interestingly, age plays a significant factor in the reactions we saw, and it tended to be paired with the types of promotions one might find personally useful. The Baby Boomer demographic saw television and public space advertising as the biggest concern by a nearly 10% margin (32.9% overall share), while Gen X gave a slight edge to social media ads (29.8%, about 1% more than TV) and Millennials saw it as the leader by a significant margin (33.2%, about 11% more than TV).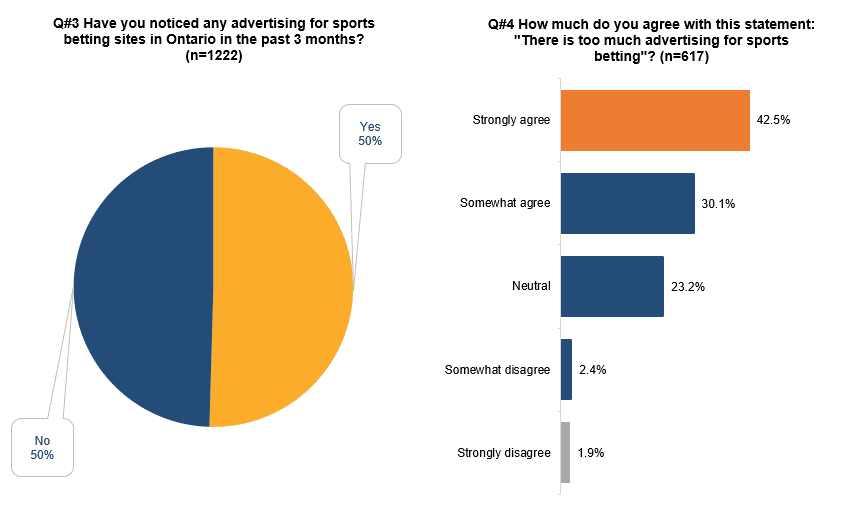 Question #3 – Have you noticed any advertising for sports betting sites in Ontario in the past 3 months?
Nearly every age group was close to the 50/50 line on this one, with Millennials sitting at perhaps the most lopsided at 54% yes across a larger sample. The gender identity gap also weighs heavily on this one – 62% of men said that they noticed the promotions, compared to just 39% of women.
Question #4 – How much do you agree with this statement: "There is too much advertising for sports betting"?
The general observation here? It's all a little much, at least right now. The conclusion isn't too surprising, as dozens of sportsbook apps are jockeying for every square inch of real estate they can get in the opening months of the regulated Ontarian market. This should subside in due time, but for now, it's got 72.6% of our respondents either somewhat or strongly of the belief that there is too much advertising out there, compared to just 4.3% in some form of disagreement.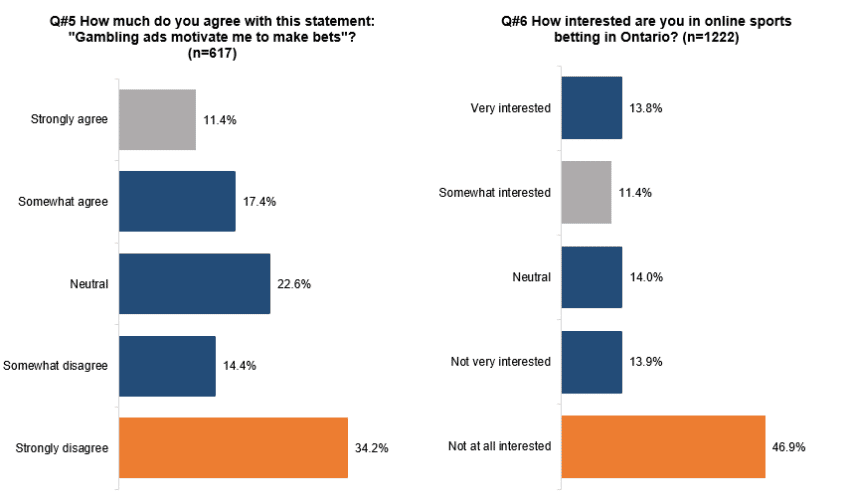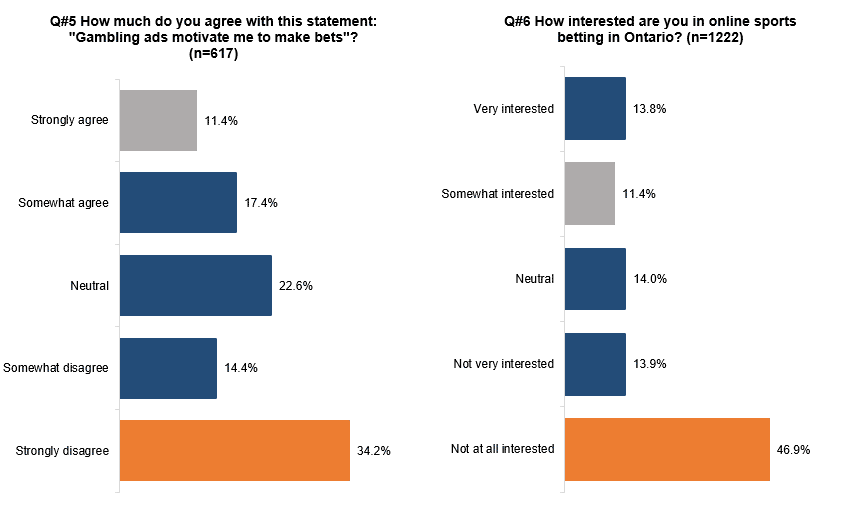 Question #5 – How much do you agree with this statement: "Gambling ads motivate me to make bets"?
A little more than half of our respondents don't believe that the advertisements are adding to their incentive to play, and while some may respond this way as a form of self-belief, the follow-up question suggests that the response might actually be legitimate here. Less than a third of our crowd feels motivated by what they're seeing, which makes sense when you consider the near over-abundance of choice, and the limited nature of what the ads can promote.
Question #6 – How interested are you in online sports betting in Ontario?
These numbers line up quite well with the previous question, which suggests that there isn't much denial of persuasion happening just yet. From the looks of it, most just simply aren't very interested in the market at the moment, though that might grow as things progress and gold standards begin to emerge. The Male/Female split on this one seems fairly significant (57.4% not at all interested and 71.4% in all forms of disinterest for women, compared to 36.7%/50.5% for men).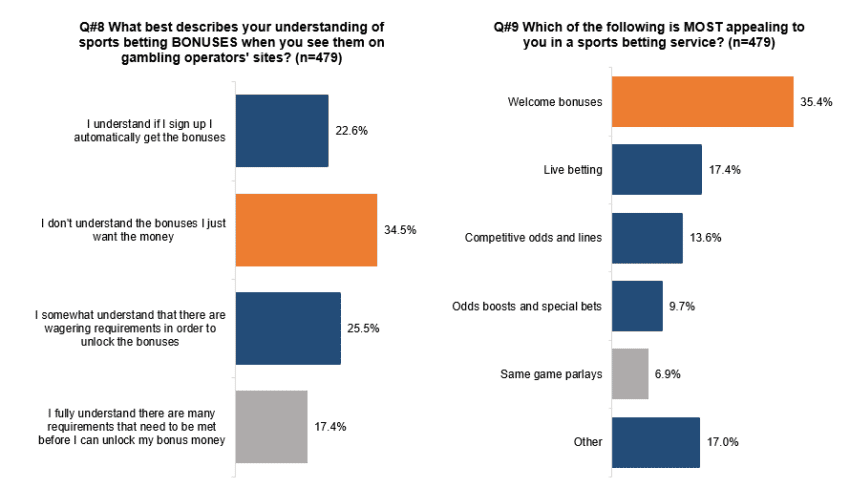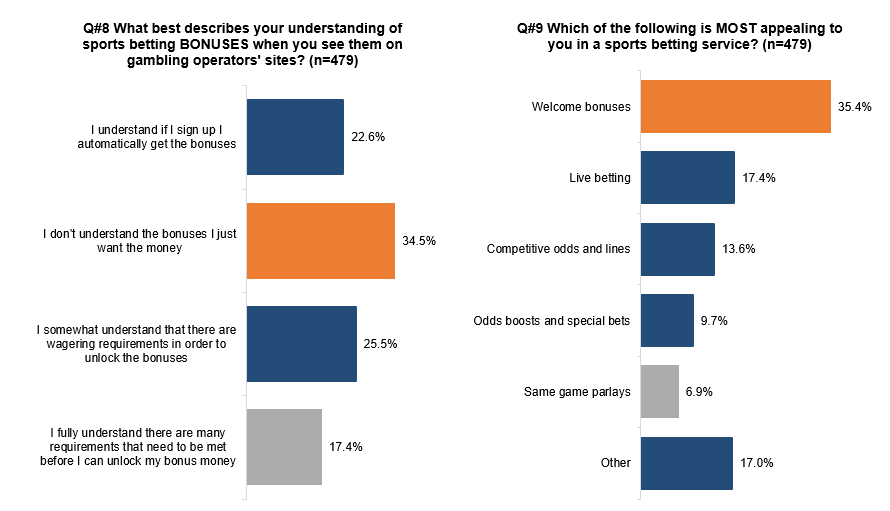 Question #8 – What best describes your understanding of sports betting BONUSES when you see them on gambling operators' sites?
Skipping right along to Question 8 (#7 was where we ended the survey for people not interested in betting on sports), we get some pretty interesting feedback here on bonuses. Ontario regulations limit the amount of information that can be shared about user promotions and incentives by books and even content creators, leaving a lot of the understanding down to communication by the book to the user on their own platform.
For a first time player, bonuses that require minimum deposits, playthrough requirements, and have non-permanence without use will create a lot of confusion, as evidenced by the majority of people either incorrectly understanding or acknowledging their lack of understanding. This relative lack of detail awareness is most prevalent in the oldest (just 10.4% full understanding for Baby Boomers), and youngest (29% incorrect understanding for Gen Z) demographics.
Question #9 – Which of the following is MOST appealing to you in a sports betting service?
Of course, this is a very big problem when you realize that all demographics – young and old, male and female, see these welcome bonuses of as a big deal. With every other option on the table, a good bonus is front of mind for over a third of the population, particularly in the demographics that seem to understand them the least. This should be a key point of focus for creators and books alike, to help educate their players moving forward – such a disconnect helps no one in the long run and could turn a great potential audience off from the product.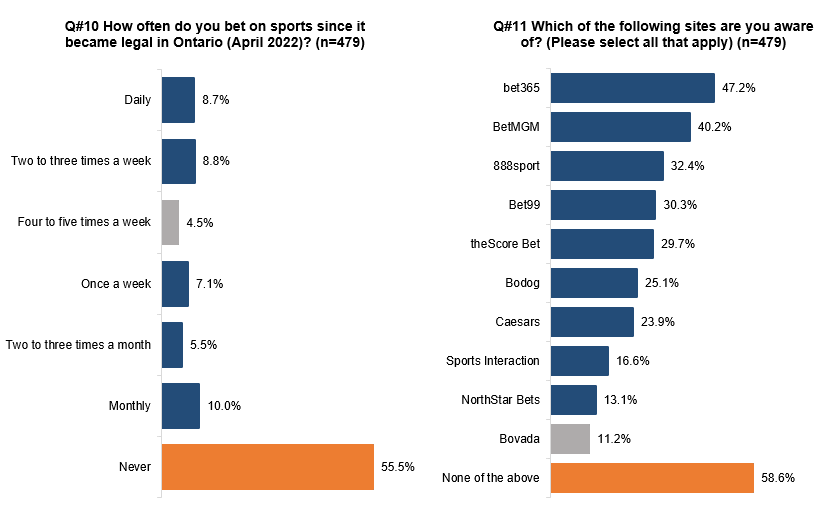 Question #10 – How often do you bet on sports since it became legal in Ontario (April 2022)?
The vibe we get from our respondents is that this is a very "all the time, or not at all" sort of answer at the moment. 29% of those with interest in sports betting have actively participated on a daily to weekly basis, while over half haven't at all. The middle ground remains relatively unscathed. Curiously, interested women are more likely to be daily players (9.4% vs. 8.2%), but less likely to play at all (getting 64% never tallies to the men's 50.8%).
Question #11 – Which of the following sites are you aware of? (Please select all that apply)
Now, we get to how effective all the promotions, commercials, and other advertisements have been. Some patterns become clear pretty quickly, if you know what you're looking for. Unsurprisingly, the exposure advantage is abundantly clear. Bet365 and 888sport had massive head starts due to their long-standing presence in the grey market in Canada, and dominance in the European market, which they carried over into the US as well. Their brand already being plastered all over global sporting events creates such massive awareness from day Day 1. Between them you have BetMGM, who have a strong share of the US market and an established Casino brand behind them.
In the next tier you get three companies that were very good at appealing to Canadians without directly selling a sportsbook to them. Soon to be fully-legal Bet99 and offshore operator Bodog have been advertising across the country for years by promoting their free game sites, akin to brewers promoting their non-Alcohol beer to keep their name in areas they can't sell the main product in. In between them you have theScore Bet, have have a strong parallel product in their app and news platform, which has been on the phones of many Canadians for years and boy, will it push this new product to you.
The real dropoff comes with a few still solidly big brands that are missing those sorts of x-factors. Sports Interaction is a pillar to enthusiasts, but don't have the same mainstream investment and that's reflected in the numbers. NorthStar Bets is trying to go with a model of growth similar to TheScore Bet, but the transition is slower via primarily print media than it is via an app sending you to another app. Bovada, of course, is the US-specific brand for Bodog, so they don't have the same pull in Canada.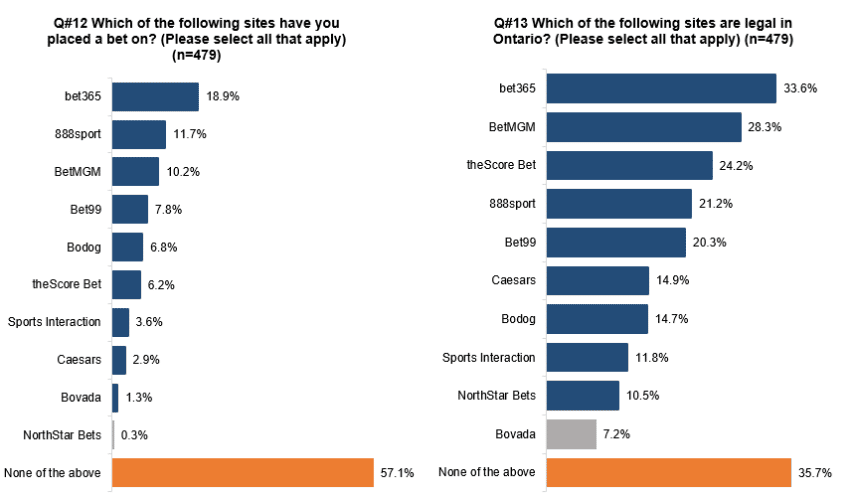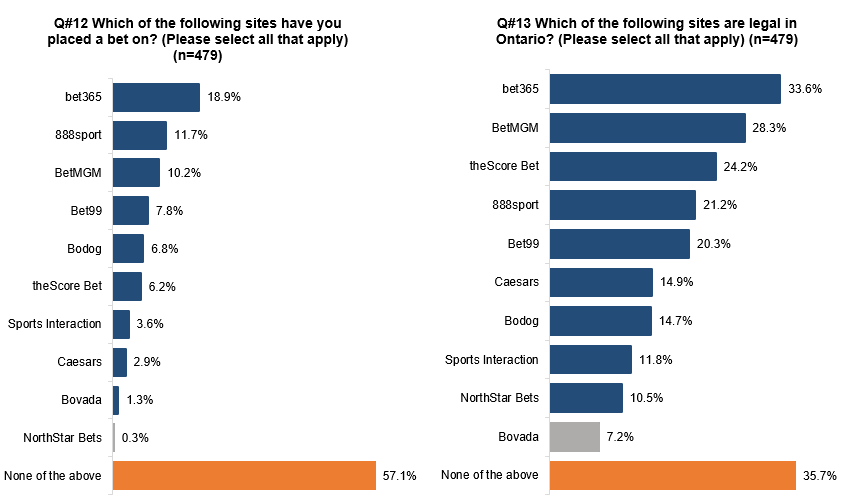 Question #12 – Which of the following sites have you placed a bet on? (Please select all that apply)
Moving on but staying with the group for a little while longer, we get if Brand Recognition turns into bets. The answer is that it mostly does, though not consistently, and with one shocking outlier. In essence, about 1 in every 3 people who recognized the two big European books (bet365 and 888sport) went on to make a bet with them. For the next layer, operators typically convert this awareness into a bet for every 4 to 5 of our respondents. A few huge dips occur after that. Bovada and Caesars convert at an approximately 1 to 8 ratio, which makes sense for the former as most would go to Bodog instead, but is a steep drop-off for the latter.
Lastly, you have NorthStar Bets, converting at about a 1 to 44 ratio. That's a massive drop off! It's one that can be explained pretty easily, in the sense that the Ontario launch was their debut to the industry at large, but that's a lot of ground to make up all the same.
Question #13 – Which of the following sites are legal in Ontario? (Please select all that apply)
This is another interesting frontier, as it gives us a glimpse at the education in the Ontario market. As it turns out, even among interested bettors in Ontario, no one's really sure which books are legal and which ones aren't. At the time that the survey was put out, six of the referenced books were among a group of about 20 that were licensed for operation by iGaming Ontario, with Sports Interaction since joining them and others soon to come. But even then, the most popular answer for legality was "none of the above", and none of the six books had the confidence of even a third of the confidence of our respondents in their legality.
Once again, you see a book like NorthStar trailing three unlicensed books in terms of share of people who believed them to be legal, though to their credit, the ratio of those who recognized them compared to those who believed in their legality was the second highest at 80.2%, with only theScore Bet ranking higher (81.5%). Caesars had the lowest confidence ratio of a legal vote at 61.5%. Proportionately, Sports Interaction was the unlicensed book that most people incorrectly believed to be legal at the time of asking (71.1%), while Bodog correctly had the least of their aware audience confident in their licensing (58.6%).
Question #14: Thinking about BetMGM and Bodog betting sites, which of the following statements do you agree with?:
Here is another example where you can see how muddy the waters are. The most popular answer by far is an incorrect one, the second most popular answer by far is one of uncertainty, and the correct answer – that BetMGM is iGaming Licensed and Bodog is not – was known by just 6.3% of those who responded. One can't expect every consumer to know the ins and outs of every operator (that's what we're here for!), which is why an "I am not sure" response is a totally respectable one, but nearly 60% of all respondents being sure of an incorrect answer speaks to the lack of detail and education in the current market right now, and to how far we still have to go in providing the consumers with the correct information.
Question #15: Where is the best place to find information about online sportsbooks in Ontario?
While we would argue that the slam dunk answer to this question is your friendly neighbourhood CanadaSportsBetting.ca, it is more concerning that the AGCO website lives on the top of the respondents' list. The AGCO's website is not very consumer friendly – the iGaming Ontario website is a much better option as it includes the full list of legal and regulated sportsbooks in Ontario. Platforms like our very own sit in the second seed as we parse through the seas and try to distill the best info for our readers, followed by promotions directly from the books, and a large bucket for various "other" sources.
It'll be interesting to see how this evolves in time, as the market settles and as content platforms get a feel for what the best info they can provide specifically to the Ontarian market looks like.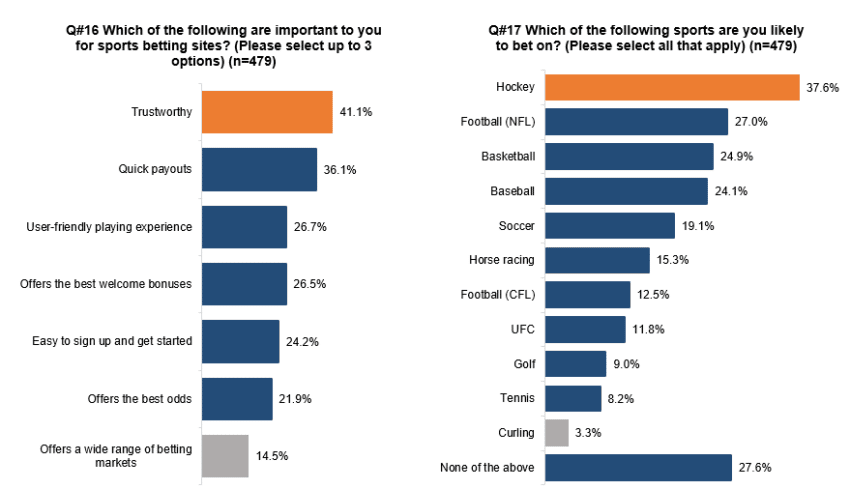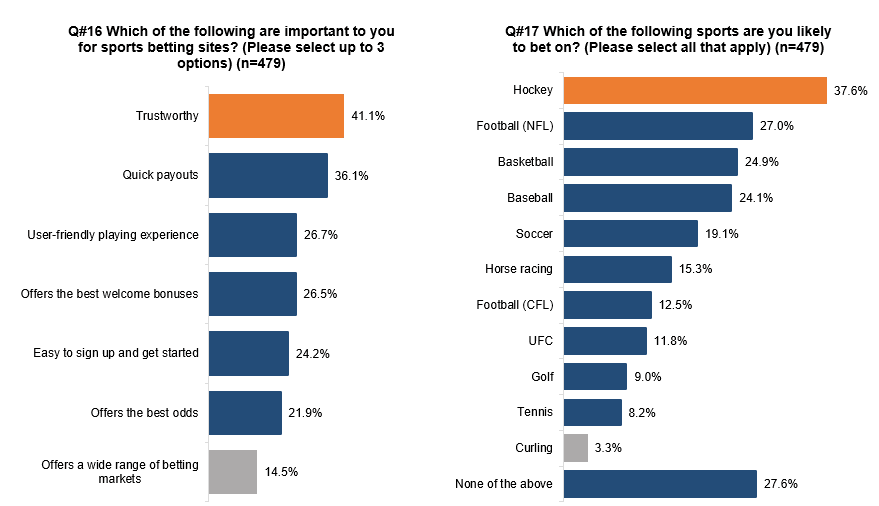 Question #16: Which of the following are important to you for sports betting sites? (Please select up to 3 options):
It should come to no one's surprise that trustworthiness rules the day here, in basically every demographic. Especially when we start adding up everything we've read above – that the top sportsbooks in Ontario are the ones that have the longest brand awareness and most expansive campaigns, that many still see this as relatively untreaded water from a legal perspective, and that the AGCO gets a large chunk of the eyeballs for information on the legal market – people want to know their money is going into safe hands. Being able to get it back is also key, hence quick payouts being next up on the list.
The patterns remain pretty consistent demographic to demographic from here, though there are some fun differences when you break it down. For example, women are significantly less likely than men to worry about getting the absolute best odds. Millennials are much more interested than the norm in getting welcome bonuses, while baby boomers and the greatest generation will sacrifice that incentive for a simple sign up process. Gen X seems to care the most about trust at 47.5% of respondents including it in their top three.
Question #17 Which of the following sports are you likely to bet on? (Please select all that apply):
Hockey still remains on top of the mountain here in Canada, at least for the time being. While the percentage of interested bettors dips from each generation starting at Gen X and heading to Gen Z, it still finds itself the most popular sport of the bunch in our polling sample. Interestingly, the NFL sees a dip with younger generations as well, though the CFL has a slight, but still existent incline. Basketball has dramatically more play with millennials than with the generations before them, as do soccer and UFC. The Baby Boomer generation holds onto one of sports wagering's most esteemed roots in horse racing, though interest wanes as the audience gets younger.
Split into men and women, there is a significantly larger share of women who fall into the "none of the above" cohort, which means that every sport besides Horse Racing takes a decline in their share. Some dip harder than others, though. After the horses, Basketball takes the softest decline, with hockey following, while sports like NFL football and UFC have substantially smaller shares of women, even in relative terms, interested in making a play.