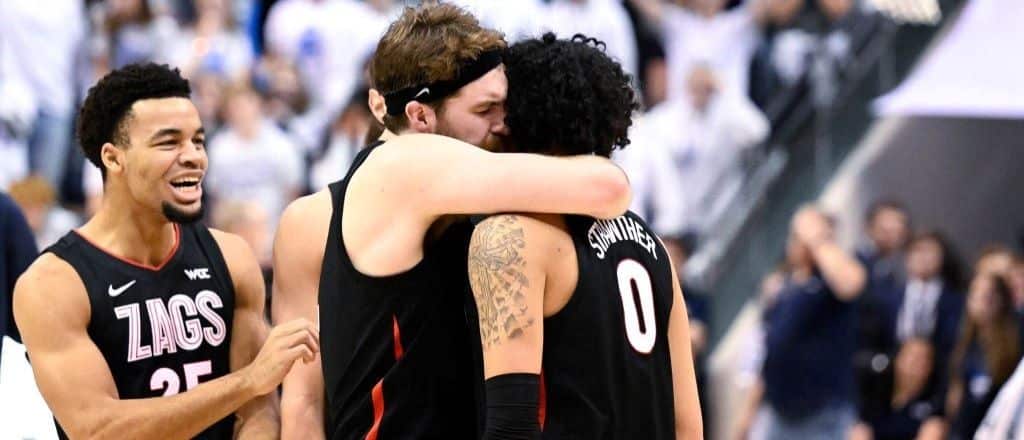 The 2023 edition of the March Madness tournament is right around the corner. Selection Sunday will be taking place on March 12 when the teams will be announced and the bracket finalized. Many people won't even start thinking about their bracket or March Madness bets before the teams have been set. But if you're one of those people, you could be making a big mistake.
For many teams, their odds to win the tournament will shorten once the bracket is set and matchups are finalized. That's why, in some instances, right now is the best time to place your bets on who you think will win it all. To help you make your wagers, here are the five best teams to bet now for March Madness using bet365's odds.
Houston (+650 at bet365)
The Houston Cougars are the favourites to win the tournament. Normally I'd be hesitant to suggest heavy favourites, but I think Houston deserves the hype its getting.
At its best, Houston has been outright dominant this season. On average, the Cougars have outscored their opponents by 20 points per game. They've only lost twice this season and have the best defence in the NCAA. One of those losses was to Alabama, which is also a team to consider betting now (spoiler alert).
The Cougars are led by senior point guard Marcus Sasser and freshman forward Jarace Walker. Sasser leads the Cougars in scoring (17 ppg) and is key to making Houston's offence tick. Walker, meanwhile, is a defensive powerhouse and a great athlete who is sure to be a high lottery pick in next year's NBA Draft.
Sasser and Walker are also aided by juniors J'Wan Roberts and Jamal Shead. Roberts is having a breakout season this year. He's upped his scoring from just three points per game last season to over 10. Shead "broke out" last year and continues to be a big player for Kelvin Sampson's Cougars. Shead averages more minutes (32) than any other Houston player.
If Houston wins the tournament, Sasser and Walker will play a big role, but other players, like Roberts and Shead, will also need to be at the top of their game. I think they could be the team that goes all the way and that Houston is worth placing a bet on now before its odds likely shorten as the tournament nears.
Alabama (+900 at bet365)
Alabama is another big favourite that I think can deliver this March. While the sportsbooks may rank Houston as the better team, I actually think Alabama has a better chance of winning the NCAA Championship than Houston.
Alabama played a tougher schedule than Houston over the season and actually was one of the two teams who managed to beat Houston this year. The reason why Alabama isn't considered to be on the same level is likely because of off-court drama involving superstar Brandon Miller.
Miller's off-the-court controversy surrounding his alleged involvement in a shootout last January has dominated conversations surrounding the Crimson Tide recently. However, all reports indicate that nothing will stop Miller from participating in the tournament. As long as that is the case, Alabama has a chance of finishing the tournament as the champion.
Miller is a projected top-three NBA draft pick and has been essential to Alabama's success this year. He's averaging nearly 20 points per game, while playing over 30 minutes a night and making three three-pointers a game. He should have a good tournament.
Miller can't do it all by himself though. Fellow freshman Noah Clowney and junior guard Mark Sears will need to come up big if Alabama is to win it all. Sears is a shooter, like Miller, so expect him to score while also keeping the rest of the offence engaged. Clowney is the opposite of a shooter. The big man doesn't score much, but his rebounding will be key for Alabama.
Arizona (+1200 at bet365)
A recent shocking loss to rivals Arizona State may have some people backing off Arizona in the tournament, but it really shouldn't deter bettors. Losing on a 60-foot buzzer-beater may seem like a bad omen for the upcoming tournament, but people shouldn't forget that Arizona's offence is one of the most potent and efficient in the country. The Wildcats can cause anyone problems.
The Wildcats are scoring 83 points per game with a 56.4% effective shooting percentage. They rank within the top five in the entire NCAA in both categories. Courtney Ramey and Lithuanian big man Azuolas Tubelis lead this high-powered offence.
Both are good shooters, but Ramey particularly excels from beyond the arc. He's shooting over 40% from three while taking more than six threes a game. Tubelis has a much more well-rounded game and is better inside the arc than out.
If the Wildcats get hot at the right time, even the best teams will have trouble stopping them, and they could very well be tournament champions in April.
Gonzaga (+2500 at bet365)
Next up on our list is Gonzaga. The perennial March Madness contenders come into this one with a weaker squad than they've had in recent years, but they still have what it takes to go far, and even win, the NCAA Championship.
Like Arizona, I like Gonzaga because of its offence. The Zags are the best-scoring team in the NCAA and have proven they can score against big teams. Earlier this year, Gonzaga dropped 100 points on one of our other tournament favourites, Alabama. I wouldn't be surprised if they did something similar at the March Madness tournament.
Gonzaga's key players are Drew Timme and Julian Strawther. Timme, and his facial hair, is well-known to regular March Madness watchers. He's been a presence in Gonzaga lineups since 2019. This year, he leads the Bulldogs in both minutes (31 per game) and points (21 per game).
Strawther is less well-known but shouldn't be overlooked. The 6-foot-7 guard broke into the first team last year and has continued his upward trajectory this year. He's currently averaging 15 points per game while shooting 43% from three.
If Timme and Strawther perform like we expect them to, and a couple of other things go the Zags' way, this could be the year Gonzaga finally becomes national champions.
Kentucky (+4000 at bet365)
Kentucky is the biggest longshot of all the teams mentioned here. This is for good reason. The last two years have been rough for Kentucky basketball fans. The Wildcats missed the tournament outright two years ago and were knocked out in the first round by the 15th-seeded Saint Peter's Peacocks in 2022.
This season has been another disappointing one by Kentucky standards, but the team is still good enough to make it to the March Madness tournament as a likely six or seven seed. Once at the tournament, I think Kentucky could do something special.
John Calipari's Wildcats are not as star-studded as they have been in recent years, but their depth and defence make them stand out this year. Cason Wallace, Oscar Tshiebwe, Jacob Toppin, and Antonio Reeves are all averaging over 11 points per game. The Wildcats are also giving up just 67 points per game, which is less than you would think given their record (20-9).
Revenge is surely on the mind for Calipari coming into this tournament, This could help bolster the Wildcats' already impressive solid team spirit.
While definitely not favourites, Kentucky could go far in this year's tournament, so it's worth backing the Wildcats as a longshot pick.