March Madness is one of the most interesting sports betting experiences on the planet. Every year, the top college basketball teams in the United States descend on each other in a frantic yet straight-up knockout tournament, that leaves no room for error and a lot of room for upset, surprise, and thrills. It's become a staple of the betting industry from friend circles to big books. March Madness betting odds are available all year round and odds to win the NCAA tournament are hard to pin down as the best college teams all participate. Below, we'll break down the tournament, including a quick look at the top futures odds. Let's get to it!
The 2023 NCAA Men's Basketball Tournament
The bracket is set! Stay tuned to Canada Sports Betting all throughout the next month as we break down the matchups, make our picks and keep you informed!
March Madness 2023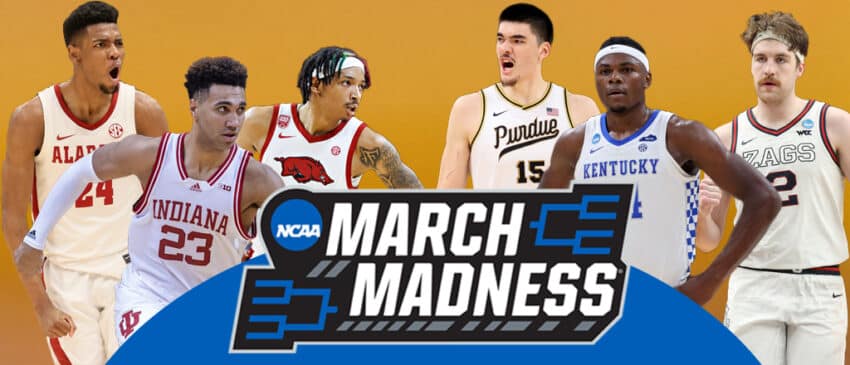 Bracketologists get ready! The time has come for us to make our picks and enjoy one of the most exciting sports tournaments of the year. The tournament is underway and the finals loom.
April 3rd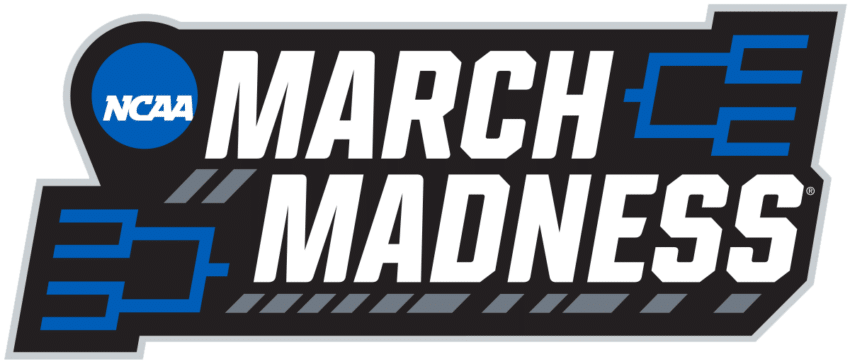 March Madness 2023 Futures Odds
As the March Madness 2023 tournament looms, we've scoured our the top sportsbooks in Canada to find the best odds for the top schools. Those March Madness 2023 odds are available to you below, though they are subject to change. Our most recent update on these NCAA March Madness 2023 winners odds was onDec 07, 2023:
March Madness Schedule 2023
Here are the key dates for March Madness and March Madness betting:
Selection Sunday – March 12th, 2023
First Four – March 14th and 15th, 2023 (Dayton, Ohio)
First Round – March 16th and 17th, 2023 (Eight Locations)
Second Round – March 18th and 19th, 2023 (Eight Locations)
Sweet Sixteen – March 23rd and 24th, 2023 (Las Vegas, New York, Kansas City, Louisville)
Elite Eight – March 25th and 26th, 2023 (Las Vegas, New York, Kansas City, Louisville)
Final Four – April 1st, 2023 (Houston, Texas)
National Championship – April 3rd, 2023 (Houston, Texas)
Ranking the best Betting Sites to bet on March Madness in Canada
Ranking the best Betting Sites to bet on March Madness in Ontario
How we rank March Madness betting sites
So, we've told you where to bet on March madness, but what makes these online providers so good? The team here at Canada Sports Betting is made up of avid sports fans and experienced bettors, meaning we have all the tools to assess odds on the various sites available to Canadian players.
We carry out thorough evaluations of the various March madness betting sites and ensure that we follow strict criteria when it comes to assessing the quality of online gambling sites. As the industry adjusts and evolves, we must do so too. This is integral to the quality of the service we provide. We keep up-to-date with the latest industry changes to make sure our ratings on March madness betting sites are accurate.
Trustworthiness
As you can probably imagine, this is one of the most important features of any March madness betting site or any other form of betting site for that matter. There are basic standards that must be met, then there is another layer of protection that we ensure to promote to all our readers.
Knowing your money is in good hands gives bettors a sense of comfort they deserve when playing the odds. Ensuring providers are properly licensed and regulated is the first thing we do. You can trust the providers we have recommended and be assured that your money and personal information will be handled with care.
Betting Markets
March Madness features a ridiculous number of games in just over two weeks. As such, it's vital to bettors that select a sportsbook that provides a wide variety of betting markets. It's a given that a sportsbook offers March Madness game odds, moneylines, spreads, and totals, but March madness fans should demand much more! Futures bets for one.
Determining who are the favourites to win march madness, and choosing an outright winner is the first stage – but bettors should also look for Final Four and Elite Eight futures markets. Then, finally, we have the March madness prop betting markets. There are some great opportunities within March madness props, as well as bets that are geared more towards being purely entertaining.
March madness draws in all kinds of viewers, some that just want to fill out their printed schedule, and others that just watch for the social. Either way, the sportsbook you choose should cater to all types of players and offer value across all markets.
Banking
There's nothing worse than finding the perfect sports betting site, only to find out it doesn't offer your preferred payment method. Or, a provider that allows for deposits, but not withdrawals using the same method. These kinds of little issues can become much bigger problems over time. Players should demand a quick and easy process, with the choice of a broad range of tried-and-tested payment methods. Swift and reliable payments are an absolute must.
A range of payment methods should include the likes of major credit cards like Visa and Mastercard, debit options including Interac and popular e-wallets like PayPal, Skrill, and Neteller. Not only this but also traditional payment methods too, including the likes of wire transfers and Western Union. While one cannot expect all of these, as long as the key ones are covered the site will get our approval.
Finally, we must comment on the ever-growing presence of cryptocurrencies. Many sportsbooks are jumping on board and offering a range of great betting options to users, including the option to deposit with Bitcoin, Ethereum and Bitcoin Cash.
Competitive Odds
We touched on this briefly before, when we discussed the various betting lines bettors should demand, but only now we will focus more on the actual odds. We discussed the sheer number of sports betting sites online these days, which means there is a great deal of competition between providers. Enhanced odds and promoting competitive betting odds are one-way sportsbooks that stand out from one another. The sites we've recommended work with low betting margins, meaning their odds and lines are consistent. Make sure to check the most up-to-date odds with your favourite providers to get the most competitive odds around.
Live Betting
In-play or live betting is great, as it allows bettors to add that extra level of entertainment to any sports fixture. Moreover, bettors will have a whole new range of betting lines available to them. The increased number of lines really opens up the opportunity to make more money playing the odds. Live betting is offered at the vast majority of betting sites nowadays, but it's always worth checking with your provider to see that this feature is operational.
Promotions and Bonuses
March madness betting sites are constantly competing for the attention of bettors. The intense competition means customers are gifted with a great range of sportsbook benefits. With so many established online sportsbook providers, the options are endless. But, remember, all online providers offer a unique selling point in one way or another, so be sure to check out the myriad of bonuses at your disposal before depositing. As well as exclusive March Madness betting promotions, there are many other promotions running throughout the year.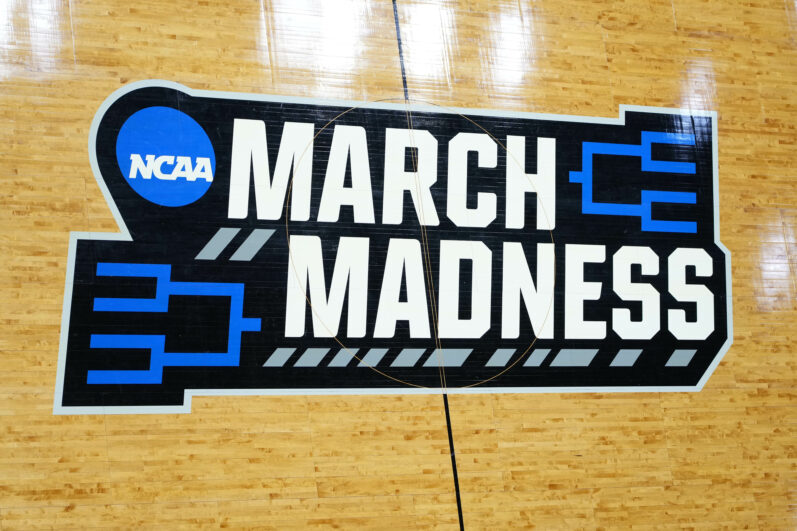 What is March Madness? A Brief History
Schools facing other schools in sports has been a staple of our being for about as long as we've had sports and schools. It draws on our competitive nature while also bringing us together. No one does this better, though, than the United States and their College & University athletics. In many cities and states, their collegiate sports teams are the driving force of the community, more important than the professionals, more important than the schools themselves, and an outright way of life. They're a cultural, borderline religious experience, and mean everything to those who surround them.
Due to the vast size of the country and only so many days in the year, not every school can face each other, which typically leads to divisions and conferences where pockets of schools face each other for local glory. But in 1939, the Men's Basketball side posed a question: Could we get the best of the best together?
And thus, a national championship was born. Eight teams, an east and west regional, and a championship in Evanston Illinois. The Oregon Webfoots (now Ducks) would win it all, and… not get to the final four again for another 68 years. But hey! The tournament was a success. By 1951 it had expanded to 16 teams, by 1975 it was up to 32, in 1983 it crossed the 50 threshold and since 2011, the 68 team tournament format has been in place.
Interestingly enough, the tournament hasn't always officially been called March Madness. The term had been used loosely to refer to school spring basketball tournaments in the 1940s, but it wasn't until the 1980s where it became firmly associated with the National Men's NCAA tournament. The NCAA took partial trademark of the term in 1996 and gained full control in 2010. By this point, no one had any doubt in what the phrase was associated with, but it key to the schools to have control of the brand.
The March Madness Bracket
March Madness is one of the biggest events in sports betting, but it's driving game-within-the-game isn't one you typically play on a sportsbook. Yes, we're talking about Brackets.
No one really knows when the bracket craze started – the Smithsonian's quest to figure out the history guesses that the first bracket pool was done traced it back to a bar in Staten Island, New York in 1977 – but the safe money is on the boom coming in the 1980s. By this point, the 64-68 team format had been shelled out, dynasties were a little less dominant than they'd used to be, and upsets were a bit more common. TV Broadcasting, allowing fans to more easily follow along with their picks, added a lot more flavour as well.
Bracket pools are great in the sense that they can attract even the most casual of sports fans, let alone sports bettors. The most popular bracket competitions are free to enter, and can also be done locally or with friends for free or for very little barrier to entry. A single entry guarantees you at least 32 games to have skin in, with the potential for dozens more. And filling one out is straightforward – brackets aren't re-seeded, so you go straight up and hope for the best.
Getting a perfect bracket is near impossible. While basketball is the team sport that is arguably the best at having the best teams win in the long run due to the volume of scoring events and the amount of floor time the best players take up, the single-game knockouts also mean that a bad night for a star, a good night for an underdog, or just plain luck can completely disrupt probability. A completely random bracket has 1 in 9.2 quintillion odds of going perfect, but even a perfectly researched and weighted model's odds of getting all the way across without error are still in the 1 in several billion range. In other words, even the smartest expert is more likely to win the lottery than to go perfect. But all you need to do to win your pool is be the least wrong in your group, and that's what makes it so fun!
For those who want to add a little bit more fun to their sportsbook experience, most of the Top Canadian Sportsbooks will have their own March Madness bracket pools. You can also enter and host ones through the NCAA, ESPN, Yahoo Sports, or even just whip one up with your friends. Bracket competitions tend to open just after Selection Sunday, once everyone knows who the teams are, so you have to pick relatively quickly!
What are the chances of picking the perfect March madness betting bracket?
Many of you will be reading this thinking that you have what it takes to complete a perfect March madness betting bracket. But, the probability of not missing a single game during the tournament is very low. Not to say it's impossible, it's just extremely unlikely.
It differs from making NCAA basketball futures bets or following a March madness betting strategy, it requires a depth of knowledge about the NCAA teams and a lot of luck!
The tournament consists of 65 games in a 64-team single-elimination, which requires teams to win 63 games to be crowned champions. As such that means the winning team must go 63-0. Sounds likely?
If each team competing has a 50% chance of winning each game, then bettors have a 1 in 9,223,372,036,854,775,800 chance of being correct. The March madness perfect bracket odds are very favourable if you genuinely believe you have a fair chance of winning. That's a really big number and if it looks confusing, we will give you some clarity – your chances of winning the Powerball on average are 1 in 292,000,000, which looks pretty likely when lined up against the March madness odds.
But, before we scare you off entirely, remember that there are still some great betting opportunities available to players looking to play the odds during March madness.
What are the odds of getting all 63 games correct?
There is no secret strategy or special technique to employ to get all 63 games correct. However, there are a few basic rules to live by in order to make the most of it. Obviously, it's important to go with a team that has a chance of being successful, which bettors will find in the March madness odds. As mentioned, the odds of a march madness bracket being perfect are astronomical.
A number 1 seed team is slated as such for a reason. A #1 seed hasn't lost to a #16 seed since 1985. Going for a rogue bet against the odds in the first round is ill-advised. Instead, take a look at the winner's odds by seed and see which teams are likely to progress and which aren't.
The unpredictability of the tournament makes it all the more difficult to land a March madness perfect bracket, but it's always a very exciting journey! So, take a punt this year and fill out your bracket to see how you fare against all the odds!
Most of the top sportsbooks below offer promotions on betting on March Madness bracket.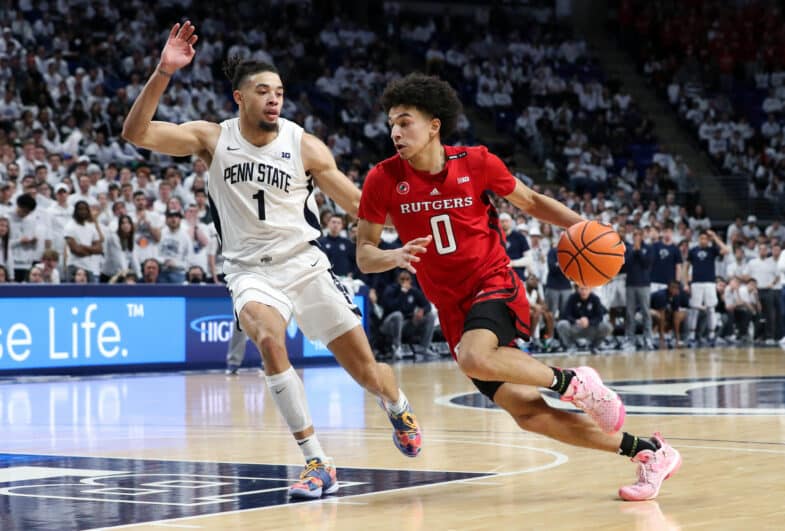 March Madness Predictions 2023
It's called March Madness for a reason, and you would have to be mad to think that you can pick an entire bracket (that's successfully picking 63 correct outcomes, a feat no-one has ever achieved). The sheer fact that 63 games are held in just two weeks at the end of March is also an indication of the madness involved.
So, how do we go about getting the best March Madness predictions 2023, and determine who has the best odds to win march madness?
Is the answer to the question 'who will win March Madness?' found in the odds to win March Madness? Let's start by looking at some reputable March Madness sources.
Best March Madness Predictions on Twitter
Many Twitter users will claim to have the best bracket picks for March Madness, although the best guides are always those with proven records of picking well.
For the inside scoop on odds to win march madness, you can also go with users that clearly live and breathe the sport, those like @theandykatz who writes for ESPN and has covered basketball for over 30 years. This is a great place to start for those who want to learn more about NCAA basketball – let the experts do the hard work and follow accordingly.
@Daniel_Wilco is another rising star in the NCAA bracket game and has reported on college basketball for the last five years. He could be a great account to follow leading into the 2023 season.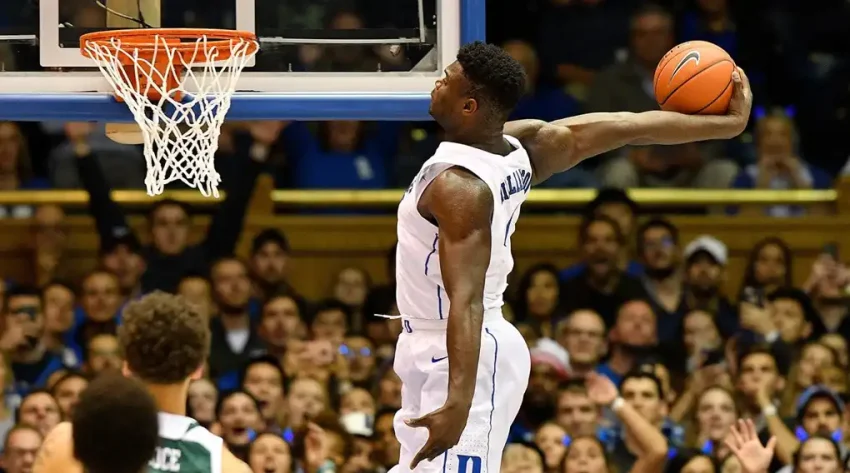 Best March Madness Research Tools
At the end of the day, you're going to want to do a whole lot of research when coming up with bracket picks. When it comes to who has best odds to win march madness, there's no better place to start your journey than at the home of college basketball – the NCAA website.
NCAA.com has all the news stories, game previews, and bracket selection tips to hopefully provide you with an understanding of the best teams to select.
Don't forget that the leading sportsbooks also have a pretty good idea about NCAA and the odds will likely represent the chances of each team's progression through March Madness.
You can find a broad guide to these odds by checking out our NCAA Basketball Odds guide, which will showcase some of our sportsbook partners and highlight the best place to find odds. You can also use our March Madness printable schedule to keep it all in order.
How Does March Madness Work?
68 college basketball teams compete in the NCAA's men's basketball tournament.
Each team is ranked from 1 to 68 based on their regular season and conference records, and after four teams are eliminated in the first round (known as the First Four) we're left with 64 teams that a split across four regional divisions.
So, in each of the four divisions, you have sixteen teams, seeded from 1 to 16, again based on their ranking. Seed 1 will play against Seed 16, Seed 2 will face Seed 15 and so on.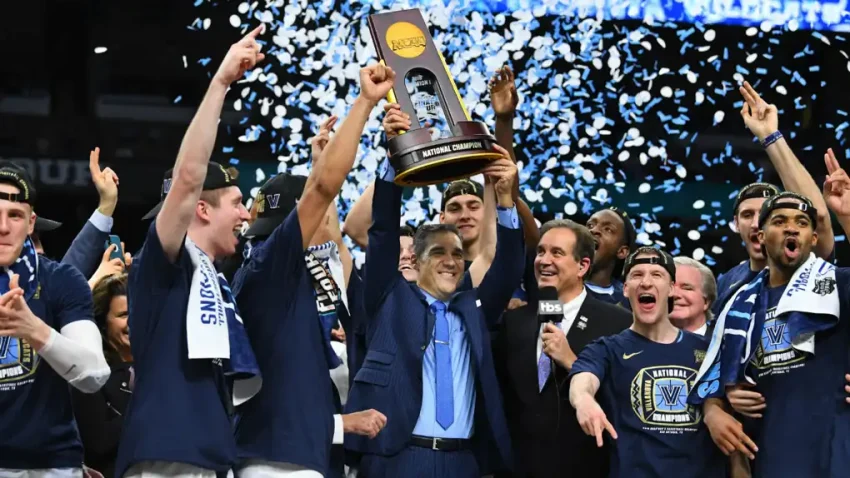 The tournament is straight knockout until you have a winner from each division. After we've moved on from march madness first round odds, Sixteen teams will become eight, and eight will become four – this stage is known as 'Sweet Sixteen' as there are four teams left in each division.
The winners of the Sweet Sixteen will compete in the Elite Eight, another name for the divisional finals, and after the march madness elite eight betting is done, the winners of these games will compete in the 'Final Four'. March Madness final four odds will be available year round and will obviously be more attractive the further we are from determining the last four schools. The march madness odds to win it all are exciting to follow!
The winner of March Madness is the last team standing.
College Sports Covered
March Madness is the best part of college basketball, and you can also find odds for other college sports here on CSB, such as NCAA Baseball Odds and NCAA Football Odds.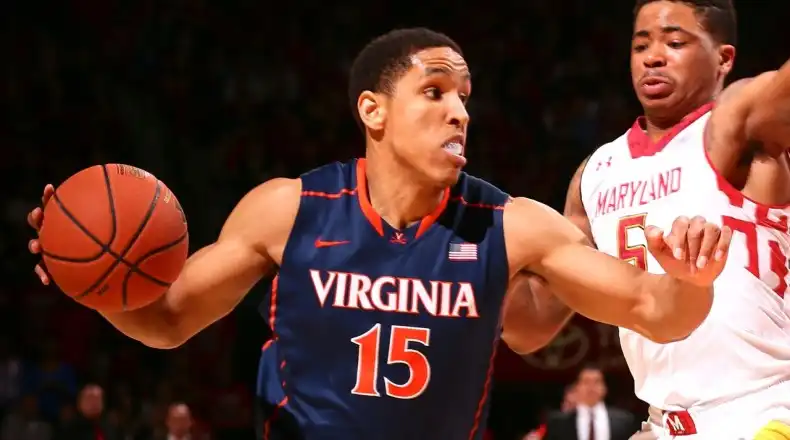 March Madness Teams
The 32 Division I conferences all receive an automatic bid for March Madness, while the remaining 36 teams all need to earn their places via the selection committee that convenes on Selection Sunday.
Selection Sunday
This is the day that everyone waits for. The Selection Committee (a 10-member NCAA men's Division I Basketball Committee) is responsible for selecting, seeding and bracketing the field for the NCAA Tournament, and this year's Selection Sunday is March 12, 2023.
March Madness Betting
Just because it's called March Madness doesn't mean you have to wait until March to do some betting on March Madness. Wagers can be placed all year round using March Madness betting odds, and the best option in the months leading up to the big tournament in the future betting lines.
The best college players will be among the favourites of the upcoming NBA Draft.
Strats for March Madness
The number of March madness specific betting sites is stacked. From specific stats sites offering percentages and advanced analytics, to methods like kenpom, which is largely considered to be the bible for stat-based bettors.
In fact, the organizers use stats to help organize the bracket at the start of the tournament. So, there is certainly value in the numbers. If you're the kind of player that often looks at the stats, we'd strongly recommend taking a lot at some of the many sites dedicated to providing numbers for the tournament.
Do your Homework
We cannot stress this one enough. If you are really serious about making some money on March madness, you must ensure you take some time to consider the teams involved and who might have what it takes to win the tournament.
Recent team history, the current roster, the coach, march madness final odds, march madness winner odds, all of these things will play a part in the overall performance of the team. Check injuries – which players aren't performing as they normally do? Veteran players, injury-free teams, star players, all of these things are valuable. Know your history before the tournament begins.
Trust yourself
Once you've become accustomed to our March madness betting strategy, go ahead and be confident. While there are ample betting opportunities, the NCAA Basketball tournament is just a lot of fun to watch and be involved in on the day. Understanding how the bracket works, and what sort of bets to make creates a really fun atmosphere. Be informed and trust yourself before betting on March Madness.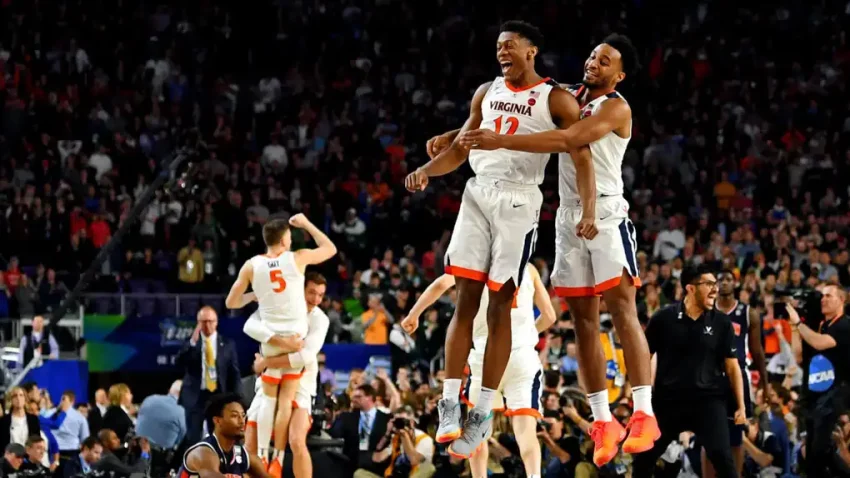 Future Betting on March Madness
Future bets for March Madness focus mainly on the overall winner of the tournament. What are the odds of winning March Madness well in advance of the tournament? If you're following the NCAA closely and you can see that one of the top teams is building nicely, once it's determined who the march madness favourites are, you should definitely look at placing a wager.
You will often get odds of around 8.00 or higher on favourites simply because there is so much great competition in the NCAA. This is much higher than the odds you will get after Selection Sunday.
Previous winners are always a good shout when looking at future odds. College teams with a reputation to go deep will attract the best young players, so they will always be a good chance.
You will get great odds on some of these teams when you bet early, and you can even bet on March Madness final four odds if you think your team might get close but not win the whole thing.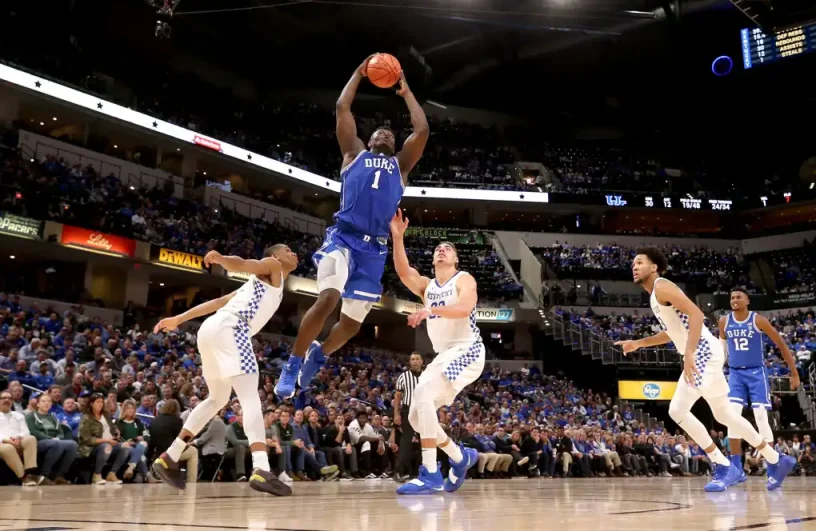 March Madness Individual Game Betting
When March arrives, you will be able to place wagers on every individual match. March Madness betting lines will be set and you'll be ready to go. Standard moneyline (head-to-head) betting is the most basic form of wagering, while you can also choose to bet on the spread or over/under markets. There's plenty of options. To win money March Madness betting, you've got to stay informed of your options. The odds of winning march madness will change frequently so keep your eyes peeled.
Of course, you can choose to place prop bets, including wagers like most points, first basket and most rebounds. There is a stack of options.
Where To Bet on March Madness
All of our betting partners have great odds, and you shouldn't look any further when deciding where to bet on March Madness.
March Madness TV Schedule
Canadians looking to watch March Madness will find a variety of games available on TSN and the TSN app. Other games will broadcast on CBS and Turner Network channels. The Final Four and Championship will air exclusively on TSN and CBS. The last option is to go directly to the NCAA website to stream games, which for anyone without a TV package or subscription service would be their best option.
March Madness FAQs
When is March Madness?
March Madness will take place between the second weekend of March (13th) and is concluded with the NCAA Championship game around the first week of April (4th).
Are March Madness odds available throughout the year?
Generally speaking, yes. You'll find March Madness futures in the offseason and a full range of betting odds for game-by-game markets during the season.
Is March Madness Betting Popular?
March Madness is one of the most popular betting periods within any sports calendar year, mainly because it offers so many great opportunities to wager, but also because it's become a tradition for sports fans.
Are there prop bets for March Madness?
March Madness is one of the most exciting betting periods in North America, so you'll find a broad range of prop betting markets.
Can you find odds for NCAAB over/under?
Of course, you can. The NCAAB over/under odds are some of the most popular across all lines, so be sure to work with a sportsbook that offers these odds.
Can I live bet on March Madness?
You certainly can. While it does depend on the bookmaker you're working with, any of the recommended sports betting sites we've posted here are available.
Can you earn good money during March Madness?
Well, as ever this is dependent on the type of bets you make. The most intelligent bets will be the most fruitful in the long run, so do your research.
Which site is best for March Madness betting?
Each sportsbook offers its own bonuses and benefits, so I would advise taking a look through our list of bookmakers and finding the best one for you.
Are there March Madness Futures available?
Throughout the year and especially leading up to the event itself. Be sure to check back with your favorite oddsmakers for the latest.
Who has won the most NCAA March Madness titles?
The Bruins of UCLA hold the top position in championship rankings by winning an impressive 11 championships, while the Kentucky Wildcats come in second place. Kentucky's most recent championship victory was in 2012, and their most recent appearance in the Final Four was in 2015.
Who is favoured to win March Madness 2023?
Sportsbooks consider Kansas and Purdue to be strong contenders to win March Madness 2023, but the Houston Cougars are currently viewed as the top favorite to take home the championship title this year.
Is it legal to bet on March Madness?
Yes it is! Betting on a certified and safe Canadian sportsbook is perfectly legal.
Why can't NCAA athletes Gamble?
In order to uphold the integrity of college sports competitions, NCAA rules prohibit student-athletes from placing monetary bets on any sporting event, regardless of whether it is a college, professional, or other type of event, in which the NCAA conducts collegiate championships.
Why is it called March Madness?
March Madness is the term used to describe the concluding weeks of the US college basketball tournament, which showcases numerous top schools from across the nation. The reason it is referred to as madness is due to the sheer number of games taking place simultaneously throughout the country in quick succession, typically occurring during the month of March.
Where can I watch the final of March Madness?
Canadians looking to watch March Madness will find a variety of games available on TSN and the TSN app. Other games will broadcast on CBS and Turner Network channels. The Final Four and Championship will air exclusively on TSN and CBS. The last option is to go directly to the NCAA website to stream games, which for anyone without a TV package or subscription service would be their best option.
What is the lowest ranked NCAA team to win March Madness?
The lowest-seeded team to go all the way and win the championship was the 1985 Villanova squad, a No. 8 seed.
Has a 16 seed ever beat a 1?
Yes. Once.

On March 16, 2018, In what can only be described as an incredible feat, the University of Maryland Baltimore County (UMBC) pulled off an upset for the ages by taking down top-ranked Virginia. But what sets this victory apart from the rest is how UMBC accomplished it – they completely dominated the Cavs in a way that's rarely been seen before. As the teams headed into halftime with a score of 21-21, no one could have predicted what was to come. UMBC emerged from the locker room with a renewed sense of purpose, led by the unstoppable Jairus Lyles, who scored an impressive 23 points in the second half alone. From there, the Retrievers never looked back, outscoring Virginia by a whopping 20 points to seal a resounding 74-54 victory. For Virginia, this was undoubtedly their most lopsided loss of the season, and one that they won't soon forget.
What are the brackets for March Madness 2023?
Check out ESPN's official bracket here!
How often has a 15 seed beat a 2 seed?
Since the tournament expanded to the current 64-team format in 1985, No. 15 seeds have managed to pull off the upset against No. 2 teams only 10 times, resulting in a win percentage of just 6.25%.
What's the highest seed to make the Final Four?
Since the tournament expanded in 1985, there has yet to be a team seeded lower than 11 that has advanced to the Final Four. However, in a surprising turn of events, five different teams with a number 11 seed have managed to make it to the Final Four. This includes LSU in 1986, George Mason in 2006, VCU in 2011, Loyola-Chicago in 2018, and most recently, UCLA in 2020.
What is the lowest seed to win March Madness?
The lowest-ranked team to ever win the tournament was a No. 8 seed. And that record belongs to the Villanova Wildcats from 1985.
Do March Madness players make money?
NCAA athletes do not earn money from playing for their schools, they can however earn money from endorsements as of a 2022 Supreme Court decision.