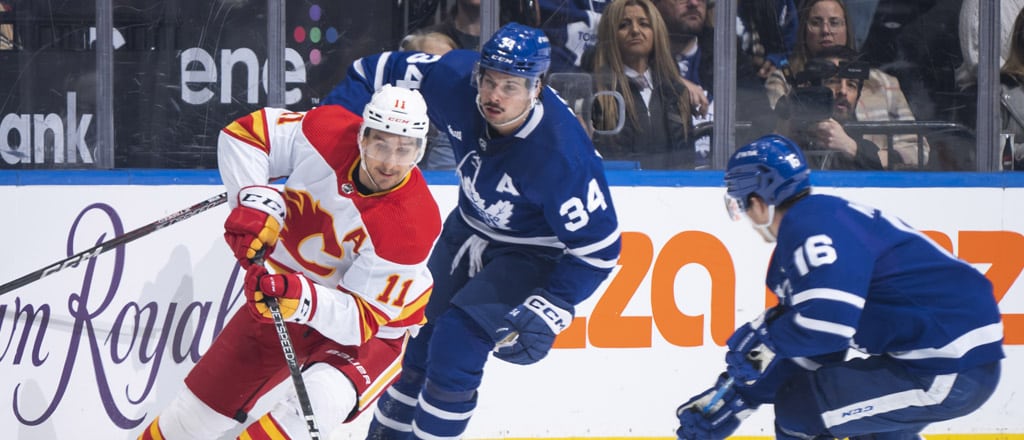 The Toronto Maple Leafs had a tough night at the office last night, getting smoked 5-2 by the Edmonton Oilers in one of their worst efforts of the season. Thankfully for them, there are two teams to visit in Alberta, and the Calgary Flames haven't played the most inspired hockey of late. At the same time, the Flames have a chip on their shoulder that they'd like to unleash on their blue-jerseyed opponents, and aren't likely to be an easy match. Let's break down how our main focus in Thursday's National Hockey League action could play out!
Maple Leafs vs. Flames odds
All odds courtesy of

Previous matchup
This will be the second and final matchup between the Maple Leafs and Flames this season, with their previous game coming in Toronto on Dec. 10. That one was a bit of a thriller, with the two teams combining for nine goals in what ultimately became a Leafs victory. Power plays were key to Toronto's success, leading to Flames head coach Darryl Sutter appearing to accuse the officials of pro-Toronto bias, as Auston Matthews, William Nylander, and Mitch Marner all scored with the extra man. Michael Bunting was Toronto's other goal scorer, while Nylander added a second to summarize Toronto's goals. On Calgary's side, Noah Hanifin picked up a pair to compliment Nazem Kadri and Trevor Lewis.
About the Maple Leafs (37-16-7-1, 26-35 ATS, 26-32 o/u)
Obviously, not a ton has happened to the the Leafs since we featured them in yesterday's game of the night. They took on the Oilers, and quite honestly, mailed in a bit, producing a top-to-bottom uninspiring effort while Edmonton played as if it was shot out of a cannon (on the plus side, three of our four wagers to consider hit last night). Head coach Sheldon Keefe called the effort one without "purpose or intelligence", not having issue with newcomers Jake McCabe or Sam Lafferty, but rather the performance of his established core. The good news is that, while a little tired, the group has a chance to redeem themselves in short order.
Player to watch: Auston Matthews
Last night was a rough one for Matthews, who picked up the power play point (an assist) that we expected him to, but generally looked out of place at 5-on-5, only taking two shots in 20 minutes and never really taking over a shift. I do share some of the wonder that others have had about him nursing something or otherwise not being 100%, but even still, yesterday felt like an abnormal dip. He has an opportunity to shake that off here against a struggling opponent.
About the Flames (27-21-10-3, 25-38 ATS, 31-29 o/u)
The Flames continue to pick up enough points to keep themselves afloat, but not enough to inspire much confidence. Calgary has only three regulation losses since Jan. 27, but similarly, only two regulation wins, giving a combined record of 4-4-4 in that 12-game run. Records around .500 aren't what they used to be, particularly when it involves you losing two-thirds of your games, and especially so when this is a "last big swing" year for your team. Calgary has lost each of its last three games against some pretty good teams in Vegas, Colorado, and Boston. However, the Flames did bring the Golden Knights and Bruins to overtime, and the first two of those games were on the road.
Player to watch: Jonathan Huberdeau
Speaking of struggling stars, no player has had a bigger nosedive this year than Calgary's blockbuster forward acquisition from this summer. Huberdeau, who turns 30 in June, put up a career-high 115 points last year and is currently on pace for 56, which would be the lowest clip he's produced at since his age 21 season in 2014/15. Part of this is usage, as Sutter's system is more restrictive and his minutes have been brought down to similar career lows, shedding 2:26 off of his average ice time. But that doesn't answer everything – his offensive zone starts remain high, and his per hour shot, goal, and assists rates are all unusually low. Some of it might be luck – his on ice shooting percentage at even strength is at a career low and on the power play it's not much better – but the Flames need more out of him, fast.
Probable goaltenders
Maple Leafs: Joseph Woll (1-1-0, 2.56 GAA, 0.929 SV%)- confirmed.
Flames: Jacob Markstrom (15-15-8, 2.96 GAA, 0.887 SV%)- unconfirmed.
Noteworthy Absences
Outside of Oliver Kylington's personal leave that has left him out of the season, the Flames nave no notable absences coming into tonight. Similar for the Leafs, outside of waiting to see when Erik Gustafsson and Luke Schenn will make their debuts.
Betting trends to watch
The Flames haven't done well at home against the Leafs of late, losing four of their last five. They have a 3-2 record on the puckline in that span, however.
The over has cashed in seven of Calgary's last 10 games overall and six of Toronto's last 10 contests.
The Leafs have done okay as a favourite of late, coming in 7-3 straight up and 6-4 against the puckline. Enough for the team in the standings, but also not enough to be too excited for those of us playing the odds.
Wagers to consider
With Matthews having such a sluggish Wednesday, I reckon we'll see a more aggressive effort tonight. That doesn't mean he's going to produce, necessarily, but the best way to bet on process is usually the shot props. The line for him is at 3.5 shots with a season average of 4.1, I'd be inclined to lean towards the over at -125.
Similarly, former Leafs forward Nazem Kadri typically finds a way to rise to the occasion for games against them, taking 19 shots and picking up seven points in five games since moving on from the team in 2019. His line is at +100 for 3.5 shots on goal, and that to me is the safest bet. +170 for an anytime goal is also an option for him, though.
Toronto just barely missed out on a goal in the first 10 minutes last night, and I figure the Leafs will come out flying tonight. +145 for that at bet365 seems like a decent look if you're feeling the same way.
Other NHL Games Tonight
There are nine additional games on the NHL schedule tonight. Here's who we've got on tap: