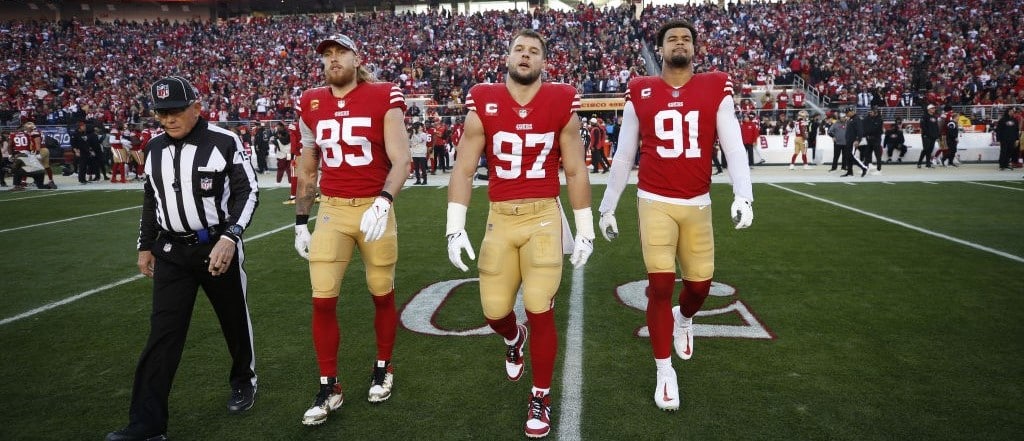 Just 18 months ago, it looked like the NFC West could be one of the most stacked divisions in football. The San Francisco 49ers have been one of the best teams in the league for a few years. The Los Angeles Rams were coming off a Super Bowl victory. The Arizona Cardinals had Kyler Murray and a ton of potential. Only the Seattle Seahawks were slept on going into the 2022 season.
Since then a lot has happened, much of it unexpected. The Cardinals and Rams both completely fell apart, turning in two of the worst records in the league last season. The Seahawks, behind the surprising Geno Smith, turned out to be further along than we thought. And the 49ers were a quarterback away from a Super Bowl appearance.
Thanks for reading our NFL Divisional Preview Series! Be sure to check out our previews for all eight divisions:
AFC North – AFC South – AFC East – AFC West – NFC North – NFC South – NFC East – NFC West
As well, be sure to check out our 2023 NFL Betting Portal for more info to prepare for the NFL season!
Here's our NFC West Division preview featuring odds from bet365.
San Francisco 49ers
Super Bowl odds: +900
To win conference odds: +350
Division odds: -175
Odds to make the playoffs: Yes -450, No +330
Season win total: Over 11.5 (+135), Under 11.5 (-165)
2023 record: 12-5 (Over 11.5)
Key additions: DT Javon Hargrave, C Jake Brendel, CB Isaiah Oliver
Key subtractions: RT Mike McGlinchey, QB Jimmy Garoppolo, DE Samson Ebukam, DE Charles Omenihu, FS Jimmie Ward
Most important game on the schedule: Week 8 against the Cincinnati Bengals will be important for both teams and potentially a Super Bowl preview. They are both on the short list of contenders in the league and it will be a good chance to see how each stacks up against elite competition. It also kicks off an important stretch where the Niners face the Jacksonville Jaguars, Seahawks (twice), Philadelphia Eagles, and Baltimore Ravens within a seven-week stretch. A win at home against Joe Burrow and company would set a nice tone going forward.
Prop to watch: Tight end George Kittle struggled with injuries last season, limiting his effectiveness at times. Even still, he showed just why he is considered to be among the handful of best tight ends in the game. With his health restored and time to work with both Trey Lance and Brock Purdy, it should be a rejuvenating year for Kittle. Look to his receiving yards total (700.5) and gleefully pick the over (-110) as Kittle reestablishes himself as an elite tight end.
Potential breakout player: There are some that might argue that receiver Brandon Ayiuk already had his breakout season. With 1,015 receiving yards and eight touchdowns, it is certainly hard to argue that he hasn't had a breakout already. Considering his potential, it is entirely possible that Ayiuk hits another level this year. Going from the fourth option to a feature player, Ayiuk has the potential to be a Pro Bowl and All-Pro kind of player. If the Niners can find a true answer at quarterback, Ayiuk has unlimited potential.
Betting projection: It's Super Bowl or bust for the 49ers. Many feel that they would have been a true threat to win against the Eagles if not for their horrific luck with quarterback injuries. Purdy and Lance are back and ready to bring the offence to the next level. The Niners have a tough schedule but there are few teams better. Take the over on their wins (+135) and the division title (-175) as the safer bets around. At +900 to win the Super Bowl, you can get solid value on what should be one of the two serious favourites to win the championship from the NFC.
Seattle Seahawks
Super Bowl odds: +3300
To win conference odds: +1400
Division odds: +220
Odds to make the playoffs: Yes -125, No +100
Season win total: Over 8.5 (-160), Under 8.5 (+130)
2023 record: 10-7 (Over 8.5)
Key additions: DE Dre'Mont Jones, FS Julian Love, DE Jarran Reed, ILB Bobby Wagner
Key subtractions: RB Travis Homer, DT Quinton Jefferson
Most important game on the schedule: It is hard to ignore Week 11's home tilt with the 49ers. The Seahawks are the only real threat to the 49ers for the division crown and this will be their first chance to show whether that threat is justified or just imagined. The Seahawks will have some other very tough games ahead of them. Visits to the Detroit Lions, Ravens, Bengals, New York Giants, and Dallas Cowboys, plus games at home against the Pittsburgh Steelers, Eagles, and Cleveland Browns equate to a rough schedule. A win against the 49ers in Week 11 could give them the momentum needed to take a few of those coin-flip matchups on the slate.
Prop to watch: Given what he was in 2020 (1,300 receiving yards, 10 touchdowns) and 2021 (967 receiving yards, 12 touchdowns), 2022 was a step back for receiver DK Metcalf. His 1,048 receiving yards and six touchdowns would be fine for anyone else, just not a guy considered to be an elite receiver. With a more established ground game thanks to Kenneth Walker and a resurgence from quarterback Geno Smith, Metcalf is poised for another big year. Look to his receiving yards total (925.5) and hammer the over (+100). He's a freak of nature and has the tools to be dominant once again. With aspirations for a division crown, the Seahawks need Metcalf to be the dominant receiver he once was.
Potential breakout player: The defence was a strong point for the Seahawks a year ago and they could get better if OLB Boye Mafe can take a step forward. He had flashes of major potential during his rookie season but he has competition for the top OLB spot. That said, he's got all the tools to separate himself from the pack. If he can move past rookie Derick Hall and Darrell Taylor, he could see serious time as a starter for Pete Carroll and an underrated Seattle defence.
Betting projection: The Seahawks might not be on anyone's list of contenders but they proved that they are hardly a pushover. Smith has hit new levels, Walker has established himself as one of the better runners in the league, and the receiving core only got better with the addition of Jaxon Smith-Njigba in the first round of the NFL Draft. The defence was a strong point a year ago and that should not change. If Smith can continue his upward trajectory and Smith-Njigba can deliver on his huge potential, the Seahawks' offence could wind up being one of the better units in the NFL. They're still just a notch below the 49ers when it comes to contending for a Super Bowl but they should hang around long enough to keep the defending division champs on their toes.
All odds courtesy of

Los Angeles Rams
Super Bowl odds: +6600
To win conference odds: +3500
Division odds: +900
Odds to make the playoffs: Yes +265, No -350
Season win total: Over 6.5 (+100), Under 6.5 (-125)
2023 record: 5-12 (Under 6.5)
Key additions: G Coleman Shelton, RB Royce Freeman
Key subtractions: K Matt Gay, WR Odell Beckham Jr., S Nick Scott, OLB Leonard Floyd, ILB Bobby Wagner, DE A'Shawn Robinson, QB Baker Mayfield
Most important game on the schedule: Believe it or not, the Week 4 game against the Indianapolis Colts may be more critical than it seems. Given the fact that the Rams start with games against the Seahawks, 49ers, and Bengals, it is likely a must-win. If things go poorly through the first three games, they will need a strong performance against the Colts to keep things from going off the tracks. Their schedule this year is quite difficult and they can potentially keep it under control by beating teams like the Colts.
Prop to watch: Star wide receiver Cooper Kupp had a down year in 2022, mostly due to injuries but also in part to injuries that plagued QB Matt Stafford. Both are back and presumably healthy, and there is little doubt that the connection will resume. It was just two years ago that Kupp threatened every major regular season receiving record. He's one of the best in the game and at +125, his odds of picking up 10 or more receiving touchdowns are just too good to ignore.
Potential breakout player: The defence is going to look a lot different for the Rams in 2023. Cornerback Cobie Durant, who played in seven games last year, has interesting potential. He managed three interceptions, including a Christmas Day pick-six against the Denver Broncos. With David Long Jr. and Jalen Ramsey gone, many see Durant as the top corner in L.A. With plenty of chances to display his ball-hawking abilities, don't be surprised if he grows those interception totals exponentially in the coming year.
Betting projection: Much like the Tampa Bay Buccaneers did in 2020, the Rams went all-in on a Super Bowl championship two years ago. With few draft picks available, an aging core, and a lot of injuries, the wheels fell off quickly in 2022. The rebuild is going to be a long one, but the Stafford/Kupp connection, and the presence of DT Aaron Donald, will help mitigate some of that. At the end of the day, this is a far different team than the one that captured the Super Bowl.
Arizona Cardinals
Super Bowl odds: +17500
To win conference odds: +8000
Division odds: +2500
Odds to make the playoffs: Yes +1225, No -2500
Season win total: Over 4.5 (+100), Under 4.5 (-125)
2023 record: 4-13 (Under 4.5)
Key additions: OLB Kyzir White, G Will Hernandez, LT Kelvin Beachum, WR Zach Pascal
Key subtractions: DE Zach Allen, WR DeAndre Hopkins, CB Byron Murphy
Most important game on the schedule: Week 4 against the 49ers is going to be important for a few reasons. It is the first division game of the year and setting the tone early would be a good way to start. But there is a bigger reason to eye Week 4 and that is the potential return of quarterback Kyler Murray. The estimate is somewhere around Weeks 4 and 5, though no one expects him to be back to 100% right away after reconstructive knee surgery.
Prop to watch: There won't be many things to look forward to for the Cardinals this year. Until Murray comes back, the focus of the offence should run through RB James Conner. The veteran has been up and down since going to Arizona but this will be his time to shine. Keep a close eye on Conner's rushing yards total, set at 725.5. While he might not threaten 1,000 yards, it feels like the over (-110) is a solid bet given how many carries he will see in this offence. Injuries or losing a step due to age could see him replaced quickly, however.
Potential breakout player: With Murray out and receiver DeAndre Hopkins gone, the offence needs weapons. Backup quarterback Colt McCoy is decent and will need to develop a connection with someone to keep the offence afloat. Trey McBride had a strong finish to the year in 2022 after starter Zach Ertz tore his ACL. With the stated intention of using two-TE sets, a healthy Ertz will open up opportunities for McBride. If Ertz has a slow start, that only increases the potential for McBride.
Betting projection: There isn't much to love about the Cardinals moving forward. Injuries and departing talent leave the roster in a place that requires a lot of attention. It is enticing to take the under for wins (4.5, +100) and bet against them every chance you get this year. Murray will have a lot of questions to answer when he gets back and he likely won't be the former MVP candidate he once was, at least right away. At -2500, picking them to miss the playoffs isn't even close to worth the risk because it's a gimme.