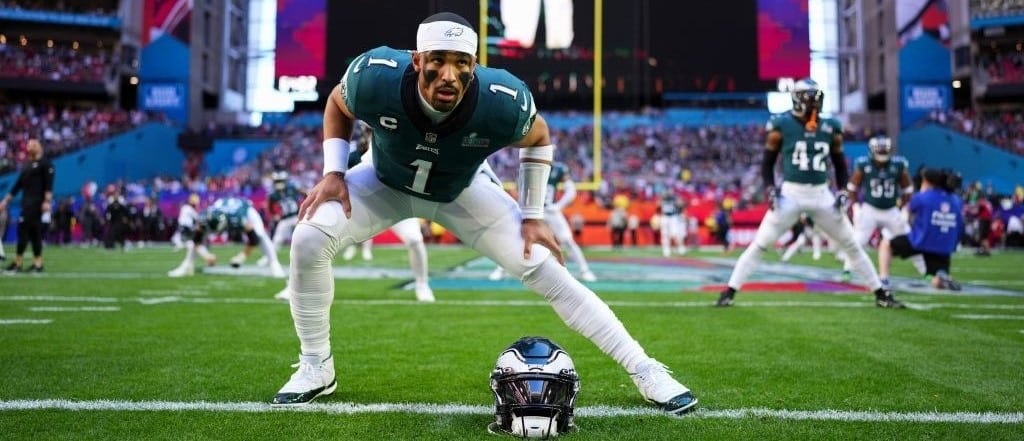 Every year, the NFC East is one of the most talked about divisions in football. Then again, that's hardly surprising, given the division is home to three of the most popular franchises in the NFL. In 2022, the Eagles were the dominant force, going 14-3 with the division crown never in doubt.
Heading into the 2023 season, will that be the case once again? We found out that the division is deeper than most of us thought, especially with the performances of the Giants (9-7-1) and Commanders (8-8-1) last year. What does the future hold for this division going forward?
Here's our NFC East betting preview featuring odds from bet365.
Thanks for reading our NFL Divisional Preview Series! Be sure to check out our previews for all eight divisions:
AFC North – AFC South – AFC East – AFC West – NFC North – NFC South – NFC East – NFC West
As well, be sure to check out our 2023 NFL Betting Portal for more info to prepare for the NFL season!
Philadelphia Eagles
Super Bowl odds: +800
To win conference odds: +300
Division odds: -120
Odds to make the playoffs: Yes -450, No +330
Season win total: Over 11.5 (-105), Under 11.5 (-115)
2023 record: 13-4 (over 11.5)
Key additions: QB Marcus Mariota, RB Rashaad Penny, S Terrell Edmunds, LB Nicholas Morrow, S Justin Evans, CB Greedy Williams
Key subtractions: DL Javon Hargrave, OL Andre Dillard, LB T.J. Edwards, LB Kyzir White, FS Marcus Epps, DB C.J. Gardner-Johnson
Most important game on the schedule: It's hard to pick just one given that they play the Bills, 49ers, and Cowboys (twice). But it's hard to look past the Super Bowl LVII rematch with Kansas City on Nov. 20. It could be a pretty good indication of who is a leading contender in each conference.
Prop to watch: More than a few Eagles should have interesting props to watch but all eyes will be on Jalen Hurts' potential MVP run (+1200). He is the best quarterback in the NFC by quite a large margin, but has a hill to climb when battling the loaded AFC quarterback class. If the Eagles are to return to the Super Bowl, they'll need Hurts to be at an MVP level.
Potential breakout player: On a team absolutely loaded with talent, defensive tackle Jalen Carter could stand out as one of the best. There are definitely questions about the former standout Georgia Bulldog after he slid to ninth overall in the 2023 Draft because of serious off-field issues that lowered his draft stock. That said, he has the size, strength, and skill to become a dominant lineman in the NFL. Don't be surprised if he becomes the anchor of a fantastic Eagles defence quickly.
Betting projection: The oddsmakers are taking a conservative approach with the top teams like the Eagles. Over 11.5 wins (-105) seems like a slam dunk, though the NFC East is a bit tougher than most realize. They are also relatively safe to win their division as they've had Dallas's number in recent years while the Giants and Commanders might be tough, but not contenders. It's when you get to their odds of winning the NFC (+300) that things become really interesting. It is clear that the 49ers (+350) are their biggest obstacle, and it's safe to say they won't be on their fourth quarterback if they meet again. At +800, they are a strong pick to return to the Super Bowl and win it all this time. The NFC isn't as loaded as the AFC and having an MVP contender in Hurts gives the Eagles the advantage over most teams in the conference.
Dallas Cowboys
Super Bowl odds: +1400
To win conference odds: +600
Division odds: +180
Odds to make the playoffs: Yes -225, No +180
Season win total: Over 9.5 (-170), Under 9.5 (+140)
2023 record: 11-6 (over 9.5)
Key additions: T Chuma Edoga, RB Ronald Jones II
Key subtractions: K Brett Mahr, TE Dalton Schultz, G Connor McGovern, LB Luke Gifford
Most important game on the schedule: The 'Boys face the Eagles twice this season, but another crucial game will be their run-in with the 49ers on Oct. 8. The Cowboys fell flat in the playoffs against their long-time rival last year and a statement victory would go a long way toward shaking off the haters.
Prop to watch: There is heavy competition in the category of Offensive Player of the Year. Dak Prescott (+6600) has a lot of critics, but he is capable of slinging the ball with the best of them. He has a loaded offence and needs a contract soon. If he can break out, make a playoff run, and win some individual hardware, it could set the table nicely for his future.
Potential breakout player: A lot of the focus on defence is rightfully on Micah Parsons. But don't be surprised if you hear the name Sam Williams a lot this season. At 260 pounds, Williams can run a faster 40-yard dash than teammate and defensive back DaRon Bland. Williams may not get regular starting appearances because of Parsons and Tank Lawrence but that could benefit him. Getting into pass rush situations while feeling fresher can give him the ability to dial up the pressure in 2023.
Betting projection: It's getting hard to believe in the Cowboys anymore. Yes, they should be a strong pick to top their wins projection for this season (9.5, -170) but past that, they are as much a question mark as any of the other teams just below "contender" status. Dak has all the talent in the world and more weapons than most other quarterbacks in the league. But until he has a breakout performance in the playoffs, things will always fall on his shoulders. If he can reach his full potential, the division (+180) won't be out of the question. That said, it is hard to like them beyond that. Their conference odds (+600) are solid, but they have given no indication that they can beat a team like the 49ers or Eagles when it matters the most. Until they can prove that, their Super Bowl odds (+1400) are virtually irrelevant.
New York Giants
Super Bowl odds: +4000
To win conference odds: +1600
Division odds: +700
Odds to make the playoffs: Yes +165, No -200
Season win total: Over 7.5 (+100), Under 7.5 (-125)
Key additions: LB Bobby Okereke, DT Rakeem Nunez-Roches, DE A'Shawn Robinson, WR Parris Campbell
Key subtractions: G Nick Gates, FS Julian Love, C Joe Feliciano
Most important game on the schedule: The most important game is opening weekend, a Sunday night matchup in primetime against the Cowboys. If the Giants can set the tone right out of the gate, it is possible to gain some momentum before a brutal slate that sees them play the 49ers, Seahawks, Dolphins, and Bills consecutively. A loss to the Cowboys and it could get ugly early for the G-Men.
Prop to watch: Saquon Barkley has been a focal point this offseason. He is back on a one-year, $11 million deal and a big season may finally land him the contract he's after. Keep an eye on him at +2000 to lead the NFL in rushing yards. He hasn't achieved the feat yet, but 1,312 yards last year is hard to ignore.
Potential breakout player: The Giants' vertical game was a major flaw in 2022 as illustrated by Jones being 30th in the league in deep-ball attempts and just 20th in air yards. Darius Slayton is a player but there needs to be another option who emerges. Isaiah Hodgins might not be a direct deep threat, but his emergence could still prove vital. At 6-foot-4, 210 pounds, he has the size and speed to be a threat underneath and intermediately. His emergence as a reliable threat underneath could potentially open things up for the Giants' vertical attack.
Betting projection: The Giants are truly a difficult team to get a read on. They are solid on defence, have a great running game thanks to Barkley, and saw a nice jump in efficiency and overall performance from Jones at quarterback. But when you get right down to it, they just do not have the dynamic offensive pieces to compete with Philadelphia and Dallas to make good on their odds to win the division (+700). As they showed last season, the playoffs (+165) aren't unrealistic, especially if head coach Brian Daboll can continue to get the most out of Jones. For now, take the over on wins (7.5, +100) and keep an eye on any other futures as the season progresses. If Barkley slips in any way, the Giants offence could struggle mightily. In that case, there will be only so much that the strong defence can do to keep the Giants in the playoff race.
2023 record: 9-8 (over 7.5)
Washington Commanders
Super Bowl odds: +6600
To win conference odds: +2800
Division odds: +1200
Odds to make the playoffs: Yes +300, No -390
Season win total: Over 6.5 (+100), Under 6.5 (-125)
Key additions: T Andrew Wylie, G Nick Gates, QB Jacoby Brissett, CB Danny Johnson
Key subtractions: LB Cole Holcomb, QB Taylor Heinicke, G Wes Schweitzer, G Trai Turner
Most important game on the schedule: Week 3 the Commanders will host Super Bowl contender Buffalo. It is an early test to see what the Commanders are made of. A blowout and things could get ugly later on. A close loss or an upset win and they may carry momentum into the middle of the schedule.
Prop to watch: The Commanders may have gotten a steal with CB Emmanuel Forbes at 16th overall. At +1600, he is an interesting watch for Defensive Rookie of the Year. He's got stiff competition in Jalen Carter and Will Anderson, but if he can stand out for the Commanders, he's got a shot.
Potential breakout player: No matter where you look, the clear choice is receiver Jahan Dotson. Chosen 16th overall in 2022, Dotson had an interesting rookie campaign. He picked up seven touchdowns through the air but caught just 35 balls for 523 yards. Part of it had to do with injury. Part of it also had to do with inconsistent play at quarterback. Playing with Curtis Samuel and Terry McLaurin, Dotson could face prime matchups throughout the year. Look for his numbers to explode in year two.
Betting projection: The Commanders find themselves in a weird position. They very clearly are not contenders for much of anything, but they aren't bad enough to contend for a top-three pick. So where does that leave the team as they transition into new ownership and uncertainty in 2023? A lot will hinge on quarterback Sam Howell. There are pieces in place on offence to help him learn and grow, especially with a deep and talented receiving corps. But it is hard to picture this team winning more than six games (under 6.5, -125) with this quarterback in this division. The Commanders have interesting pieces on both sides of the ball and potential in the future. Even if Howell can prove himself to be the future of the franchise, the only safe bets this year are to miss the playoffs (-390) and look forward to 2024.
2023 record: 6-11 (Under 6.5)