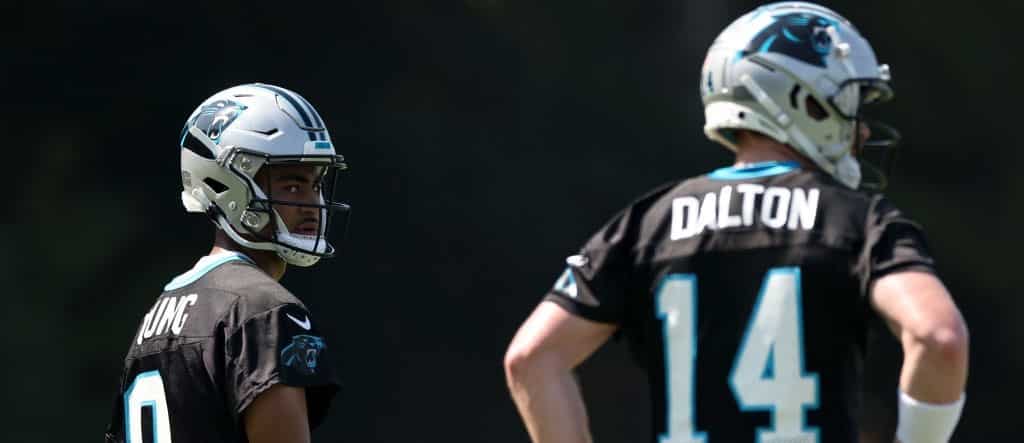 For the better part of the last two decades, the NFC South has been dominated by a single power player in the NFL. For maybe the majority of the last 15 years, it was the New Orleans Saints. For a while, it was the Carolina Panthers. And of course, most recently it was the Tampa Bay Buccaneers, who capped off their time in the sun with a Super Bowl in 2021.
But Tom Brady is gone. Drew Brees is long gone. Cam Newton isn't the same player he was in 2015. Every team in the division has gotten younger — or at least is in the process of doing so. All of which means that the division is more open than it has been in recent years.
Thanks for reading our NFL Divisional Preview Series! Be sure to check out our previews for all eight divisions:
AFC North – AFC South – AFC East – AFC West – NFC North – NFC South – NFC East – NFC West
As well, be sure to check out our 2023 NFL Betting Portal for more info to prepare for the NFL season!
What does the 2023 season hold for the NFC South? Here's our preview featuring odds from bet365.
New Orleans Saints
Super Bowl odds: +3300
To win conference odds: +1400
Division odds: +120
Odds to make the playoffs: Yes -180, No +150
Season win total: Over 9.5 (+110), Under 9.5 (-140)
2023 record: 10-7 (Over 9.5)
Key additions: QB Derek Carr, DE Nathan Shepherd, DT Khalen Saunders, TE Foster Moreau, RB Jamaal Williams
Key subtractions: DT David Onyemata, OLB, Kaden Elliss, DT Shy Tuttle, DE Marcus Davenport, QB Andy Dalton
Most important game on the schedule: The Buccaneers aren't getting much attention this year, and that's probably for the best. That said, the Saints should not look past their Week 17 meeting with the 2021 Super Bowl champions. That late in the season, it could very well mean the difference between winning the division and falling behind. Things should be tight between the Falcons, Panthers, and Saints, so this late-division game could prove critical for the Saints' chances of winning the division for the first time since 2020.
Prop to watch: The keys to the offence will be in the hands of Derek Carr, coming off of a tumultuous run in Las Vegas. The offence still has weapons, provided they can get healthy or regain form. Carr has actually been somewhat underrated in his career, though never a top-tier quarterback. He'll face major challenges this year. Alvin Kamara is going to miss a few games. No one seems to know the status of receiver Michael Thomas, who has battled ankle issues for much of the last year. Carr to go over 4,000 yards (+140) is interesting because of the state of the league and the presence of Chris Olave. This one will be close.
Potential breakout player: With questions at receiver aside from Olave, there is a lot of room for a breakout player. That's where receiver Rashid Shaheed comes into play. During the last six weeks of the year, he averaged 62.8 yards per game, and that's following ACL surgery that kept him out of the first five games. If Thomas is still not himself, Shaheed's potential only grows.
Betting projection: The Saints should do relatively well this year. They have a good defence — the best in the division — and one of the better units in the league. A year ago, it was good enough to win them seven games despite serious flaws at quarterback and most of their offensive weapons being out. Carr is a clear upgrade at quarterback, and Olave's breakout rookie season gives him at least one good weapon. If Thomas can return and do so at a high level, the offence could be very potent. However, between Thomas and Kamara, a lack of offensive weapons could put Carr and the Saints behind the eight ball to start the season. Still, we'd take the wins over (+110) and the Saints to win the NFC South (+120), because this is still the most obviously complete team in the division.
Atlanta Falcons
Super Bowl odds: +6600
To win conference odds: +2500
Division odds: +220
Odds to make the playoffs: Yes +110, No -140
Season win total: Over 8.5 (-125), Under 8.5 (+100)
2023 record: 7-10 (Under 8.5)
Key additions: S Jessie Bates III, DT David Onyemata, RT Kaleb McGary, OLB Kaden Elliss, QB Taylor Heinecke, DE Calais Campbell
Key subtractions: CB Isaiah Oliver, QB Marcus Mariota
Most important game on the schedule: It's all too easy to jump ahead to the Week 18 matchup against the Saints, given how tightly contested this division is expected to be. But the real difference could be the Week 15 game at Carolina. Both teams are young but greatly improved, coming off of surprising outputs a year ago. If they both progress the way that experts are predicting, it could be the game that puts one of them in the driver's seat in the division or at least in lockstep with the Saints.
Prop to watch: There is little doubt as to which Falcon will get the most attention this year. First-round pick Bijan Robinson has all the tools to be a dynamic presence in a budding Falcon offence. Many are expecting him to become a focal point of the offence both on the ground and through the air in the coming season. Watch Robinson in the Offensive Rookie of the Year race (+280), where he is the current favourite. There aren't many truly elite backs in the league anymore but the ones that occupy that space are as good as it gets. Robinson is in a unique position to become not only the perfect fit for the Falcons but one of the best backs in the league immediately.
Potential breakout player: While the focus will be on Robinson and the progression of quarterback Desmond Ridder, the real breakout should be on the other side of the ball. That would be linebacker Troy Andersen, taken in the second round of the 2022 NFL Draft. With Rashaan Evans not expected back, Andersen could be cast in a bigger role this year. He had 69 tackles, a forced fumble, and a pass defended a year ago. With a lack of depth, he will be needed to make a step forward. He has impressed since his time at Montana State and seems like the next big presence on the Atlanta defence.
Betting projection: The Falcons are a bit tough to get a read on. They won seven games a year ago and remained in the thick of the race in a very bad NFC South. They have built themselves to be a ground-and-pound team thanks to a great offensive line and the potential that Robinson shows. Ridder and the defence are the great unknowns. Defences will be keying in on Robinson early and often, leaving more responsibility in the hands of Ridder. There is potential here, but not enough to make noise. Take the under on their win total (+100) but get in now on Robinson as OROTY (+280).
All odds courtesy of

Carolina Panthers
Super Bowl odds: +6600
To win conference odds: +2800
Division odds: +400
Odds to make the playoffs: Yes +180, No -225
Season win total: Over 7.5 (-125), Under 7.5 (+100)
2023 record: 8-9 (Over 7.5)
Key additions: WR Adam Thielen, RB Miles Sanders, SS Vonn Bell, TE Hayden Hurst, DT Shy Tuttle, DE Justin Houston, WR DJ Chark
Key subtractions: QB Sam Darnold
Most important game on the schedule: The Panthers are going to need to get off to a good start. They have a new-look team for this year — particularly thanks to their No. 1 overall draft pick, quarterback Bryce Young — and getting them to gel will be crucial. That's why we think their key matchup is Week 1 against their division rivals, the Falcons. The game will give us a good idea of what this offence will look like under coach Frank Reich. Moreover, it will give all of us a better idea of how the Panthers stack up in this division. They were plucky and underrated a year ago and have since added a lot of talent; a win in game one would be a statement, a loss would be a bad sign.
Prop to watch: If there is one thing to look forward to in the NFC South, it is the race for Offensive Rookie of the Year. Bijan Robinson is the early favourite, but Young is not far behind him. Given the skills he possesses and his status as the top pick in the NFL Draft, it is easy to see why. Young has the physical tools to be an elite quarterback. The team added veteran receivers in Thielen and Chark as well as a versatile, experienced back in Sanders. They will help ease the growing pains but the lack of a dynamic target could wind up costing Young when it comes time to collect some hardware.
Potential breakout player: There are a few names here that seem more likely, like Jaycee Horn or Derrick Brown. Given their statuses as former top-10 picks, that's a little too easy. If you really want to find a true breakout, then receiver Terrence Marshall Jr. could be a great pick. He's been up and down since entering the NFL, with just 628 total yards in two years. That said, he'll finally have a franchise quarterback and a stable coaching staff to work with. With Young needing as much help as he can get, now is the time for Marshall Jr. to make his mark.
Betting projection: Like the Falcons, the Panthers are very tough to call. They won seven games a year ago, beating projections given the makeup of their roster. Adding starters across the offence and defence, and a top-tier young quarterback, makes the future look bright. The question is whether that future starts now, or in a year or two. This is the division to grow a young quarterback, because there is a lot of uncertainty across the board. Look for tons of bright spots and for the Panthers to be there late to win the division (+400). If things hang around .500 as they did a year ago, the Panthers might even be able to sneak into the playoffs (+180).
Tampa Bay Buccaneers
Super Bowl odds: +8000
To win conference odds: +4000
Division odds: +700
Odds to make the playoffs: Yes +390, No -550
Season win total: Over 6.5 (+110), Under 6.5 (-140)
2023 record: 5-12 (Under 6.5)
Key additions: QB Baker Mayfield, DT Greg Gaines
Key subtractions: DT Rakeem Nunez-Roches, SS Keanu Neal, CB Sean Bunting
Most important game on the schedule: Week 3 against the Philadelphia Eagles is shaping up to be critical for a few reasons. For starters, it will tell us where the Bucs stand after games with the Minnesota Vikings and Chicago Bears. But that Week 3 matchup with the Eagles could also set the tone for what is to come. A bad loss could snowball into a streak as they face the Saints, Detroit Lions, Buffalo Bills, Tennessee Titans, and San Francisco 49ers over the following seven weeks.
Prop to watch: The offence is undergoing some major changes, especially with Baker Mayfield at quarterback. But if you want consistency, look to receiver Mike Evans. He is +160 to hit 1,000 receiving yards this season, something he has done in every single season of his career. He's had a few close calls (1,006 in 2020) but he is the one constants in the offence. With Mayfield getting acclimated, Evans should become his favourite target. The Bucs are going to be bad but Evans will continue carving out what should end up being a Hall of Fame career.
Potential breakout player: If the Bucs offensive line can rebound, running back Rachaad White has the potential to stand out. He showed flashes last season, especially in the Munich game against the Seattle Seahawks. He is the kind of do-it-all back that could find use in every aspect under new OC Dave Canales. He might not win Offensive Rookie of the Year, but don't be surprised if White becomes a very important part of the offence by year-end.
Betting projection: This is rebuilding time for the Bucs. Sure, they have talent on the offensive and defensive lines. With that being said, their limitations are too great to overcome. They will not only miss the playoffs (-550) but may be a threat for the worst record in the league (+900). You can safely take the under on their win total (-140) and hedge against them more weeks than not. The Bucs went all-in with Tom Brady to win a title and succeeded. But now it's time to pay the piper and this could be the first of a few truly bad seasons to come.