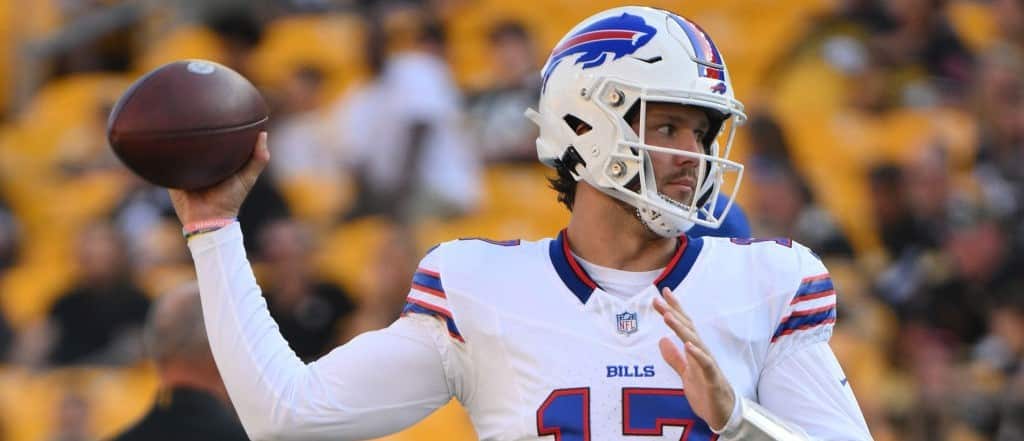 The AFC is loaded this season. Aside from the relatively thin AFC South, each division is stacked with talent that could potentially lead to a major run this season. The Cincinnati Bengals are always lurking. The Baltimore Ravens have Lamar Jackson back. And there's always the defending Super Bowl champion Kansas City Chiefs.
Looking at the AFC East, you could easily make the argument that it is the deepest division in the league. There are three bonafide Super Bowl contenders vying for control of the division in 2023.
Thanks for reading our NFL Divisional Preview Series! Be sure to check out our previews for all eight divisions:
AFC North – AFC South – AFC East – AFC West – NFC North – NFC South – NFC East – NFC West
As well, be sure to check out our 2023 NFL Betting Portal for more info to prepare for the NFL season!
Buffalo Bills to win the Super Bowl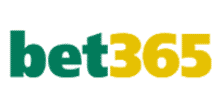 +850
Let's get into a more in-depth preview of the division using bet365's odds.
Buffalo Bills
Super Bowl odds: +850
To win conference odds: +475
Division odds: +120
Odds to make the playoffs: Yes -245, No +200
Season win total: Over 10.5 (-150), Under 10.5 (+120)
2023 record: 13-4 (Over 10.5)
Key additions: G Connor McGovern, LB Leonard Floyd, DE Poona Ford, WR Deonte Harty
Key subtractions: LB Tremaine Edmunds, QB Case Keenum
Most important game on the schedule: It's too easy to look at matchups with the Bengals (Week 9) and the Chiefs (Week 13). Instead, let's look to Week 12 against the defending NFC champion Philadelphia Eagles. It will be a premier AFC-NFC matchup featuring potential Super Bowl participants. More importantly for the Bills, it comes at a pivotal point in the schedule. The Bills play the Jets the week prior and the Chiefs the week following. They will need every single win to take the top seed away from the Chiefs or Bengals, which could be the difference between making the Super Bowl and another disappointment.
Prop to watch: Josh Allen has been among the best in the business for the last three years. Some would argue he had a down year in 2022, with questionable play-calling decisions and an over dependence on him in all facets of the game. With a more open playbook, an improving James Cook, and the addition of a weapon like Dalton Kincaid, look for Allen to return to his MVP runner-up form of 2021. He is +1100 to lead the NFL in passing yards and no one likes to sling it deep quite like JA17.
Potential breakout player: Von Miller will begin the season on the PUP list, which means that the Bills need to find a pass rush elsewhere for a while. All eyes will be on DE Greg Rousseau, who looked like he was on the cusp of a breakout in 2022 before an injury. Rousseau finished with 15.2% of his pass rush snaps resulting in pressure, good for 13th best among the 143 players who had 250 or more rushes. With a full season(ish) next to Miller, Rousseau is expected to make the leap into double-digit sack territory.
Betting projection: It feels like the window is closing rapidly for the Bills, though it will always remain at least cracked with Allen at the helm. This is arguably the most talented Bills roster since their Hall of Fame-laden roster of the early 1990s. With all the attention on the Jets, Bengals, and Chiefs, the Bills may have a little pressure taken off of them. At the same time, this may be the toughest year of competition for them yet. But with an MVP-calibre quarterback and elite talent around him, the Bills need to get over the proverbial hump.
They will be one of the best teams in the AFC yet again, but it will all come down to the postseason. Feel free to pick the Bills for anything and everything, including winning the conference (+475) and winning the Super Bowl (+850) so long as everyone stays healthy.
Josh Allen to lead league in passing yards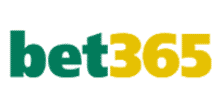 +1100
New York Jets
Super Bowl odds: +1400
To win conference odds: +800
Division odds: +240
Odds to make the playoffs: Yes -130, No +100
Season win total: Over 9.5 (-125), Under 9.5 (+100)
2023 record: 9-8 (Under 9.5)
Key additions: QB Aaron Rodgers, WR Allen Lazard, RB Dalvin Cook
Key subtractions: DE Nathan Shepherd, DT Sheldon Rankins, G Nate Herbig
Most important game on the schedule: There are plenty of primetime matchups featuring the Jets this season. They play the Bills twice, the Dolphins twice, the Chiefs, Eagles, Chargers, Cowboys, and Browns. But Week 8 against the Giants is looking to be a pivotal one. Why the Giants? Well, playing an intrastate rival is always galvanizing. But it is especially important because the Jets face the Bills, Cowboys, Chiefs, and Eagles before their Week 7 bye week. Coming out of the break with a statement win would set the table nicely for a more favourable schedule in the back half of the season. An ugly showing and some serious doubt could creep in.
Prop to watch: Most of the league believes in the talent of wide receiver Garrett Wilson. He's already broken out as a rookie, so he's exempt from the following section. But there is so much room to grow on his impressive rookie campaign, where he racked up 1,107 yards with Mike White, Joe Flacco, and Zach Wilson throwing him the ball. With Aaron Rodgers targeting him, it feels like his projected over/under of 1,125.5 is a safe bet. Take his over (-130) and look for him to threaten the 1,300-yard plateau, if not far more. By season's end, he could be in the same breath as Miami's Hill and Buffalo's Stefon Diggs among top receiver conversations.
Potential breakout player: Breece Hall was on his way to superstardom when a torn ACL ended his rookie campaign. He's back, fully recovered, but is facing instant competition from the newly signed Dalvin Cook. His talent, however, is too much to deny. Hall had almost 400 yards on the ground and 170 yards through his final four games prior to getting hurt last year. With Rodgers at the helm, his ability to catch out of the backfield could become a major asset for the veteran future Hall of Fame quarterback.
Betting projection: The hype train has been charging along ever since the addition of Rodgers. Given his status as one of the best to ever do it, not to mention the longstanding need for a quarterback in New York, it is understandable that the excitement levels are so high. That said, the Jets play one of the toughest schedules in the league. Unlike the Bills, who have faced tough sledding and come out with one of the best records in the league, the Jets have not proven themselves. Unless Rodgers returns to his four-time MVP form, look for a slightly disappointing season from the Jets, and take the under on their win total (+100).
Miami Dolphins
Super Bowl odds: +2200
To win conference odds: +1100
Division odds: +300
Odds to make the playoffs: Yes -110, No -110
Season win total: Over 9.5 (-105), Under 9.5 (-115)
2023 record: 10-7 (Over 9.5)
Key additions: LB David Long, QB Mike White, WR Braxton Berrios
Key subtractions: LB Elandon Roberts, TE Mike Gesicki
Most important game on the schedule: The Dolphins have four division games prior to their trip to the Meadowlands in Week 12. By that point in the season, the Dolphins will know where they stand and there is a good chance that this divisional matchup could be critical for both them and the Jets. More importantly, it may be the best defence the Dolphins face all year. There are still a lot of doubts about quarterback Tua Tagovailoa. If he can show out against the Jets on their home turf, it would go a long way toward making believers out of the doubters.
Prop to watch: All eyes are on Justin Jefferson to continue dominating receiving in the NFL but don't forget about Tyreek Hill. "Cheetah" can still torch defenders with the best of them, as evidenced by his 1,710 yards in year one with the Dolphins. A deeper connection with Tua, not to mention elite speed, should result in another big season. If Ja'Marr Chase or Jefferson have even one down week, Hill could wind up as the leader in receiving yards (+1000). The Dolphins will need him to continue being the elite No. 1 option he's been in order to compete in a deep AFC.
Potential breakout player: In a division with quarterbacks like Josh Allen and Aaron Rodgers, a good pass rush is a necessity. Jaelan Phillips showed flashes as a potentially dominant pass rusher, placing 11th in pressure generated with 15.6% of his snaps causing pressure. With Bradley Chubb and defensive coordinator Vic Fangio in the fold, the sky's the limit for Phillips. He will need to elevate his game even further if he is going to overcome the loss of Jalen Ramsey for the early portion of the season.
Betting projection: On paper, the Dolphins could contend for "most talented roster." But at the end of the day, everything hinges on Tua. When he was out due to injury last year, the offence clearly took a step back. The defence is improved but anything goes if Tua is hurt. They also struggled over the final four games even with Tua, putting into question the ability of the offence to perform at a high level all year long. Still, there's too much talent to ignore here, so take the over on their wins (-105) and to make the playoffs (-110).
Miami Dolphins to make the playoffs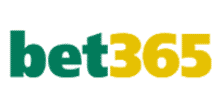 -110
New England Patriots
Super Bowl odds: +5000
To win conference odds: +2800
Division odds: +800
Odds to make the playoffs: Yes +240, No -320
Season win total: Over 7.5 (+120), Under 7.5 (-150)
2023 record: 7-10 (Under 7.5)
Key additions: WR Juju Smith-Schuster, T Calvin Anderson, LB Chris Board, TE Mike Gesicki
Key subtractions: WR Jakobi Meyers, QB Brian Hoyer, WR Nelson Agholor
Most important game on the schedule: We don't know much about the Patriots at this point. So, what better way to find out what we need to know than by facing the NFC Champion Eagles in Week 1? The defence is legit and could get even better with a bigger role from young players like Christian Gonzalez. The real focal point, however, will be quarterback Mac Jones. He has flashed potential to be a legitimate stud but 2022 was largely a struggle. Is this the year he takes a step forward and becomes what the Patriots faithful have always hoped he could be?
Prop to watch: Defensive back Sauce Gardner won the Defensive Rookie of the Year award a year ago and it is entirely possible that another defensive back could claim the crown in 2023. Gonzalez, the 17th overall pick out of Oregon, has been nothing but impressive. He has size, smarts, and the physical skills to be a shutdown corner. If he isn't out for long – he was injured in camp – he will be a focal point for the Patriots. Combined with a strong pass rush, Gonzalez could become the next dominant AFC corner. Look for good value by picking Gonzalez (+1000) as Defensive Rookie of the Year.
Potential breakout player: To some, Josh Uche broke out last year. Given that he more than tripled his total, racking up 11.5 sacks, it would be a hard thing to dispute. But there are many who feel like he can do so much more in a solid Patriots defence. Uche only played in 38% of defensive snaps for the Patriots a year ago. With more opportunities, he could become a force alongside Matthew Judon, causing major problems for any quarterback facing the Patriots' defence.
Betting projection: The Patriots may be the hardest team to read in the AFC East. On paper, they have the worst quarterback and the worst offence. But they may also have the best defence, something that can help keep them in games against three dynamic offences.
It feels like a pretty safe proposition to take them to miss the playoffs (-320) but the odds aren't exactly providing good value. Bill Belichick always manages to surprise everyone but the rest of the division is a murderer's row. Go with the under on their wins (-150) but don't be surprised if Belichick has something up his sleeve.
Christian Gonzalez to win Defensive Rookie of the Year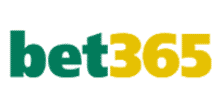 +1000