World Cup 2018 Quarter Finals Odds, Lines & Picks
The World Cup 2018 Quarter-Finals will be held on July 6 and end on July 7, with two single-elimination matches scheduled on each day. Check back here within these dates to get a full overview of the schedule as well as the best betting odds for each of the matches.
World Cup 2018 Quarterfinal Odds
Teams successful in navigating the Round of 16 will move forward to the final eight, and there are going to be some epic encounters in the quarter-finals. Based on our predictions for the tournament, we reveal the sides who are destined for victory and will be progressing to the semi-finals.
FIFA World Cup Knockout Stage Odds
***Round of 16
SATURDAY, JUNE 30
Match 50: France vs Argentina Odds (10 a.m. ET)
Match 49: Uruguay vs Portugal Odds (2 p.m. ET)
SUNDAY, JULY 1
Match 51: Spain vs Russia Odds (10 a.m. ET)
Match 52: Croatia vs Denmark Odds (2 p.m. ET)
MONDAY, JULY 2
Match 53: Brazil vs Mexico Odds (10 a.m. ET)
Match 54: Belgium vs Japan Odds (2 p.m. ET)
TUESDAY, JULY 3
Match 55: Sweden vs Switzerland Odds (10 a.m. ET)
Match 56: Colombia vs England Odds (2 p.m. ET)
***Quarterfinal
FRIDAY, JULY 6
Match 57: France vs Uruguay Odds (10 a.m. ET)
Match 58: Brazil vs Belgium Odds (2 p.m. ET)
SATURDAY, JULY 7
Match 60: Sweden vs England Odds (10 a.m. ET)
Match 59: Russia vs Croatia Odds (2 p.m. ET)
***Semifinal
TUESDAY, JULY 10
Match 61: Match 57 winner vs. Match 58 winner (2 p.m. ET)
WEDNESDAY, JULY 11
Match 62: Match 59 winner vs. Match 60 winner (2 p.m. ET)
***Third-place match
SATURDAY, JULY 14
Match 63: Match 61 loser vs. Match 62 loser (10 a.m. ET)
***Final
SUNDAY, JULY 15
Match 64: Match 61 winner vs. Match 62 winner (11 a.m. ET)
=> World Cup Final Odds
FIFA World Cup Quarter-Finals Pre-Tournament Predictions
The Story So Far – Our World Cup Predictions
| | | |
| --- | --- | --- |
| Group Stage | Winner Pick | Runner Up Pick |
| Group A | Uruguay | Egypt |
| Group B | Spain | Portugal |
| Group C | France | Denmark |
| Group D | Argentina | Croatia |
| Group E | Brazil | Switzerland |
| Group F | Germany | Mexico |
| Group G | Belgium | England |
| Group H | Colombia | Senegal |
| Round of 16 | Opponents | Team to Advance |
| 1A vs 2B | Uruguay vs Portugal | Portugal |
| 1B vs 2A | Spain vs Egypt | Spain |
| 1C vs 2D | France vs Croatia | France |
| 1D vs 2C | Argentina vs Denmark | Argentina |
| 1E vs 2F | Brazil vs Mexico | Brazil |
| 1F vs 2E | Germany vs Switzerland | Germany |
| 1G vs 2H | Belgium vs Colombia | Belgium |
| 1H vs 2G | Colombia vs England | England |
There are some mouth-watering potential matchups lined up for the quarter-finals, as you would expect to see at this stage of the tournament. Plenty of old rivalries will be reignited, and it obviously becomes more and more difficult to determine a winner.
Match 57 – Portugal vs France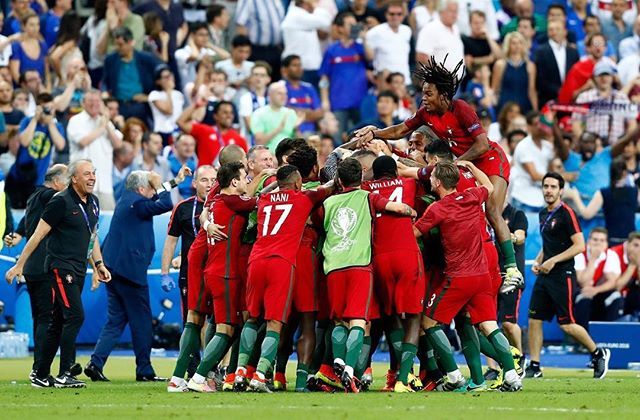 In a replay of the 2016 European Championships decider, Portugal will face France and this time we think the French will be ready and waiting. Les Bleus will have already knocked off European rivals Croatia and potentially Denmark by this stage of the competition, and we can't see them losing to Portugal a second time around, they simply boast too much talent.
Although as Portugal showed nearly two years ago, they are capable of frustrating sides capable of free-flowing attacking football, and managed to win the Euros with just two wins in regulation time from their seven matches. They will be looking to repeat their performance here, and will be confident of a win seeing as they were able to top the French on their home turf without Cristiano Ronaldo for the majority of the game.
Prior to the tournament, Portugal started at odds of +450 to make it to the semi-finals, while France were at odds of just +110 to do so. The early favouritism of the French was also apparent in the outright market – France started at around +600, while Portugal were seen as outsiders, paying +2500.
Portugal's win in 2016 was their first over the French since 1975, breaking a streak of ten straight defeats. This sums up the difficulty Portugal will face here, and we don't think they can outwit the French for a second time. This match may very well go to extra-time, or even penalties, although we have to draw the line somewhere and we're choosing France to progress to the semi-finals.
Match 58 – Brazil vs Belgium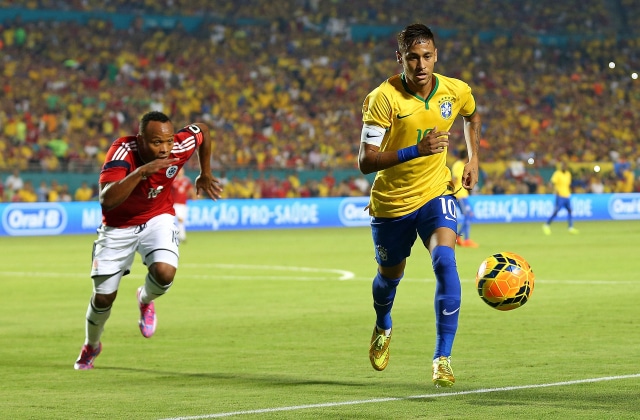 Brazil would have felt very comfortable in their match against Mexico, and will now face a Belgian side desperate to prove that they are on par with some of the biggest nations in world soccer. The only test Belgium would have faced in getting this far would have been their Group G match against England, and would have not had any problem in defeating Senegal in the Round of 16.
This is a matchup between two of the best squads at the tournament. It's no secret that Belgium have produced a golden generation, although they are up against a nation that permanently produces superstars. If they want to win the World Cup, they will need to defeat a Brazil or Germany at some stage.
These sides have not met too often throughout history. Belgium won their first encounter in 1963 by 5 goals to 1, although since then Brazil have won the only other three matches between the teams. The latest match was at the 2002 World Cup, where Brazil won 2-0 on their road to World Cup triumph.
Brazil were the pre-tournament second-favourites, priced at +550 initially, while Belgium featured at +1100. As much as we'd like to see Belgium shake things up and lift the trophy, Brazil is our pick and we're sticking strong. Brazil to win this one.
Match 59 – Spain vs Argentina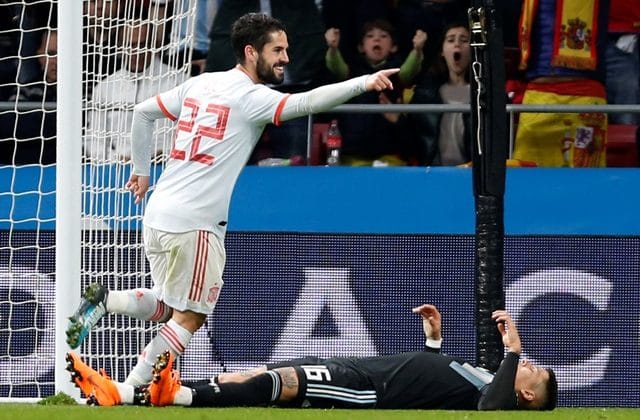 The first of two matchups between former tournament winners is set to be an absolute cracker. Don't be fooled by Spain's failure to progress from their 2014 group – they have gone back to the future and are playing at close to the level they achieved when they won the 2010 tournament. Their qualification campaign was emphatic and they are a force to be reckoned with.
Argentina by contrast were anything but perfect during their lead up to the tournament, requiring a Lionel Messi hat trick in their final match to be certain of reaching Russia. Yet the Argentines are noted tournament performers, and after coming so close in 2014 will be itching to go one better.
Spain have the slightly better side on paper, although most players from both sides play in Europe's elite leagues and will know each other well. Spain's slight favouritism heading into this match is reflected in their odds to reach the semi-finals – Spain started at +125 to make the final four while Argentina were at +185.
There's not much to split the teams, which is highlighted by their dead even record against each other (6 wins each and 2 draws). Although a Messi-less Argentina fell 6-1 to the Spaniards in their March friendly, we're going to make a controversial selection and pick the South Americans over the Europeans in this match. Argentina for the win.
Match 60 – Germany vs England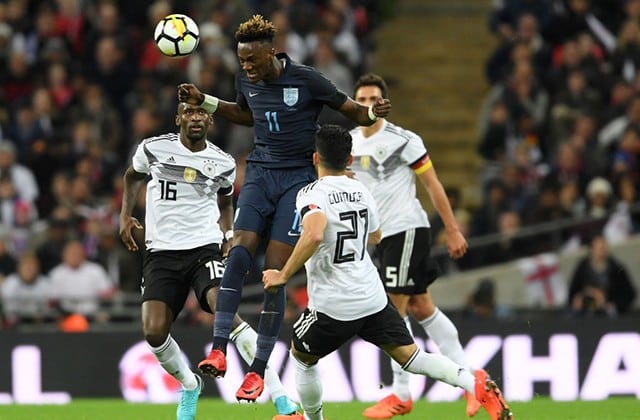 The second all-European affair of the round is between four-time winners Germany and 1966 title holders England in another match with a long and momentous history. These teams have met on 35 occasions, and it is almost dead even – Germany have won 15, drawn 5 and lost 16 against their rivals. Their most famous World Cup match was the final at the 1966 tournament, while Germany got the better of the English in 1990 and 2010.
The defending champions have looked in ominous form in the build up, winning all ten of their qualification matches and scoring plenty of goals in the process. Mind you, England too were impressive in their qualifying campaign, going undefeated once again – they haven't lost a qualification match for any tournament since their loss to the Ukraine in 2009.
But the difference between these sides is the ability to convert tournament starts into trophies. England are known to fall apart at big events, while Germany move forward with far greater ease. The two nations are also poles apart in terms of depth and star power at present, and this is summed up in the pre-tournament odds. Germany of course were favourites at +450, and paying -105 to reach the semi finals, while England offered +1600 and +300 respectively.
This is perhaps the easiest of the four semi-finals to predict – Germany to win and move on to the final four.
Semi Final Matchups According To Our Predictions
Match 61 – France vs Brazil
Match 62 – Argentina vs Germany
MORE COMPETITIONS
WORLD CUP 2018 FINAL ODDS, LINES & PICKS
WORLD CUP 2018 QUARTER FINALS ODDS, LINES & PICKS
WORLD CUP 2018 ROUND OF 16 ODDS, LINES & PICKS