World Cup 2018 Semi-finals Odds, Lines & Picks
Saint Petersburg and Moscow will host the semi-finals of the World Cup 2018 on July 10 and 11. Check back here within these dates to get a full overview of the schedule as well as the best betting odds for each of the matches.
World Cup 2018 Semifinal Odds
Teams successful in navigating the quarter-finals will move forward to the final four, and there are going to be a couple of huge encounters in the semi-finals. Based on our predictions for the tournament, we reveal the sides who are destined for victory and will be progressing to the World Cup final.
***Round of 16
SATURDAY, JUNE 30
Match 50: France vs Argentina (10 a.m. ET)
Match 49: Uruguay vs Portugal (2 p.m. ET)
SUNDAY, JULY 1
Match 51: Spain vs Russia (10 a.m. ET)
Match 52: Croatia vs Denmark (2 p.m. ET)
MONDAY, JULY 2
Match 53: Brazil vs Mexico (10 a.m. ET)
Match 54: Belgium vs Japan (2 p.m. ET)
TUESDAY, JULY 3
Match 55: Sweden vs Switzerland (10 a.m. ET)
Match 56: Colombia vs England (2 p.m. ET)
***Quarterfinal
FRIDAY, JULY 6
Match 57: France vs Uruguay (10 a.m. ET)
Match 58: Brazil vs Belgium (2 p.m. ET)
SATURDAY, JULY 7
Match 60: Sweden vs England (10 a.m. ET)
Match 59: Russia vs Croatia (2 p.m. ET)
***Semifinal
TUESDAY, JULY 10
Match 61: France vs Belgium (2 p.m. ET)
WEDNESDAY, JULY 11
Match 62: Croatia vs England (2 p.m. ET)
***Third-place match
SATURDAY, JULY 14
Match 63: Match 61 loser vs. Match 62 loser (10 a.m. ET)
***Final
SUNDAY, JULY 15
Match 64: Match 61 winner vs. Match 62 winner (11 a.m. ET)
=> World Cup Final Odds
FIFA World Cup Semi-Finals Pre-Tournament Predictions
The Story So Far – Our World Cup Predictions
| | | |
| --- | --- | --- |
| Group Stage | Winner Pick | Runner Up Pick |
| Group A | Uruguay | Egypt |
| Group B | Spain | Portugal |
| Group C | France | Denmark |
| Group D | Argentina | Croatia |
| Group E | Brazil | Switzerland |
| Group F | Germany | Mexico |
| Group G | Belgium | England |
| Group H | Colombia | Senegal |
| Round of 16 | Opponents | Team to Advance |
| 1A vs 2B | Uruguay vs Portugal | Portugal |
| 1B vs 2A | Spain vs Egypt | Spain |
| 1C vs 2D | France vs Croatia | France |
| 1D vs 2C | Argentina vs Denmark | Argentina |
| 1E vs 2F | Brazil vs Mexico | Brazil |
| 1F vs 2E | Germany vs Switzerland | Germany |
| 1G vs 2H | Belgium vs Colombia | Belgium |
| 1H vs 2G | Colombia vs England | England |
| Quarter-Finals | Opponents | Team to Advance |
| W49 vs W50 | Portugal vs France | France |
| W53 vs W54 | Brazil vs Belgium | Brazil |
| W55 vs W56 | Germany vs England | Germany |
| W51 vs W52 | Spain vs Argentina | Argentina |
As expected, only former winners remain in the hunt at the semi-final stage of the tournament. 1998 winners France will have a tough test against five-time winners Brazil, while two-time winners Argentina add another chapter to their rivalry against the Germans, who will be looking to add to their four titles.
Match 61 – France vs Brazil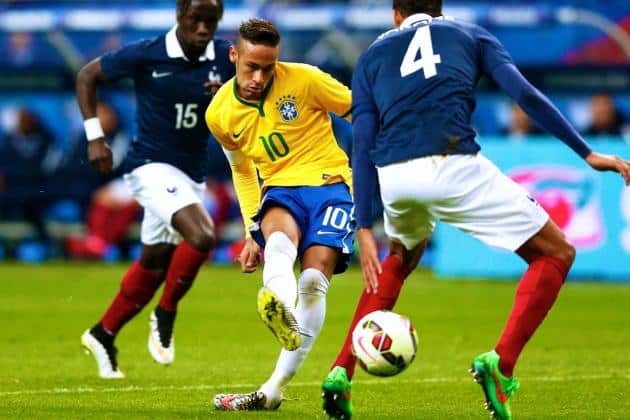 Wow, what a huge match this would be. These two nations have a long historical rivalry, and it was of course Brazil who meekly succumbed 3-0 to hand the French their solitary World Cup crown.
Both nations will have had to work hard to reach this point. France needed to overcome the reigning European champions Portugal to reach the semi-final stage, while Brazil were required to see off a Belgian side full of superstars. You don't get to the semi-finals of a World Cup without a little luck, although these nations are good enough to have made their own.
France have reached the semi-finals on five occasions at the World Cup, converting twice (1998 and 2006) to reach the final and of course only managing to win once. Brazil on the other hand have reached the semi-finals on eleven occasions, reaching seven finals and lifting the trophy five times.
France have the better overall record at the World Cup. The two nations have met on four occasions and you have to go back to the 1958 semi-final to find the last time that Brazil beat the French at the tournament. Since then, France has won three times – 1986 quarter-final, 1998 final and 2006 quarter-final. In all competitions and friendlies, the honours are even – each team have won six matches and there have been three draws.
So how do we split the 2018 editions of both teams? On paper it's fairly even across the park, and each side has impressive depth. On form, we see a Brazilian front three of Jesus, Coutinho and Willian slightly ahead of Mbappe, Griezmann and Dembele, although the battle of the goalkeepers is won by Hugo Lloris. Both sides have strong central midfielders and accomplished backs, although Brazil look the most likely to threaten at the front.
Prior to the tournament, both France and the Brazilians were paying +110 to reach this stage and +265 to make the final. Surprisingly though, Brazil were slightly ahead according to the World Cup outright market. (+500 vs +600).
We have said from the start that this is going to be Brazil's year, and although this will be one of their biggest tests en route to the final, we think they will progress.
Match 62 – Argentina vs Germany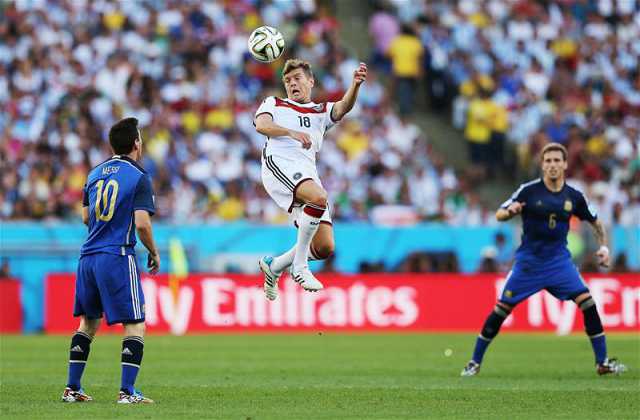 While France and Brazil have 'history', Argentina and Germany's relationship is on a whole new level. The sides have squared off in seven World Cup matches and have competed in a record three finals against each other. Germany have the better record in these matches (winning the 1990 and 2014 finals), and have won five of their meetings at the World Cup overall.
Despite Argentina having the superior record in all competition and friendly matches (10 wins, 4 draws and 8 defeats), there is an odd trend developing that the South Americans will need to address. Argentina won a friendly between the two teams prior to the 2010 World Cup, yet lost in the actual tournament. The same thing happened in the lead up to 2014, before Germany won the title at their expense.
Argentina played their most recent friendly against Germany shortly after the World Cup, and won that too. Perhaps the streak will end here, although the fact is that Germany boast a side that is so well drilled, has so much depth and stability (thanks to Joachim Low's constant presence), that it is going to take a remarkable side to defeat them.
Lionel Messi is a man capable of remarkable things, although at international level he is restricted to the best his nation can produce. Argentina are a very good side, and his inclusion always gives them a chance, but Germany are better, more consistent and have won it all before. There's a better than even money chance that they will prosper here.
Both nations would have already been tested by the time they reach this stage. Germany's group contained Mexico and Sweden, and they also needed to get past England in the quarters. Argentina on the other hand had little to worry about until their match against Spain in the last round. There's little doubt that this is the greatest challenge either side will face.
Germany entered the tournament as the favourite to win the trophy (+450), and were at short odds to reach this stage (-105). They offered a very generous +225 to reach the final, and we think they are great value to do so. Argentina were slight outsiders at +900 to win the World Cup, although firmed into as low as +700 leading up to the event. They started at +200 to reach the semi-final and +400 to reach the final.
We can't go past the defending champions here. It will be another classic encounter between two of the World Cup's biggest nations, however Germany will prevail.
Final Matchup According To Our Predictions
Match 64 – Brazil vs Germany
MORE COMPETITIONS
WORLD CUP 2018 FINAL ODDS, LINES & PICKS
WORLD CUP 2018 QUARTER FINALS ODDS, LINES & PICKS