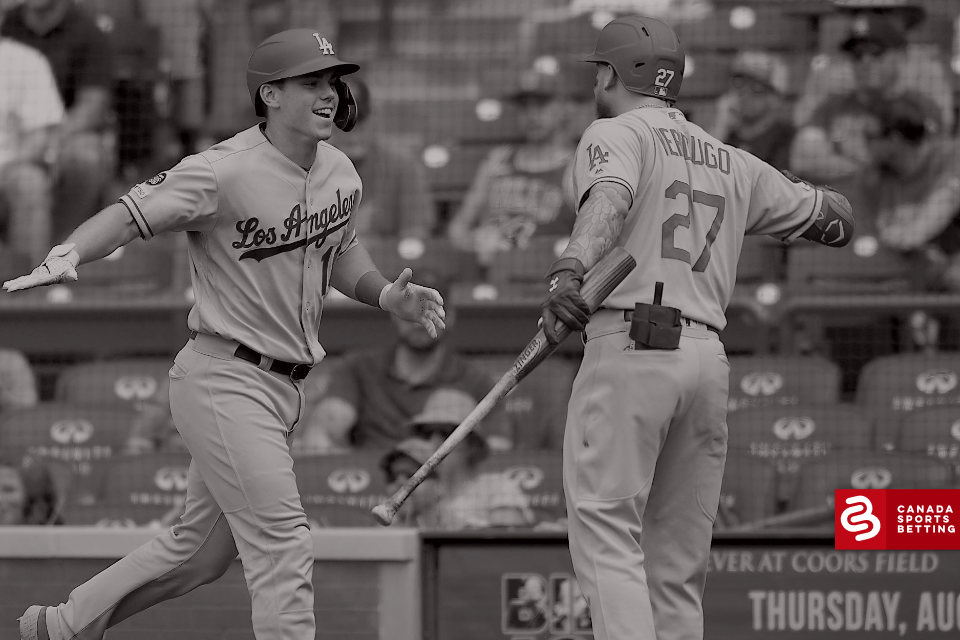 The Los Angeles Dodgers and San Francisco Giants face off in Game 5 on Thursday night. Can Los Angeles win to advance to the NLCS this weekend? Or do they lose? We give you our free betting picks.
After 167 games, it comes down to another win-or-go-home scenario for the Los Angeles Dodgers as they face-off versus San Francisco in Game 5 on Thursday night. Can Los Angeles win to advance to the NLCS this weekend? Or do they lose?. Can they pull off the comeback or will the Dodgers be eliminated?
It is not a surprise that the NLDS comes down to one game. After all, Los Angeles was in this position just last week when they advanced past the St. Louis Cardinals. If anyone can advance, it is them.
Now, that is a crazy proposition and yet here we are.
How the Los Angeles Dodgers and San Francisco Giants Got Here?
It is incredible to think how back and forth this series has been. The Los Angeles Dodgers and San Francisco Giants have shown moments where they have looked the part of World Champion. It is why the MLB Playoffs Odds have tilted back and forth so much just from this series. Here are the results of each game.
San Francisco 4 Los Angeles 0
Los Angeles 9 San Francisco 2
San Francisco 1 Los Angeles 0
Los Angeles 7 San Francisco 2
Again, it seems simple. San Francisco has to keep Los Angeles in check offensively and they win. That has been kind of the pattern even in the season series. This is especially true in the NLDS round. Game 3 was decided by an Evan Longoria home run.
Game 1 was about the pitching of Logan Webb as he went 7+ innings allowing just five hits and no runs. San Francisco's two runs in the first inning set the tone of the opening game. Webb enjoyed a breakout season winning 11 of his 14 decisions. His defining moment so far in the postseason was that Game 1. Buster Posey's home run set the tone.
It does seem that whichever offence gets going first, that team wins. Games 2 and 4 saw Los Angeles jump out to a lead and never look back. Julio Urias delivered the Dodgers five solid innings in Game 2. It will be him and Webb that lead their respective teams out to battle for this decisive game.
MLB NLDS Game 5: Who Has The Edge?
There may be no clear-cut answer in its MLB NLDS Game 5 as to who has the edge? It does appear Los Angeles has the momentum after a convincing Game 4 win. However, this Game 5 is in San Francisco where the Giants have been 55-28 on the season. Los Angeles was an incredible 48-33 on the road though during the regular season.
Now, maybe that is why there is so much back and forth as to who to pick on Thursday night. The winner advances to face the Atlanta Braves over the weekend. Atlanta will be no slouch and the Braves are playing their best baseball of the season currently.
When it comes to starting pitching, the matchup is virtually even. Julio Urias is a 20-game winner. As we said, Logan Webb is far from a slouch either with his 11-3 mark. The only difference is that Urias has pitched in these spots before over the last couple of seasons. Webb has not. It is an unknown for him and the San Francisco Giants.
Los Angeles, however, has been there before. They have been so quite a few times. There is no tomorrow for the loser of this game. It is the first time San Francisco probably has felt any kind of pressure in this postseason.
The offensive edge, even without Max Muncy, has to favour the Los Angeles Dodgers. This Dodgers team has averaged four runs per game and can score nearly six on average. San Francisco has averaged just 2.25 runs per game. Yes, the Giants can play small ball and get timely hits. However, the depth of Los Angeles can do just that little more and their pitching depth is a bit better as well. This all comes down to who can execute.
Los Angeles Dodgers and San Francisco Giants Game 5
Alas, this is a game that again is so close one could scream. One of the books has this dead even at 1.90 for both teams while one has the Los Angeles Dodgers at 1.83. Even if that does seem a bit off, nothing is now. The only thing that is somewhat certain is that the Dodgers have the better offensive potential and depth. After that, San Francisco knows they have nothing to lose.
This Game 5 boils down to who wants it more. Can Los Angeles finally finish off the San Francisco Giants once and for all in 2021?
It is that experience and depth which should be what serves Los Angeles best come this decisive game on Thursday night.
Our MLB NLDS Game 5 Pick
Take the Los Angeles Dodgers and the 1.90 moneyline to win Game 5 of the NLDS and advance to the NLCS.
The sportsbooks like Spin Palace Sports have the best odds for Major League Baseball.