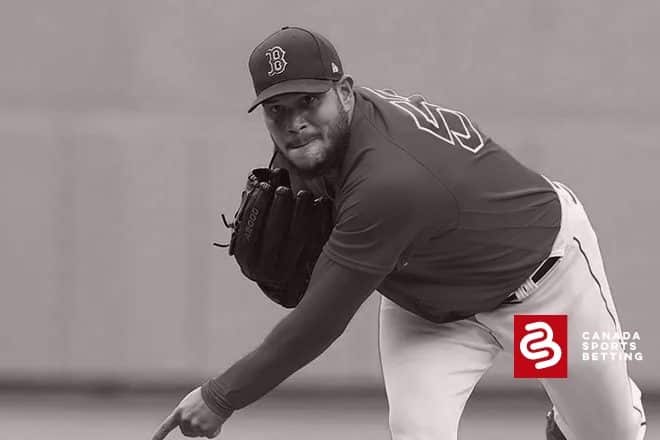 The scene shifts from the dome in Houston to Boston for Game 3 of the ALCS on Monday night. Can the Boston Red Sox win Game 3? Here is our pick for CSB.
The 2021 MLB Playoffs are flying right along. It is already time for Game 3 of the ALCS as the Houston Astros face the Boston Red Sox from Fenway Park. We offer our free betting pick below for Canada Sports Betting.
This ALCS now goes outdoors as they say into the cooler climbs of Boston. Will the chill play a factor at all? Can Boston maintain the home advantage they wrestled away from Houston after Game 2? There are plenty of questions and maybe the odds will have an answer.
Again, the odds for the World Series keep shifting. Boston is starting to gain some traction but back to the matter at hand and that is Game 3 of the ALCS.
After tonight, we will find out who will break this deadlock between Houston and Boston.
MLB ALCS Game 3 Pick — The Fenway Park Tilt?
The numbers at Fenway Park get skewed some. Just look at how the ballpark is constructed and it is almost meant for the offence. From the "Green Monster" to cavernous gaps, there are plenty of places to hit the ball where the fielders aren't.
It is the kind of stadium that both teams should be happy with. The Houston Astros love to hit the cover off the ball (swing first mentality). Boston enjoys a solid home advantage there because they average over 1.3 runs per game greater than on the road. They hit .281 at home and below .200 at Minute Maid Field in Houston.
Despite all that, the series is tied. Boston does have a .605 winning percentage at home. It is that home advantage that results in the following odds for Game 3.
| 2021 ALCS Game 3 Odds – 10/18 | Spin Palace Sports | 10Bet | |
| --- | --- | --- | --- |
| Houston Astros | 2.00 | 2.00 | 2.02 |
| Boston Red Sox | 1.83 | 1.83 | 1.81 |
Boston has a slight betting edge as Game 3 beckons.
The Boston Momentum Shift from Game 2
It was not expected even after the two home runs from Kike Hernandez in Game 1 but Boston delivered a huge momentum shift in Game 2. Did anyone see the Red Sox hitting not one but two grand slams in the same game? That answer is probably no. It was something one might expect from Houston at home.
Boston was able to weather the storm in Game 1 and nearly won that one as well. If there is one thing that maybe pundits overlooked, it was how resilient the Red Sox are. While they are not the best necessarily at one discipline or the other, this 2021 edition finds a way.
For example, Game 2 saw 34-year-old J.D. Martinez belt a Grand Slam in the first inning off Luis Garcia. That set the tone as Boston would add another grand slam by Rafael Devers. It was 9-0 after 3 1/2 innings and one could write off Game 2 after that. Houston scored five runs but never really challenged Boston. It felt like Boston was playing like Houston.
That is also why the MLB Playoff Odds have shifted a little bit. Boston is still last among the four remaining teams but the margins are shortening.
Now, can Boston sustain that momentum shift for Game 3? Does Houston have an answer?
MLB Game 3 ALCS: What May Happen Next?
Every game of the MLB Postseason will take place at night from here on out. That is something which needs to be taken into account. After all, weather conditions in Boston this week should be chilly which is good for October baseball. Balls may not carry quite as far, however.
There is one interesting fact. The Houston Astros have not figured out Kike Hernandez who has three home runs in the series and four runs scored. Maybe Jose Urquidy walks him perhaps. Either way, Hernandez has changed the landscape of this series slightly as Boston has played a little less "small ball". It has paid off so far as they have been more aggressive against the Houston pitchers.
Houston has done much the same and scored five runs in each of the first two games. The Astros have also left 14 men on base but only five in Game 2. There seemed to be far fewer chances and that was troubling. For Houston to take control in the series, they have to get on base more.
All Boston has to do is keep doing what they have been in this series. The Red Sox has control currently and has taken advantage of Houston's wildness among their pitchers. Getting into advantageous hitting situations has kept Boston more than competitive. The irony is Houston must do more of that.
Houston has seen adversity before but so has Boston. This Game 3 ALCS expects to see runs and a good deal of them. Jose Urquidy and Eduardo Rodriguez will give up their fair share. Consider that for Urquidy, it's his first postseason start of 2021.
Boston Red Sox and Houston Astros Game 3
This game comes down to the power and the bullpens. Boston has mostly controlled both in the early going of this series. If they continue to do that, Game 3 could be more of the same. The Red Sox has contained the Houston Astros just enough.
That just enough pans out in the numbers for this third game. Boston ranges from around 1.80 to 1.82 with Houston close at right around 2. If Boston keeps this a power game and wears Houston down, then the Astros are in real trouble.
Our ALCS Game 3 Pick
That 1.82 moneyline is just enticing enough to ride the slight home favourite. The Boston Red Sox is our pick for win Game 3 on Monday night.
Here are some top sportsbooks like Sports Interaction to look at for some solid sports wagers.