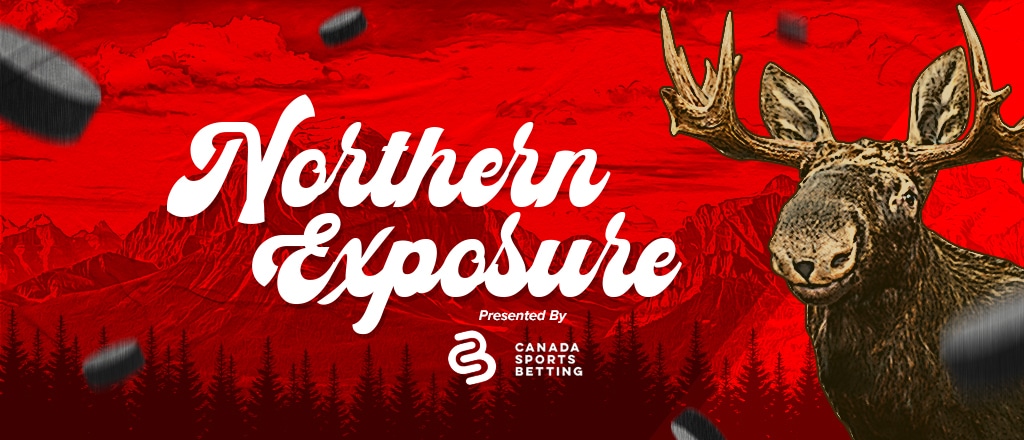 Each week, Canada Sports Betting recaps all the top sports betting and iGaming news in Canada, highlights the event of the week, and takes a look ahead at some of the most intriguing games to bet on over the weekend.
Our top stories this week
Game of the week
NHL All-Star Weekend
The NHL will pause regular season play until Monday for the annual All-Star Weekend festivities.
This year the event will be held at FLA Live Arena, home of the Florida Panthers, and it will get underway on Friday night with the skills competition.
Unfortunately for bettors, many online sportsbooks have told Canada Sports Betting they won't be offering many, if any, betting markets on the skills competition this year.
"The skills competition is tough to offer as last year became a sideshow," one iGaming executive said.
New events like Splash Shot, Tendy Tandem and Pitch 'n' Puck are planned for this year to complement the classic All-Star events. Once participants are named for the events, some sportsbooks will be opening markets for some of the classic events like hardest shot and fastest skater.
Canada Sports Betting was able to track down one skills competition market being offered as of Thursday morning. Bettors can wager on if Connor McDavid will win the accuracy shooting event (+177 yes, -253 no) at Sports Interaction.
The main event of the weekend, the All-Star Game, will be played on Saturday and will once again feature a four-team (one from each division) 3-on-3 tournament. Each team includes nine skaters and two goalies.
Here are the odds to win the tournament courtesy of Sports Interaction:
Atlantic Division (+225)
Central Division (+250)
Pacific Division (+275)
Metropolitan Division (+325)
Oakville to host PointsBet Invitational
March Madness-style curling will be heading to Oakville, Ontario, later this year.
PointsBet Canada and Curling Canada jointly announced on Wednesday that the second annual PointsBet Invitational curling event will be held from Sept. 26-Oct. 1 at the Sixteen Mile Sports Complex in Oakville.
Sixteen men's and 16 women's teams from Canada will take part in the competition, chasing a prize purse in excess of $350,000 in a sudden-death single-knockout format (think March Madness on ice).
Last year's inaugural event, which was held in Fredericton, New Brunswick, was won by Team Carruthers on the men's side and Team Jones on the women's side.
"We are thrilled to be bringing the PointsBet Invitational home to Ontario. It is a one-of-a-kind event with our nation's best curlers, and we cannot wait for it to get underway in September," said Nic Sulsky, chief commercial officer for PointsBet Canada, in the release. "2023 is going to be an amazing year for Ontario curling fans. Working with the Curling Canada team, we will offer new and exciting ways for fans to connect with their favourite curlers and athletes at the Brier, Men's World Championship, and the PointsBet Invitational."
In addition to the action on the ice, PointsBet will once again be offering fans the chance to win a $1-million prize through the Sweep 16 Bracket Challenge. Fans who correctly predict a perfect men's and women's bracket will win $1 million from PointsBet Canada. Unfortunately, there wasn't a perfect bracket submitted by fans last year.
PENN Entertainment Releases Q4 Results
PENN Entertainment, which wholly owns theScore Bet in Ontario, released its fourth quarter results on Thursday morning, and CEO Jay Snowden had some interesting things to say regarding theScore's performance in Ontario.
"In Ontario, theScore Bet continues to experience strong momentum, achieving record gaming revenue in December for both sports betting and iCasino. The transition to our proprietary technology platform last summer has resulted in higher customer engagement and a noticeable increase in hold rates. Greater control over our product offering and advanced promotional capabilities is contributing to encouraging retention metrics and cross-sell rates to iCasino. Looking ahead, we remain on-track to migrate the Barstool Sportsbook and Casino to our proprietary technology solution this summer. In addition to expected cost synergies, our Ontario success suggests that there is meaningful revenue potential post-migration once we are able to leverage our advanced trading and promotional tools."
Snowden also acknowledged that Ontario is PENN's top online sports betting and iCasino market in North America, but he didn't divulge any Ontario-specific data.
PENN Entertainment reported revenue of $1.6 billion (USD), an increase of 0.8% year-over-year, and net income of $20.8 million. The report included financial results for the three months and year ended Dec. 31, 2022.
The following slide was shared during Thursday's investor presentation: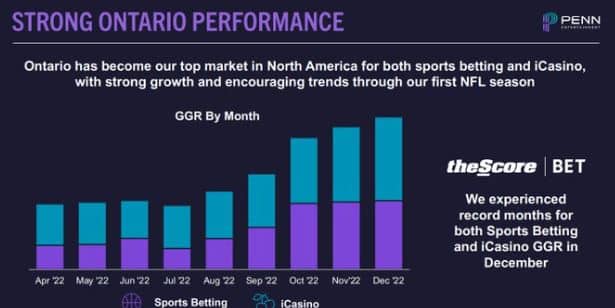 Ontario is the only market that theScore Bet is currently operating in after it made the decision to cease operations in the United States last July to purely focus on its Canadian operations.
Unfortunately, iGaming Ontario's quarterly revenue reports don't include data on operator market share, so it's unclear which operators are generating the most revenue from Ontario consumers. However, industry stakeholders believe that previously grey operators in the province, like bet365, have retained a significant market share since joining the regulated market last year.
A study conducted by Canada Sports Betting last July revealed that 30% of respondents were aware of theScore Bet's presence in the Ontario market and 6% of respondents said they had actually placed a wager with the operator.
How do Ontario players pay?
Paysafe, a leading payments platform with an extensive track record of serving merchants and consumers in the global entertainment sectors, released some research Wednesday that suggests Ontario online sports bettors prioritize their online payments experience when choosing where to play.
Some of the findings include:
While 50% of respondents in the U.S. shared they've placed sports bets in their free time, only 35% of respondents in Ontario shared the same frequency – having only been able to bet beginning in April 2022 (when Ontario launched its regulated iGaming market).
Ontario's highest age demographic grouping is 25-34-year old's (24%), speaking to the industry's appeal to younger consumers.
36% of Ontario bettors are spending between $7 and $27 per wager.
42% of Ontarians only have one online sports betting account.
There are more female-identifying sports bettors (51%) than male-identifying sports bettors (49%), which makes Ontario the only region with a higher concentration of women against men.
The top three payment methods for bettors in Ontario include: Interac Online and Interac e-Transfer (39%), credit cards (36%), debit cards (34%).
The research also found that quick and easy payouts were prioritized by 36% of players when choosing a sportsbook. They considered payouts more important than brand trust (34%), odds, and promotions (28% for both). Availability of preferred payment methods was a factor for 27% of bettors and prioritized over a sportsbook's betting markets and team sponsorships (11% for both).
"Our latest research report emphasizes how critical it is for operators to develop a customer-friendly payments strategy as part of their model in order to both convert and retain new and existing players, said Paysafe President of Global Gaming Zak Cutler in the release. "In a highly competitive market, operators stand to gain a competitive edge if their cashiers feature a comprehensive suite of payment methods, including digital wallets, which support the conversion of VIP players, and eCash, which resonates with cash-focused consumers who are perhaps prioritizing sticking to a budget in their betting."
BCLC tweaks self-exclusion program
The British Columbia Lottery Corporation (BCLC) has announced two updates to its voluntary self-exclusion program in an effort to reduce the stigma surrounding taking a break from play.
BCLC's self-exclusion program will now be known as Game Break and the Crown corporation has also created an active reinstatement process for individuals who choose to return to play.
"We want players to gamble within their time and money limits, and we want them to feel empowered to take a break if it's what they need," said BCLC's Director of Player Health Ryan McCarthy in the release. "Taking a break from something is often seen as a positive choice. We've designed the Game Break program to reduce barriers and destigmatize self-exclusion, while also including a reinstatement process to help participants better understand their own gambling behaviours if they wish to return to play."
Players can take a break for six months up to three years, but if they want to be reinstated, they'll have to complete an online course called Game Plan, which will provide the player with an opportunity to self-reflect and set out goals before they return to play.
British Columbia's industry-leading answer to responsible gambling is the GameSense program. Launched in 2009 by BCLC, GameSense is designed to help players make informed gambling decisions and improve player trust, awareness, and education using research-based guidelines and best practices. The program is licensed in 14 gambling organizations across North America and has earned international recognition from the World Lottery Association, the NCPG, and the North American Association of State and provincial lotteries.
GameSense is used in the provinces of Alberta, Saskatchewan, and Manitoba in addition to British Columbia. Its practices have also been adopted in Connecticut and Massachusetts and by MGM Resorts International. The program has four cornerstones: the making of informed decisions, positive play, processes focused on referral and follow-up support, and an overall focus on safer products and play environments in general.