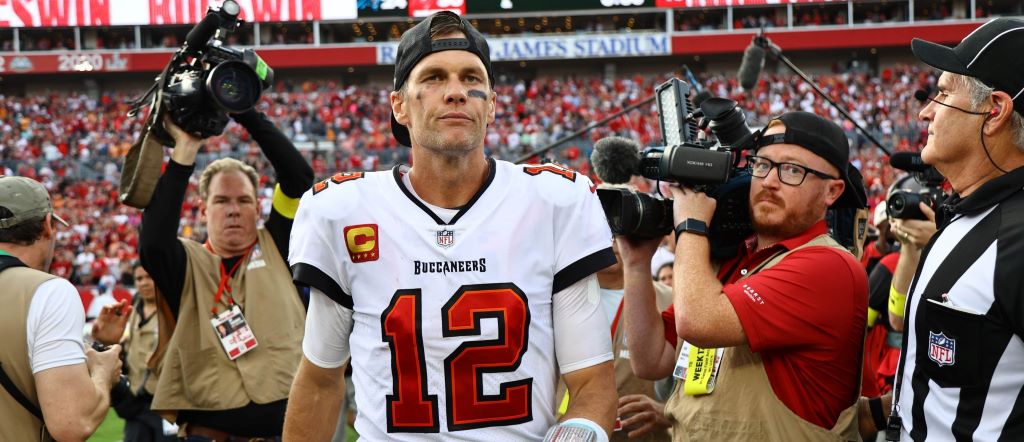 Wednesday morning, legendary NFL quarterback Tom Brady officially announced his retirement. Though we have done this dance once already, it seems as if Brady is hanging up his cleats for good and calling it a career. He's adamant that it's for real this time. For those who don't recall, it was around a year ago today when Brady announced that he was retiring from the NFL for the first time.
But that all changed quickly. Within a month, Brady announced that he was back and ready to take another run at the Super Bowl. The season didn't exactly go as he had hoped as the Buccaneers went just 8-9, though still managing to capture the NFC South title.
Brady put out a video on his personal Twitter account to confirm his second retirement. In it, he not only announced his official retirement from the NFL, but thanked the fans as well. It seems safe to say that he won't come out of retirement a second time, which leaves plenty of time to reflect on his impact on the game.
Where he may have gone if he continued playing
Before we take a look back – all the way back – let's take a look forward. A look forward from a day ago and the perspective it offered. As a matter of fact, speculation was running rampant about where Brady would end up playing next season and which team's Super Bowl odds he could elevate.
Why Tampa wasn't likely
It has been no secret that Brady was frustrated with the situation in Tampa Bay. The offence, which has been one of the best in the NFL the last two years, looked like a shell of its former self. The running game disappeared (though it was never a strength) and even the vaunted receiver corps was nowhere near the same as it had been.
The worst of it seemed to be the offensive line. Inconsistent play and injuries left Brady facing a pass rush more often than any quarterback would enjoy. There was no shortage of scenes where a frustrated Brady was angrily chewing out his offensive line.
At 45 years of age, Brady has had his fill of being hit. With Super Bowl aspirations in mind, it became obvious to most that this wasn't the Bucs team that we had become familiar with. Brady's departure seemed all but certain well before the season came to a close with a Wild Card loss to the Dallas Cowboys.
Brady's most likely destinations
Though teams like the Miami Dolphins and Las Vegas Raiders looked to be the most ideal landing spots, it was the result of the NFC Championship game that really swung the odds – quite literally.
With the defeat of the San Francisco 49ers at the hands of the Philadelphia Eagles, Brady speculation rose to a fever pitch. Injuries to Mr. Irrelevant Brock Purdy and fourth-string quarterback Josh Johnson left San Francisco with no answers at the position. Rumours swirled and the odds swung from +500 to +150 of Brady landing in San Francisco in the offseason.
Given how successful the team has been and its current construction, everyone would argue that a legitimate threat at quarterback could take San Francisco to the next level. Unfortunately for the 49ers, Brady never gave them much of a chance to consider the options.
It's interesting to think what the acquisition of the seven-time Super Bowl winner would have done for the franchise that landed him, both on the field and at the sportsbooks. Adding Brady to a roster like Miami or San Francisco would have no doubt propelled either team to the top of the futures odds list heading into the 2023 season.
Brady through a betting lens
Brady's resume is even more ridiculous than many of us would think off the top of the mind. Brady was a five-time Super Bowl MVP with seven total wins in the big game. He was a three-time AP NFL MVP (2007, 2010, 2017). He was Offensive Player of the Year three times as well. A trio of All-Pro selections and 15 Pro Bowl appearances are just another point on his resume.
He currently ranks first all-time in seven different categories: wins (251), Pro Bowls (15), Super Bowl MVPs (5), completions (7,753), attempts (12,050), passing yards (89,214), and passing touchdowns (649). He also has 10 different postseason records including Super Bowl appearances (10), Super Bowl wins (7), passing yards (13,400), passing touchdowns (88), and fourth-quarter comebacks (9).
To say that Brady has done it all would be putting it lightly. We know how great he has been on the field but what about his impact on betting slips? The numbers are just as ridiculous when you get down to it. His total record against the spread finished at 215-158-8, giving him a nearly 60% cover rate.
Here are just a few cool tidbits about how dominant Brady was during his career, especially from a betting perspective:
The single largest payout involving Brady came during his first season as a starter in 2001. Preseason odds on the New England Patriots were 60-to-1 in 2001 and we all know how that ended.
Being an underdog wasn't really Brady's style. When he was an underdog, however, Brady was dominant going 41-17-2 ATS.
In the last six seasons, Brady was only an underdog 11 times total. That is less than twice per year that his team was not favoured.
The last word on Brady
For now, there will be a lot of reminiscing about Brady's incredible career. There has been no one like him and likely won't be again. He has put up numbers that were only previously imaginable in a Madden franchise.
Brady will get a chance to truly enjoy his retirement this time – at least for now. The rumour that has been going around for a long time is that Brady would have a big announcing contract waiting for him the second he retires. It may not happen this time but it shouldn't be very long before we see Tom Brady on our television screens again every Sunday.